Sunday, 12. April 2015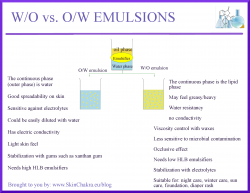 During the last weeks we have had several discussions about HLB, W/O and O/W emulsions. There are some misleasing information about emulsion types which are not always correct, some of these informations I've been confronted with are:
Sonication (applying ultrasound) promotes formation of W/O emulsions
Adding water phase to the oil phase promotes formation of W/O emulsions
The viscosity of the W/O emulsion could be adjusted by increasing the viscosity of the water phase with gums
W/O emulsions have a high oil concentration whereas O/W emulsions have a low oil concentration
The speed of blending can promote formation of one emulsion type vs. the other one
These are some of the most common misleading info about different types of emulsions.
Basically, when we're talking about W/O and O/W, the water phase could be water or any other hydrophilic liquid (such as hydrosols in modern natural cosmetics) and the oil phase could be consisting of any lipophilic substance (or a blend of many of them) such as oils, silicone oils, fatty esters or fatty alcohols.
The most important factor in formation of W/O or O/W is the type of the emulsifier or the meulsifier blend. For each given oil or oil blend, you can prepare two emulsions, one W/O and one O/W by choosing different emulsifier blends. For W/O emulsions, you need emulsifiers with a low HLB (4-6) and for O/W emulsions you need emulsifiers with a high HLB (8-16). This is the basic of the emulsion type. Whether you shall add the water to the oil phase or vice versa, whether you shall apply high shear or not, these all depends to your emulsifying system and other ingredients. Some emulsifiers are shear sensitive and need low year, some like very high shear. These are infos that either should be provided by your supplier or you'll come to them by trial and error (or more error than trial).
Another myth about the W/O and O/W emulsions is the oil to water phase ratio. Basically in both emulsion types you have a water phase between 60-80%. Sometimes in in some specific systems you may prepare emulsions with higher oil concentrations but the majority of emulsions fall into 60-80% water phase. O/W emulsions feel lighter over skin because the water phase is the outer phase but W/O emulsions provide a better protection. This is specially important for mature and dry skin, for winter care, and for might care. Since the W/O emulsions are not as easily washed-off as the O/W emulsions and some could be even completely water resistance, most sun care and founcation products are prepared as W/O. This is the same with diaper rash products which should provide a good fatty film over baby's most sensitive skin part.
Let's come to microbiological preservation. In W/O products, the water phase is (almost hidden) inside the continuous oil phase. This is why W/O emulsions are easier to preserve and are less susceptible to contamination.
W/O emulsions need some electrolyte to stabilize high concentrations of water as droplets inside the oil phase. This is done by adding Sodium Chloride, Magnesiun Chloride, Magnesium Sulphate or other electrolytes to the system. On the other hand, most O/W emulsions are destabilized by adding an electrolyte.
Since the outer phase in O/W emulsions is water, you can check the difference between a W/O and an O/W emulsion by measuring the electrical conductivity of the emulsion. W/O emulsions show no conductivity.
You can control the viscosity of each emulsion (and hence the stability of the emulsion) by controling the viscosity of the outer phase. This is generally known to you and you've certainly tried to increase the viscosity of your emulsions by applying xanthan gum, konjak mannan, cmc, tylose, carrageenan or other natural gums and synthetic polymers. This works only for O/W emulsions where the outer phase is water. For W/O emulsions, adding gums has no impact on the viscosity or the stability of the emulsion. It may however improve the spreadability and skin feel of the emulsion. For these emulsions, you have to increase the viscosity of the oil phase. Here you can apply natural and synthetic waxes and other polymers that increase the viscosity of the oil phase.
These are some very general features of W/O and O/W emulsions. Hoe you'll find the infographic useful for a quick reference.
BeHappy and have fun
Comments
Display comments as (
Linear
| Threaded)