Friday, 25. September 2015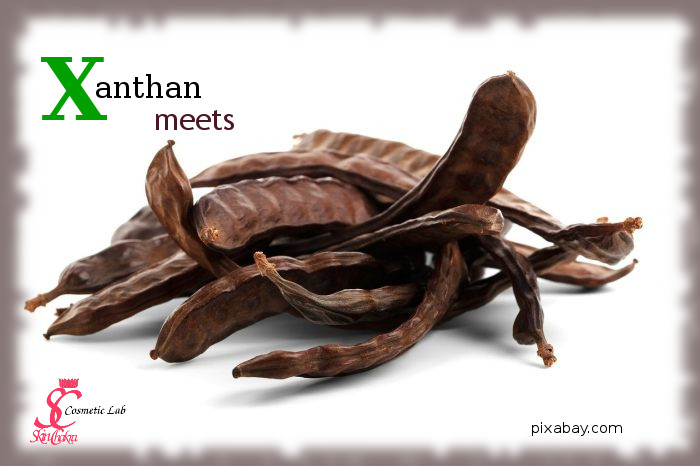 We all use natural gums in our formulations to adjust the viscosity, improve the texture and skin feel, improve the stability or suspend particles in our products. If I ask you to call a few natural gums you'll probably immediately name at least 10 gums without any hesitattion and I'm sure you know these better than many ingredeints you apply in your daily cooking. By the way, cooking: if you are one of those exceptional customers who reads the label before they purchase food and beverages, you're certainly aware that you can hardly find a food or beverage without at least one gum in it. From juices to ice cream, from desserts to salad dressing, gums are applied in food and beverages, in pastry , cookies and even sometimes bread to enhance the flavour, improve the taste, improve stability or help suspending particles and stabilize emulsions (salad dressing, mayonnaise).
Most of us are familiar with these gums (which in scientific language are called hydrocolloids) and apply them almost daily in our products. Some of you probably use even ready made and commercially available blands of 2-3 gums. But have you ever tried to find out how these gums would function in a blend?
I have often heard students blending two gums in a 1:1 ratio, which is indeed a nice step for its own but the most fascinating results don't come out in a 1:1 ratio. You shall change the balance to get the best out of the gums available to you.
Gum blending is a fascinating science on its own and you can get amazing results by adjusting the mixture and the ratios. This often leads to synergy, meaning in simple words: 1+1 is not equal to 2 but equal to much higher figures. This means that you can blend two gums and the outcome would be better than any of them alone or than the sum of the both. It means you can blend lower concentrations but achieve better results. In some cases, you can even blend two gums, none of them gel forming and come to a blend which forms a gel.
Knowing how the gums would work in blend would open many doors and would give you wings to fly.
Unfortunately, most knowledge about gums (hydrocolloids) comes from the food industry. There are amazing handbooks discussiong nature, origin, characteristics, functions and applications in different branches of food & beverage industry. I haven't found any such comprehensive work in the cosmetic industry. If you want to expand your knowledge about the gums, I recommend you to read the basics in food-industry books and then apply the knowledge in your cosmetic lab.
To give you a rough approximation, we've tested a bunch of gum blends in our laboratory and came to fascinating results.
In this post I'll show you our results of testing Xanthan gum and Locust bean gum. (You can find more info about carbohydrates and their chemistry under this link.)
Most gums are polysaccharides (polymeric-sugars), xanthan gum and LBG included. (For general infos about gums have a look at this infographic)
Xanthan gum is one of the most widely applied hydrocolloids both in food and in the cosmetic industry. It is an "extracellular" polysaccharide (secreted by Xanthomonas campestris) and is commercially prepared by fermentation. It is widely available to affordable prices. Xanthan is soluble in cold water and the solutions are stable over a broad pH range.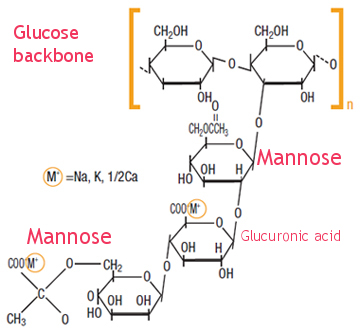 Xanthan is basically composed of a linear beta-D-Glucose backbone and a tri-saccharide side acid chain attached to every other glucose. The trisaccharide side chain consists of a mannose- glucuronic acid-mannose unit. (Don't be disappointed if this is too much chemistry for you. Imagine the simplified structure as :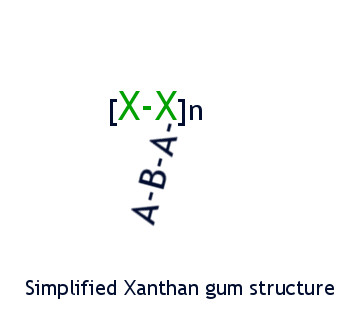 Xanthan gum is an amazing rheology modifier on its own and is applied in surfactant blends and emulsions. It's tolerance for electrolytes and stability over a wide pH range, and its pseudoplastic behaviour make it one of the most widely applied hydrocollois in cosmetics. At low concentrations (usually 0,5-1,0%) xanthan solutions have higher concentrations compared to many other hydrocolloids but since these solutions are shear thinning, they do not resist pumping and pouring. It means, in simple words, that a product containing xanthan gum (a lotion or toothpaste or shampoo for example) has a high viscosity at rest but as you press the tube or the lotion pump or the bottle, it will easily flow out of the container.
Locust bean gum (LBG) is produced from seeds of the carob tree (Ceratonia siliqua) and belongs to galactomannans (Guar gum, tara gum and fenugreek gum all belong to this group).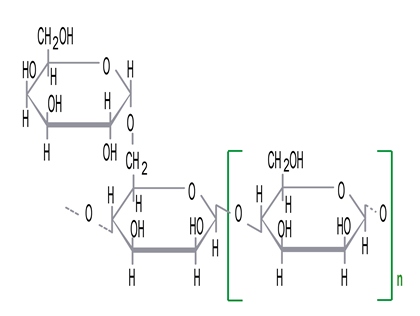 Photo: Cargill.com
The above picture depicts the chemical composition of galactomannans which is common for fenugreek gum, tara gum, guar gum and LBG. Only the mannose:galactose ratio (the n outside the brackets] differs from gum to gum. LBG for example has a galactose content of ca 25% whereas guar gum has a galactose content of ca. 40%.
All galactomannans are nonionic in nature (compared to xanthan gum which is anionic in nature). They are susceptible to strong acids, alkaline pH and radiation. Guar gum builds the highest viscosity among galavtomannans, followed by tara gum. Both fenugreek gum and LBG build lower viscosities compared to guar gum and tara gum.
Another characteristics of LBG is its requirement for heating to be completely dissolved in water. Whereas xanthan gum and even guar gum easily disperse in cold (RT) water.
Amazing is, however, the combination of LBG and xanthan gum. Although non of these gums builds a gel as a stand-alone ingredient, they build a soft and elastic gel as they are combined. It means, by combining xanthan gum and LBG, you can create interesting products with different viscosities and rheological properties.
In the following diagram, you can observe the changes in viscosity of a 1% gum solution. The total gum concentration is kept constant but the ratio between xanthan gum and LBG is variable. We've started from a 1% xanthan gum solution and have gradually increased the LBG content to a 1% LBG solution.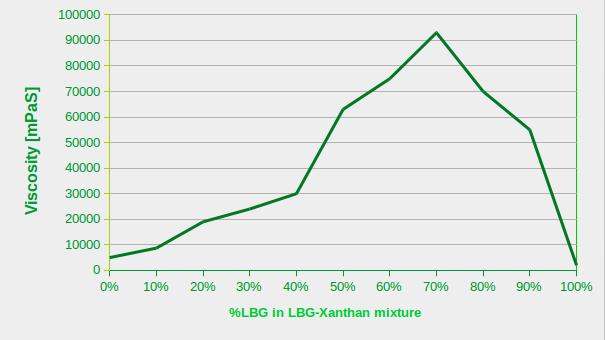 As you can easily judge from the diagram, the viscosity of a 1% xanthan gum solution is several times higher than the viscosity of a 1% LBG solution. By replacing only 0.1% of xanthan gum with LBG, the viscosity increases and continues increasing by increasing the LBG content. This reaches a maximum by a blend of 70% LBG:30% xanthan gum.
In this photo, you can easily observe how the viscosity and the appearance changes as we reduce the xanthan and increase the LBG content in the blend.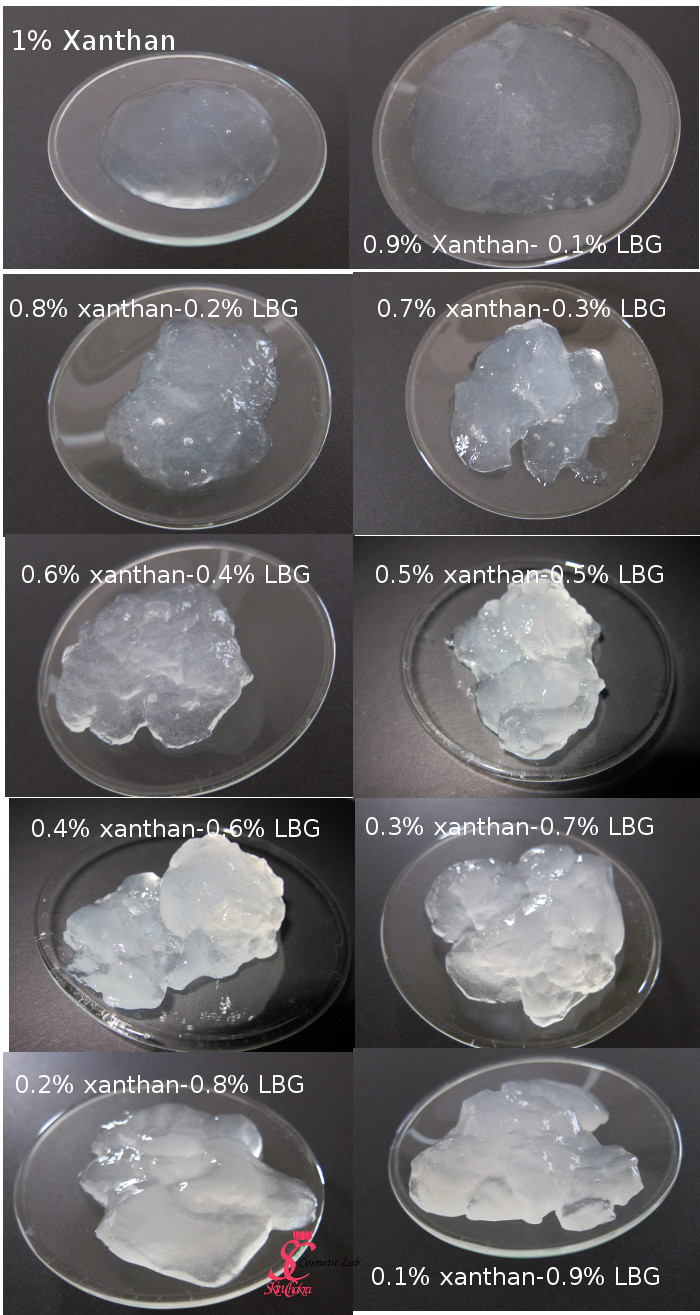 In addition to increasing viscosity, the solution character changes from a high viscosity solution to a three-dimentional interconnected gel. This means you can suspend particles in a gel, can create light cream gels with low oil concentrations or can add some active ingredients and create a stable and effective hydrogel.
Blending these two gums doesn't only mean sparing your resources and budget by applying less material, it enables you to create exceptional blends in terms of rheological characteristics and stability of the final product.
I hope you'll enjoy blending your gums and creating amazing formulations. Don't hesitate to post your results and questions to our FB wall.
BeHappy & have fun
Comments
Display comments as (
Linear
| Threaded)
The author does not allow comments to this entry