Tuesday, 21. May 2019
As you have noticed, we post regularly in our blog and many times each month share innovative formulations of beautiful skincare and haircare products. Out of the hundreds of formulations we create, we choose only the best ones to give you a great experience to try them using the carefully selected, highest quality ingredients we offer in our shop.
There is always a lot of work going on in the Skinchakra lab. On a daily basis, our team continually research and perform experiments on the raw materials we are considering adding to our shop. It could take us over 1 year to decide if we are satisfied enough with an ingredient that it will make it to our website for sale. Adhering to the strictest standards (I do this automatically having worked as a Cosmetic Chemist for over 20 years), we reject many ingredients because they would not be of any benefit to our customers who are always top of mind in everything we do.
We also continually test different ways to utilize and formulate with the current ingredients we sell. I have to admit that this customer service is something so natural to us that we don't talk about it much. We just keep working diligently behind the scenes so that our customers can always have the finest, high performance ingredients to formulate with.
We are often compensated for our hard work by your kind words and appreciation when you receive your parcel or when you share your experiences with us.
Marissa is one of our loyal customers who is very passionate about creating exceptional skincare and haircare products. Her standards are very high and resonate with ours and I truely enjoy communicating with her about her experiments and observations.
Demonstrating the rare qualities of patience, dedication, scientific approach, analytical thinking and extreme attention to detail, Marissa is a true researcher and expert formulator.
I will now turn it over to her hard work in this blog post: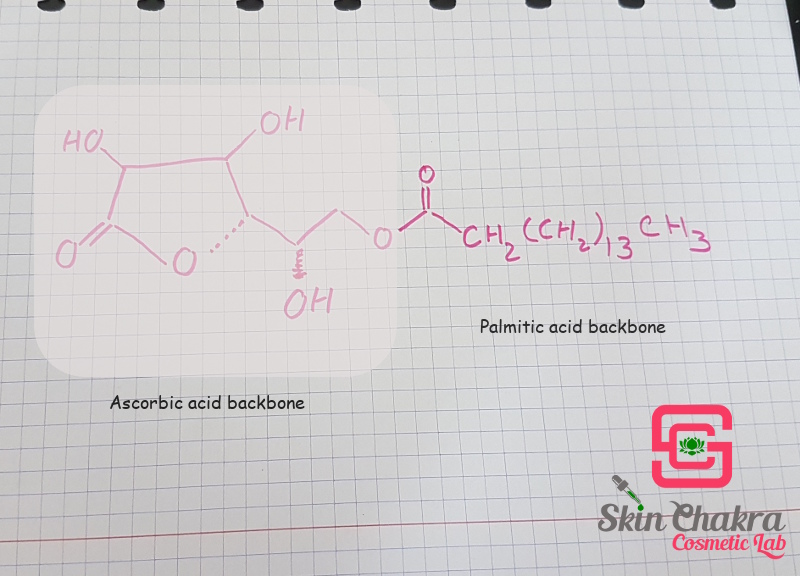 The benefits of vitamin C in overall health as well as skincare have been under discussion since it was discovered as the remedy for scurvy in the 1930s .
Recently on Skinchakra's Facebook page there was a video about how to use Ascorbyl Palmitate (a lipophilic and stabilised form of Vitamin C) in a new way in our formulations.
Now many of you who are like me have this need to shop for all kinds of interesting and/or high-performance raw ingredients with good intentions to use very soon in our formulations. We load up our online carts, make the payment and then wait for the shipping notifications.
Then we delight in the anticipation of ingredients heading to us (check tracking, check tracking check tracking – 20 times a day – no change – ok check in 10 min just in case….yes this is true – you have done it so go ahead and laugh at yourself as I chuckle at my own obsessive behaviour).
Finally…. some parcels arrive.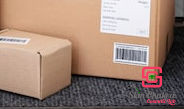 With great excitement we open the boxes and oooh and ahhh, do a happy dance, freak out the dog or scare the kids and get ready to formulate.
Then reality hits and you know what I mean if you have been with me so far with similar experiences. We realize that some ingredients need extra steps or a specific way to incorporate and everything is not as quick or easy and it should not be. Then we may get de-motivated.
However, there are days when we have breakthroughs and a cause to celebrate. This is one of those rare days.
If you have tried Ascorbyl Palmitate or purchased it from Skinchakra Shop to add it to a future product then you may have read the following information that Elham has provided:
Ascorbyl palmitate is a powder and should be dispersed in a lipophilic carrier before being added to the formulation. It needs high temperatures ca. 80°C to be dispersed. This means you need a rather stable lipid phase to incorporate ascorbyl palmitate before blending it with the rest of the lipid phase.
This requirement for high temperatures could be quite a challenge when you're working with a cold process formulation or have heat sensitive ingredients.
Like all other ingredients, if not correctly incorporated, ascorbyl palmitate can cause graininess and instability of the whole formulation (in addition to being totally ineffective).
The following is a picture of balms that failed because ascorbyl palmitate and/or other ingredients did not incorporate properly. These initially were all smooth looking but since they were test jars, I had them for a while and over time I could see different signs of instability.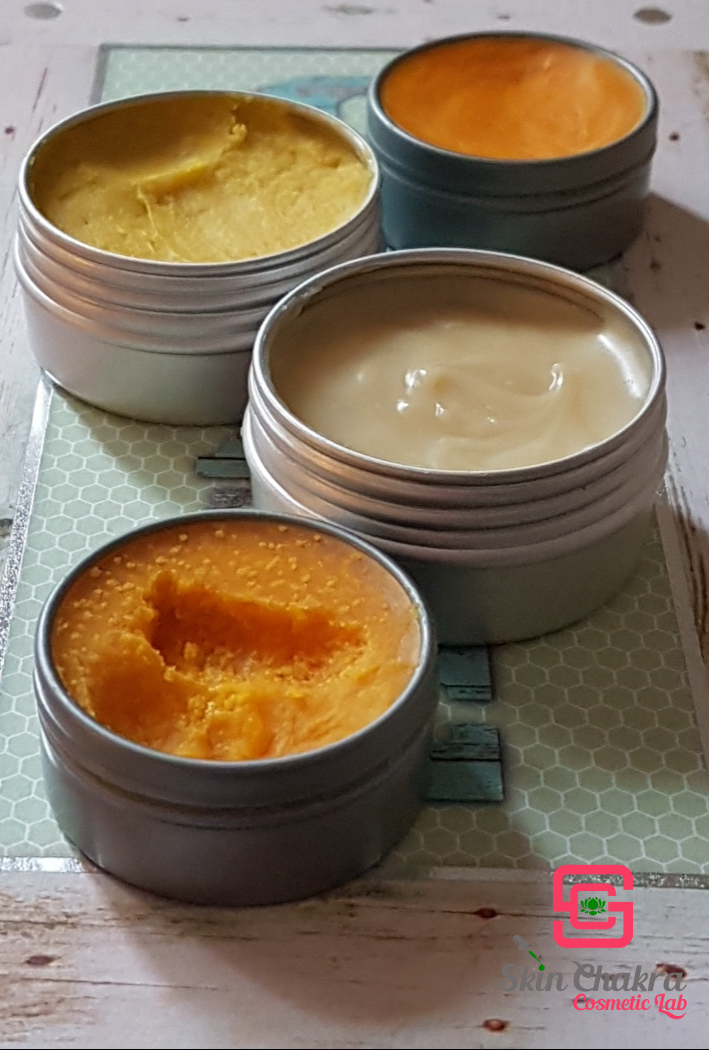 I found that when using the process of high temp heating to incorporate AP into formulations, I had to be patient and allow for extra time. Now there is a new technique that was announced on Skinchakra Facebook Page.

This something unique that Elham learned from an amazing formulator @InCos in Paris. She was told to premix ascorbyl palmitate with pentylene glycol at room temperature and add this blend to the melted wax/butter phase.
Apparently the ascorbyl palmitate just disperses/dissolves into the pentylene glycol and after they are mixed you can just add this to your cool oils. This means a more efficient process – you will not need high temperatures for a longer time and you can just use all those beautiful heat sensitive oils with this form of vitamin C.
Now like me you may be thinking, if it works with pentylene glycol, I can probably take ascorbyl palmitate and add it to 1,3-propanediol or maybe even glycerine. Ingredient substitutions are not always easy and NO this will not work. Ascorbyl Palmitate is oil soluble and glycerine is water soluble. Furthermore, it will definitely not work with other glycols because unlike pentylene glycol which is partially lipophilic, these other glycols have a less tendency to want to combine with fats and oils.(to be exact, pentylene glycol is the last hydrophilic glycol before hexylene glycol which is completely lipophilic)

I am a huge fan of Vitamin C and I want to have it in my food and also apply it on my skin. So, of course I felt that this easier way to adding Ascorbyl palmitate while making my products, would mean that I could now have it in all oil serums, bi-phasic products, balms, butters and even emulsions and it was time to re-work some previous formulations.
Before I formulated anything though, I thought to myself why not see if I can decrease the percentage of pentylene glycol from 3% to something lower.
I knew that Skinchakra team probably had an excellent reason for their recommendation of ascorbyl palmitate 0.3% to pentylene glycol 3% or 3.5% as seen in recent shared formulations. However, I am a researcher at heart and I need to understand a process and/or ingredient interactions through my own
experiments. So began the trials where I got to see for myself how ascorbyl palmitate and pentylene glycol would meet and greet each other in different ratios, mingle and interact and then just hang out – at room temperature, warmed up and chilling out so to speak.
(AP will be my short form for ascorbyl palmitate for pics and parts of this blog and PG will be my short form for pentylene glycol)
I took 0.3% of AP and added it to PG at 1.0% 1.5%, 2.0%, 2.25%, 2.5%, 2.75%, and 3.0% to see how it would dissolve or disperse and then blended this with camelina oil. The big beaker in the picture is my reference to show you plain camelina oil to which we will be comparing some of our results – you will see what I mean as you continue with me to the end.

I observed and documented information about the 7 different AP/PG ratios first how AP interacted with PG (meaning if all of the AP "melted" into the PG or if only some of it and so on. Then I observed for each ratio how easily it blended with the oil and then what happened when the temperature was increased. (I have pictures of all the AP/PG ratios along with the observations but this would become a manual for just one experiment if I included them and all the details I noticed, so we will keep it to the main points which are already quite detailed.)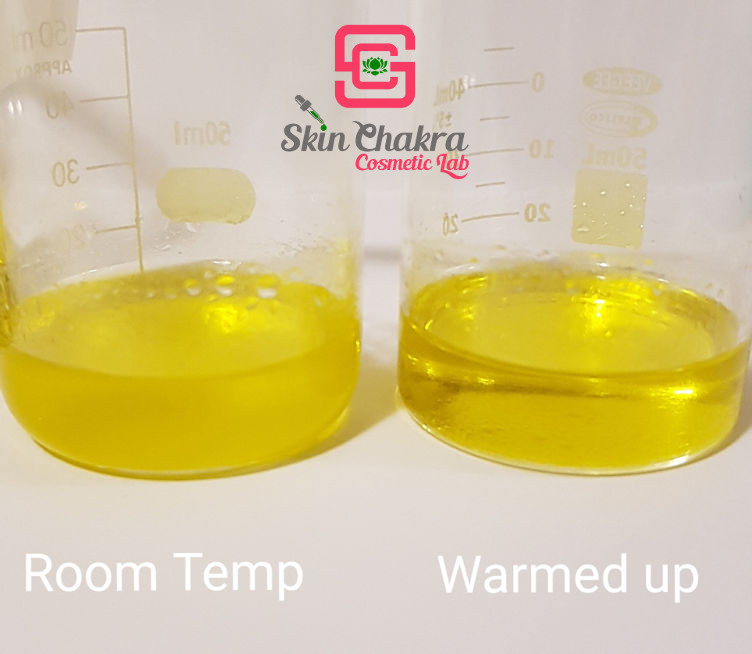 Initially the solutions were cloudy at my room temp of about 22 degrees Celsius but warming them to 45 degrees Celsius brought different degrees of clarity depending on the ratios.
Below you see the clear vibrant Camelina oil as compared to the AP/PG – camelina oil blend which is more opaque.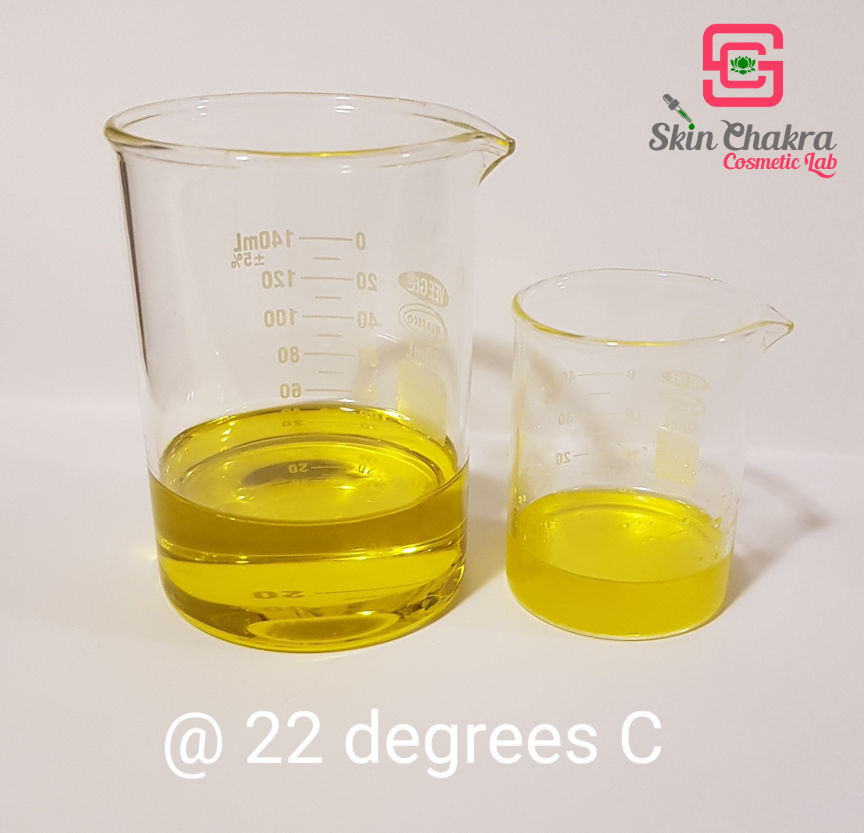 And then how the two compare with warming the AP/PG/oil blend to 45 degrees Celsius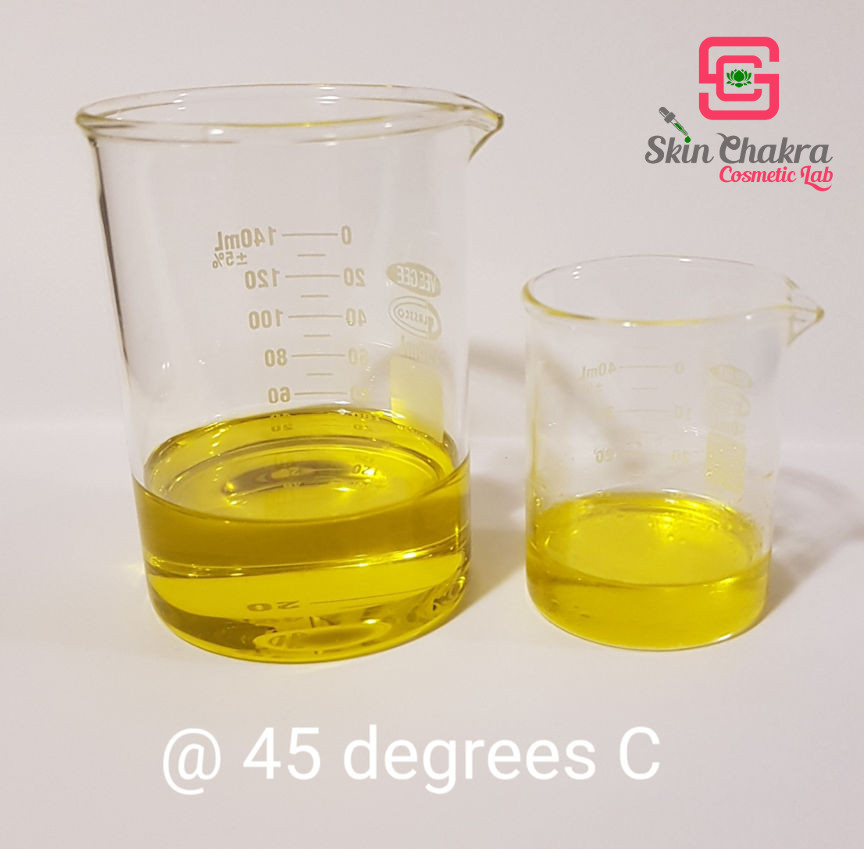 Once warmed up, it was interesting to note that the AP/PG/oil blend did not go back to its original cloudier version even when it came back to room temp.
Next I poured the solutions into glass vials and then placed them in the refrigerator for 48 h as a stability test. I wanted to see how solubility and appearance of the blends would be affected by cooler temperature.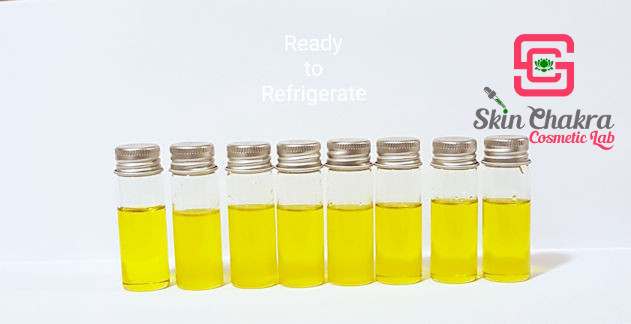 I have a separate refrigerator for experiments so two days went by – no peeking!! (ok I confess I looked in at day 1 but just from far – not taking them or anything).
I took pictures of the vials right after they came out of the fridge and in addition to close up shots of some of the indiviual vials. I will also share some pics of the vials next to each other so you can more easily see the differences between them.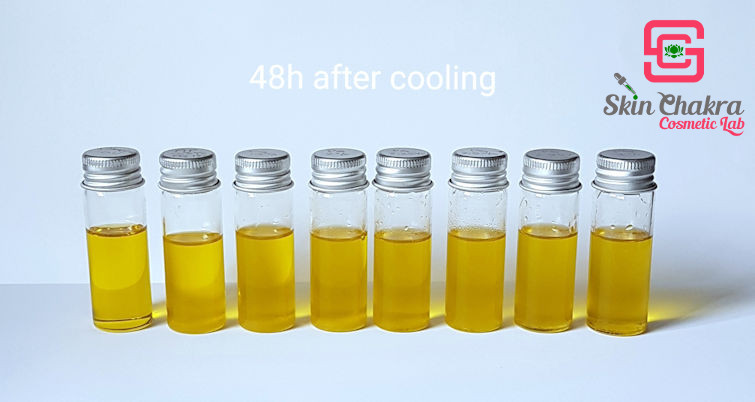 I noticed that depending on the angle or distance from which they were taken as well as amount of natural lighting and area of lab some pictures really show the results well.
In addition to just shots of the vials themselves, I also took some of vials next to each other so you can more easily see the differences between them.
Here we go:


PG 1.5% shows a lot of sediment and as you go higher with PG such as the pictures showing 2.75% and 3% this sediment decreases. Cold temperatures make the AP/PG almost gum up on the bottom of the vials because after my testing and taking of pics, I tried to shake the vials and for some, not all of the sediment went back into the oil – it was stuck to the bottom.
So we can conclude that cooler temperature causes cloudiness to sediments of various amounts and even though from a distance the 3% PG/AP/oil blend looked ok, the upclose (underneath view) reveals grainy bits. This was also the case after 24h at room temperature.
I also compared the clarity of each blend to camelina and the following is one example. You can see how close the 3% PG/AP/oil blend came to the plain Camelina oil but then you notice at the bottom the whitish grainy bits.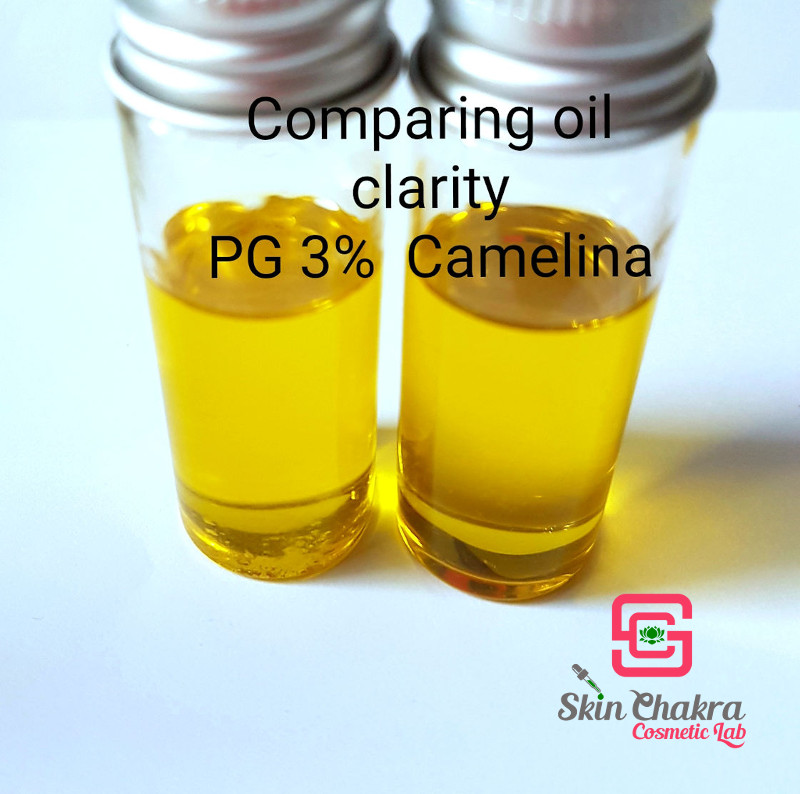 Next, I did another experiment of AP 0.3%to PG 3.5% and compared it to AP 0.3% to PG 3.0%.
After similar procedure and stability testing by refrigeration for 48h the bringing to RT I still noticed a bit of sediment in the 3.5% vial.
I left all the vials at RT for more days hoping at least the vial with 3.5%PG, the AP would dissolve and the oil would look uniform. This did not happen.
There was still a tiny amount of sediment – which is still not acceptable if I always aim to have a stable and safe product.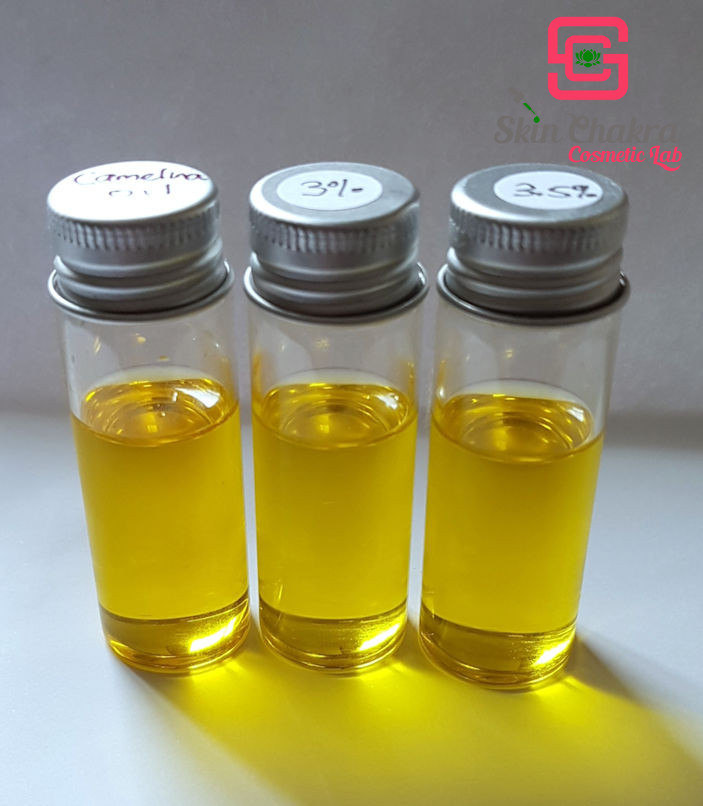 Clearly there is a risk that if I did make an oil blend using this technique whether for personal use or to sell and it happened to travel through cold temperatures, it could become cloudy and/or have more sediment.
I notice and document details and look at things different ways to get a complete picture. It fascinates me to watch the changes that happen during formulation and then even afterwards as different factors impact my products. Skinchakra team are constantly doing experiments and tests before sharing techniques and/or formulations and I got a chance to see for myself the amount of work and time these important side experiments can take.
I agree with them that this technique is simple and effective to use for aesthetically appealing balms and butters but it does not allow you to create a completely transparent oil such as an oil serum, cleansing oil or a bi-phase product with a transparent oil phase. This is not an issue now because there is a liquid Vitamin C also available in the Skinchakra shop which I am eager to try for my oil blends. Meanwhile I will use my wonderful Ascorbyl Palmitate with this new method.
If you have stayed with me till here you will not be surprised that having arrived at the end of this adventure, I was excitedly wondering – how would this new process work with emulsions???
For my next experiments I am testing this new technique to incorporate AP into oil in water emulsions.
BeHappy and have fun
Comments
Display comments as (
Linear
| Threaded)
The author does not allow comments to this entry