Welcome to SkinChakra®
Your first reference for cosmetic specialty ingredients and know-how of natural and organic cosmetics


About us
After being active in cosmetic formulation and product design for about 20 years, we realized a great need for specialty cosmetic ingredients in retail as we gradually moved from conventional to organic and natural cosmetics. It was almost impossible (even in Germany) to get access to reliable sources for ingredients used in organic cosmetics (except a few common oils and butters) unless one directly orders the ingredients by suppliers (with a min. oder quantity varying between 15-200 kg). As you can imagine it is out of question for students of the skin care formulation, small manufacturers, small formulation laboratories, DIY crafters and artisanal manufacturers of organic skincare to purchase and stock such quantities of raw material. This is how SkinChakra online shop was borned. With the aim of delivering high quality ingredients as well as know-how and information to a huge group of interested students, artisanal manufacturers and DIY crafters.
In July 2012 we started our online shop delivering only and only in Germany at first. In about 5 years and with the huge support of our customers, we're now delivering cosmetic ingredients in more than 45 countries in the world.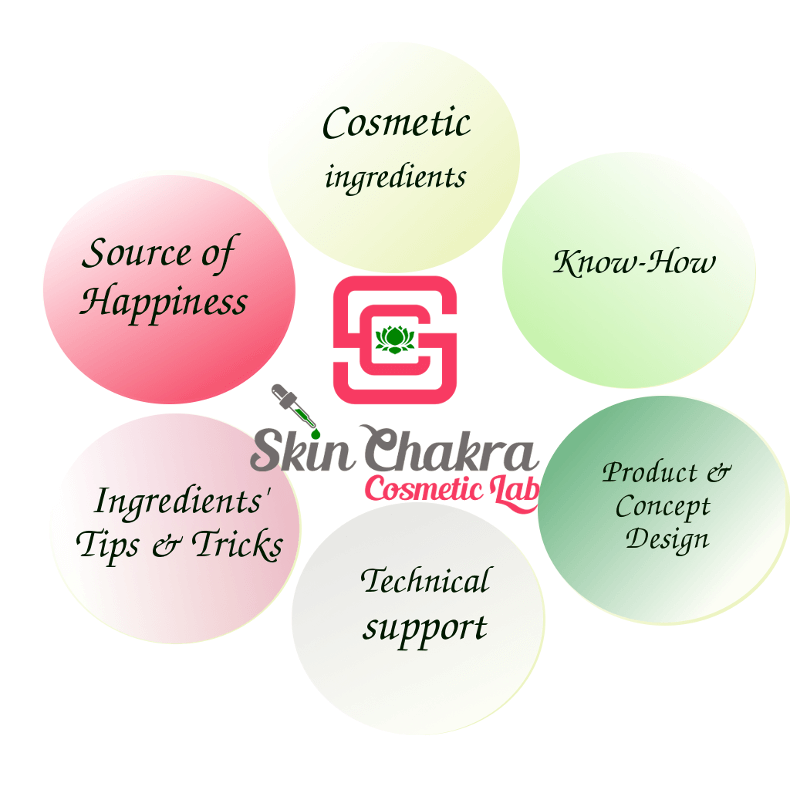 Here we are with a small but efficient team, not only supplying our customers with the most innovative ingredients in organic and natural cosmetics, but helping them in their formulations as well as product development and design. Each month, we provide hundreds of students and formulators with natural preservatives, innovative emulsifiers, plant extracts, oils, butters and active ingredients, publish sample formulation and answer to their technical questions via our communication channels and social media. We are proud to have repeating customers around the whole world from New Zealand and Australia to Canada, building a long-term relationship with our customers and becoming involved in their product designs and upcoming projects.


Our customers:

Our Team

Dr. rer. nat. Elham Eghbali
Chief Saponifying Officer and CEO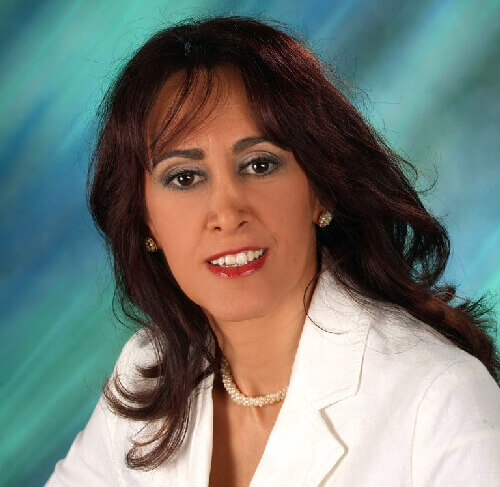 Elham is a passionate cosmetic chemist with about 20 years experience in cosmetic formulation and concept development. She has been working with and consulting manufacturers of finished products as well as cosmetics raw material providing them with concept and formulations.

At SkinChakra, she develops concept, formulations and test methods mainly for organic and natural cosmetics and provides artisan manufacturers with know-how, concept, test methods and A-Z of natural cosmetic business as well as cosmetic specialty ingredients in small scale.

She is an associate tutor by Formula Botanica, the world class accredited and biggest online school for organic cosmetic business and she is the co-founder of Green Alchemy where she offers formulation and business development consulting to indie organic cosmetic business.

---
Swetlana Dodonow
Product designer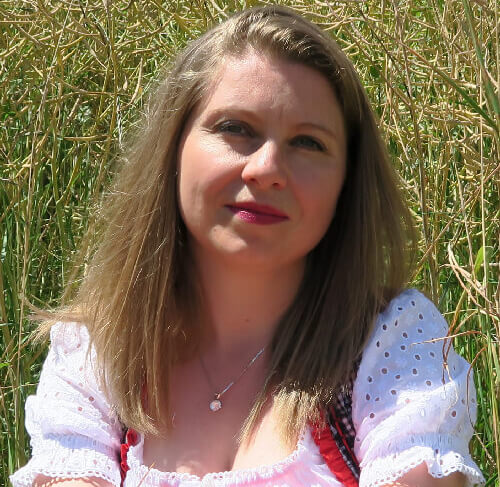 A cosmetic therapist and foot care specialist with passion for cosmetic formulation.
Swetlana has been accompanying SkinChakra from the very first day and is the Jack-for-all-trades at SkinChakra.
She is the shy person behind every single daily affair from organizing orders, making tests and preparing formulations.





Contact us

Imprint
Office hours:
Mo - Fr 9:00 - 18:00
You can order 24 hours a day and 7 days a week

How to reach us:
Ganzheitliches Institut für Gesundheit und Ästhetik (GIGA) UG (haftungsbeschränkt)
Chief Saponifying Officer:
Dr. Elham Eghbali
Jahnstraße 35
92637 Weiden
Fon:
Fax:
Mail:

VAT-Id:
Amtsgericht

Web-Development:


Liability for Content
While the contents of our pages have been created with utmost care and due diligence, we cannot assume liability for the completeness and timeliness of the contents. Pursuant to § 7, Paragraph 1 of the German Broadcast Media Act (TMG), and in accordance with general law, as service provider we are responsible for our own content on this web page. However, according to §§ 8 to 10 TMG we, as service provider, are neither obliged to monitor transmitted or stored external information, nor to research circumstances that suggest an illegal activity. Obligations to remove or block the use of information remain, in accordance with legal regulations, unaffected. Any liability in this respect can be assumed only from the moment that knowledge of the specific breach of law is obtained. In the event that the corresponding violations become known, we shall remove these contents immediately.

Liability for Links
Our offer contains links to external websites operated by third parties, on whose contents we have no influence. Therefore, we cannot assume liability for these contents. Instead, it is the relevant supplier or operator of the linked web pages who is responsible for the content of these pages. The linked pages were inspected for possible legal infringements at the time the link was established. At the time of linking, no unlawful contents were detectable. Permanent monitoring of the content of the linked pages is infeasible without any specific indication of an infringement of rights. In the event that corresponding violations become known, we shall remove the corresponding links immediately.

Copyright
The contents and works on these websites, as prepared and displayed by its operator, are subject to German copyright law. Their duplication, processing, distribution, or any form of commercialization beyond the scope of the copyright law requires the written consent of the respective author or creator. Copies and downloads are allowed solely for private and non-commercial purposes. Insofar as this page's contents were not created by its operator, third-party copyrights will be respected and observed. Should you still have reason to believe that a copyright violation has occurred despite the precautionary measures taken, we kindly ask you to notify us. In the event that the corresponding violations become known, we shall remove this content immediately.

GDPR and our updated privacy policy The responsible party for GDPR is: ganzheitliches Institut für Gesundheit und Ästhetik (GIGA) UG (Haftungsbeschrenkt) with CEO: Dr. Elham Eghbali under: Jahnstr. 35, D-92637 Weiden, Germany Your rights: • Inquire about your personal information which are saved by us and how we process them • Correction of wrong personal date • Deleting the saved information about you • Limitation of data processing as long as we can not delete your data according to local legislative obligations • To raise objection against our processing your personal information or • data transferability when you have consented to our processing your information or contracted with us You can withdraw from your consent to our processing your data any time. For complaints about violating your rights, you can contact the German regulatory authorities listed under: https://www.bfdi.bund.de/DE/Infothek/Anschriften_Links/anschriften_links-node.html" Why we process your data or pass your information to the thrid party: We process your personal information only for the purposes named in this document. Otherwise for fulfilling a contract, we'll not pass your information to a third party. Your information are shared with a third party only when: • you've given us your explicit consent • for processing your orders and fulfilling a contract • for processing and meeting legal obligations. Deleting and blocking information We keep your information as long as we require them for fulfilling the purposes named in this document or as long as we are legally obliged to. After expiry of any of the named purposes, your information would be (as legally required) blocked or deleted. Information collection when you visit our websites When you visit our websites, some general information are automatically collected with a cookie. These information (server logfiles) include the web browser, the operating system, the domain name of your internet service provider and so on. These are information that could not be personally directed to you. These are necessary information for web browsing and are required technically for: • to guarantee a safe connection of the websites • to guarantee a smooth browsing of our websites (no hick-ups) • evaluation of the safety and stability of the system • for further administrative purposes Collection of the above information is only for the named purposes and not for tracking you back. The data is collected only by responsible persons and contract partner. The anonymous information collected in this way is only statistically used to improve the stability and usability of our internet presence. Cookies Like many other websites we use cookies. With cookies we'll automatically receive certain information such as your IP address, the browser you're using, the operating system of your device and your internet connection. Cookies are unable to start programs or transfer virus to the device. With the help of the cookies we can simplify your navigation and enable the correct presentation of our website content. The data we collect in this way are not being shared with a third party or used to get access to your personal information without your consent. You can deactivate cookies when you surf our websites. Generally you can accept or reject cookies when you visit a website. Use the help function of your browser for more information. Be aware however, that some of the functions of the website do not work any more when the cookies are deactivated. Registration on our websites When you register to one of our websites, we collect some personal information such as name, address, contact information such as telephone number and mail address. When you are registered, you can use services and content that are only possible to registered user. Registered user always have the possibility to change their information or delete them. We'll inform you about your personal information which is saved by us and can change or delete them as per your wish as long as there are no legal obligations for keeping them. To reach us for this purpose, please use the contact data available at the end of this document. Services which are liable to charges For chargeable services such as fulfilling your orders, we'll need additional information such as paying methods or your account details. These information are saved by us as long as the mandatory period for saving data is over. SSL encryption To protect your information during transfer, we use a data encryption according to the newest technical possibility (such as SSL via https). Leaving a comment When you leave a comment on one of our websites and internet platforms, the time of your visit and the user name that you use for a certain service (social media for instance) would be delivered. This is only for security since we're responsible for unlawful comments even if they are submitted by users and visitors of our websites. Newsletter As per your explicit consent, we send you our newsletter or similar relevant information per mail to the email address you've entered our system. An email address is enough to get registered for our newsletter. The information you enter the system are only used for the newsletter. Newsletter receivers could as well be contacted about for the newsletter relevant information such as changes in newsletter itself or technical issues. For registration, a valid email address is necessary. We use a double-opt procedure to make sure that the email that is registered for the newsletter receipt really comes from the owner of the given email address. We make records of the registration for the newsletter, the delivery of the confirmation mail and the entrance of the confirmation response. We do not collect any further information and the collected information would not be shared with a third party. You can withdraw your consent for saving your information and newsletter subscription at any time. In each newsletter you'll find a link that allows you to unsubscribe from the newsletter. You can as well change your personalized date via this link or let us change this information for you by using the contact channels we suggest you at the end of the newsletter. Contact form When you send us a mail or use our contact form (for asking us questions for instance), you're accepting that we might contact you. In this case, we need a valid email address to be able to classify/save the message and come back to you. It is optional to add more personal information. These information are only used/saved for the purpose of processing your inquiries and answering your questions. Using script bibliography (Google webfonts) We use script bibliography such as Google webfonts (https://www.google.com/webfonts/) for the proper depiction of our websites. Google webfonts are transported into Cache of your browser in order to avoid a repeated loading. When your browser doesn't support Google webfonts or doesn't allow the access, the contents of the website would be presented in a standard font. Using script bibliography automatically sets a connection between your device and the operator of the bibliography. It is not quite clear how and why the operator (for example Google) uses the collected information. You can find our more about the privacy policy of Google via this link: https://www.google.com/policies/privacy/ Updating our data privacy policy We may update this privacy policy from time to time in order to reflect changes to our operations or assure a compliant privacy policy. We recommend reviewing our privacy policy occasionally to be informed about the latest updates. Questions about the data protection: In case of any questions about the privacy policy and the data we collect please contact us per email: Responsible person for data protection: Dr. Elham Eghbali SkinChakra is a trade mark of ganzheitliches Institut für Gesundheit und Ästhetik (GIGA) UG Jahnstr. 35, D-92637 Weiden, Germany Contact: info@giga-ug.de