Saturday, 8. March 2014
Olive oil is as favorite as it was 1000 years ago. It has served as medicine, cosmetics and nutrition to Mediterranean folks and is still one of the most precious (and most adulterated) nutritional and cosmetic oil. The virging oil has a beautiful gree-gold color with a green scent and is known for its refatting, barrier repair and antioxidant-antiaging properties.
Olive oil is still one of the favorites oils of all soap makers and here I have a super easy recipe to create a beautiful and effective soap.
We apply olive oil into various SkinChakra® oils, we have pure olive oil soap, Olive oil-Avocado oil soap and some other variations. To bring a little change/variety and prepare a soap which is not boring, I created thsi soap & scrub and have applied powdered olive stone-almond kernel mixture as an exfoliating agent. For a variety in color, I divided the soap into two parts (eyeballing is quite enough) and added Spirulina powder to one part and then poured the two parts in the mold so that the final soap is marbled.
If you follow this recipe, be aware that spirulina has magnificent skin conditioning, skin cleansing and moisturizing effects, but as a natural dye it is very sensitive to light. Protect your beautiful soap during curing and afterwards by covering/wrapping the soap. Otherwise the beautiful dark green fades after a couple of weeks to a yellow-gray color.
I decided to apply Rosemary essential oil instead of a fragrance oil.
Olive oil doesn't come to a real trace but it doesn't matter. I even didn't have a water discount. And the result was extremely beautiful. I've applied 5% superfat in my calculation.
Before we start I want to recommend you to read our older posts and general information regarding hygienic manufacturing practice in cosmetic lab, introduction to Basic equipment and utensil for a cosmetic lab and the safe handling of Sodium hydroxide.
So if you now are ready to follow me, here we go:
For 1000 gr of olive oil you need:
Virgin, organic olive oil 1000,0 gr
Rosemary essential oil 35,0 gr
For the lye:
Cold distilled water 380 gr
a silicone or a wooden loaf mold (you can try our mini silicone molds for trial batches)
a water bath
A Thermometer
an stainless steel pot or Pyrex jar (to heat the oil in the water bath)
A stick blender (try to find some with plastic stab)
Glass beakers (for essential oil, spirulina, olive stone powder)
A plastic beaker or bowl for NaOH
A plastic jar for lye
A plastic or silicone spatula or spoon
Safety goggles, gloves and mask
Instruction: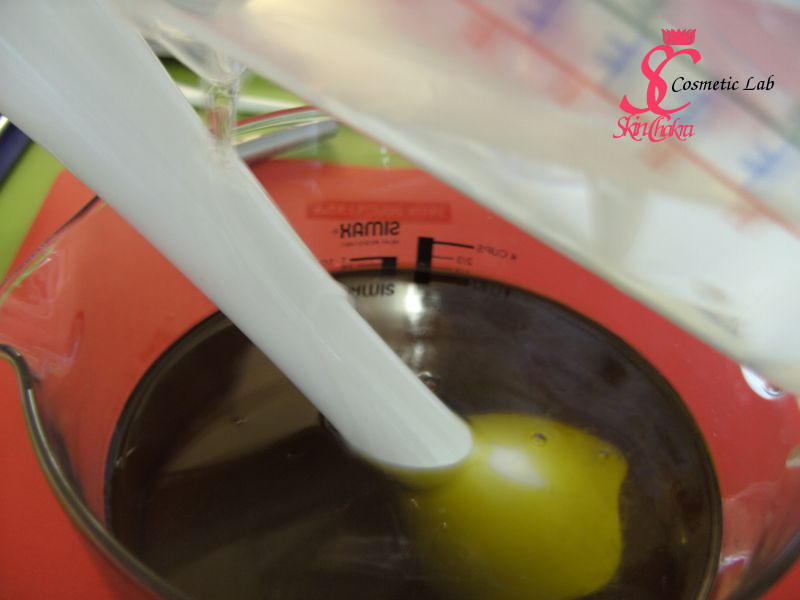 One: Waring safety goggles and gloves, weight Sodium hydroxide in a plastic beaker or bowl. Weight cold distilled water in a plastic jar. Slooooowly add the lye to water in small portions with stirring after each portion. Keep the water jar in a cold water or ice/water bath to avoid extreme heating of water as you add lye to it.
As the lye is cooling, weight the olive oil in a stainless or pyrex jar and heat it slightly in a water bath. The oil should be around 30-40 degrees as you add lye to it.
Two: Meanwhile and as you're waiting for oil and lye temperature to adjust weigh the olive stone in another jar, the jar/beaker should have a capacity or 700-1 lit. Weigh spirulina in another jar of the same volume. Weigh the essential oil in a small glass beaker. Line your mold if you're applying an HD or a wooden mold.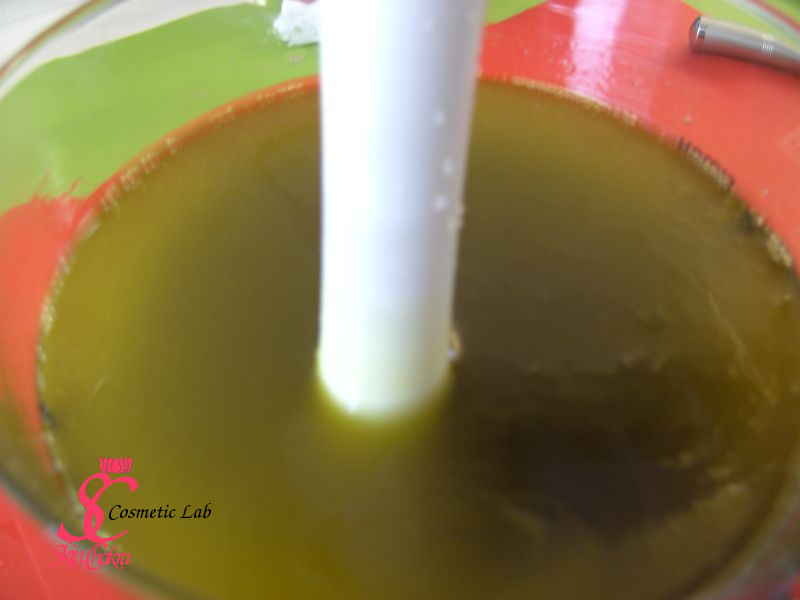 Three: With oil and lye temperature being about 30-40 degrees with max. 10 degrees different between lye and oil, pour the lye slowly over the stab or the stick blender. To get rid of air bubbles tap your blender a few times in the oil before you add the lye.
First stir a few seconds with the blender not yet on. Then turn the blender on and stir for a few seconds. repeat this procedure for a few minutes with a break after each few seconds. DO NOT EXPECT THE BATTER TO COME TO A TRACE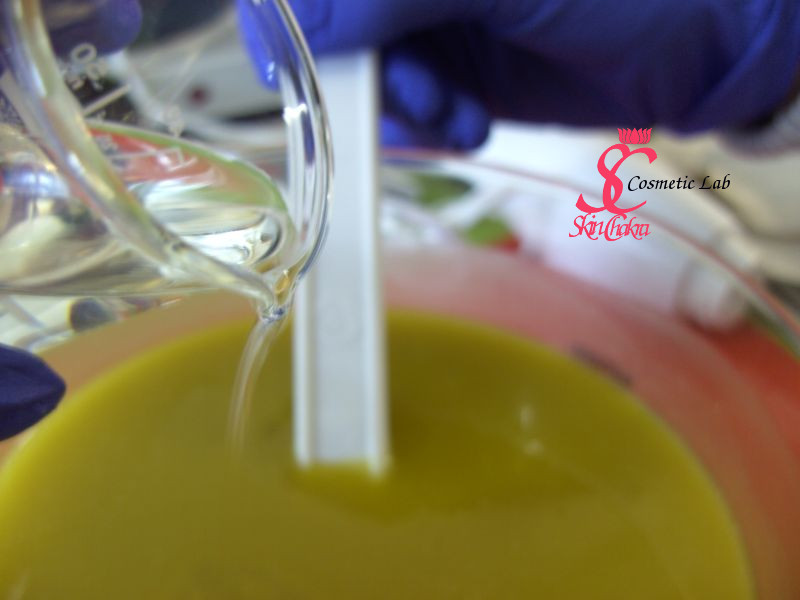 Four: Add the essential oil to the soap and stir a few seconds with the blender turned off. Our Rosemary essential oil didn't accelerate the trace. Make sure about your essential oil or fragrance oil in a small trial batch if you're applying another oil.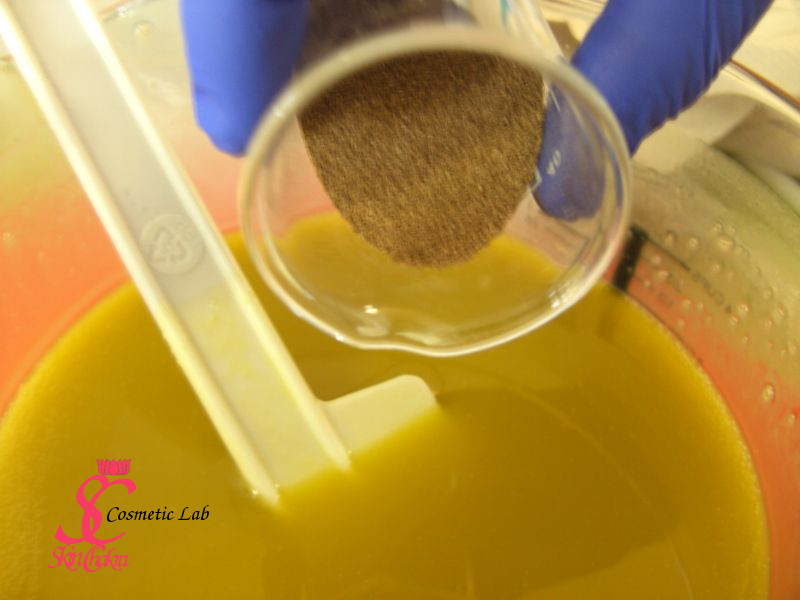 Five: Divide the soap into two parts. Eyeballing is quite enough. Add olive- almond powder to one part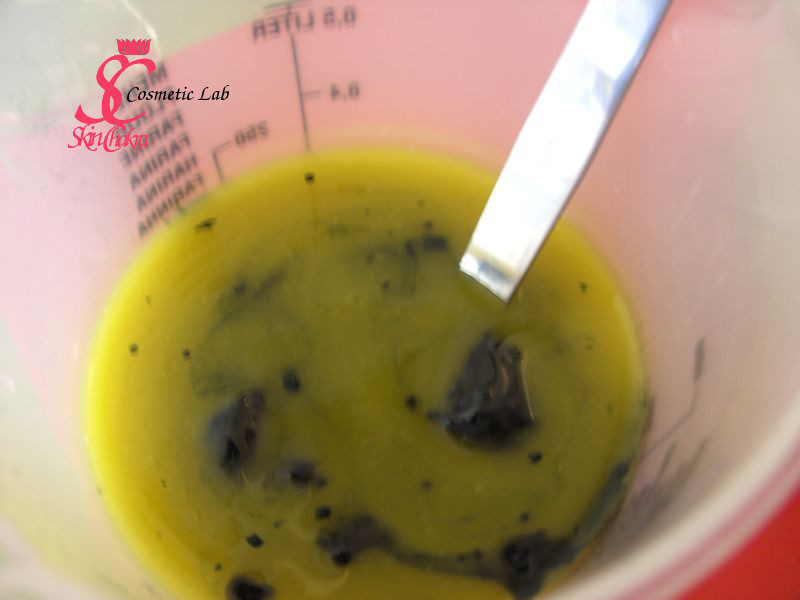 Six: and spirulina to the other part.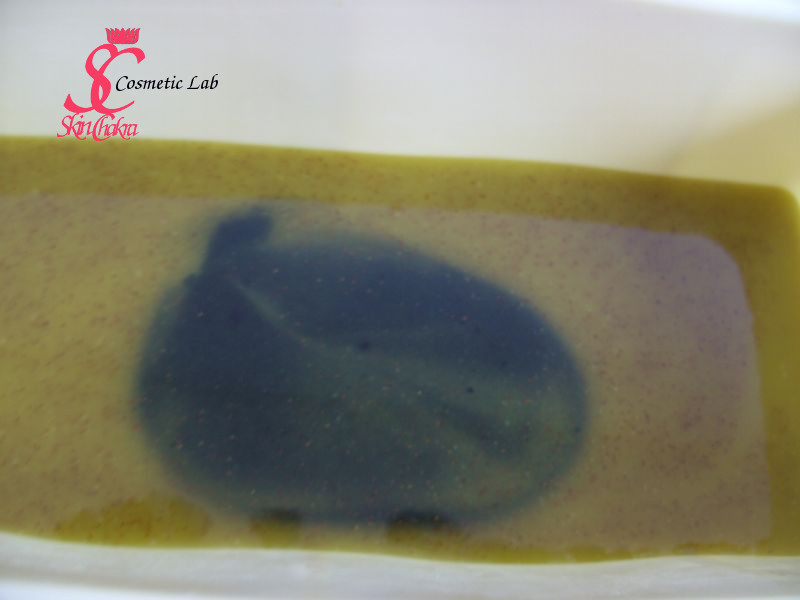 Seven: The fun part begins. Pour the soaps alternatively into the mold. Working with a soap buddy is more fun. Here we add the soaps in the middle of the mold and from a relatively high position so that the two layers really blend.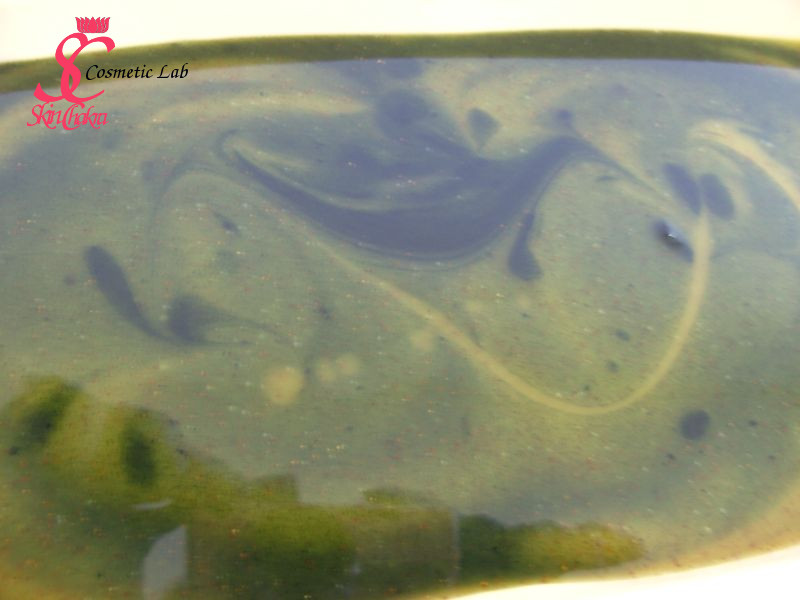 Eight: Play with layers as you like. There are no rules and there is nothing you may make wrong.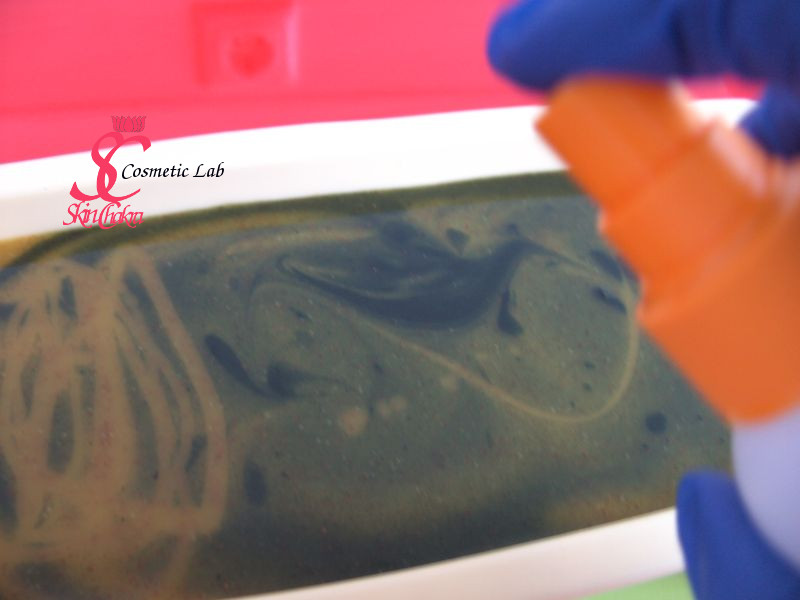 Nine: After you're finished with pouring spray the surface with spray alcohol to avoid forming soda ash over the surface.
Isolate the form (cover the surface with a wrap and cover the form with towels) for a few days. We have waited one whole week before we unmolded the soap.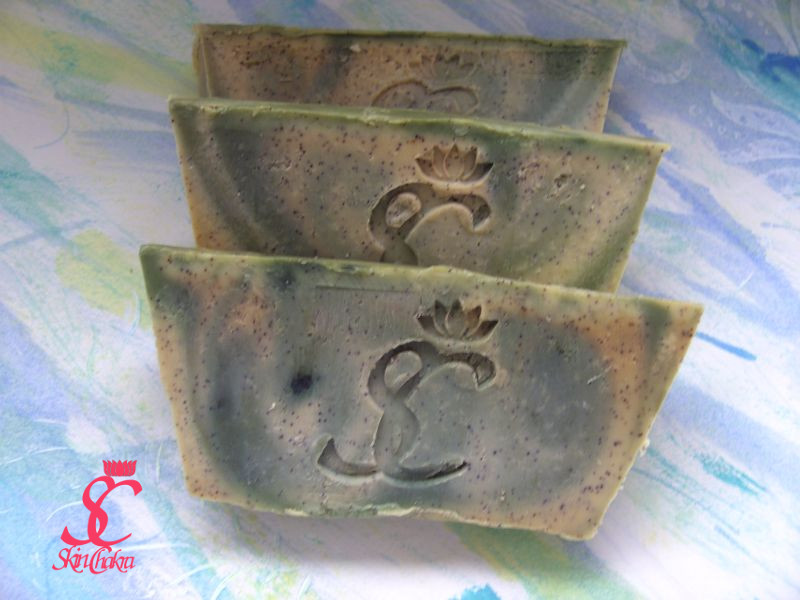 You may cut the soap into bars and stamp them.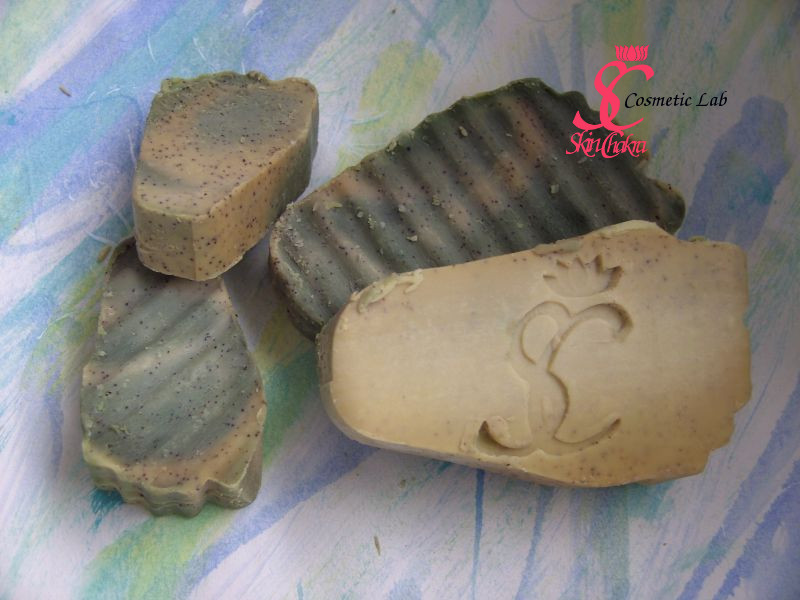 or for more fun cut them with cookie cutter to cute forms.
Spirulina is very sensitive to light. Do cover and protect your beautiful soaps during curing (4-6 weeks) and during storage.
You can buy all the ingredients for this project in SkinChakra® Online Shop.
BeHappy and have fun.
Comments
Display comments as (
Linear
| Threaded)