Thursday, 29. October 2015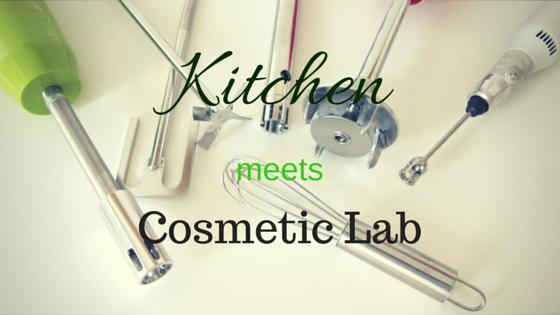 You've hopefully read part I and II of this series where I've tried to compare affordable kitchen blenders with professional laboratory mixers and homogenizers.
In this part, I want to share my results for some very exciting low-viscosity and sprayable emulsions. At the moment I'm quite obsessed with enzymatically modified Lecithin (also called lysolecithin). You're probably familiar with lecithin which is a collective name for blends of polar lipids (phospholipids, Glycolipids and lysophospholipids). Lecithin plays a very important role in our nutrition and phospholipids are part of our cell membrane, skin barrier and many cellular activities. From your formulation background, you probably know lecithin as a natural emulsifier (most known as a W/O emulsifier).
Lecithin is naturally available in egg yolk, in sunflower oil, soybean oil, avocado oil, rapeseed oil and a few other oils. It is separated by refining process (you don't find it in refined oils) and is processed and sold separately, as a nutritional supplement, food additive or emulsifier.
I'm going to dedicate more posts to lysolecithin but for the moment keep in mind that by lysolecithin, a part of phospholipids in lecithin are enzymatically (without any catalyst) hydrolyzed so that the final product is more hydrophilic than the original lecithin. This process is approved by most certification organizations and the final product could be find with organic quality and organic conform quality.
Lysolecithin is available both in liquid and in powder form. The liquid form has a honey-gold to dark brown color and the powder form is most often as a lumpy powder.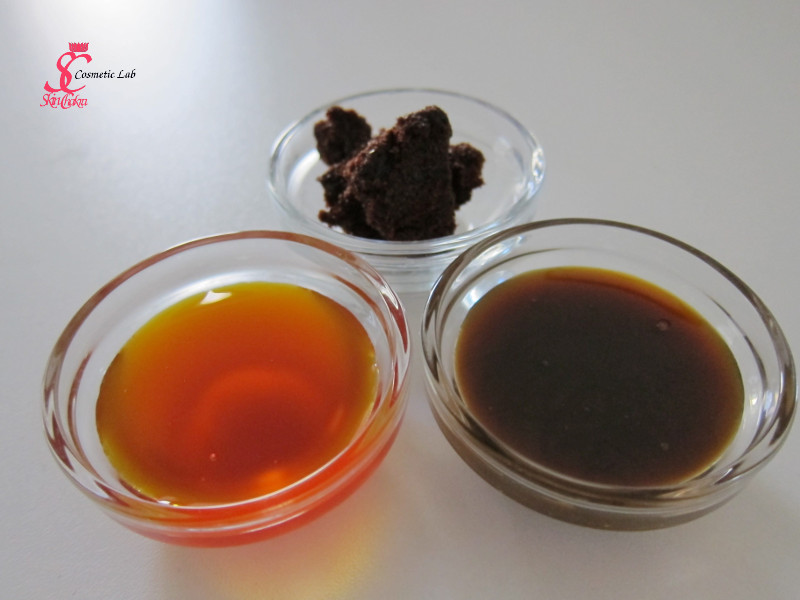 Since lysolecithin is more hydrophilic than the usual lecithin, you can apply it into your water based products such as shampoos, shower gels or conditioners. The most amazing aspect however is its being an amazing cold-process O/W emulsifier offering you endless possibilities for making emulsions and creams with different viscosities and textures, varying oil phase concentrations and with an amazing light and silky skin feel without any soapiness or any "maccaroni" effect.
Lysolecithin does not stabilize the emulsion on its own. Even for low viscosity and sprayable emulsions you need a viscosity modifier such as xanthan gum, konjak gum or a blend of different gums.
You can even blend lysolecithin with other natural emulsifiers to modify the viscosity or texture and improve their skin feel.
Keep in mind, that because of the intensive color of lysolecithin, your final emulsion would have a yellowish-beige color. You can not get white creams & emulsions with lysolecithin.
For this experiment, I prepared a rather simple low viscosity emulsion, applying the same recipe each time but blending with different blending instruments. For a completel review of the blending instruments please refer to part I of these series.
I used 3% lysolecithin for 16% oil phase. Lysolecithin should be dispersed in the water phase for at least 20-30 minutes before you blend water and oil phases. I've prepared this emulsion without any fragrance oil or essential oil. The geranium hydrosol is completely enough for a mild and pleasant scent. You are free to add your desired essential oil or fragrance oil at the end of the blending.
Here is my recipe:
oil phase:
8.0% Perilla seed oil
5.0% Pomegranate seed oil
0.5% alpha-Tocopherol
0.5% Squalane
1.5% hypericum perforatum extract in sunflower oil
0.5% Glyceryl caprylate
0.5% Xanthan gum
Water phase
3.0% Lysolecithin
4.0% Glycerin
1.0% Coco-glucoside, glyceryl-oleate
1.0% hydroglyceric extract of chamomile
0.1% Dermofeel® PA-3
up to 100% Geranium hydrosol
Preservative
1.0% Euxyl® K903
We didn't apply any pH-modifier to adjust the pH. The pH of the final lotion was around 4.6-4.7. You can apply lactic acid or citric acid to reduce the pH or sodium bicarbonate (baking soda) to increase the pH according to your preservative demands.
Procedure:
1- Blend lysolecithin and geranium hydrosol in your main beaker or vessel. Let this gently blend either with a magnetic stirrer or an overhead mixer. If you don't have any of them, blend them completely with a whisk or spatula, let it stand for 40-50 minutes but gently stir the mixture every now and then. Lysolecithin needs time to absorb water molecules inorder to become more hydrophilic.
2- After lysolecith and geranium hydrosol are blended, add Coco-glucoside, glyceryl-oleate and blend completely. This is a natural conform emollient which is a high viscosity paste and rather tricky to completely disperse. This has no impact on the emulsion making and on the stability of the emulsion and is just a very nice emollient with a silky skin feel. Go ahead without it and replace it with other emollients if you have no access to this ingredient.
3- Now add other ingredients of the water phase under gentle stirring: glycerine, chamomile extract and Dermofeel® PA-3
which is a natural chelating ingredient and a preservative booster.
4- Add all ingredients of the oil phase separately in another beaker. I've added xanthan gum which is the stabilizer and viscosity modifier into this phase.
5- After both water and oil phases are homogenous, it's time to add the oil phase to the water phase. Here comes the real experiment and the purpose of this post which is comparing kitchen mixers with a professional homogenizer/mixer.
6- After the oil and water phases are blended and you have a homogenous emulsion, add the preservative and blend for a few minutes. Measure the pH and adjust it if necessary.
I've prepared 6 identical samples, each being exactly the same but just being different in the blending method:
1- Just the mini whisk and hand-blending. This is the method most students and DIY crafters apply for small volume amples and tests.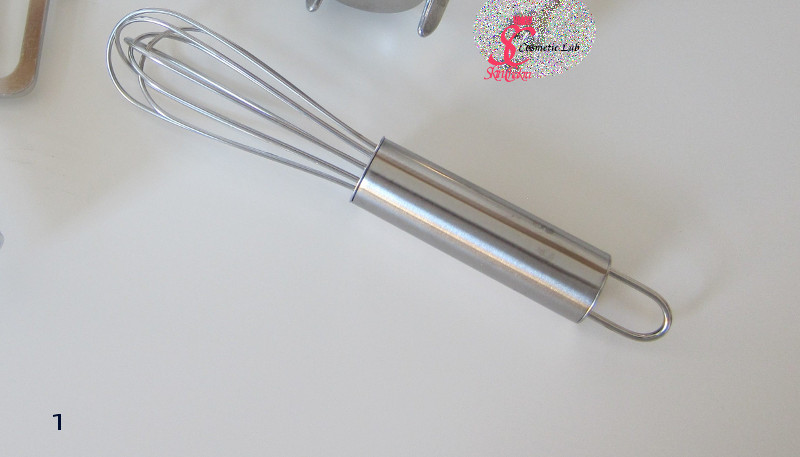 2- Our Yvona (Kai blendia) with the emulsification head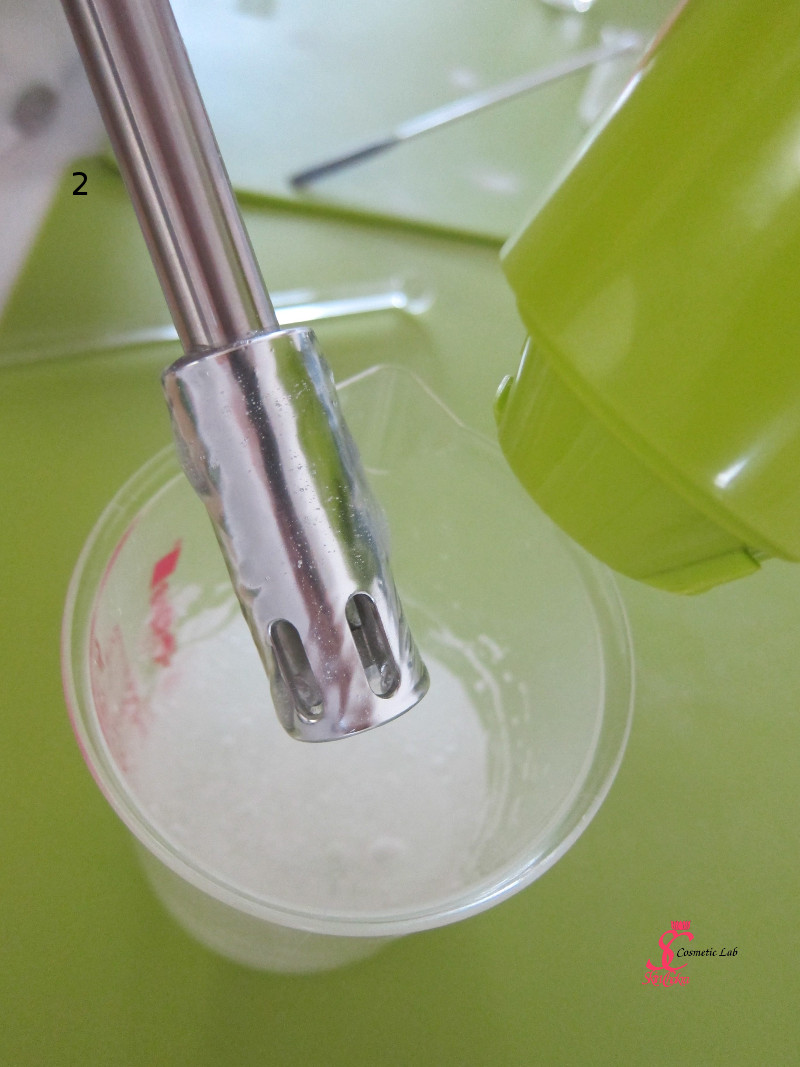 3-Our Jeremy. This is a mini blender with quite a lot of power for small volumes and is Swetti's favourite blender.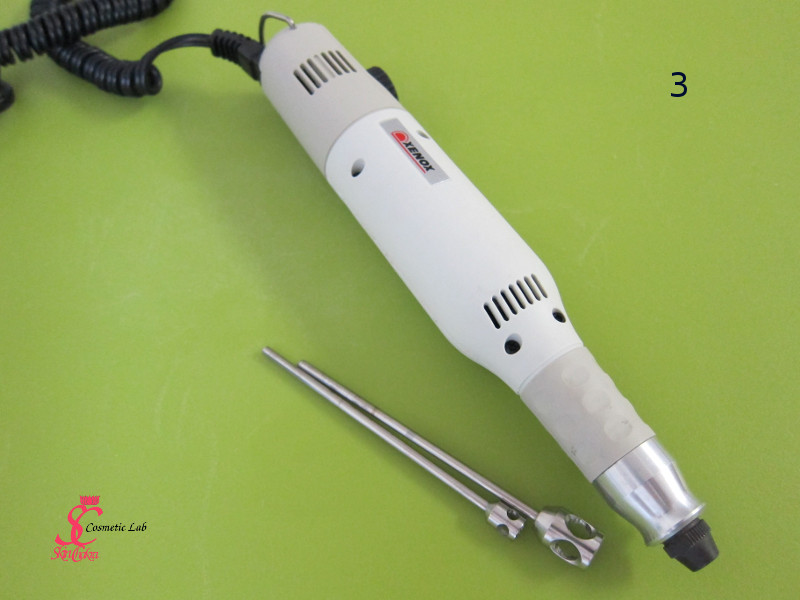 4,5- Our Magdalena (Bamix blender). I applied different accessories for sample No. 4 and 5. The accessories are marked on the photo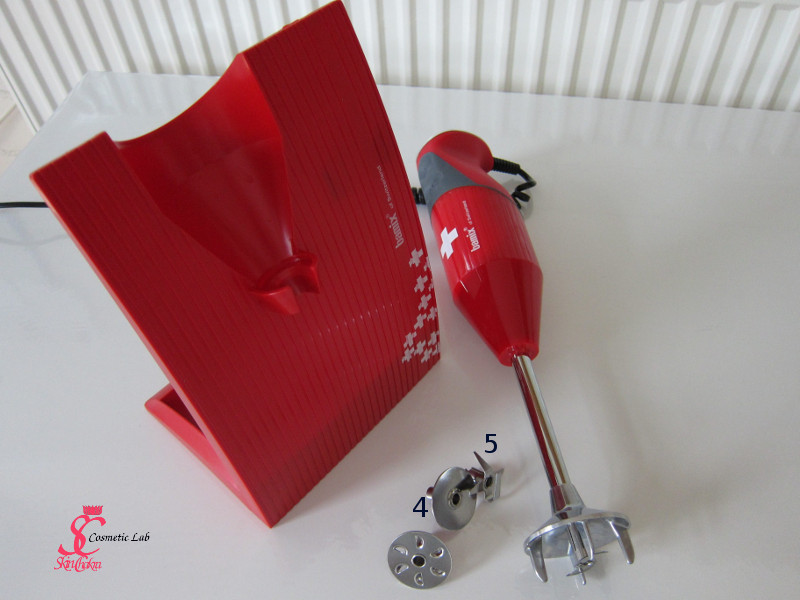 6- Our Markus and Freddie (IKA homogenizer and overhead mixer) which are obviously the most professional and convenient instruments but unfortunately not quite affordable for most students.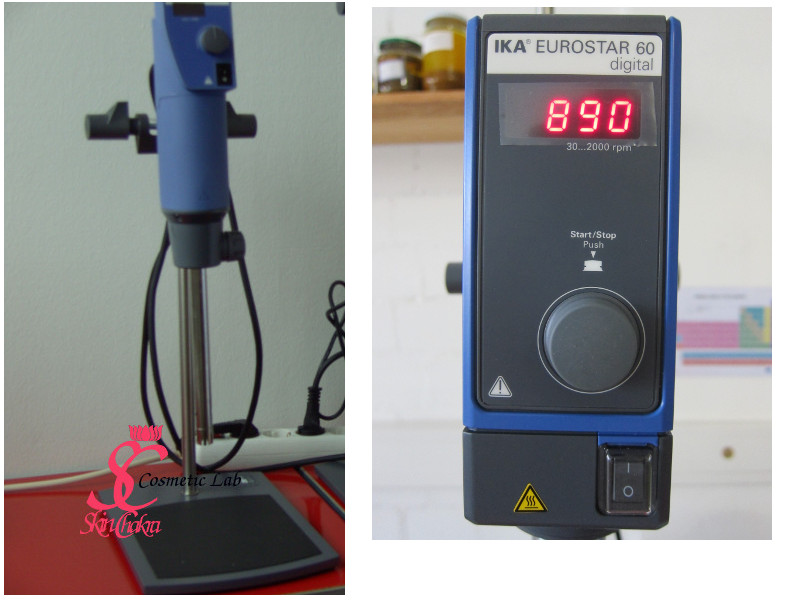 All emulsions have a nice and smooth texture and they are stable to this point for 6 weeks @R.T., 45 C and 4 C. None of them passed the centrifuge test which happens quite often for low viscosity emulsions.
By visual judgement, the first emulsion (the one blended with the mini whisk) has the darkest colour which is quite logic. Colour depends to a great part on the particle size and obviously by hand-blending the particle size is bigger compared to all other emulsions.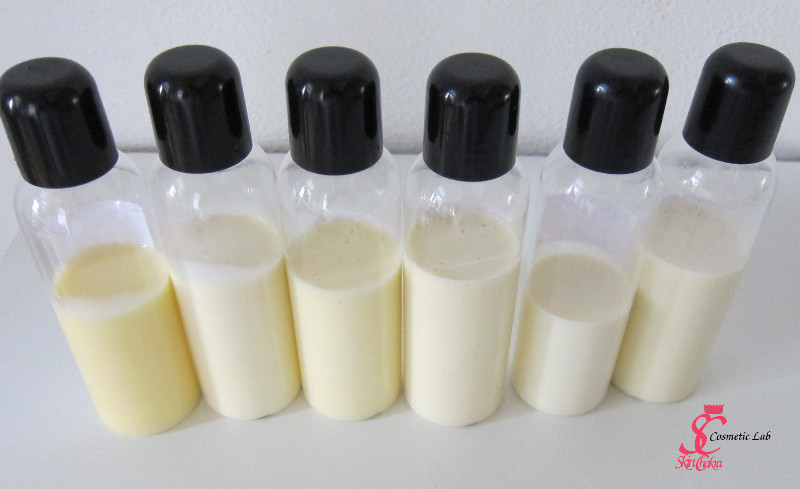 This is confirmed by viscosity measurement. Although all of them have very similar viscosities, the viscosity of the first emulsion (hand-blending ) is the highest and the viscosity of the emulsion No. 6 (homogenized with lab. homogenizer) is the lowest. This is a sign of biggest and smallest particle size, although the difference is not quite big.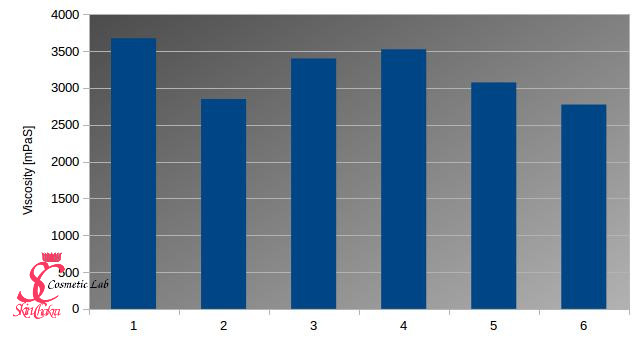 And finally the micrographs of the emulsions after 5 weeks. It is quite obvious that the emulsion No.1 (hand-blended) has the largest particles.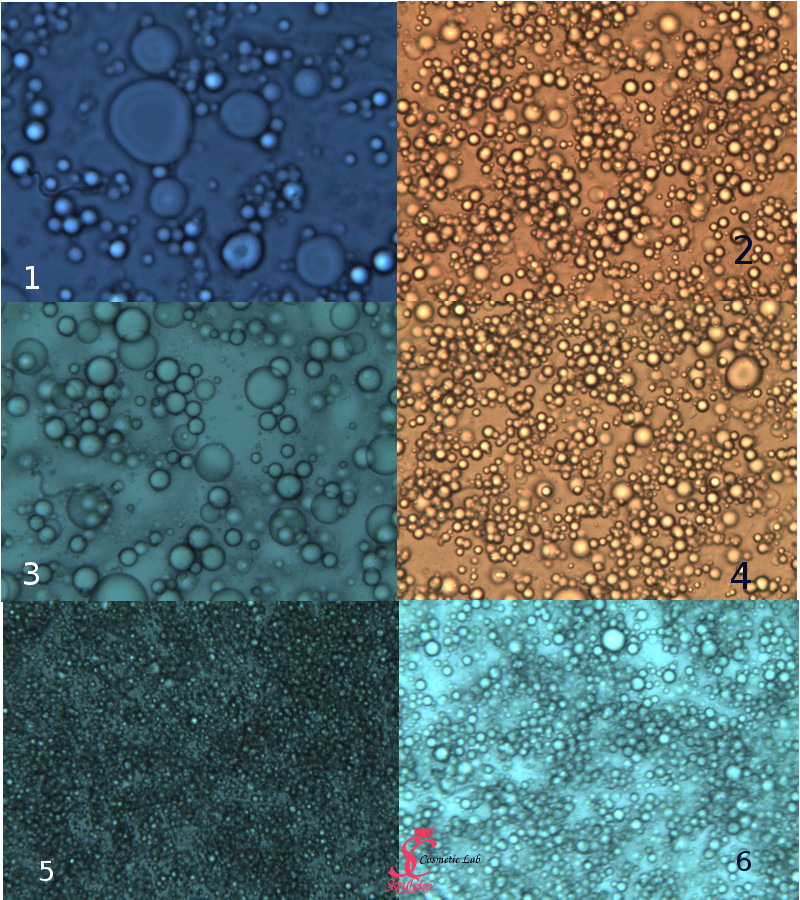 I'll update you about the stability of the emulsions in the coming weeks. My first impression is however, that you can apply any of the kitchen mixers or the mini-mixer proposed here with a comparable (not equal) efficiency to the professional lab. homogenizer. Keep in mind, my sample size was 100 ml.
Thanks for your visit
BeHappy and have fun
28.January.2016
Just wanted to share an update with you. To my own astonishment, all 45 degree samples passed the 8 weeks test which is quite amazing. The RT samples are all stable till now. I remind you that this test was performed on 100 gr samples. As you scale up, you'll certainly have other results specially with manual blending.
1. July 2016
After writing this sery of blog posts, tens of readers from all over the world have contacted me and asked for a more precise recommendation. After working with all of these kitchen tools for more than one year, if I were to choose only one instrument, I would choose the Blendia. The long term texture and the appearance of the samples made with Blendia are better compared to other instruments. I know that Blendia is not easily obtainable everywhere in the world and I hope you have some friends and families where they can purchase Blendia for you. My second choice for making emulsions would be the Bamix.
Keep in mind however, that non of these instruments is a 1:1 substitute for a homogenizer or an overhead mixer.
Comments
Display comments as (
Linear
| Threaded)
The author does not allow comments to this entry