Wednesday, 3. February 2016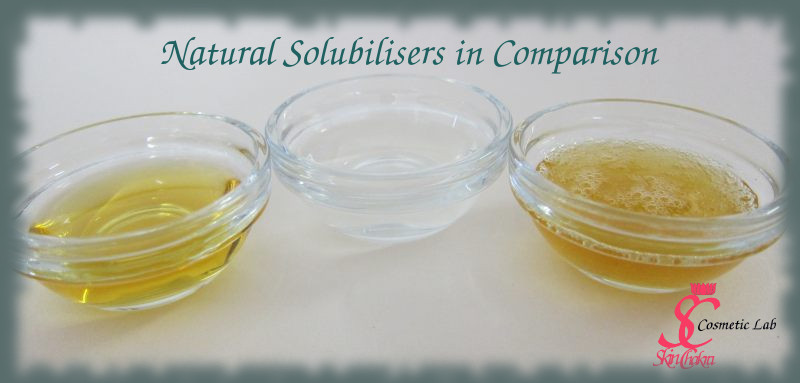 We have had many discussions and a very exciting challenge about "solubilisation" during the last couple of months by Formula Botanica.
We've even made a couple of videos last weekend in London which would be soon available to Formula Botanica students together with a presentation about the whole solubilizing. Because of this and the related discussions, I tried to compare 3 "natural" solubilizers for you.
You usually apply a solubiliser to incorporate an essential oil or a fragrance oil into an aqueous solution. Even by ingredients such as preservatives with an oily component (benzyl alcohol for instance) you'll need a solubiliser to incorporate the preservative into water. This is very helpful and common in deodorants, cleansers, tonics, body splashes and similar products. Not only the final product looks prety and more appealing because the essential oil is "solubilized" in the water, it even performs better because the essential oil is dispersed as tiny invisible droplets into the solution and by each single application, you have the same concentration of the EO, together with all other ingredients applied to your skin.
By avoiding a solubiliser, it is obvious that the EO and water do not blend and the EO separates on top of water as soon as you stop shaking the bottle. There are many "natural cosmetic" brands on the market now that avoid applying any solubiliser. They either pack the product in an opaque bottle or simple let the consumer observe the separated EO on top of the bottle and mention on the application instruction: "Shake well before use".
This temporary shaking however, might not be quite efficient to disperse the essential oil (and the preservative) in the solution and it is possible that with each application the consumer applies different doses of the EO over the skin. Well cosmetics are cosmetics and no pharmaceuticals and the dosage is not as critical as by applying medicine but consider the fact of overdosage and skin sensitization because of a higher-than-planned dosage by applying such a product over your skin or the skin of your consumer.
The most widely available and applied solubilisers so far are polysorbates (specially polysorbate 20) and PEG-40 hydrogenated castor oil. They both work excellently and are very easy to work and forgiving ingredients. Unfortunately, both of them are PEG-derivatives and are not allowed and desired in "natural" cosmetics. The problem is, by PEG-40 hydrogenated castor oil, the INCI name reveals the PEG in the product but by polysorbate, there is no mention of the PEG in the INCI name and unfortunately many retailers don't mention this fact about the Polysorbates. I've even seen some retailers selling polysorbates as "esters of sorbate" and "derived from lauric acid (from coconut oil)" which sounds very "natural" if you don't have any background about the PEG-part in the molecule.
Anyway, I've searches a long time to find a reasonable "natural" solubiliser which works in both alcohol containing and alcohol-free solutions till I came to my "favourite" soluboliser which , as many of you may know is Symbio®solv XC.
I have been testing this solubiliser since years in cosmetic and home care products, in yoga mat refreshing solution, in home textile refreshing spray and whenever and wherever I needed a "natural" solubiliser. We even made the tutorial videos in London with this solubiliser. For this post, I decided to compare this solubiliser with two other "green" and "natural" solubilisers based on sugar chemistry:
Caprylyl/capric glucoside (Caprylyl/capryl part is usually derived from palm kernel oil. Check it with your supplier whether there is any palm-free variety available)
heptyl glucoside (this could be available as a palm-free version as well, ask your supplier about the palm-free status of the product)
The title photo of this post depicts the three solubilisers. The very left one is my favourite Symbio®solv XC which is a viscous, yellow liquid. There is a similar prodcut from the same supplier which is called Symbio®solv clear and doesn't have this yellowish colour.
The solubiliser in the middle is caprylic/capric glucoside which is a medium viscosity and colourless liquid. The product in the left is "heptyl glucoside" which is a honey like liquid with a high viscosity.
To compare these solubilisers, we prepared a very simple and basic formulation:
Water to balance
Lavender essential oil 0.5%
Solubiliser 4.0%
Preservative (Euxyl® K903) 1.0%
We blended the solubiliser, the EO and the preservative in a small beaker and the added this blend slowly to the water.
1- Blending
Symbio solv XC and the Capryly/Capryl/Glucoside blend well @ RT. The heptyl glucoside was heated gently to make a homogeneous paste.
2- Dosage
By 4% solubiliser for 0.5% lavender essential oil and 1.0% preservative (it contains lipophilic ingredients: benzyl alcohol and tocopherol and hence needs a solubiliser), Symbiosolv XC and Capryly/Capryl/Glucoside performed excellent and made nice clear solutions. The dosage should apparently be increased for heptyl glucoside. By 4% dosage, the solution is cloudy.
3- Foaming
keeping in mind that all solubilisers are "surfactants", they all foam more or less. there is even an old trick to recognize whetehr your hydrosol is a real distilled water or a fake hydrosol prepared by adding low concentrations of an essential oil (blended with a solubiliser) to water (which is obviously much more cheaper than a real hydrosol). If you shake the bottle and it foams, it is very probably a fake hydrosol and the foaming is because of the solubiliser whereas a real hydrosol would just foam very little by shaking.
In this case however, Symbiosolve XC foams moderately, Capryly/Capryl/Glucoside is actally sold as a foaming agent and foam stabiliser and foams more compared to the other two (the foam is quite stable even after two hours) and the heptyl glucoside which is sold as a "non-foaming" solubilisers, foams to the same extent comparable to Symbiosolv XC.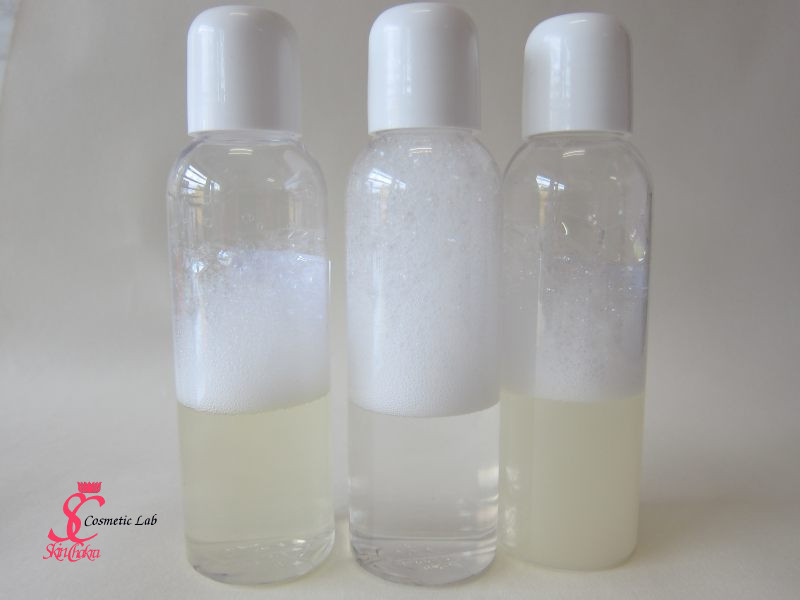 4- Appearance
By 4% concentration, Symbiosolv XC imparts a nice yellowish colour to the product. The Symbiosolv clear is quite colourless and if you prefer your product to be colourless I recommend using Symbiosolv clear. Since in natural cosmetics however we're usually working with high concentrations of infusions and extracts which are colourful often, this yellowish colour is not disturbing (an is even desired) in most cases.
Capryly/Capryl/Glucoside makes a clear and colourless solution.
By heptyl glucoside, since the dosage is not enough the solution is quite turbid/milky and the essential oil separates in a few days. The dosage should be increased to 6-7% to make a clear solutions with a light yellowish color.
Conclusion:
Capryly/Capryl/Glucoside is quite a nice solubiliser compared to Symbiosolv clear and Symbiosolv XC. Foaming is however a major disadvantage. I personally, would not recommend it for products that are not supposed to foam. If you have cleansing products (with or without an additional surfactant), then this foaming is quite desirable and advantageous but in products such as body splash, under-eye gel (or serum) or facial moisturizing gel this foam might be troublesome and a disadvantage for the product.
Attention:
Please keep in mind that the optimum ration between the essential or fragrance oil and the solubiliser should be determined case by case. This ratio is very case sensitive and varies for different oils. The golden rule is as always:
As
little
as possible
As
much
as necessary
You don't want to oversode the solubiliser, but don't want to risk a phase separation and turbidity of the product as well.
The choice is yours however. Try any of these solubilisers in your formulations and let me know how you find them.
BeHappy and have fun
Comments
Display comments as (
Linear
| Threaded)
The author does not allow comments to this entry