Sunday, 21. February 2016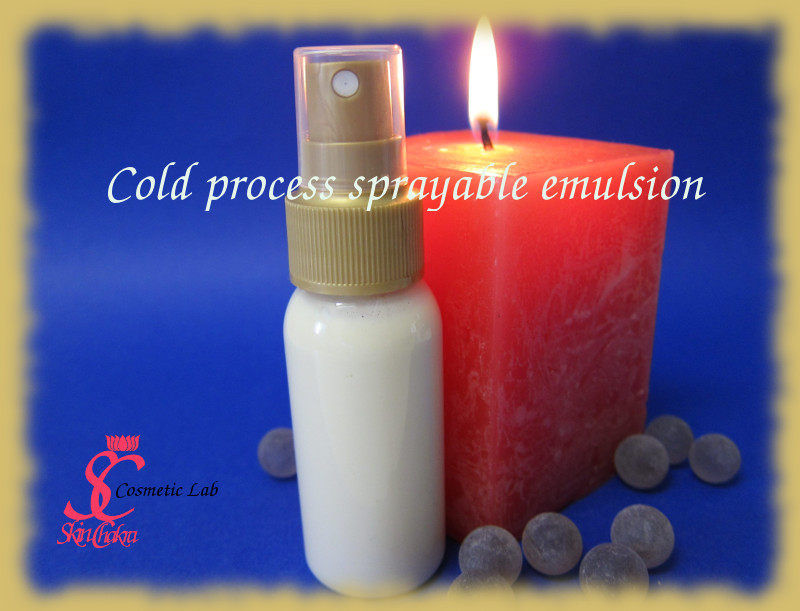 Hi guys,
It'sa long time since I've introduced "sucrose Stearate" in a brief post and promised to come back with some tutorials. Well it takes a little bit time since I publish tutorials after they pass the stability tests which takes at least a couple of months.
BTW, my stability course: "Certificate in cosmetic stability testing" would be available for enrollment from first week in March. The live Q&A session is planned for 29th of March and I hope to meet (virtually) you during this Q&A and to answer your questions regarding the stability of your natural products. This course is specially designed for artisan cosmetic manufacturer who dodn't have any access to state-of-the-art instruments.
Coming back to our original subject, sucrose stearate. I want to share a simple cold process formulation with you. As most of you may know, preparing sprayable emulsions is a tricky challenge. First, you can not prepare a low-viscosity emulsion with every emulsifier. The emulsifier should be suitable for making sprayable and low viscosity emulsions.
Second, even if the emulsifier is the right one, it is quite challenging to achieve the right balance to create a "stable" emulsion. Most often, low viscosity emulsions separate after just a few days at elevated temperature and after a couple of weeks at RT.
Sucrose Stearate is one of those amazing emulsifiers that enables you to create low viscosity and sprayable emulsions. But it is not the end of it, by varying the emulsifier concentration and by combining it with other emulsifiers, you can create medium viscosity and high viscosity emulsions and creams.
Anyway, in this tutorial I'm sharing a cold process (I love cold process) sprayable emulsion with you. Despite a high oil concentration, 30%, the skin feel is very nice & smooth. There is no soapiness, no stickiness and no "maccaroni effect". The emulsion works perfectly both as a body and as a facial emulsion. You're free to swap any of the oils with your favourite oils.
Before we start I want to recommend you to read our older posts: hygienic manufacturing practice in cosmetic lab and introduction to Basic equipments and utensils for a cosmetic lab.
For this emulsion you'll need:
Phase A:
Sucrose Stearate 3.0%
Apricot kernel oil 15.0%
Baobab seed oil 5.0%
Poppy seed oil 9.0%
Glyceryl Caprylate 0.3%
Tocopherol 0.5%
Rosemary CO2 extract 0.1%
Phase B:
Geranium hydrosol to 100%
Dermofeel® PA-3 0.1%
Vegeluron 5.0%
Panthenol 0.5%
Phase C:
99.5% glycerin 4.0%
Xanthan gum 0.3%
Sclerotium 0.2%
Phase D:
Sodium lactate 2.0%
Dermosoft 1388 eco 2.5%
Phase E:
80%Lactic acid (a few drops to adjust the pH)
Phase F:
Ylang-Yland essential oil 0.1%
geranium essential oil 0.1%
Procedure:
1- Blend phase A and phase B in separate beakers @RT. Sucrose stearate is not soluble in oil, it should only be homogeneously dispersed.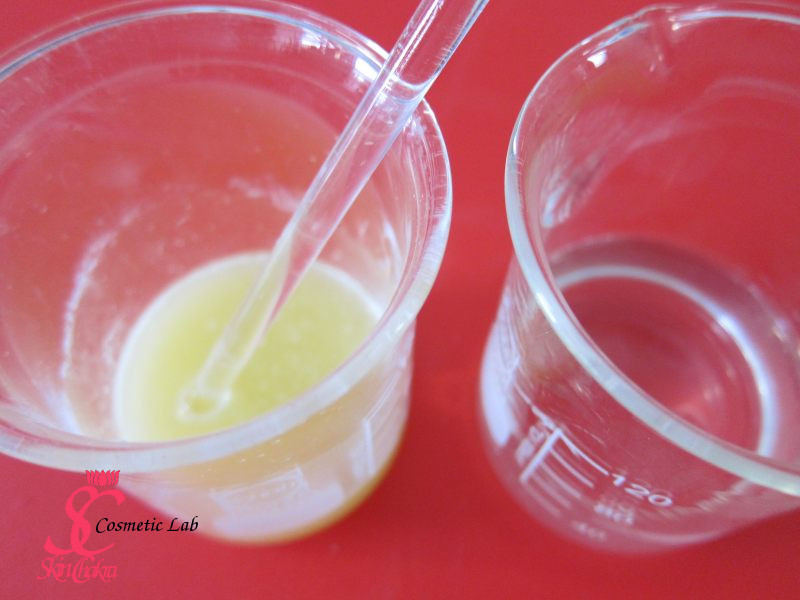 2- Slowly add the water phase to the oil phase and blend the mixture (You can use a spatula, a glass rod or a magnetic stirrer for small quantities). A milky pre-emulsion appears.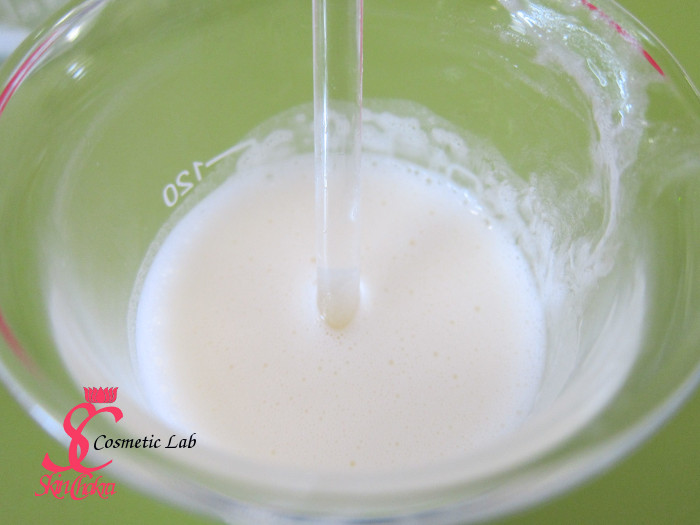 3- This is quite nice and looks like an emulsion but is not yet finished. Now apply your homogenizer to homogenize this mixture. Look at our older posts for more information about improvised affordable homogenizers. Depending on your homogenizer and the volume of your batch, your homogenization should take about 1-4 minutes.
4- In a small beaker, blend the gums into 99.5% glycerine. Pre-mixing gums into glycerine with a low water concentration enables you to add the gums into the emulsion without any coagulation and building of lumps.
5- Under slow agitation, gradually add the gum-glycerine blend to the emulsion. The viscosity increases just a little bit but we add the gum for emulsion stabilization and not to increase the viscosity. Continue stirring for a few further minutes until the gum is completely blended.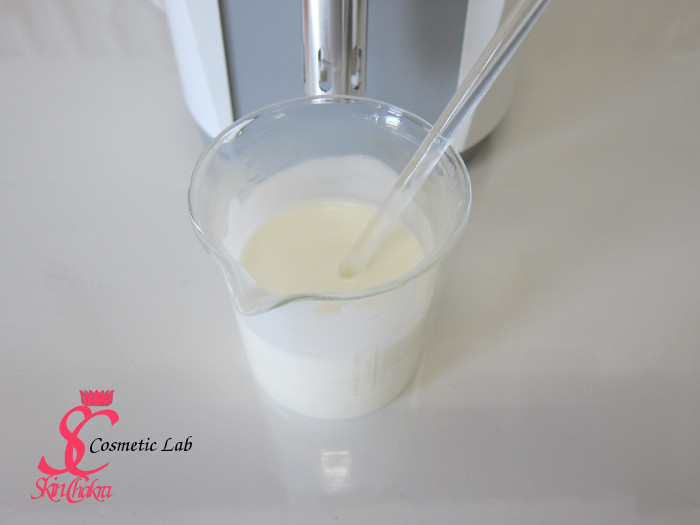 6- Now add sodium lactate, Dermosoft® 1388 ECO and the antimicrobial blend one by one and stir after adding each ingredient.
7- Prepare a 10% solution of the emulsion for pH measurement (if you're using a pH-meter with a pH-electrode) or measure the pH of the emulsion directly with a pH-stripe (this is however much less precise than a pH-meter).
In my case, the pH was 6.1. Depending on your ingredients, the pH might be higher or lower in your case. I've adjusted the pH by adding a few drops of 80% lactic acid to 5.45. If you're using another preservative, adjust the pH according to your preservative.
At this stage, you may homogenize the emulsion once more for about 1-2 minutes.
8- After the pH is adjusted, add the essential oils and blend shortly (a hand whisk or a glass rod is quite efficient for small volumes).
Leave the Emulsion for 14 hours to settle and fill it in a suitable bottle.
I hope you'll enjoy working with "Sucrose Stearate" as much as I do. Feel free to send me your questions and comments or posting your photos on SkinChakra® Facebook page.
BeHappy and have fun
Comments
Display comments as (
Linear
| Threaded)
The author does not allow comments to this entry