Wednesday, 2. March 2016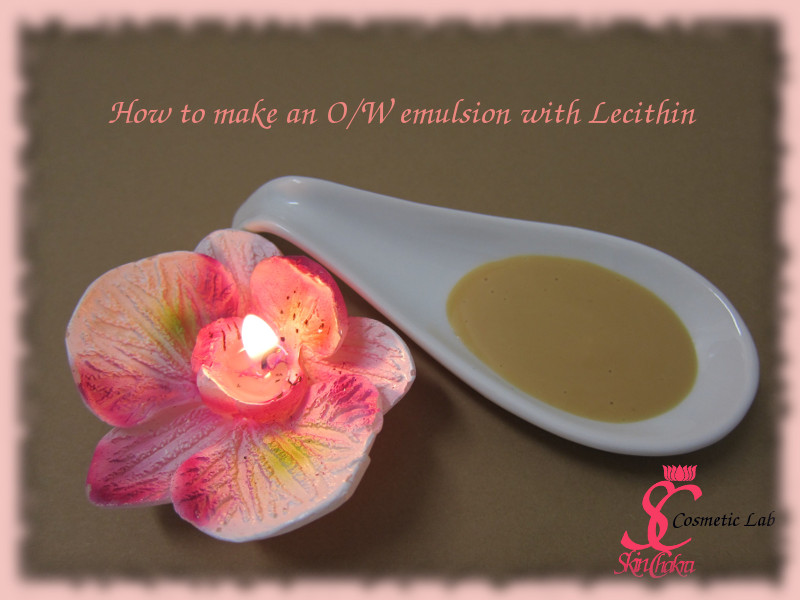 Lecithin is certainly the most truely "natural" emulsifier in skin care. It is however a little bit tricky and intimidating. Lecithin is most often known as a natural W/O emulsifier and most often it creates sticky, greasy and heavy-feeling emulsions and creams.
It is however possible to create very nice and light O/W emulsions with lecithin. I should mention that this is no invention and no innovation of mine. The credit for O/W lecithin hydrogels goes to my dear friend "Heike Käser" from Olionatura who is certainly the queen of DIY cosmetics in German speaking territory.
The principle is indeed quite easy. And it works cold process, but you can heat your solid ingredients as well.
You have to hydrate the lecithin in the water phase (water or a hydrosol). This is the most trifling and time-consuming part of the whole work and if it doesn't work well the emulsion would separate soon.
You have to hydrate lecithin with water (up to twice the lecithin weight) and let it hydrate. The add just a small part of your oil phase (as much as lecithin) and blend this well together.
After that you can slowly and gradually add the rest of the oil phase (het the oil phase if you have butters and other solid components or ingredients that need heating) while stirring.
Now it's time to add the rest of the water phase with all its active ingredients. This step should be performed very slowly with a good blending after adding each aliquote. You can add the gum into the water phase or
Add the gum at this stage at the end of the blending. Homogenize the emulsion. Adjust the pH, add the preservative and voila, you have an excellent nice and smooth O/W emulsion.
The emulsions created in this way have a low to medium viscosity. Not quite suitable for spraying but perfect for an emulsion pump. You can however blend gums that make a synergetic gel for a higher viscosity cream gel.
For this introductory tutorial, I've prepared a very basic emulsion with no extracts and as basic additives as possible and I've used a rapeseed lecithin in a paste form.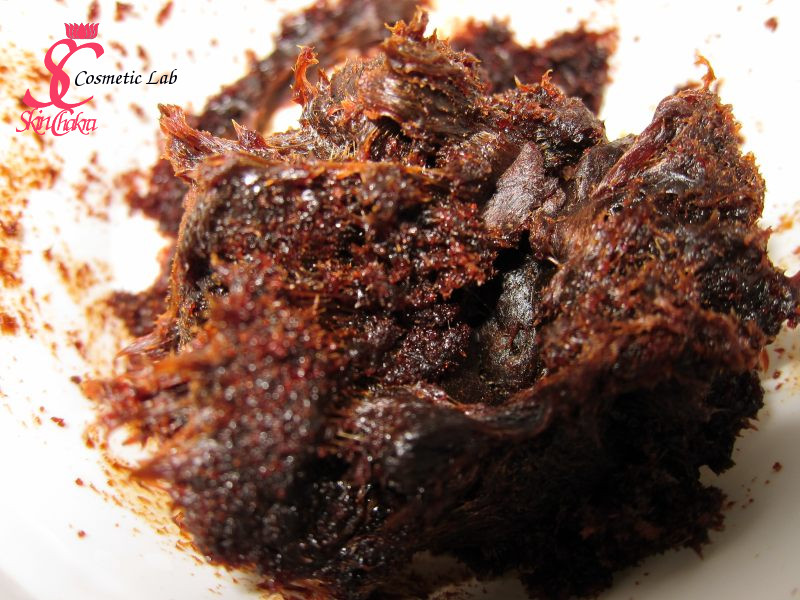 Rapessed and sunflower based lecithin usually have a darker colour than the soybean lecithin. It is totally up to you which lecithin you apply. Try this simple and basic formulation to get ready for more complicated emulsions.
Here is my recipe:
Rapeseed Lecithin 3.0%
Apricot kernel oil 15.0%
Chamomile hydrosol (to 100.0%)
Panthenol 0.5%
Vegeluron 3.0%
Tocopherol 0.5%
Rosemary CO2 extract 0.1%
Glycerine (99,5%) 4.0%
Xanthan gum 0.5%
Euxyl K903 1.0%
Patchouli essential oil 0.3%
Sodium hydroxide (25% solution) a few drops to adjust the pH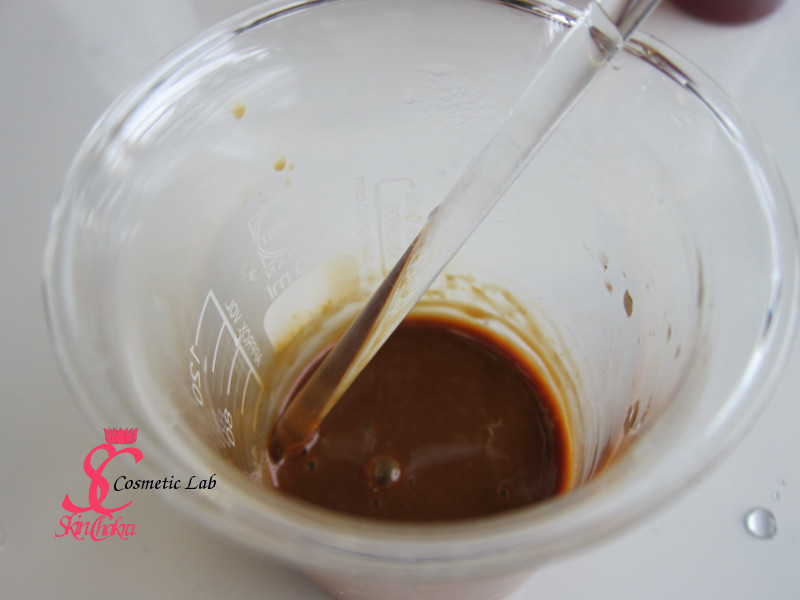 1- In a beaker blend lecithin and 5-6% of the hydrosol. This step would take up to half and hour till the lecithin is completely hydrated. Be patient. This is the most important step. You lecithin should fully hydrate and swell before you can proceed.
2- Now add about 3-4% of the Apricot kernel oil, slowly and gradually with stirring after adding each aliquote.
3- In another beaker blend the rest of the apricot kernel oil, tocopherol and rosemary CO2 extract. Slowly add this blend to the hydrosol-lecithin-oil mixture of step 2. Your blend should be nice and smooth like this photo. Depending on the nature and origin of your lecithin, the colour might be slightly lighter or darker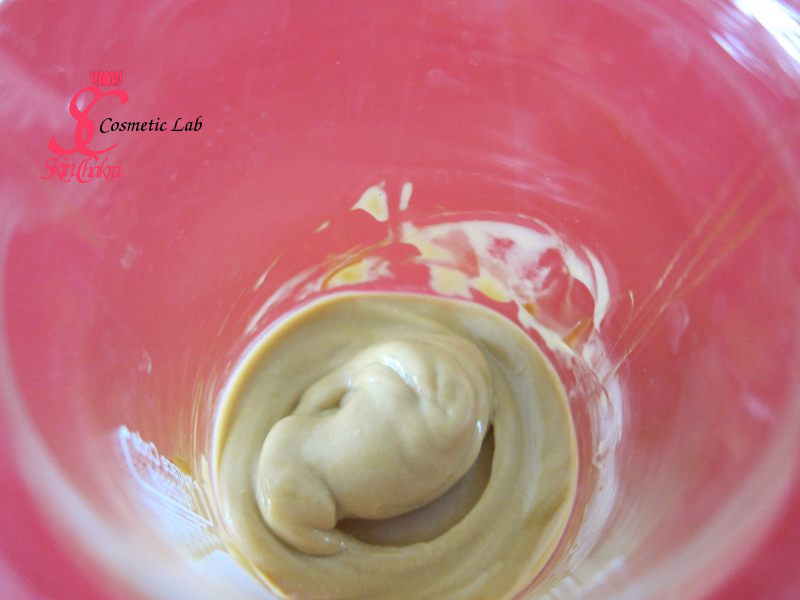 4- In another beaker blend the rest of the hydrosol, vegeluton and panthenol. Slowly and step by step add this blend to the blend of step 3. The blend becomes really ugly by adding the first aliquotes of the water phase and looks like it is going to separate in 10 phases. Don't get upset. Continue blending with a very slow addition of the hydrosol phase. About half-way through addition of the hydrosol phase, it starts looking like an emulsion. Wait for complete blending of hydrosol before adding the next aliquote.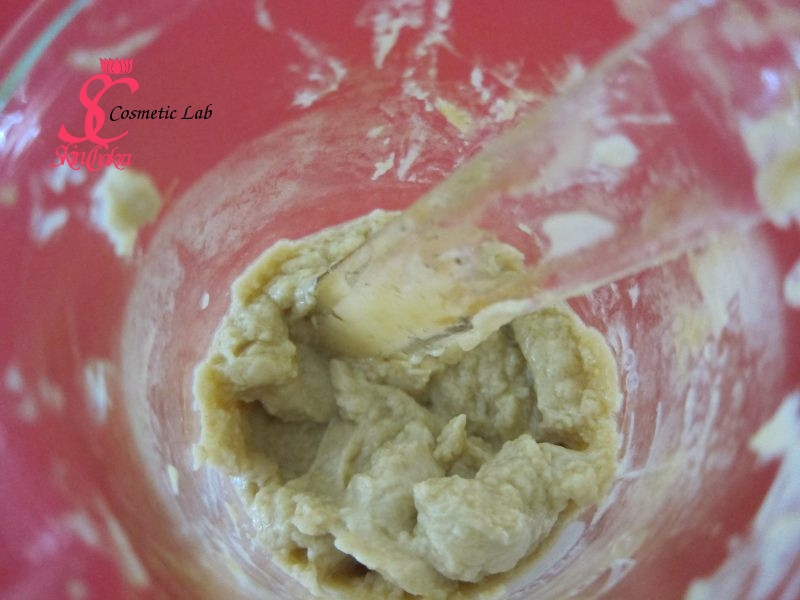 5- Blend glycerine and xanthan gum in a small beaker. Under fast stirring add this blend to the emulsion.
6- Homogenize for 1-4 minutes (depending on your batch size and your homogenizer)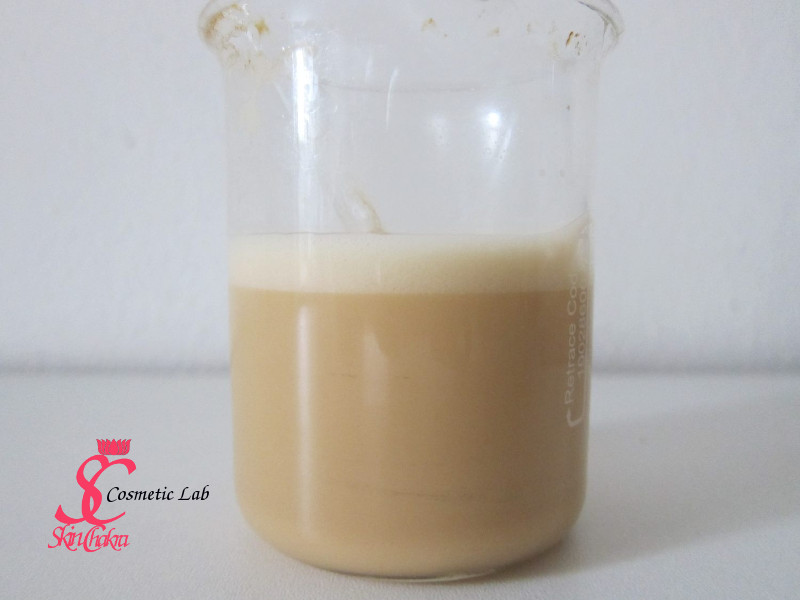 7- In my case, the oroginal pH was around 4. I've added the Euxyl K903 and then adjusted the pH with a few drops of NaOH solution. Depending on your water phase and your hydrosol, you may have a higher or lower pH.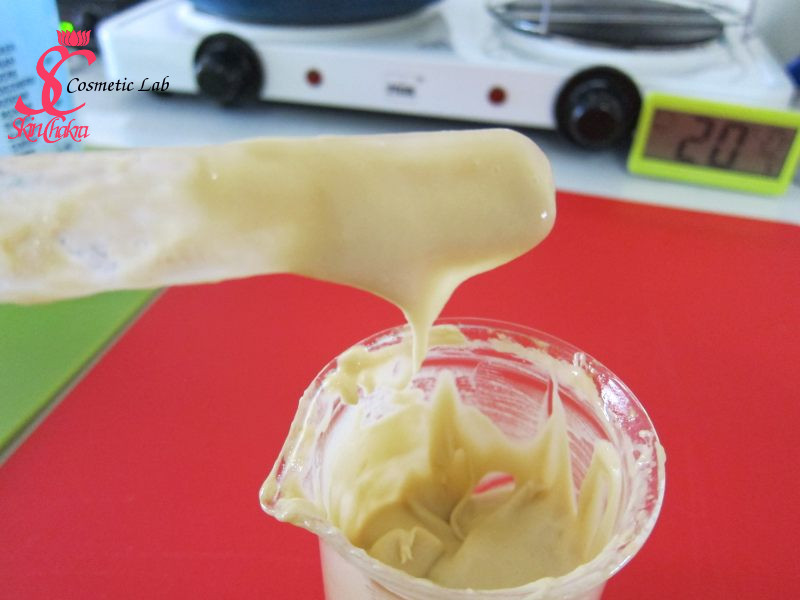 8- Add the essential oil.
The viscosity would be fixed in about 24-48 hours.
Just to test if it is a true O/W emulsion (actually this would become obvious as you measure the pH), add 1-2 gram of the emulsion to 20 mls of water.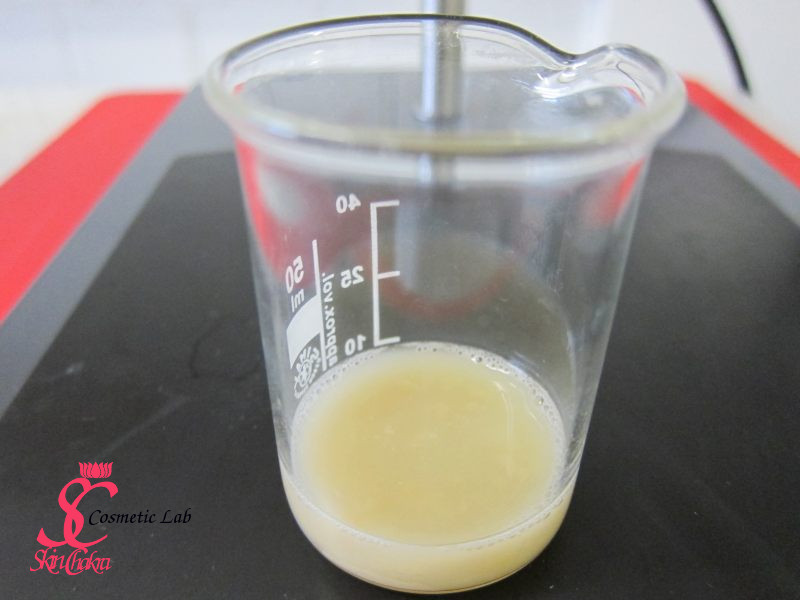 As you see, the emulsion blends with water and turns to a nice yellow-milky solution which is a proof for a true O/W emulsion.
I hope you'll enjoy making this emulsion. Feel free to post your photos to our facebook page. We'll move to more complicated formulation during the coming weeks.
BeHappy and have fun
Comments
Display comments as (
Linear
| Threaded)
The author does not allow comments to this entry