Sunday, 6. March 2016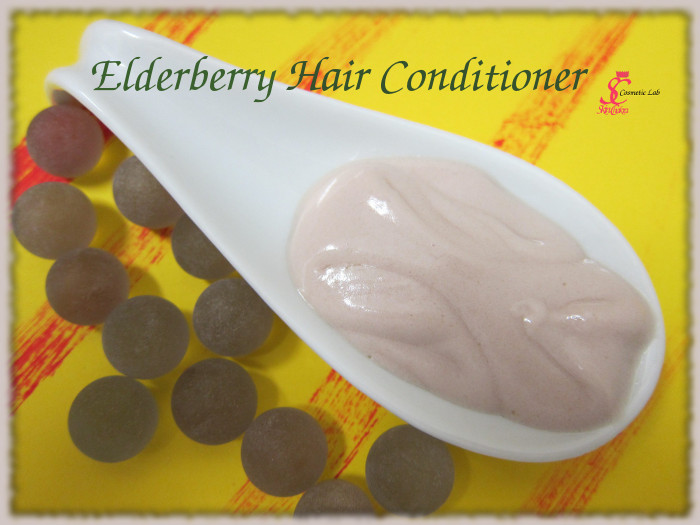 We've added a very exciting emulsifier to our shop.
Plantasens® HE20 is a natural and Ecocert certified emulsifier based on olive oil chemistry. It is a blend of: Cetearyl Glucoside & Sorbitan Olivate and is a perfect substitute for Olivem® 1000. It is as easy to work with as Olivem, makes as stable emulsions as Olivem and doesn't have half of the soapiness related to Olivem. It's skin feel is excellent (and it's price is much lower than Olivem).
Plantasens® HE20 is a very forgiving and modest emulsifier. You can add it to the oil phase, add it to teh water phase or work in a one-pot method where you blend your oil and water phases from the very beginning together.
It has a melting point around 50-60, meaning it works in a hot process. Add your oil and water phases in a water bath to ca. 70 C, blend oil and water phases, homogenize, add the gum, add sensitive ingredients by cool down, adjust pH, add preservative and voila, you have a nice and smooth emulsion.
You can even apply Plantasens® HE20 in oil-free formulations such as cream shampoos, cream soaps or shower gels. You have to add Plantasens® HE20 into the water phase and heat it, adding all othe ringredients and your surfactants and having a very light and silky cream shampoo or shower gel. This concept is excellent for men's toiletries, for after sun products and for othe rproducts when you need a nice & smooth creamy appearance, a high viscosity but low or no oil concentration.
Although Plantasens® HE20 created medium to high viscosity emulsions, you'll need a gum to stabilize the emulsion. Application dosage is from 3-8% depending on the oil phase concentration. It works excellent for 0-35% oil phase concentration.
For this tutorial, I've prepared a silicone free hair conditioner. "Natural" hair conditioner is one of the most challenging products to make. I completely avoided any cationic surfactant and let oils and butters do the job. This is not as slippery as a conventional hair conditioner and feels a little bit drier. You can apply it as a rinse-off conditioner or as a leave-on hair conditioner by applying just a noisette over your damp hair after rinsing and towel drying your hair.
I prepared this recipe by a hot-hot-cold procedure. I've heated a part of the oil phase and the water phase, blended them, homogenized the emulsion and then added the rest of the water phase and oil phase. In this way you can add heat sensitive ingredients into hot process emulsion without any risk or damaging your hydrosols and plant extracts.
For the water phase, I used a blend of birch infusion and neroli hydrosol.
Birch infusion was freshly prepared and filtered just before preparing the emulsion.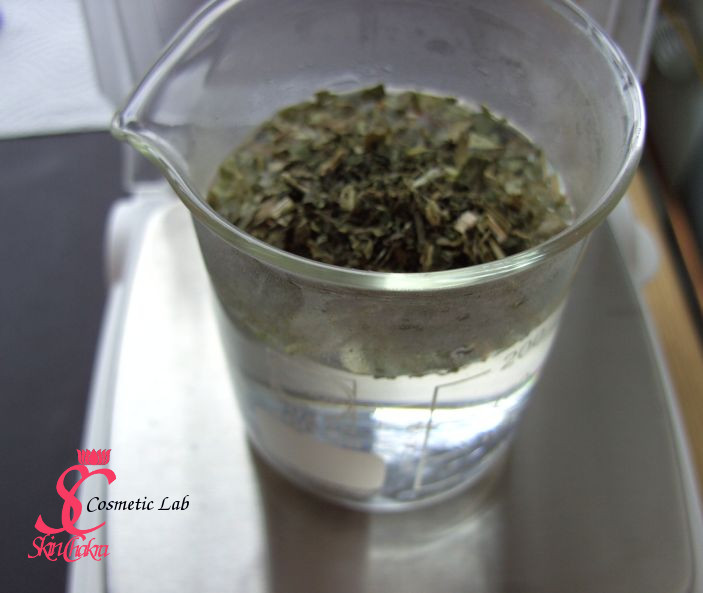 Here is the full recipe:
A-
Birch infusion 35.0%
Coco-glucoside, glyceryl oleate 2.0%
Sucrose cocoate 2.0%
Panthenol 1.0%
Dermofeel® PA-3 0.1%
B-
Plantasens® HE20 5.0%
Organic baobab oil 4.0%
Organic babassu oil 3.0%
Wild crafted Pracaxy oil 3.0%
Olive Squalane 3.0%
Tocopherol 0.5%
Dermosoft® GMCY 0.3%
C-
Elderberry hydroglyceric extract 5.0%
Organic neroli hydrosol to 100.0%
Sodium lactate 2.0%
D-
Passionfruit oil 2.0%
Walnut extract in sunflower oil 1.0%
Organic rosemary CO2 extract 0.1%
E-
Guar gum 0.1%
Xanthan gum 0.2%
Tragacanth 0.2%
Glycerine 99.5% 4.0%
F-
Dermosoft® 1388 ECO 3.5%
Neroli essential oil 0.5%
Lactic acid 80% to adjust the pH to 5-5.5
Here we go:
1- weight the ingredients in phase A and phase B in separate beaker. Put both beakers in a water bath @ca. 70 C. Heat until all of the butters and the emulsifier are melted. Blend each phase separately (a glass spatula would be enough for small volumes)
2- Stop heating. Add the oil phase into the water phase under stirring. A pre-emulsion is formed.
3- Homogenize the mixture for a few minutes
4- Continue stirring while the mixture cools down. Blend the ingredients in phase C and add them to the emulsion and blend completely.
5- Blend the ingredients in phase D and add then to the emulsion while stirring
6- Disperse the gums in glycerin. Add this paste slowly and under agitation to the emulsion. You'll observe an immediate increase in the viscosity
7- After the emulsion is completely cooled down add the preservative and the eesential oil. The pH sould be around 6 at this stage. Add a few drops of lactic acid to reduce the pH between 5.0-5.5. If you're using anothe rpreservative system adjust the pH according to preservative requirements.
8- Fill in a suitable bottle or jar. I prefer filling in a disk top bottle or lotion pump bottle for a more hygienic application. For photo shooting however, we've filled the conditioner in a jar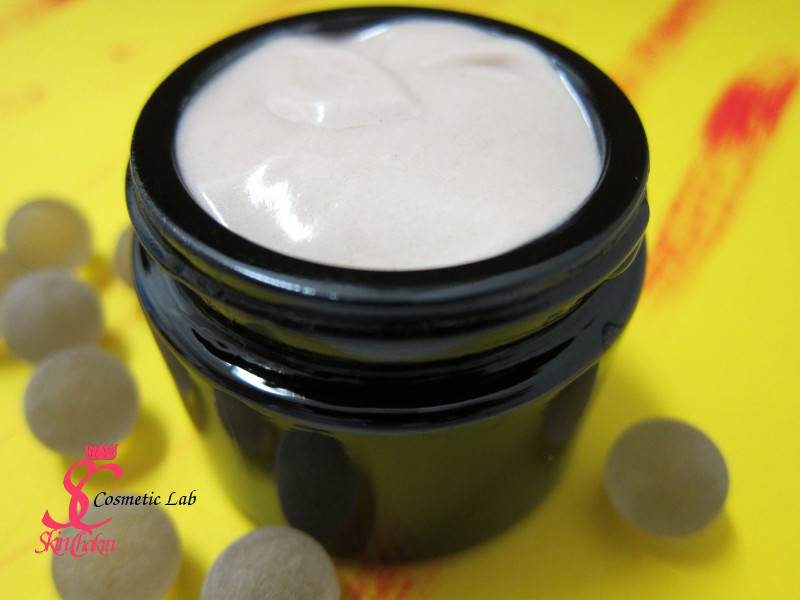 Hoe you'll enjoy this formulation. Feel free to share your photos and experience with me. Looking forward to your contribution.
BeHappy and have fun
Comments
Display comments as (
Linear
| Threaded)
The author does not allow comments to this entry