Dienstag, 15. März 2016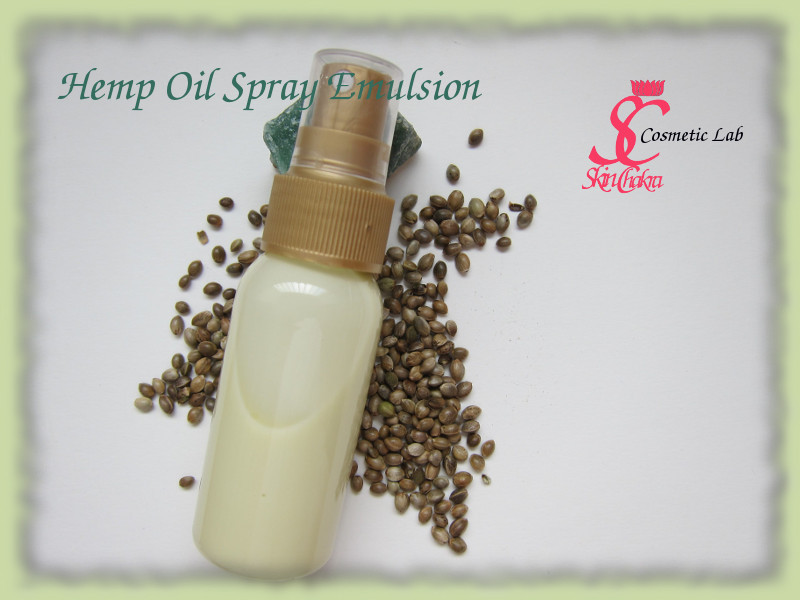 Hemp seed oil is one of my favourite oils specially when it comes to sensitive and compromised skin. Because of its high content of linoleic acid however, I use it very sparingly in hot process emulsification. With Sucrose Stearate however, I have had an excellent opportunity to apply this oil as the main oil component in my emulsions.
This is a very simple and basic (like most of my shared recipes) formulation. You can exchange the hydrosol and extract, or even the oil with your favorite ingredients. Sucrose stearate, as I've mentioned before creates low to medium viscosity emulsions (unless you create a gel by applying certain gelling agents). This emulsion has a low viscosity and you can apply it with an spray bottle which I personally find very practical and attractive.
Sucrose stearate is a versatile and multifunctional emulsifier which you can apply in cold process, hot process, or cold-hot process. You can add it to the oil phase, add it to the water phase or prepare a one-pot emulsion when you blend all ingredients (hydrophylic and lipophilic) from the very begining 8which is very practical for small volumes). You can even prepare a pre-emulsion by blending sucrose stearate in gylcerin and then applying this in an emulsion (I'll dedicate a post to this procedure in the coming weeks).
I've experienced that adding sucrose stearte to the water phase (in cold, hot or hot-cold process) creates emulsion with slightly higher viscosities compared to the emulsions when Sucrose stearate is added to the oil phase. For this emulsion, I've added the sucrose cocoate to the oil phase.
In this formulation I'm blending the anti-inflammatory and soothing properties of cornflower hydrosol, yarrow extract and hemp seed oil. It is a very light and silky emulsion and because of its sprayable viscosity, it could be easily applied over blemished and acne skin without any need to rub and heavily massage the emulsion over skin.
Before we start I want to recommend you to read our older posts: hygienic manufacturing practice in cosmetic lab and introduction to Basic equipments and utensils for a cosmetic lab.
For 100 gr emulsion you'll need:
Phase A:
Organic hemp seed oil 17.0%
Sucrose stearate 2.0%
Tocopherol 0.5%
Organic rosemary CO2 extract 0.05%
Olive oil squalane 2.0%
Phase B:
Organic Cornflower hydrosol 30.0%
Yarrow hydroglyceric extrct 2.0%
Panthenol 0.5%
Vegeluron 3.0%
Dermofeel® PA-3 0.1%
Sodium lactate 1.0%
Phase C:
organic Cornflower hydrosol to 100.0%
Phase D:
Glycerine (99.5%) 4.0%
Xanthan gum 0.35%
Sclerotium 0.15%
Phase E:
Euxyl K 903 0.7%
I've reduced the conc. of the preservative because my hydrosol and extract are already preserved
Organic Cedarwood essential oil 0.1%
Organic Amyris essential oil 0.05%
Lactic acid or sodium hydroxide to adjust the pH to 5-5.5
Instruction:
1- In separate vessels blend phases A and B. Sucrose stearate isn't oil soluble. It only blends with the oil but does not dissolve in oil.
2- Slowly add the water phase to the oil phase while stirring the oil phase with an overhead mixer, a hand whisk, an spatula pr any other suitable blender. A deep green colour pre-emulsion is formed as in the photo.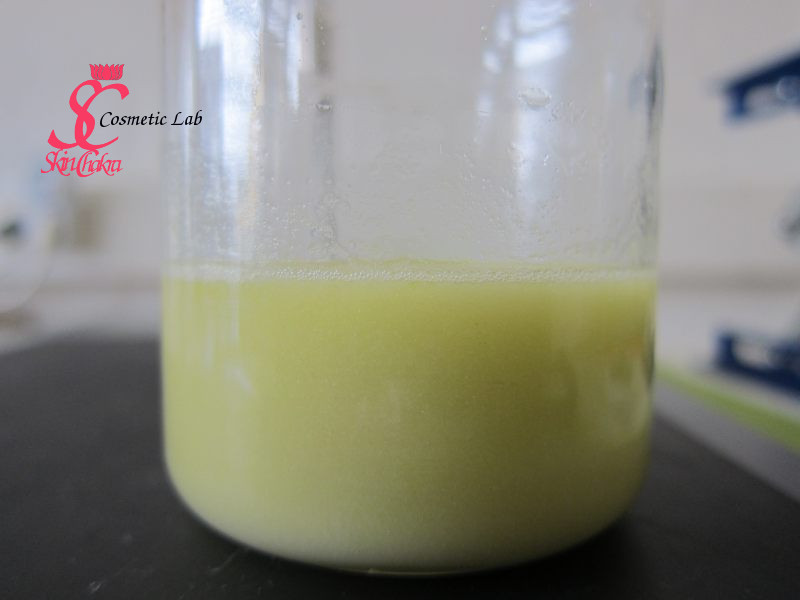 3- Homogenize this pre-emulsion with a suitable homogenizer for 1-4 minutes (depending on teh homogenizer and the volume of your batch). You may want to have a look at our previous post about suitable homogenizers for an artisan cosmetic lab.
After homogenization the colour of the emulsion becomes less intensive, obviously because particle size is reduced.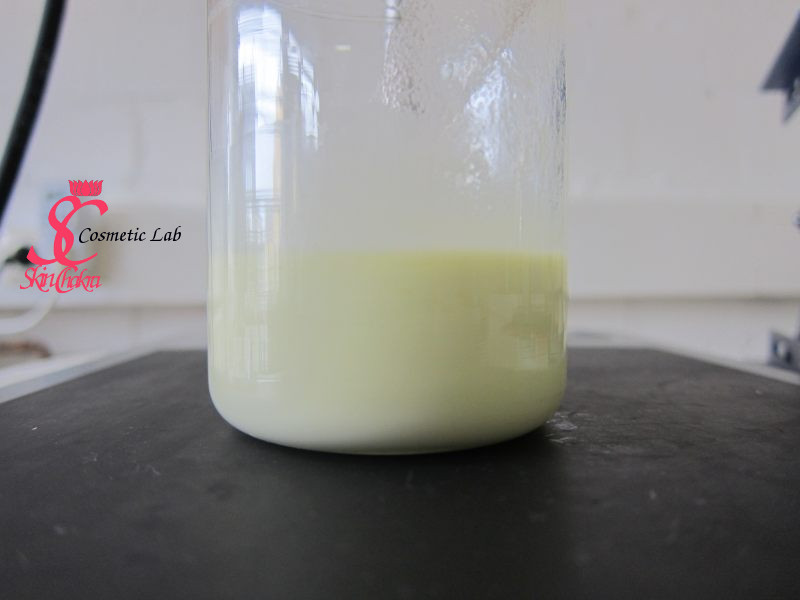 4- Continue stirring and little by little add the rest of cornflower hydrosol (Phase C)
5- In a small beaker blend glycerine, xanthan and sclerotium to a slurry. Add this slurry to the emulsion while stirring the emulsion. You'll observe an immediate increase in the emulsion viscosity but it remains in the sprayable range and doesn't increase to the consistency of a thick emulsion or cream.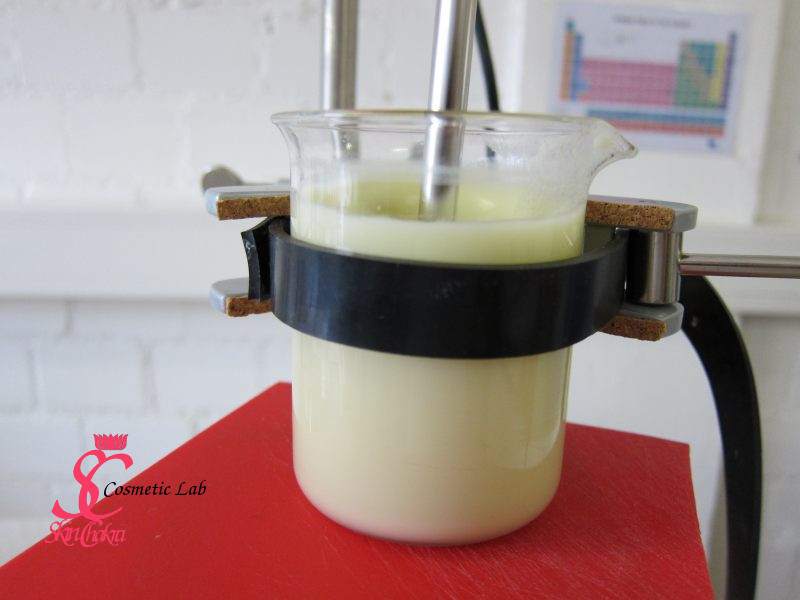 6- Add the preservative and adjust the pH according to preservative demand. In my case, the pH was about 4.5 and we've added a 25% solution of NaOH to bring the pH to 5.0-5.5
7- Add the essential oils. Take your microkit sample (for microbiological test) and fill the emulsion in a suitable bottle.
Thank you for being here and for sending me your comments and photos. I really enjoy your participation in our Facebook discussions. Teresa from the Balm Kitchen has promised to submit her experience with sucrose stearate and we'll have an awesome gust post from her.
Be Happy and have fun
Kommentare
Ansicht der Kommentare: (
Linear
| Verschachtelt)
Die Kommentarfunktion wurde vom Besitzer dieses Blogs in diesem Eintrag deaktiviert.