Thursday, 31. March 2016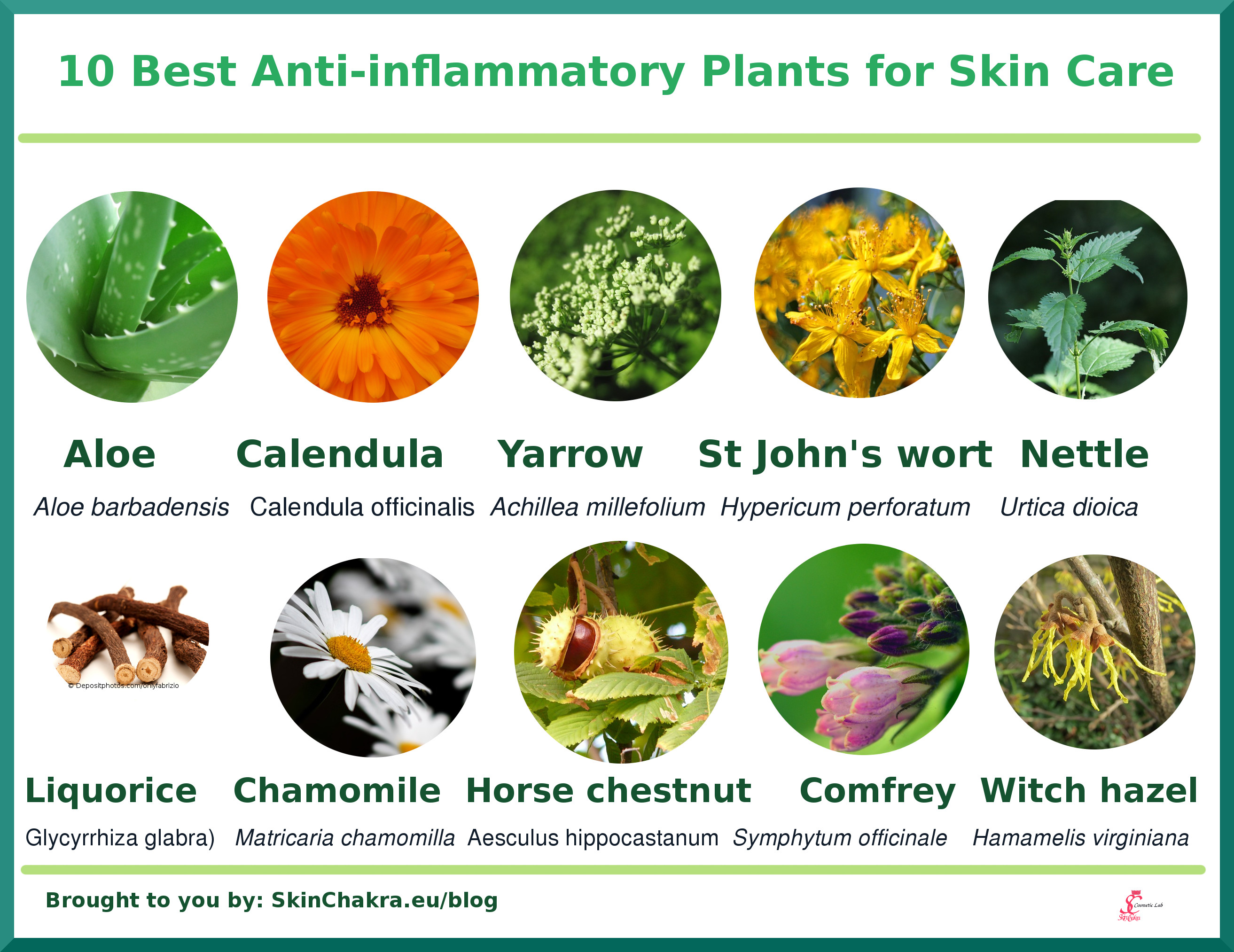 You've probably read my previous post about the 10 best anti-inflammatory oils in skin care and you're aware of the global problem of sensitive and irritated skin.
Anti-inflammatory herbs have been used in traditional and folklore remedies for centuries to comfort the skin suffering under eczema, stop itching, heal wounds, burns and bruises.
New medicine and cosmetic science is just discovering the benefits of these ingredients in modern pharmacy and skin care.
Without making any medicinal claims (and we strictly recommend you to do the same), we want to introduce 10 best anti-inflammatory herbs for your skin care. You can apply these herbs as infusions, extracts and macerated oils in your "natural & organic" skin care products. By applying plant material, take care of the microbiological status of your herbs and extracts and supply your ingredients from reliable vendors. Plant material are extremely suitable for microbial growth and it is a pity to discard your precious products because of any contamination.
Take care of possible allergy outbreaks and adverse reactions when people are under certain medications. Cosmetics are no drugs. Don't make any medicinal claims for your cosmetics.
---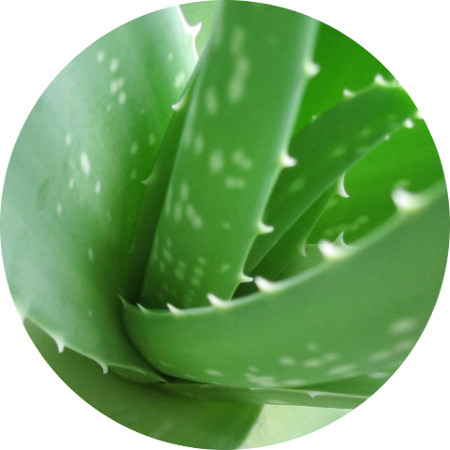 1-Aloe (Aloe barbadensis)
Aloe is probably the most widely used anti-inflammatory plant and its application dates back to more than 2000 years ago. In traditional and home application, the leaves are cut and the fresh gel/juice is applied over burns (very effective against sunburn1), wounds, and itchy skin.
The active component is a polysaccharide which builds a protective film when applied to skin. Aloe has even been found to be effective in psoriasis treatment2.
When using aloe in your skin care products, be aware that the gel, juice and extract are wildly exchanged and interchanged. Aloe vera whole leaf juice, extract or gel are supposed to be carcinogenic because of high concentrations of Anthraquinone. When purchasing aloe derivatives, make exact inquiries about the type of the aloe extract or juice and about the concentration of anthraquinone in the product3.
Aloe is most active in a hydrophylic matrix (infusion or extract) but lipophilic extracts are commercially available as well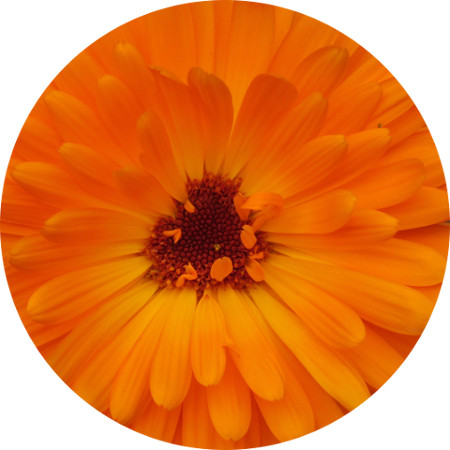 2- Calendula (Calendula officinalis)
This is probably the queen of anti-inflammatory plants. It is applied in skin and hair care products as well as in baby care products. Its anti-inflammatory properties are related to triterpene flavonoids and saponins2.
Calendula extract should protect the skin agaisnt UV-B oxidative stress4. Anti-tumore-promoting and cytotoxic activities are other properties related to this wonderful flower5.
Calendula is both effective in hydrophilic or hydrophobic matrix. You can prepare extracts and infusions in water, water/glycerine, glycerine or a carrier oil.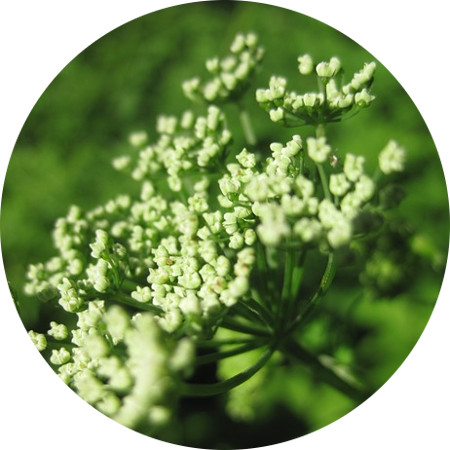 3- Yarrow (Achillea millefolium)
(this one is my own favourite)
Yarrow's amazing anti-inflammatory and anti-puritic properties are related to its chamazulene content2. Centaureidin, a flavonoid glucoside derived from yarrow has proved to have a positive effect on skin complexion and regulation of skin pigmentation6.
Because of its astringent properties, yarrow is an excellent additive for acne skin7.
Because of the sesquiterpene lactone content, cases of allergic contact dermatitis may occur.
Yarrow is most effective in hydrophilic matrix as infusions or extracts (water, water/glycerine) or alcoholic tinctures.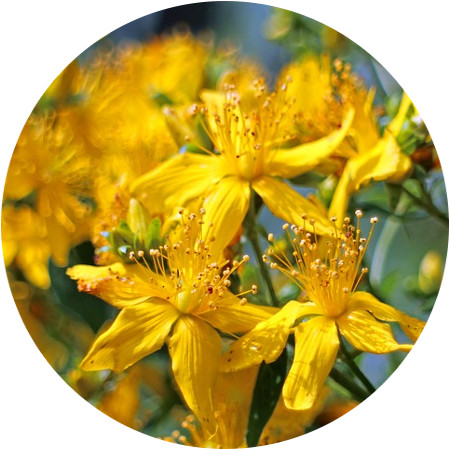 4- St. John's wort (Hypericum perforatum)
This really doesn't need any introduction.
Characteristic compounds are mainly hyperforin and adhyperforin, hypericin and flavonoids (amentoflavone, hyperoside)7.
St. John's wort is applied in treatment of cuts, burns, ulcers and atopic dermatitis. Its anti-inflammatory activity is compared to indometacin. It is best effective in a lipophilic matrix as an extract or infusion.
Hypericum can cause photo-sensitization. Make a warning on your products to protect your customer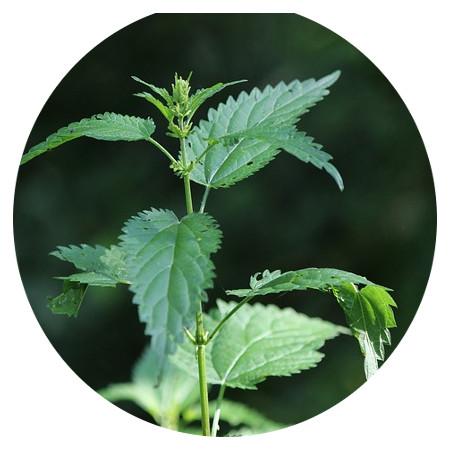 5- Nettle (Urtica dioica)
The humble and modest nettle has anti-inflammatory, anti-oxidant and sebo-regulative antimicrobial and analgesic properties8,9.
It is an excellent ingredient for hair care (specially greasy hair) and in acne care, for treating wounds, burns and cuts.
It works best in a hydrophilic matrix, as an infusion, extract or tincture.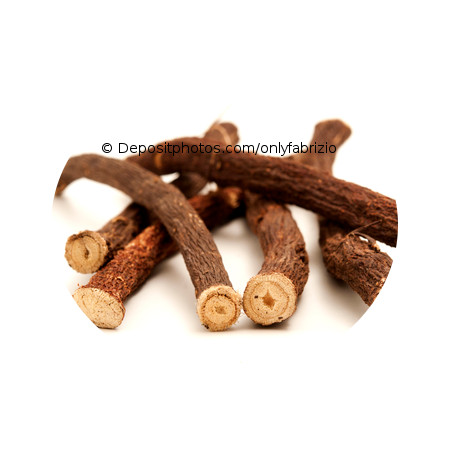 6- Liquorice (Glycyrrhiza glabra)
Licorice root and leaves have been used for centuries in traditional medicine and skin care.
Anti-inflammatory properties are related to glycyrrhizin, a triterpene saponin. Glycyrrehetic acid (a derivative of glycyrrhizin) is proved to be effective in treatment of chronic contact dermatitis, seborrheic dermatitis and psoriasis2.
In a recent study, licoric extract has proved to be effective for comforting patients suffering under rosacea10.
Licorice is best effective in hydrophilic matrix as infusion or extract. Both root and leaf extracts are effective and commercially available.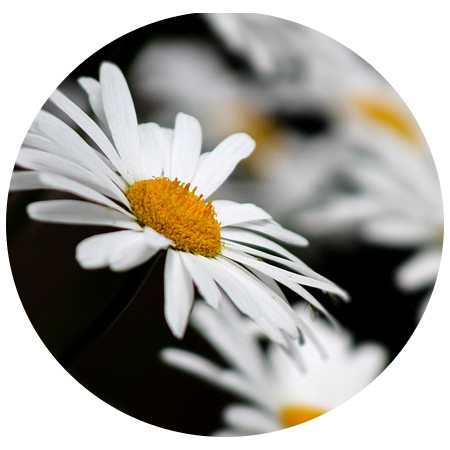 7- Chamomile
Chamomile is known as two different palnts: German or Hungarian chamomile (Matricaria recutita) and Roman or English Chamomile (Anthemis nobilis)
Although the plants are different, they are both applied as anti-inflammatory herbs. Active ingredients are terpenoids (bisabolol, matricin, chamazulene) and flavonoids (apigenin, luteolin) 2.
Chamomile extracts are effective in reduction of UV-induced edema and other inflammatory skin problems.
In a certain study Apigenin and luteolin were more effective than indometacin and phenylbutazone7.
Chamomile is available and effective in both hydrophilic and lipophilic carriers.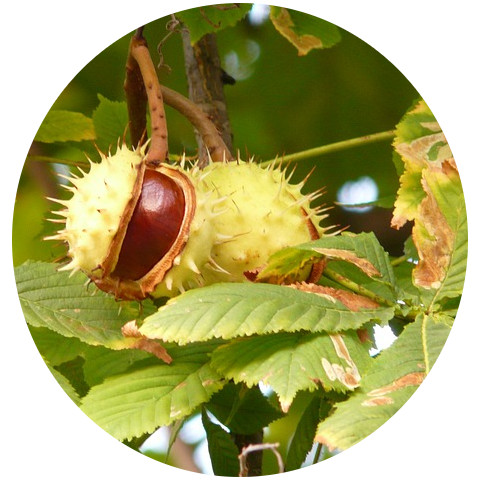 8- Horse chestnut (Aesculus hippocastanum)
This one probably wasn't of your highest-priority list because aesculus is mainly praised for its anti-aging, blood vessels-protection and peripheral vasoconstriction.
Horse chestnut contains triterpene saponins, proanthocyanins, flavonoids (mainly quercetin and kaempferol) and coumarins (Esculin and fraxin).
Horse chestnut has skin-firming, anti-inflammatory, anti-edema and venotonic activities.
Saponins, specially escin contribute to anti-flammatory and reduction of capillary fragility11.
Horse chestnut is active as hydrophilic extract or infusion.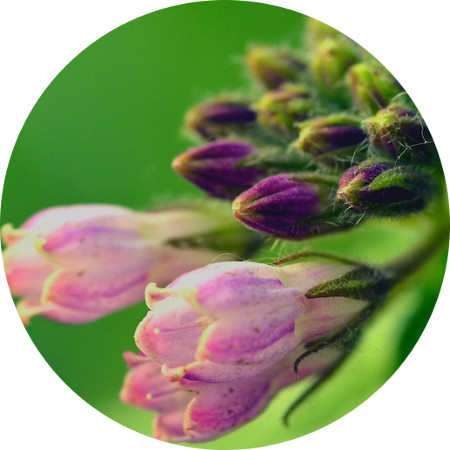 9- Comfrey (Symphytum officinale)
Comfrey contains allantoin which is a cosmaceutical and pharmaceutigal ingredient to treat wounds, burns, eczema, psoriasis, ulcers, sun-burn (UV-B-induced erythema) and other skin disorders.
Other ingredients with anti-inflammatory activity include rosmarinic acid and glycopeptides7.
In a certain study, the anti-inflammatory properties of a comfrey extract was proved to be greater than that of diclofenac12.
Comfrey is active in hydrophilic matrix.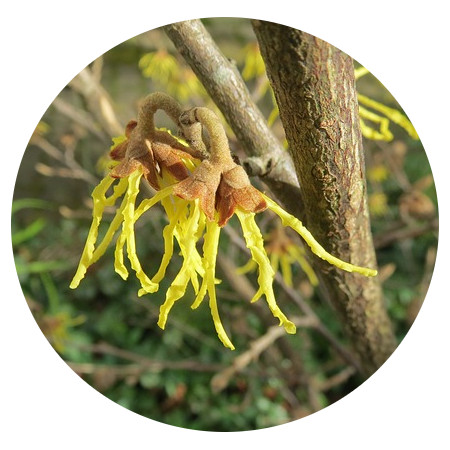 10- Witch hazel (Hamamelis virginiana)
Witch hazel contains astringent tannins which promote wound healing and contribute to anti-inflammatory and anti-acne properties. However, tannins are not present in distilled water and are only extracted2.
Hamamelis extract is effective in reducing sun-burn and UV-B induced erythema13
Hamamelis extract has been proved to be effective against atopic eczema in children and other types of eczema. It is an excellent ingredient to be added to acne-treatment products7.
Hamamelis is effective in hydrophilic matrix.
Hope you'll enjoy applying these amazing plants in your products.
Let me know which one of these plants is your favourite and which one you apply most. Don't hesitate to post your questions and comments. I really enjoy your participation in our Facebook discussions.
Be Happy and have fun
References and further readings:
1-Reuter, J., et al. "Investigation of the anti-inflammatory potential of Aloe vera gel (97.5%) in the ultraviolet erythema test." Skin pharmacology and physiology21.2 (2008): 106-110.
2- Herbal Anti-Inflammatory Agents for Skin Disease
3-Prop 65 Not Cool with Aloe Vera Extract
4- Fonseca, Yris Maria, et al. "Protective effect of Calendula officinalis extract against UVB-induced oxidative stress in skin: Evaluation of reduced glutathione levels and matrix metalloproteinase secretion." Journal of ethnopharmacology127.3 (2010): 596-601.
5- Ukiya, Motohiko, et al. "Anti-inflammatory, anti-tumor-promoting, and cytotoxic activities of constituents of marigold (Calendula officinalis) flowers." Journal of Natural Products 69.12 (2006): 1692-1696.
6- Ebanks, Jody P., R. Randall Wickett, and Raymond E. Boissy. "Mechanisms regulating skin pigmentation: the rise and fall of complexion coloration."International journal of molecular sciences 10.9 (2009): 4066-4087.
7- Dawid-Pać, Renata. "Medicinal plants used in treatment of inflammatory skin diseases." Advances in Dermatology and Allergology/Postȩpy Dermatologii I Alergologii 30.3 (2013): 170.
8- Huber, Roman, et al. "Arnica and stinging nettle for treating burns–A self-experiment." Complementary therapies in medicine 19.5 (2011): 276-280.
9-Bisht, Shivani, Snehlata Bhandari, and N. S. Bisht. "Urtica dioica (L): an undervalued, economically important plant." Agric Sci Res J 5 (2012): 250-252.
10- Schoelermann, A. M., et al. "Skin compatibility and efficacy of a cosmetic skin care regimen with licochalcone A and 4‐t‐butylcyclohexanol in patients with rosacea subtype I." Journal of the European Academy of Dermatology and Venereology 30.S1 (2016): 21-27.
11- Wilkinson, J. A., and A. M. G. Brown. "Horse Chestnut–Aesculus Hippocastanum: Potential Applications in Cosmetic Skin‐care Products."International journal of cosmetic science 21.6 (1999): 437-447.
12- European Scientific Cooperative on Phytotherapy. Symphyti radix. 2nd ed. Supplement. New York: Thieme; 2009. ESCOP Monographs; pp. 249–54
13- Hughes-Formella, B. J., et al. "Anti-inflammatory effect of hamamelis lotion in a UVB erythema test." Dermatology 196.3 (1998): 316-322.
Comments
Display comments as (
Linear
| Threaded)
The author does not allow comments to this entry