Sunday, 3. April 2016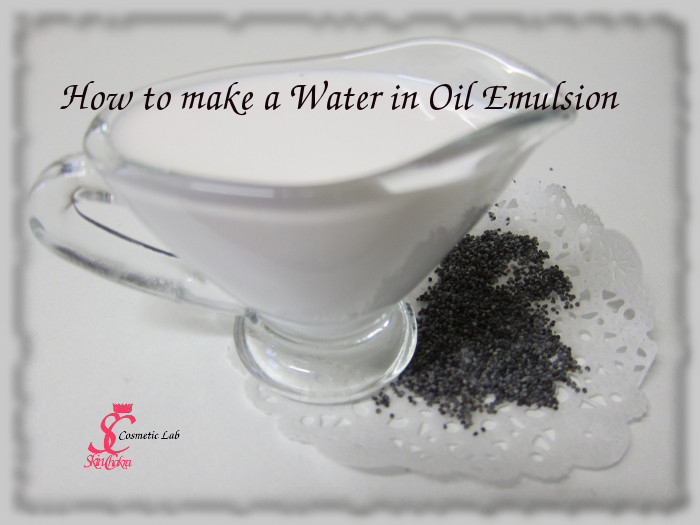 If you belong to those people who think W/O emulsions are useless, sticky, greasy products and the W/O market is only confined to waterproof make-up and suncare then you're seriously mistaken.
It's true that the majority of W/O products are still composed of nappy rash creams, suncare and waterproof make-up but the market is changing rapidly.
For decades, W/O emulsions were a headache for myself. I simply didn't like them. I have had the disgusting skin feel from the old generation suncare in mind, that sticky, greasy skin feel that you wish to get rid of as soon as you have the product on your skin.
Then because of a certain project I was almost forced to do some work on W/O emulsions. I tried different formulations and different emulsifiers, studied the market and came to the conclusion that this is a not-detected niche of the market with an amazing growth perspective.
Let's start with a little bit of theory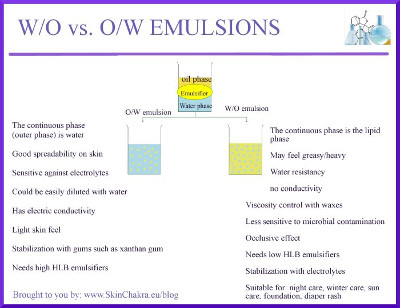 The main differences/characteristics of W/O and O/W:
In an O/W emulsion, water is the outer phase. It means it can easily/rapidly evaporate from the skin surface

In a W/O emulsion, water is the inner phase. Meaning it would not easily evaporate from the skin surface. The humectants/moisturuzers are dosed little by little and over a longer period to the skin surface

W/O emulsions are not easily washed-off. This makes them perfect for water-resistant purposes as well as for barrier protection purposes.

W/O emulsions provide skin suffering from excessive dryness, eczema or psoriasis a better/longer protection compared to O/W emulsions (without making any medicinal claims)
Demystifying W/O emulsions
It is not true that O/W emulsions contain 20-40% oil phase and W/O emulsions contain 20-40% water phase. How much oil and water are packed in an emulsion depends on the emulsifier and not on the type of the emulsion
It is not true that you have to add the water phase into the oil phase to have a W/O emulsion and vice versa. How the phases should be blended depends on the emulsifier and not on the type of the emulsion.
Formulation tips and tricks
You can improve the stability of an O/W emulsion by increasing the viscosity of the water phase. This is why we add gums to most of the O/W emulsions we make even if we're making low viscosity and sprayable emulsions. This is not the case of W/O emulsions. You can add a gum to the emulsion to change the texture but this has almost no effect on the stability of the emulsion

You have to adjust the pH of the water phase before you blend the two phases when making a W/O emulsion. This is done by adding either an acid to reduce the pH (citric acid, lactic acid), or by adding a base to increase the pH (Sodium hydroxide or sodium bicarbonate)

Basically, the chances of contamination are lower for W/O emulsions because the water phase is the inner phase. This doesn't mean however that you don't need any preservative or any microbial challenge test when making a W/O emulsion

Whereas O/W emulsions usually have a low electrolyte tolerance and separate by adding an electrolyte (salt), W/O emulsions are stabilized by adding low concentrations of an electrolyte. This is usually done by adding 0.5-1.0% of a salt (sodium chloride, Magnesium chloride or Magnasium sulfate) to the water phase
As I mentioned before, I had an apathy for W/O emulsions till I started working with Symbio ® muls WO.
This is a proprietary blend from Dr. Straetmans GmbH and is a natural and PEG-free emulsifier for W/O emulsions.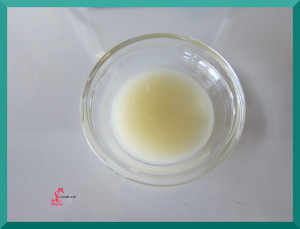 It is a thick paste at room temperature. You can process this emulsifier cold or warm, meaning that you can apply all of those wonderful hydrosols, extracts and plant oils with hight concentrations of PUFA at low temperature without causing any decay to your sensitive ingredients.
INCI name: Polyglyceryl-3 Polyricinoleate; Sorbitan Sesquioleate; Cetyl Ricinoleate; Glyceryl Caprate; Cera Alba (Bees Wax); Magnesium Stearate; Aluminum Tristearate
The blend contains emulsifier and emulsion stabilizers as you can judge from the INCI name. You simply blend it into your oils phase (5-10%) and then slowly add the water phase to the oil phase while stirring the oil phase.
It is very important to gradually add the water phase to the oil phase, stir the blend and then add the next portion of the water phase
This emulsifier makes stable but low viscosity emuslions suitable for spraying (these are very popular at the moment). If you want to create emulsion with higher viscosities, then you shall add butters and waxes to your oil phase (and obviously you have to make a hot process emulsion).
The skin feel is outstanding for a W/O emulsion. I have let formulators (who are familiar with the difference between a W/O and an O/W emulsion) test the emulsion without telling them what kind of emulsion it is and non of them could guess the emulsion to be a W/O type by judging its skin feel. It has such a nice and smooth skin feel untypical for W/O emulsions. You have to try this for yourself .
I have prepared a very basic formulation a long time ago for my first stability tests and I'm going to share this here with you:
Procedure:
1- Blend all the ingredient in pahse B at room temperature. (In winter you may need to slightly war Symbiomuls WO for a better blending in the oil phase, you don't need to heat all of the oil phase though unless you use any waxes or butters in your oil phase)
2- Dissolve Magnesium Sulphate in the hydrosol in a separate beaker. Add other ingredients of phase A one by one and blend them (at room temperature). Adjust the pH of the water phase at this stage. I had to add a few drops of lactic acid to bring the pH to 5.0%)
3- Little by little add the water phase to the oil phase. Blend after addition of each aliquote and try to avoid formation of any water pool. For small volumes you can apply a spatula or a hand whisk. Do not apply any stick blender
4- After the water phase is completely incorporated into the oil phase homogenize the emulsion for 1-4 minutes depending on your homogenizer and batch volume. Add the essential oil and blend well.
5- Take your micro kit sample and fill the emulsion is a suitable bottle. A spray bottle is more suitable than a lotion pump.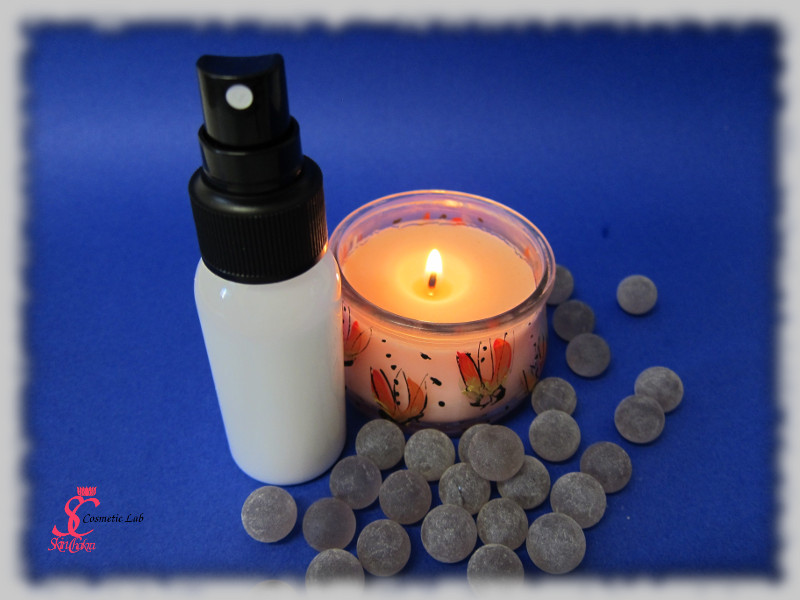 This emulsion has quite an acceptable stability for a cold-processed low viscosity emulsion. Even the samples we've prepared with Kai Blendia could pass the centrifuge test and the thermal stability test.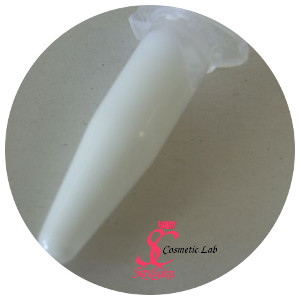 I Hope you'll enjoy making some W/O emulsions with this amazing emulsifier.
Feel free to send me your questions, comments and photos. I really enjoy your participation in our Facebook discussions.
Be Happy and have fun
Comments
Display comments as (
Linear
| Threaded)
The author does not allow comments to this entry