Saturday, 9. April 2016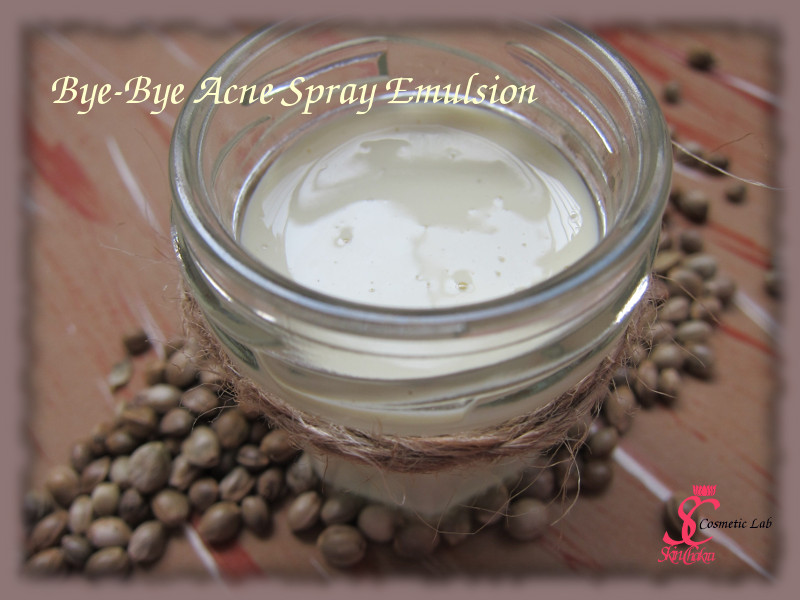 Hi everybody,
If you've read my last post about making a W/O emulsion that feels like an O/W lotion and have already received your Symbio ® muls WO, then you're very probably excited to have more tutorials and recipes to work with.
For this tutorial I've prepared a moisturizing, soothing and anti-inflammatory emulsion to help relieve acne inflammation.
I know most of you would wonder about the concept of an W/O emulsion for acne skin and would find it odd and weird if not unpleasant. As I mentioned before Symbio ® muls WO creates emulsions with a skin feel completely different from the greasy and sticky skin feel that we expect from W/O emulsions.
This emulsion is filled with anti-inflammatory, astringent, sebo-regulative and antibacterial ingredients (Thyme hydrosol, hemp seed, passion fruit oil and evening primrose oil), extracts of comfrey, turmeric, lavender, yarrow, wild pansy, meadow sweet, blueberry leaf and witch hazel as well as the anti-microbial CO2 extracts of sage, curcuma, hops, licorice, clove, oregano.
The hydrophilic active ingredients and moisture or gradually released to the skin and the emulsion has generally longer lasting properties compared to O/W emulsions.
If that is not enough to convince you, let's add that the emulsion is made cold process without any need to heat any of those amazing ingreients. Try it for yourself.
Before we start I want to recommend you to read our older posts: hygienic manufacturing practice in cosmetic lab and introduction to Basic equipments and utensils for a cosmetic lab. Please refer to my previous post about W/O emulsions for the basics about making these emulsions and their differences to O/W emulsions.
Here is the recipe:
Procedure:
1- Dissolve magnesium sulfate in thyme hydrosol and add othe ringredients of phase A. After everything is blended measure the pH and adjust it between 5.0-5.5. (If you're using another preservative system, check the requirement of your preservative). We've added a few drops of lactic acid to reduce the pH.
Keep in mind that for W/O emulsions, you have to adjust the pH of the water phase before blending water and oil phase
2- Blend all ingredients of phase B in another beaker. Symbio ® muls WO is a paste-like material. If you're working in a cold lab, you may need to gently heat it before blending it with the rest of the oil phase but usually it should be easily blended at room temperature.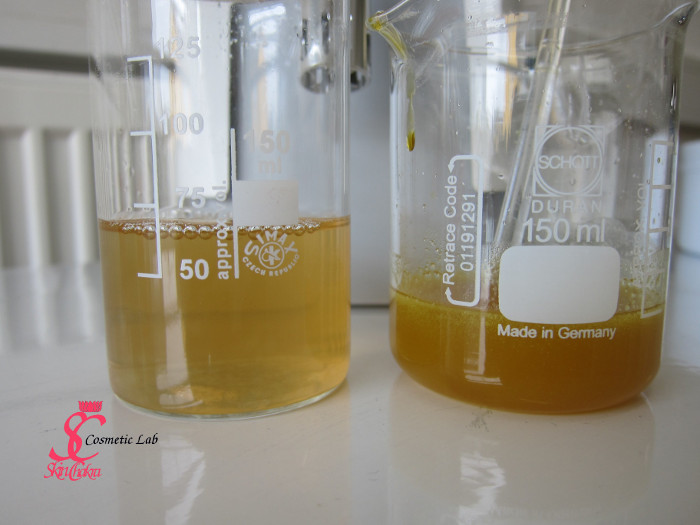 3- After both phases are separately blended, add the water phase little by little to the oil phase.
The addition should be very slowly. Stir completely after adding each aliquote to avoid formation of any water pool in the beaker.
This is the most time consuming part of the procedure. Have patience and stir after adding each aliquote.
Look at the picture. There is no water pool on top of the emulsion.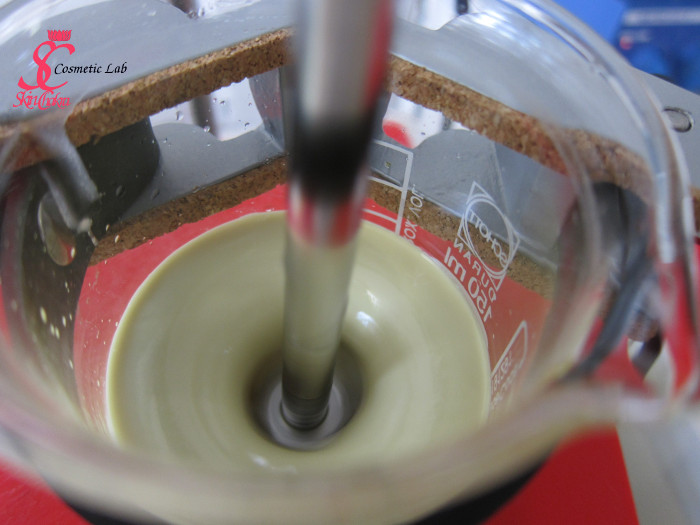 4- A pre-emulsion is made at this stage which is quite pretty on its own.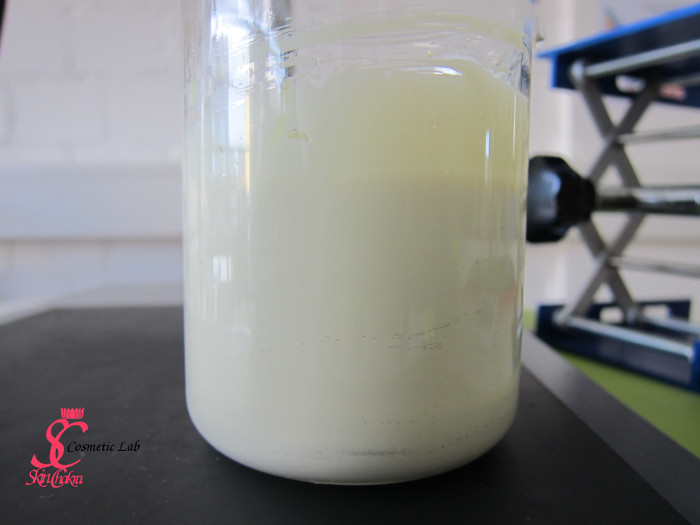 5- Homogenize the emulsion for 1-4 minutes depending on the batch size and your homogenizer.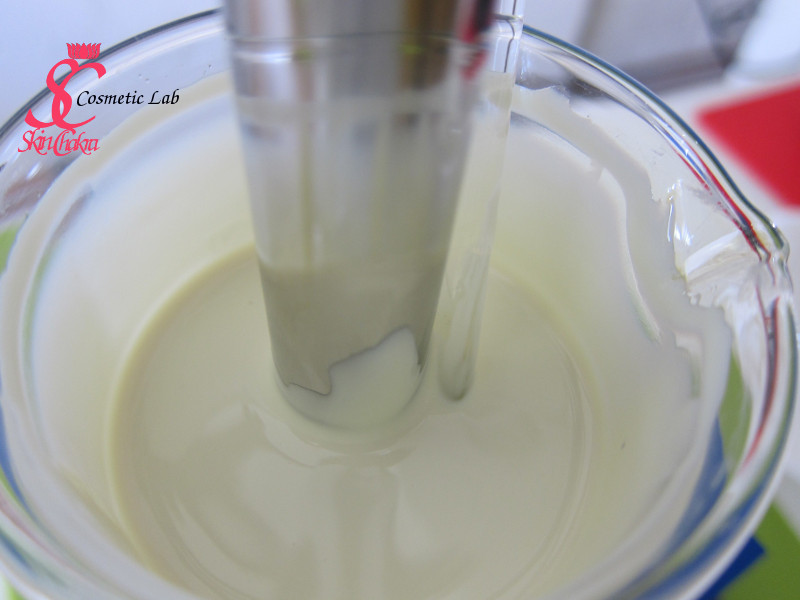 6- Add the essential oil and Euxyl K903 and blend gently (with a whisk or a spatula).
7- Take your micro kit sample and fill the emulsion in a suitable bottle (a pray bottle or a lotion pump)
We've checked whether this emulsion is a true W/O emulsion or not: Just dispersing a few grams of the emulsion in water. If it blends with water, it is an O/W emulsion. If it doesn't blend with water (as in the photo), it is a true W/O emulsion.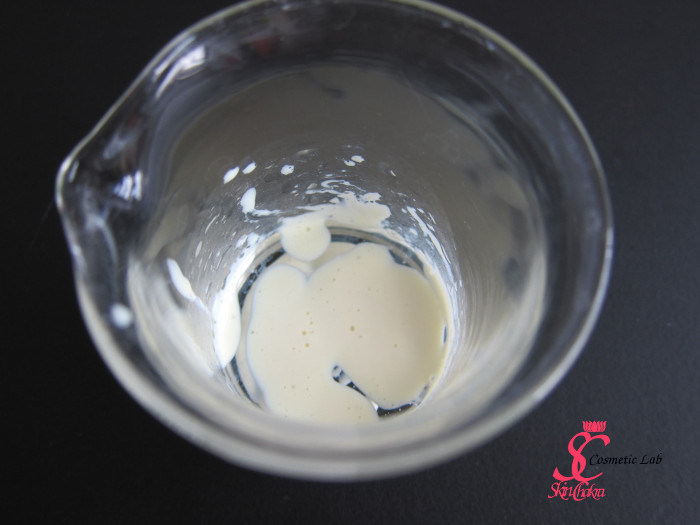 8- Its your turn now to make your own creation. I'm quite curious to know about your experience.
Feel free to send me your questions, comments and photos. I really enjoy your participation in our Facebookdiscussions.
Be Happy and have fun
Comments
Display comments as (
Linear
| Threaded)
The author does not allow comments to this entry