Friday, 29. April 2016
This is one of the major dilemmas in "natural cosmetics" formulation.
Usually, you're working with plant extracts, hydrosols and plant oils which are quite sensitive to heating. Working with conventional, old-school emulsification process that requires heating of your oil phase and water phase up to 70 degrees (and even more depending on the emulsifier) is not quite suitable for preparing "natural & organic" formulations.
One way is to use "cold process emulsifiers" from the very begining. We're offering a few cold process emulsifiers in our shop and are expanding the range. There are however, some limitations (or at least some necessary considerations) with cold process emulsifiers.
The particle size is usually bigger in cold process and you need higher shear and mechanical force for a smaller particle size compared to hot-process
You can not apply high melting point ingredients such as butters and waxes
There is however, a compromise between cold and hot process. In this method, you can heat only some of the ingredients and the rest is added either warm (ca. 40 degrees) or cold (room temperature). This is something defined and dictated by the emulsifier. Not all emulsifiers are capable of working in a hot-cold system.
I've been testing Plantasens® HE20 for a while and made some exciting preparations.
Method and principle
1- Plantasens® HE20 is blended with a part of the water phase (some 30-40% of the whole recipe). I've used plain distilled water for this part and no hydrosols. You can add all your heat resistance ingredients to this part as well.
2- Heat the water phase to 70-75 degrees. Plantasens® HE20 melts and swells in the water phase and makes a creamy/moussy mix (it doesn't dissolve in water). Stop heating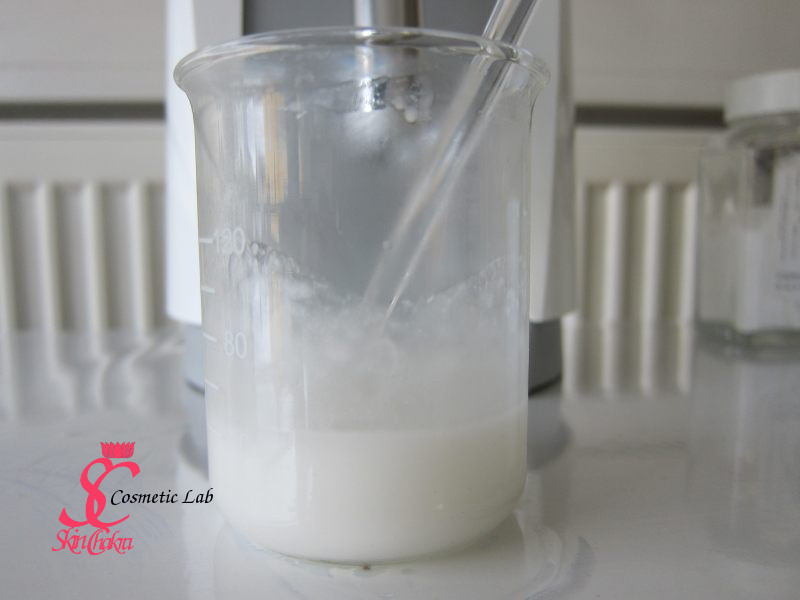 3- Now add the rest of your water phase (hydrosols, additives, plant extracts) to the hot blend
3- Blend all your oil phase ingredients at room temperature (if you have no high melting point ingredients)
4- Add the cold oil phase to the water phase gradually and under stirring.
5- Homogenize for 1-5 minutes depending on your batch size and homogenizer. Continue stirring.
6- Blend your gums in glycerine. Add the blend to the emulsion and mix well to avoid any lumps. Stir continuously (if you have an overhead mixer) or every now and then till the emulsion settles (for 1/2-1 hour)
7- Add the preservative. Adjust the pH and add the essential oils. (in my case, I had to apply 10% NaOH to increase the pH)
8- Take your micro kit sample and fill in a suitable container
This is my very basic sample formulation
I hope you'll enjoy trying this procedure. Don't forget the KISS principle for your first trials. Keep your formulations as simple as possible. Thank you for being here and for sending me your comments and photos. I really enjoy your participation in our Facebook discussions.
Be Happy and have fun
Comments
Display comments as (
Linear
| Threaded)
The author does not allow comments to this entry