Monday, 6. June 2016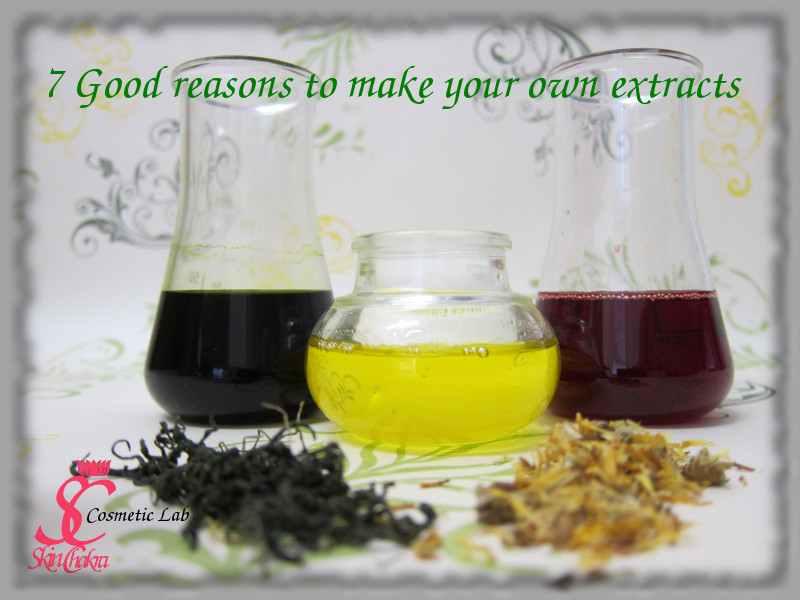 Without any doubt, some of the most important ingredients in "natural & organic" cosmetics are plant extracts and infusions. Plant extracts are even applied in conventional cosmetics but not in the same way and for the same purpose we do it.
Conventional and mainstream cosmetics applies plant extracts and oils to as low a concentration as possible (to keep the price low and increase the profit margin and to control the colour and scent of the finished product). The main purpose here is just for the sake of mentioning several plant oils and extracts on the label.
In mainstream products plant extracts are often mixed with mineral oil derivatives, paraffin and PEG-derivatives. This is a crime and a waste of useful and amazing ingredients from any natural formulator's point of view.
Even if you follow clinical and scientific studies, plant oils and extracts are often applied in a (disgusting) matrix of vaseline, paraffin, mineral oil and PEG-derivatives. One shall really ask why on earth are they wasting these ingredients at all?
Anyway, todays modern "natural & organic" formulator has a huge choice of ready made plant extracts and macerated oils (basically because the mainstream is using them. The application dosage is very low but the manufacturing capacities are huge). You can order the most exotic herbal extracts and macerations from literally every corner of the world with only a few mouse clicks.
There are however enough reasons why you should try to make your own extracts, infusions and macerations (specially if you're an artisan manufacturer producing small quantities of high-performance products and preferring quality to the quantity) and we're going to name a few of these reasons here.
Disclaimer: Don't be unrealistic. "Being cheaper" is not included in the following arguments. Making your own extracts is usually more expensive than purchasing ready-made extracts specially when you consider and calculate the time you're investing in the process and when you are using high quality carriers and plant material (which you certainly do when you are an artisan manufacturer of "organic" cosmetics)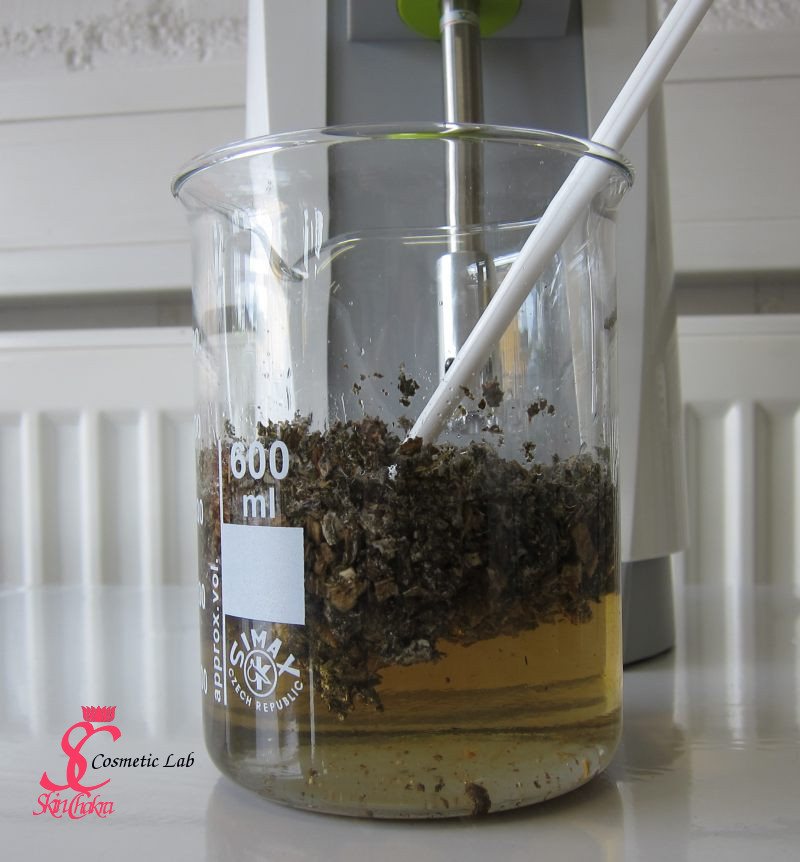 1- You know exactly "what is in it"
Unless you are purchasing directly from the manufacturer or from the wholesaler (with some 50-200 kg minimum order quantity), most retailers do not provide you even with the most basic information.
During the last couple of years and working with more than 1000 student in over 90 countries of the world I have been confronted with the most weird scenarios where the retailer has released the information drop wise and only by repeated request (if at all). They often do not disclose the full composition of the carrier, the extraction/maceration method, the temperature of extraction, the suitable soluble for the extract (specially in case of powdered extracts), the correct name of the plant, the exact plant parts used in extraction (leaf, whole plant, stem, root etc.), the preservative used (even the fact that there is any preservative at all) and many other required and necessary information to help you comply with GMP and maintain your product at a consistent and reasonable quality level.
Making your own extracts provides you with the freedom of chosing your own plants and carriers and to decide over the quality and quantity of the material you apply.
2- You are using freshly prepared extracts
Instead of purchasing huge amounts of commercial extracts (just because of the minimum order quantity or to justify and compensate for the shipping costs) you're preparing batches according to your own demands and requirements and are consuming your own-made extracts/macerations in a few weeks to max. 6 months period.
3- You can add your desired additives to the extract
From the very beginning, you can add your desired additives to your carrier or to the finished extract. This could be tocopherol or rosemary CO2 extract (to enhance the stability of your oils and prolong the shelf-life), squalane to improve the sensory and skin feel or lactic acid (to reduce the pH of your water based extract) or sodium phytate (as a chelator to enhance the preservative efficacy in your water based extract). You have total control (as long as the science and logic goes) over your extracts.
4- Preservative choice
In case of hydrophilic extracts, it is always a drama to get useful and reasonable information from the supplier (retailers). Some retailers do not even declare the preservative and the method of preservation. Even for those cases when the preservative and its concentration is declared, it is possible that either the preservative system is not compatible with your overall product concept/formulation or that the concentration of the preservative interacts with the preservative you're applying in your finished product.
Keep in mind that for most preservatives (even those considered as "natural" preservatives) there is a max. allowed concentration in the finished product in most parts of the world. These preservatives include sodium benzoate, potassium sorbate, salicylic acid, dehydroacetic acid, just to name a few. By making your own extracts and infusions, you can choose the type and concentration of the preservative in accordance with your concept, other ingredients and the main preservative in your final product. You will avoid overdosing a certain preservative or the risk of incompatibility between different preservatives.
5- Extracting according to your product concept
For hydrophilic extracts, the choice of the carrier is rather simple, there are either hydroglyceric (available both as organic or conventional extracts) or hydroglycolic (mostly available only with mineral oil-based propylene glycol which is not used and accepted in "natural" cosmetics) extracts.
With lipophilic extracts however, the choice could be broader and you have an unlimited choice of carrier oils for your macerations and extracts. Most commercial lipophilic extracts are available in soybean oil or sunflower oil. Extracts in olive oil and almond oil are available as well (which are obviously more expensive).
Imagine you have a certain product concept based on African folklore or ayurvedic medicine. Wouldn't that be nice to have your own extracts in baobab oil or sesame oil to suit those concepts? (You can certainly find a custom manufacturer who is ready to prepare your desired extract in your desired carrier, if you order the required minimum order quantity which is some 200 kg at least)
By making your own extracts, you can design your carrier from the very beginning and select it so that it matches your overall concept of the product.
6- Making your signature extract
By blending your desired plants into a signature extract, you will distinguish yourself from other competitors around you. That is a certain adavantage to consider when planing your product concept. Blending a few anti-inflammatory plants or focusing on plants with anti-oxidant activity, a product concept based on promoting circulation or any other concept that would match your distinguished and unique product. You may probably be able to order all those desired extracts one by one but think about the stock that you have to keep, the whole storage and logistic capacity that you would need to blend, let's say 5 extracts into a certain product. Wouldn't that be nice to have all those 5 extracts in a custom blend?
7- Reduction of solvent and storage capacities
This is related to the previous argument but from a formulation point of view. Suppose you plan to have 5 certain extracts in your finished product. By applying 5 single extracts in the product you are applying 5 times more carrier in the product than when you blend all those plants into a custom made single extract. This would increase your flexibility of formulation and avoid some unwanted side effects of applying too much of a carrier (this is specially the case with hydroglyceric extracts when you want to avoid high concentrations of glycerine in a leave-on product).
Apart from a formulation point of view, by making your custom extract you would need less storage space (which would be very important in your small, artisan lab) and need tracking of one shelf-life instead of taking care of the shelf-life of 5 individual ingredients.
If these 7 reasons are not convincing enough, try to make at least one single extract from scratch (no matter lipophilic or hydrophilic). The fun and joy of creating your own extract and watching your precious extract coming drop by drop from the filter would be so enchanting that you would hardly confine yourself to ready-made commercial extracts afterwards.
Disadvantages and difficulties:
I don't want to make you euphoric without mentioning the difficulties and disadvantages of making your own plant extracts.
1- Constant quality
In mainstream and industrial production, every single factor is exactly measured and controlled from the quality of the water to temperature of the mixer to the quality of the herb.
In most cosmetic extracts, at least one component in the extract is measured and standardized (a certain polyphenol for example) for a batch-to-batch comparison of the extracts. This kind of control and measurement would hardly be possible in your artisan lab. You can control your carriers (if you have a reliable supplier) but the control of the herb and extraction conditions and finally a qualitative and quantitative analysis of the final extract is hardly possible in an artisan lab.
2- Hygienic requirements
Plant material (specially when you're working with roots and underground material) have a load of micro-organisms. This load should be very low and should be controlled when you purchase your plant material from reliable suppliers. But when using your own plants without any chance of a microbiological test, you have always a risk of contamination. Obviously there would be no growth as long as there is no water but as soon as the material comes into contact with water (sufficient water activity) those unwanted guests start to grow and multiply themselves.
Keeping a notoriously hygienic laboratory and procedure is the alpha and omega in this case if you want to prepare your own plant extracts. It is not enought to "add a preservative" to hydrophilic extracts and then hoping that the preservative would do the job. The preservative would very soon be deactivated if you apply it at a low concentration (or a high contamination of the plant material) or at a non-optimal pH. Your preservative might even become inactivated by other ingredients in the product. There are tens of other factors that might affect the microbiological integrity of your extracts.
Plan a very exact hygienic routine from the very beginning if you want to make your own extracts. It is better to purchase a well preserved commercial extract than to use an excellent quality contaminated custom-made extract (without even noticing that it is contaminated) or having to discard your precious extract after so many hours of extraction and filtration because (this is the best scenario) you have realized that it is contaminated.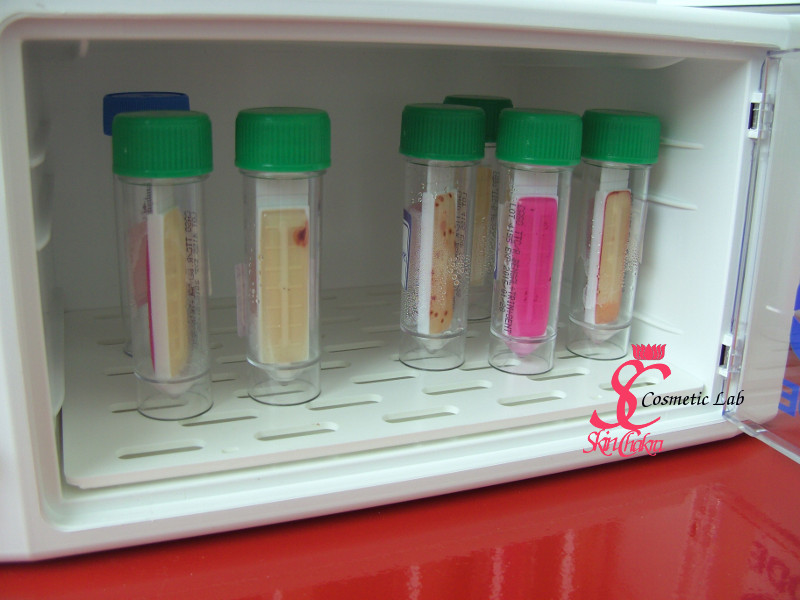 3- Risk of over loading
This is something I have often observed by beginner formulators. Becoming over-excited with their formulation talent, they blend tens of plant oils and essential oils into a single product without studying the legal limitations, dermal levels or possible incompatibilities between certain ingredients. At Formula Botanica, we always emphasize and recommend students to KISS (Keep It Silly Simple) principle. This could be the same here. Please start with 1-2 single herbs and extracts before making an extract containing 10 herbs.
4- More paperwork for you
Making your own extracts requires a meticulous documentation from the very first step. the source of the plant, the exact procedure, the composition and quantity of the herbs and the carrier. The temperature, the humidity, filtration method, yield, preservative and other additives. Keeping an exact record of your extraction procedure and applied material, as well as the record of how the extract was applied could become overwhelming. Plan your documentation even before you choose your herbs.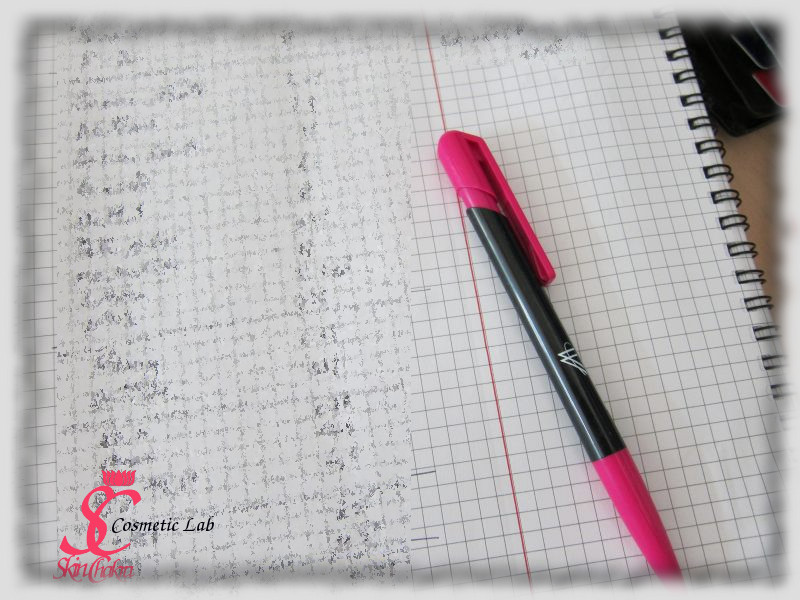 All in one, I think making extracts is a fun part of making organic cosmetics and is really worth considering when you're working in small scale and producing artisan high-end skin & hair care products. The decision is however yours.
What do you think? Is it worth the hassle of making and testing own extracts or one should rather rely on commercially available extracts? Send us your feedbacks or post your comments and photos of your extracts on our Facebook page.
BeHappy and have fun
Comments
Display comments as (
Linear
| Threaded)
The author does not allow comments to this entry