Tuesday, 7. June 2016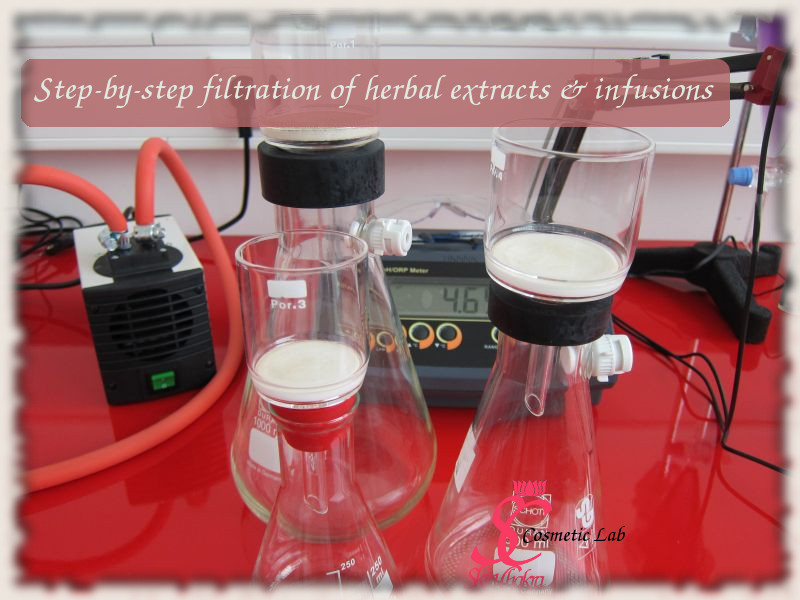 Your feedback and questions sent to us via different channels was a proof that you've liked part I of these series where we introduce and suggest different steps and possibilities for filtering your own herbal infusions, extracts and macerations.
In the previous part, we introduced the handy dandy veggiefino (or whatever it might be called in your country).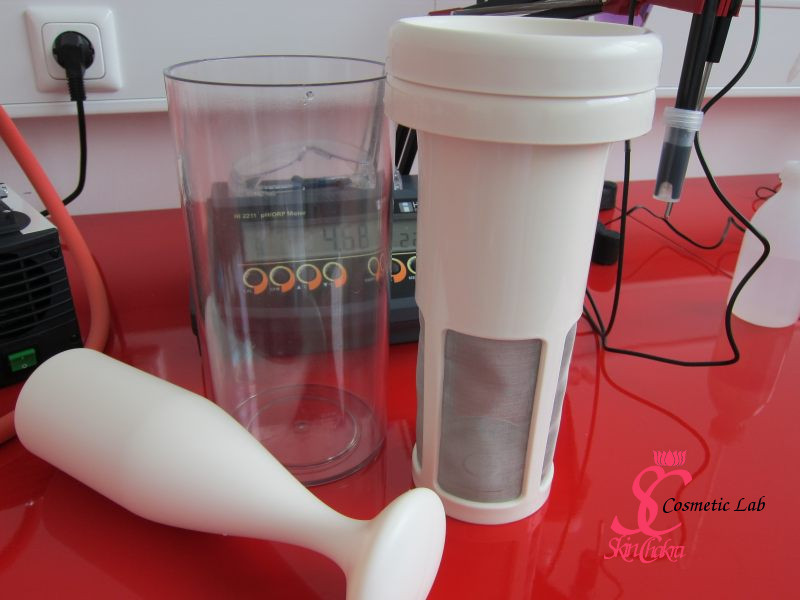 This is an extremely helpful (and hygienic) tool for the first filtration of your extracts and infusions. However, as you can see in this photo, the outcome would still need some extra steps of filtration.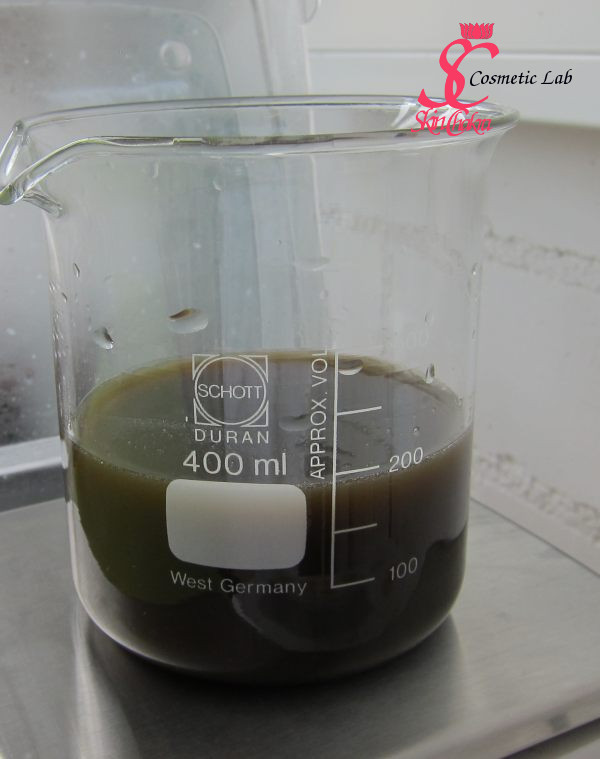 For the next step, you have two options (at least two are known to us)
a) Gravity filtration
This is pretty much the same as you do by applying a coffee or a tea filter. You can use any of those filters or a professional laboratory filter paper and a suitable funnel (these are made of glass, porcelain or plastic and are available in different sizes).
Filter papers are available in hundred different variations (regarding the size and shape of the paper, the porosity of the paper and the analytical grade).
Regarding the porosity, they are classified from "very fast" to "very slow" filtration. You usually need "fast" or "medium" grade depending on the particle size of your extract. For very big and chunky parts you can use a "fast" filter but for finer particles you may need a slower filter or even you may have to filter your extract several times.
You'll need a "qualitative analytic" filter paper and not a "quantitative analytic" paper. This is the main difference between the filter paper grades in terms of quality, material and price.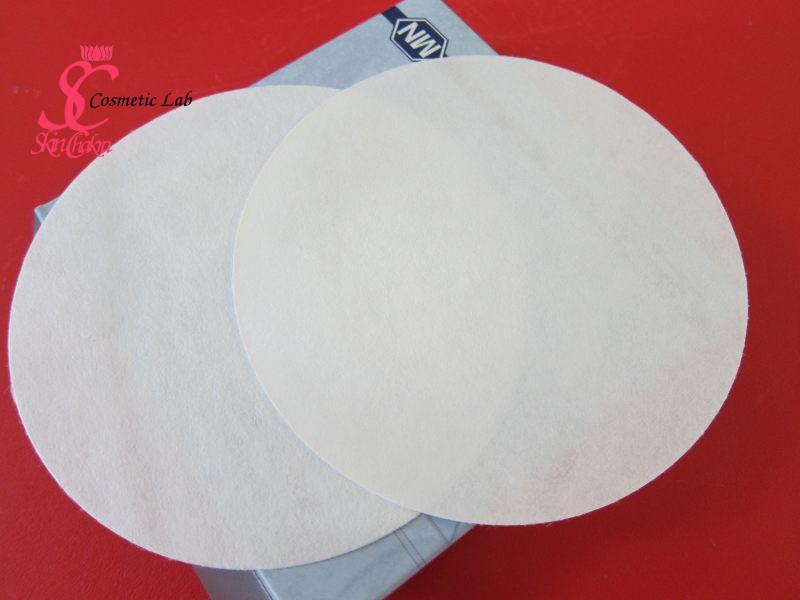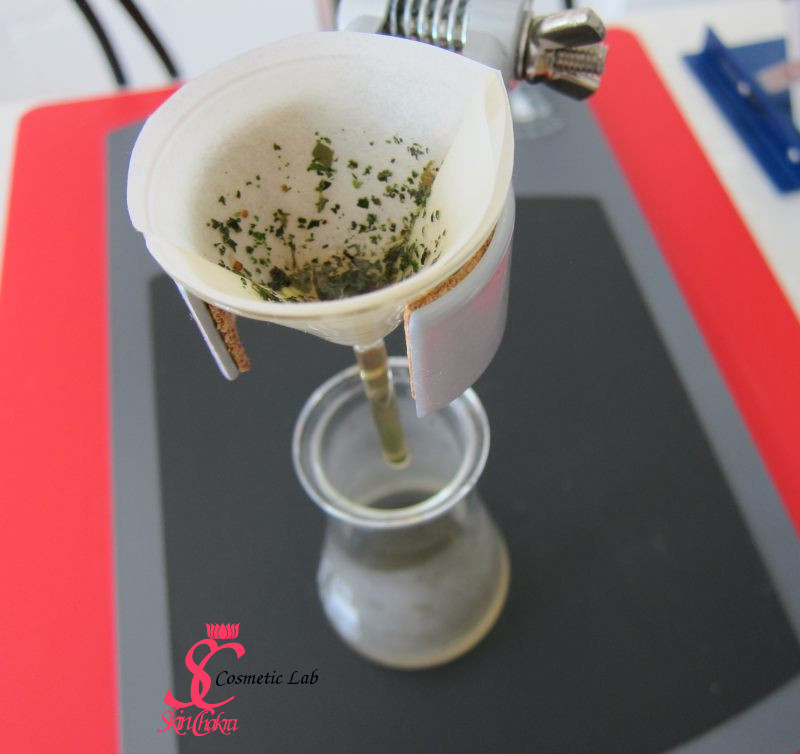 This method is very suitable when you're working with infusions (water based) and tinctures (hydroalcoholic) but wouldn't be quite effective when working with hydroglyceric extracts and lipophilic macerations and extracts.
If you are making infusions, this is a method you shall consider as one of your filtering steps. (You may even want to start your filtration with this step and avoid veggiefino but it depends on the herbs you're working with and their particle size)
2- Vacuum filtration
This method is much more effective specially when you're working with lipophilic extracts and macerations or hydroglyceric extracts. One of its main disadvantages is the original cost of the tools you need but believe me it is really worth investing in this technique if you often make macerations and extracts.
Obviously, the most important item you need is a vacum flask. These flasks are made from a special and thick glass (not comparable to your usual laboratory glassware) and are available in different sizes from 50 ml to 20 liter.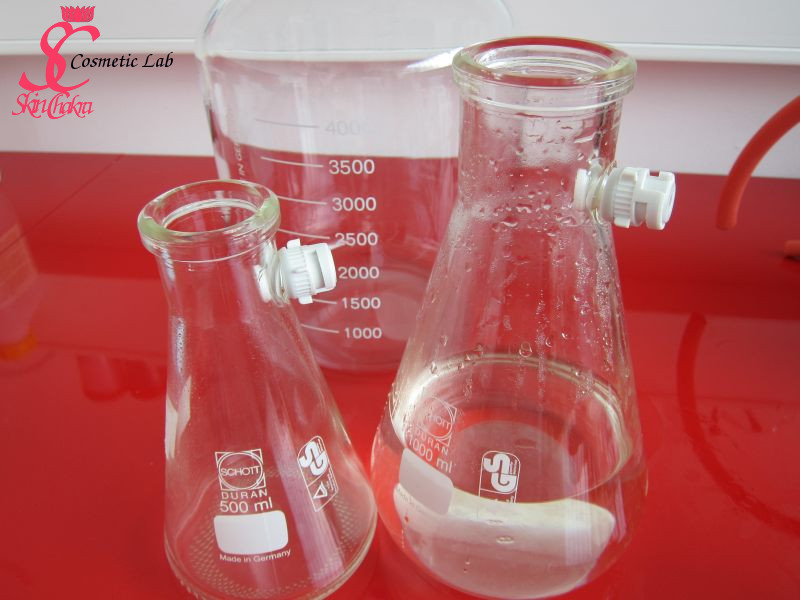 Then you'll need some funnels and filters. The funnel could either be a "buchner funnel":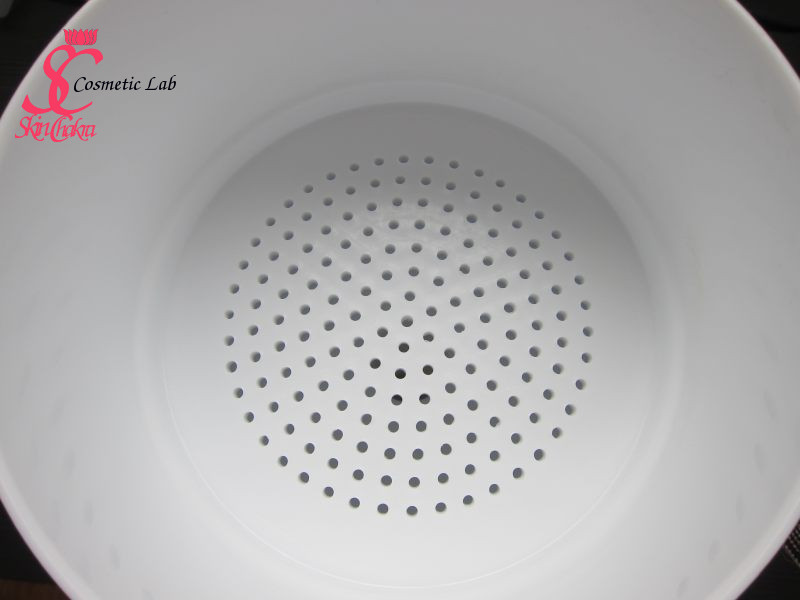 "Buchner" funnels are available in different volumes and are made of porcelain or special plastics that could withstand heat and chemicals and could even be sterilized in an autoclave.
To use the funnel, you'll need a filter paper and this could exactly be the same filter paper as we mentioned earlier for gravity filtration.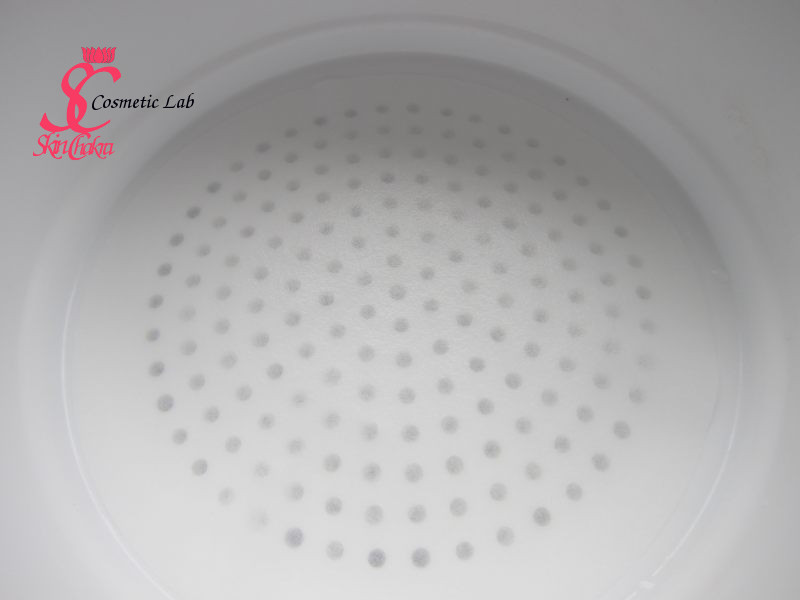 Each funnel has a certain diameter (and this is the diameter of the filter paper you'll need). For the above funnel for example, the diameter of the filter paper is 110 mm.
Obviously you'll need some kind of sealing between the funnel and the flask. These are suitable rubber rings that come between the funnel and the opening of the flask.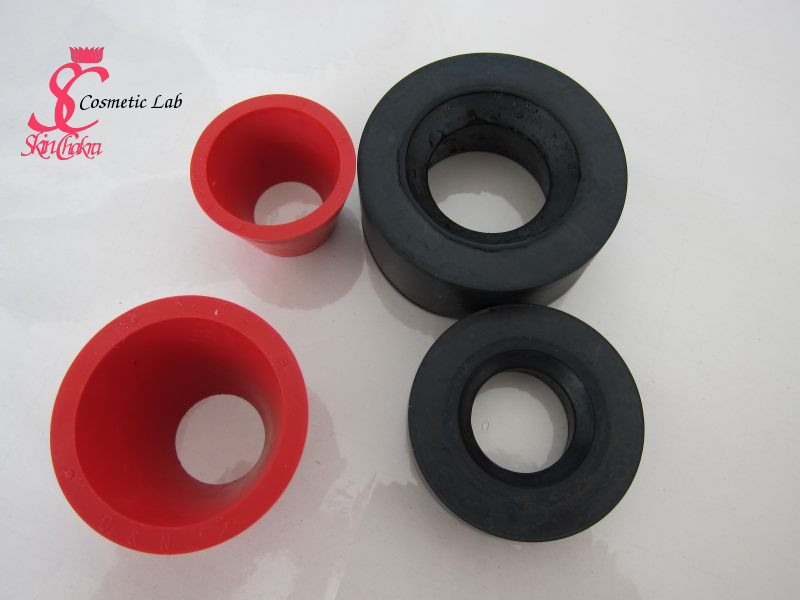 This assembly of:
vacuum flask, buchner funnel + filter paper + sealing ring
Provides you with a fast filtration of extracts and macerations. It is much more faster and more effective (and less messy) than gravity filtration.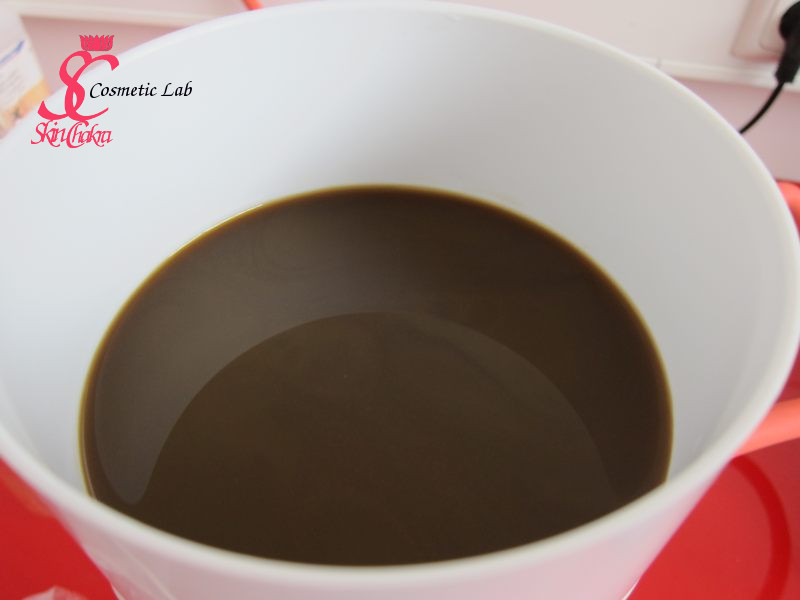 Another method, or rather a complementary method is application of glass filters.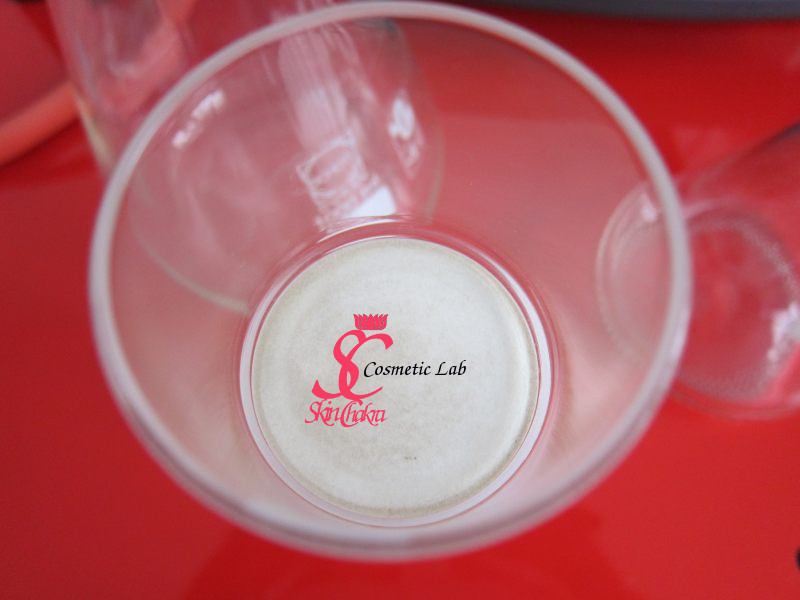 In this case, the funnel is the filter and you don't need any filter paper at all.
These glass filters which are called "fritted filter funnel" or "sintered glass funnel" are shamelessly expensive (but it is really worth to make such an investment). They are defined by the volume of the funnel and the porosity of the filter.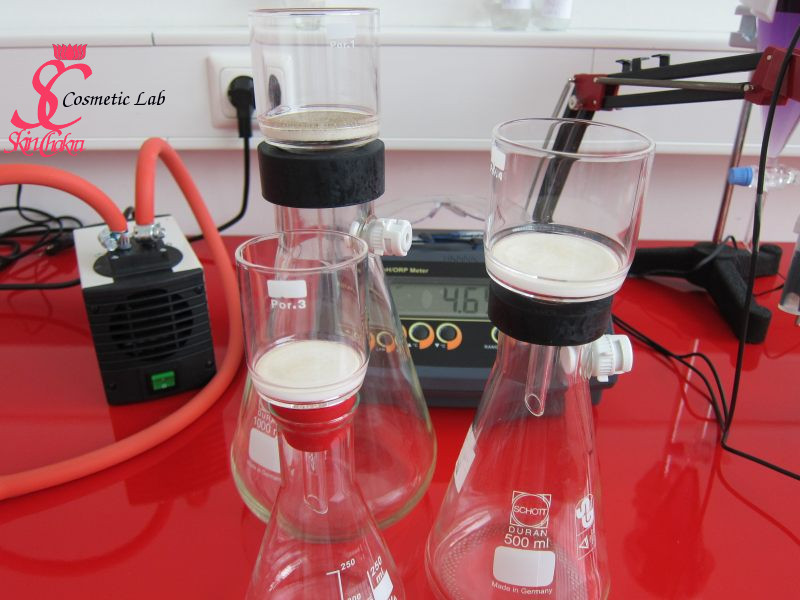 The prorosity which should be mentioned on the funnel is a measure of the speed of filtration. Porosities are (according to my knowledge) available from 1-5 with number 1 being the fastest filter (the largest pores) and number 5 being the slowest filter (the finest pores).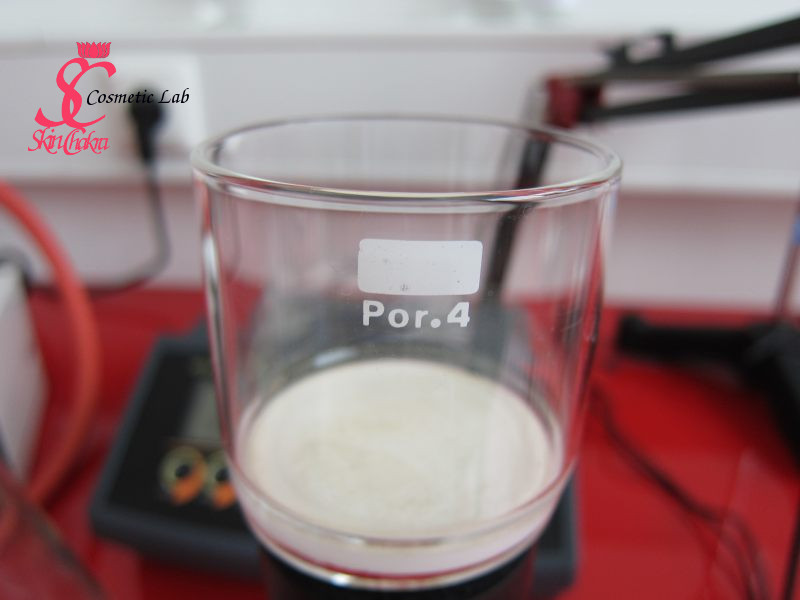 For plant extracts, you'll need porosity number 1 and probably 2 for very fine particles. Higher porosity numbers would slow down the filtration process and you don't need them.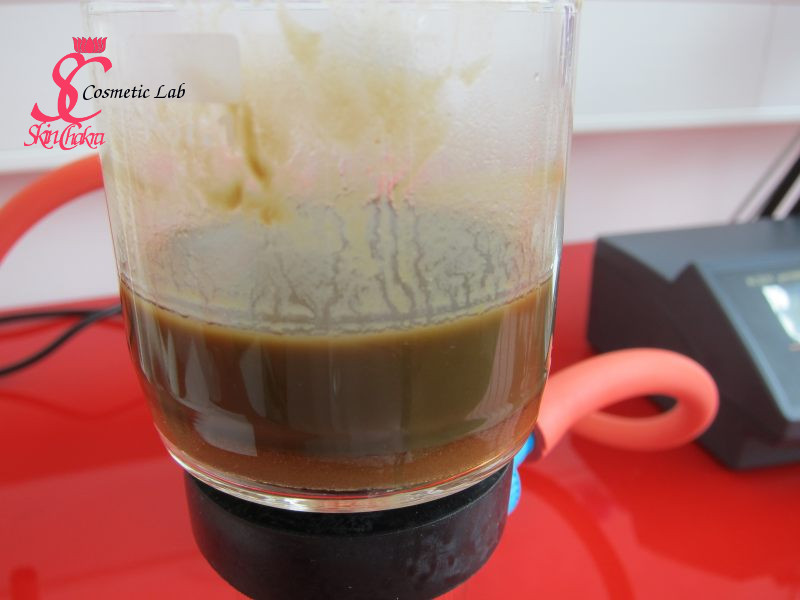 No matter how turbid and ugly your extract looks after filtration with veggiefino or other filtration procedures. This step is the final polish of any herbal extract.
(in some set-ups you don't need any rubber ring and the funnel is attached to the flask with a glass adaptor)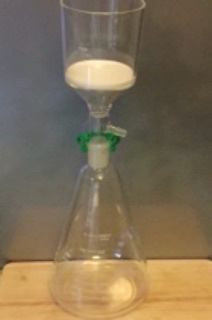 We usually run this step after one filtration with veggiefino and one or two filtrations with buchner funnel. The ugly extract that you see at the right for example is the extract of elder flower (hydroglyceric) after being processed through veggiefino and buchner funnel with fast filtration paper.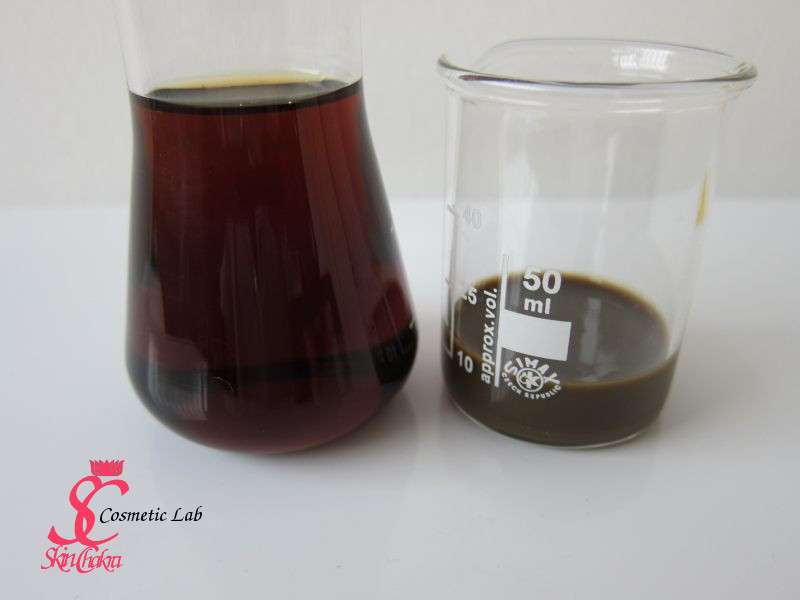 At the right side of the photo, you can see how the extract looks after a filtration step with a fritted filter funnel porosity 1 (the coarsest porosity available).
Isn't that amazing? Doesn't that look pretty?
Now we come to the final question:
How on earth can I create vacuum?
Obviously without vacuum, no vacuum filtration.
Read this post thoroughly and let it be digested before we proceed to the next part which is the creation of vacuum.
Don't hesitate to send me your questions and comments, or even better, to post them on our Facebook page so that other readers can profit from your questions and experience.
In the next post, I have a special guest who shares her experience and her genius way of creating vacuum with you.
Till then,
BeHappy and have fun
Comments
Display comments as (
Linear
| Threaded)
The author does not allow comments to this entry