Saturday, 11. June 2016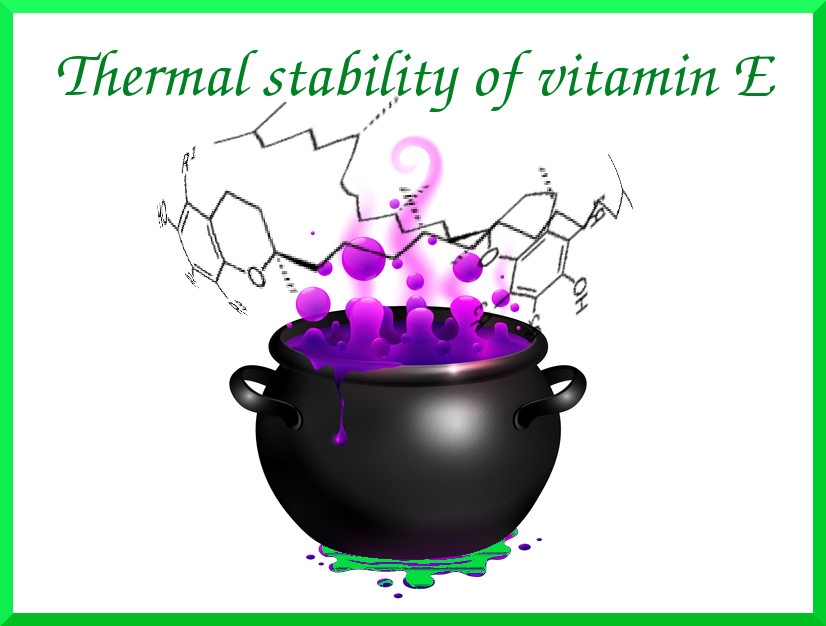 During a facebook discussion, I received several mails asking about the thermal stability of tocpherol. It seems that (at least) one of the retailers of cosmetic ingredients sells the usually cheaper tocopherol blend to a more expensive price than natural alpha-tocopherol and claims that this blend is more stable than the alpha-tocopherol. This claim has confused many of my readers and Formula Botanica's students and I've promised to provide them with a short explanation.
First a short review of tocopherols. Natural vitamin E consists of 8 fat soluble molecule with a very similar structure.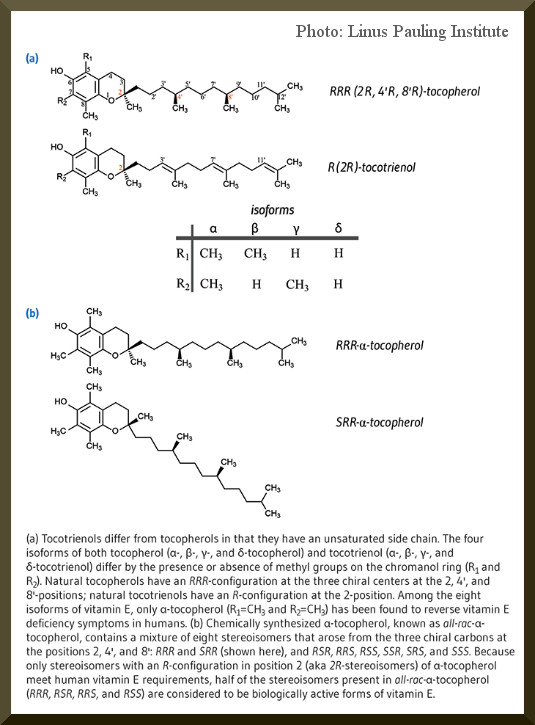 These are alpha-, beta-, delta, gamma-tocopherol and alpha-, beta-, delta-, gamma-tocotrienol.
They all have anti-oxidant properties and protect the cell membrane from oxidative stress. There are many biological and therapeutic functions related to them from anti-cancer to anti-diabetic but these are not related to our discussion.
In skin & hair care, they have three major functions:
Protection of the raw material and the finished product against oxidation
emollient, barrier function enhancer
protecting skin cells from oxidation (anti-aging)
Tocopherols /tocotrienols are oil soluble and are naturally found in grains and plant oils. In nature, they are found as a blend but with different quantities and concentrations. Alpha-tocopherol is the one most preferred by the body and the only form effective as a supplement for vitamin E deficiency, however, alpha-tocopherol is the most vulnerable and least stable form as well.
(You've certainly downloaded our booklet: "Vitamin E content of plant oils" as you've registered for the newsletter. In the booklet we've mentioned the alpha- and total tocopherol content of some plant oils).
Almond oil for example contains about 420 ppm alpha-tocopherol whereas the total tocopherol content is about 440 ppm. In wheat germ oil (which has a high content of tocopherol) the alpha and total tocopherol content are 1600 and 2500 ppm respectively.
Vitamin E is often added to plant oils by the suppliers to increase the shelf-life and inhibit rancidity of the oil.
As a cosmetic ingredient, you can purchase both natural and synthetic tocopherols. Natural tocopherol is available either as alpha-tocopherol or a blend of tocopherols. Synthetic tocopherol is usually available as alpha-tocopherol.
There are another variations which are only synthetically prepared: tocopheryl-esters (tocopheryl acetate, tocopheryl-succinate, tocopheryl nicotinate, tocopheryl retinoate etc.). The ester form is more stable than the natural tocopherol but is less biologically active.
Anyway, tocopherol is a heat sensitive ingredient and would degrade by exposure to temperature. All anti-oxidants degrade upon exposure to light and temperature. That is their job to be oxidized and to protect the rest of the content from oxidation. You are certainly familiar with the oxidation of vitamin C or ascorbic acid. It protects food and fruits from oxidation at the price of its own oxidation. The more effective an anti-oxidant, the less stable it would be.
Anyway, coming back to vitamin E. All forms degrade upon exposure to heat but to different extents. Alpha-tocopherol which is the most effective form is obviously the least stable form.
Basically tocopherol degradation is a function of time, temperature and the original concentration of the tocopherol (the higher the concentration, the faster the degradation). To control the degradation, it is important to control the temperature and the duration of heating.
When making a balm, a stick (lipstick, deodorant stick) or a hot-process emulsion, you usually heat your ingredients for a short period (forget about the heat & hold myth) to a temperature slightly higher than the melting point of your solid ingredients (the highest melting point ingredients are your waxes and emulsifiers and you wouldn't increase 80-85 oC when you're using a water bath). In this case your alpha-tocopherol is as good as safe from degradation. If however, you decide to prolong the heating process, or apply steam (double jacket mixer) for heating, then it is reasonable to add your tocopherol during the cool down process in order to protect it from degradation.
Look at the following diagrams for a better understanding of the story.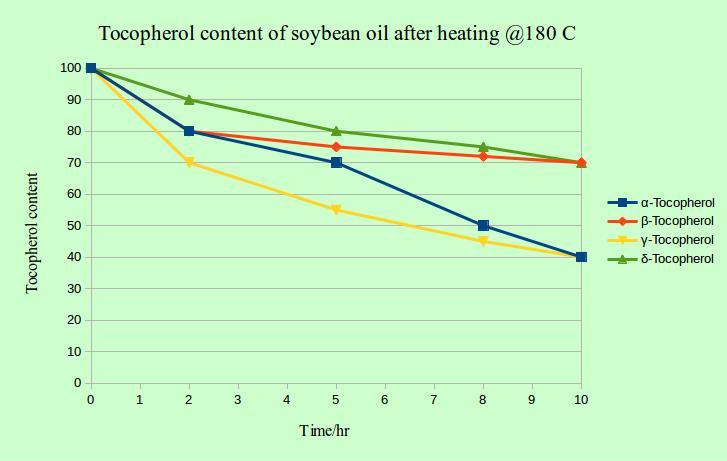 In this study, soybean oil and partially hydrogenated soybean oil were heated over 10 hours @180 oC and the individual tocopherol content was measured over time. As you can observe in the diagram, the alpha- and gamma- tocopherol were the least stable ones and the delta-form was the most stable form. But hey, which cosmetic formulator would heat her precious ingredients to 180 degrees and over such a long period? This study is indeed related to the food industry where they heat the oils to such high temperatures and over a long period of time during frying process.
The interesting point is, that the tocopherol in partially hydrognated oil (higher concentration of saturated fatty acids) was less stable than the tocopherol in virgin soybean oil with a higher concentration of unsaturated fatty acids.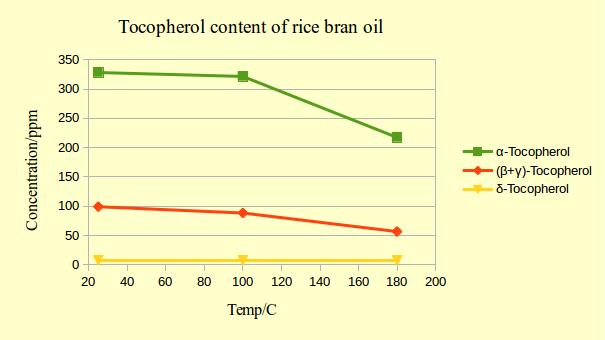 In another study, rice bran oil was heated to 100 oC and 180 oC and the tocopherol content was measured after 48 hours.
As you see, the alpha-tocopherol is the least stable form and the delta-tocopherol the most stable but here once more, you see that up to 100 oC, even the alpha-tocopherol content is not changing dramatically and only at 180 oC the degradation becomes quite considerable.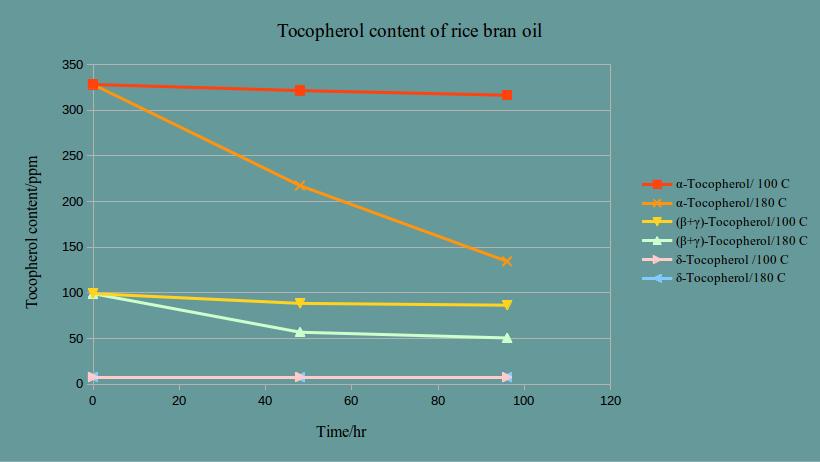 In the above diagram, you can follow the stability of each tocopherol over a period of 96 hours at 100 oC and 180 oC . It is quite obvious that alpha-tocopherol is less stable than all other forms but the degradation at 100 degrees is quite negligible compared to the degradation at 180 oC.
From the above studies, we come to teh comclusion that by a normal cosmetic manufacturing procedure and as long as you heat your ingredients for a short period and not over 100 degrees (which you hopefully do not), your alpha-tocopherol is safe from degradation.
Natural vs. Synthetic tocopherol
There is a myth wandering around internet about teocopherol which probably is distrubuted by suppliers of raw material. To clarify the confusion just keep in mind that the natural alpha-tocopherol contains only one single stereoisomer (the 3-diemnsional orientation of the molecule) and that is RRR form. This is the ONLY form that is biologically (both in internal as in topical applications) effective. The synthetic form which is a blend of both sterioisomers (the RRR included) has much less efficacy in vivo but has proved to be equally effective in vitro.
This means that if you're using tocopherol as an anti-oxidant for your oils, then both the synthetic and natural alpha-tocopherol have the same efficacy but if you're using alpha-tocopherol for its anti-aging and cell protection properties, then the natural one is much superior to the synthetic one.
I hope to have made you more comfortable about the stability of tocopherol in your formulations. Don't hesitate to send me your questions, concerns and comments.
References:
http://lpi.oregonstate.edu/mic/vitamins/vitamin-E
Steel, Caroline J., M. Carmen Dobarganes, and Daniel Barrera-Arellano. "The influence of natural tocopherols during thermal oxidation of refined and partially hydrogenated soybean oils." Grasas y Aceites 56.1 (2005): 46-52.
Bruscatto, M. H., et al. "Degradation of tocopherols in rice bran oil submitted to heating at different temperatures." Journal of chromatographic science 47.9 (2009): 762-765.
BeHappy and have fun
Comments
Display comments as (
Linear
| Threaded)
The author does not allow comments to this entry