Monday, 20. June 2016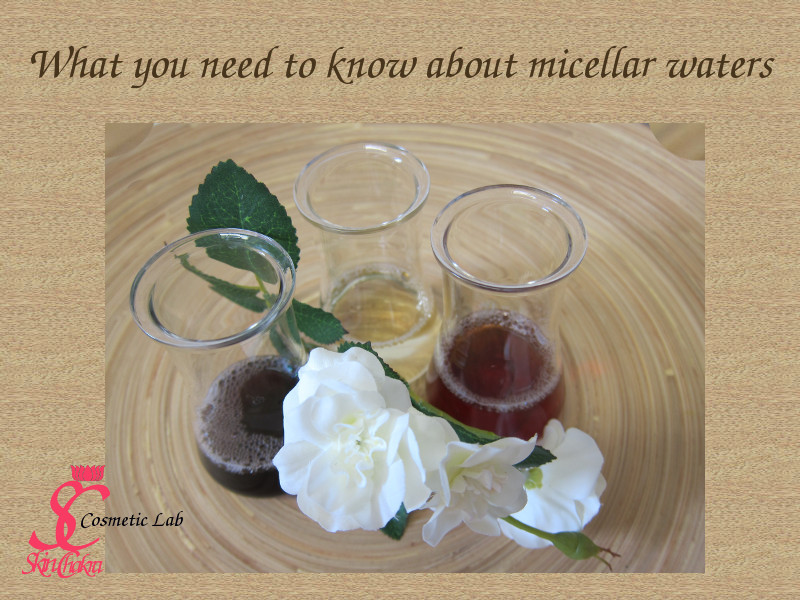 "Micellar waters" took the market by storm a few years ago and every colloid chemist in the world was asking himself : "So what?" Is not every surfactant containing cleanser a micellar water?
I don't know exactly which formulator and which company deserves the credit for INVENTING micellar waters as a marketing sensation but here we are with amazing products which are much more than "just a surfactant containing product".
Let me first explain why this definition of "micellar water" was so odd to us at the beginning.
Surfactants are surface active ingredients. To this group belong thousands of natural and synthetic molecules acting as emulsifiers, solubilizers, foaming and cleansing agents. Only a section of all surfactant molecules are effective as cleansing andn foaming ingredients. These are those with an HLB (hydrophilic-lipophilic balance) between 13-15.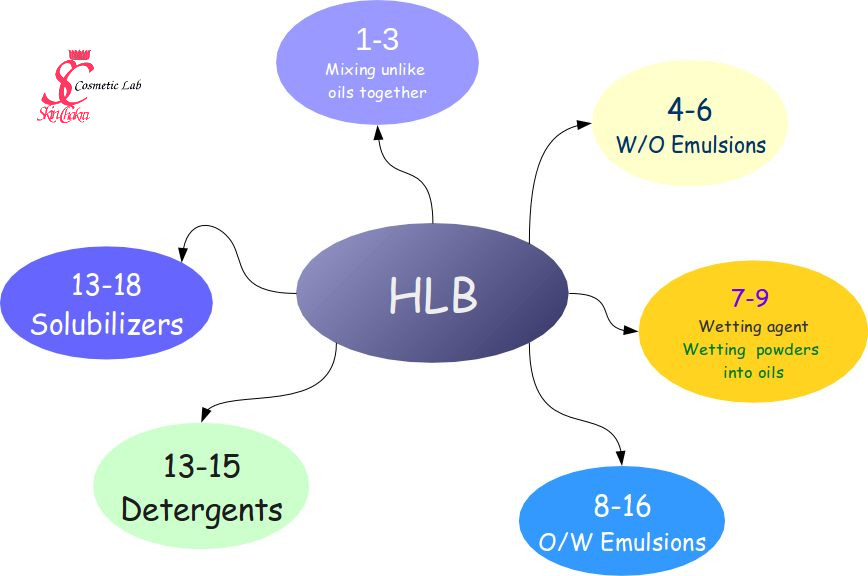 The group of detergents contains soap as well as the infamous SLES up to amphoteric surfactants such as betaines and nonionic surfactants such as APG. It includes both natural (whatever your definition of natural might be) as well as synthetic and PEG-based surfactants.
Surfactants are molecules consisting of (at least) one hydrophilic and one hydrophobic section in the same molecule. In water and from a certain concentration which is called cmc (criticall micelle concentration), build aggregates which are called micelles. The simplest form of micelles are a spherical aggregation of surfactant molecules (which we've depicted here as a two-dimentional circle)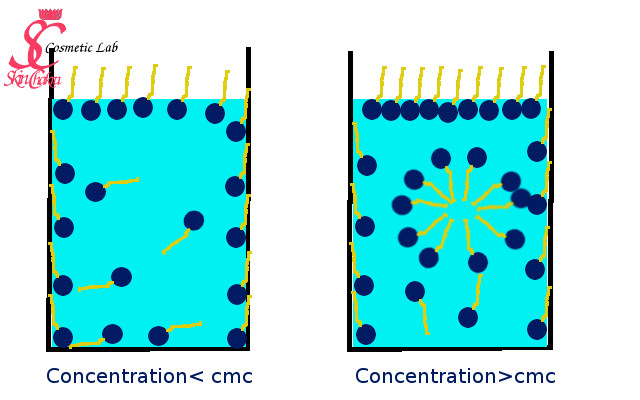 It means, when you add a surfactant to water, let's say APG (alkyl poly glycoside), your surfactant molecules first orient themselves at the interphase between water and air and after this interphase is saturated (filled) with surfactant molecules, they assemble themselves in spherical aggregations.
This is all "dry theroy" and might seem boring and uninteresting to you. There are theoretical models and experimental procedures to measure the cmc of each surfactant, to calculate how many surfactants are in each micelle and to determine the shape of the micelles at a certain concentration and I'm going to spare you the details. For our purposes it is just important to know what micelles are (if you're going to make micellar water) and what they do.
Each surfactant has its optimum efficacy in the micellar form.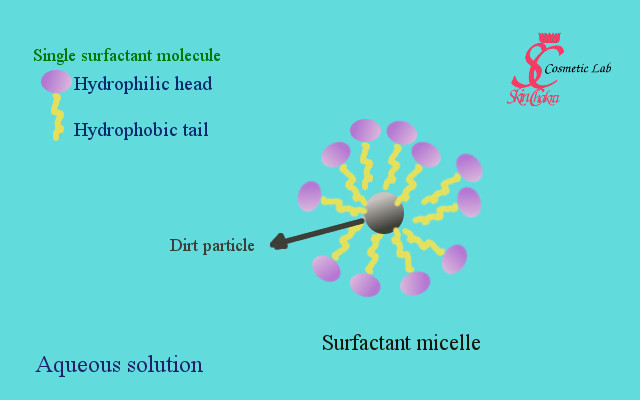 We know that dirt is usually oil soluble (oily secretions of the skin, dead skin cells, environmental dirt, make-up residues etc.).
Surfactant molecules, aggregate in form of micelles in water and orient themselves so that their hydrophilic part (water loving) is in contact with water and their hydrophobic part (water hating) is shielded as much as possible from water. In this orientation, they can hide and carry hydrophobic dirt particles in the centre of the micelles. (This is a very simplistic explanation of micelles and cleansing theory but we don't need more details for our purposes).
It means in clear words, that every detergent containing product such as shampoos, shower gels, cleansing foams etc. could be considered as "micellar water" and this is the main reason for the original apathy or confusion of cosmetic chemists towards "micellar waters".
However, what we call a "micellar water" and what you can find on drustore shelves (or online) are diluted surfactant solutions, with a surfactant concentration much lower than you'll find even in a mild baby shampoo. This solution is just effective enough to cleanse the skin and remove the make-up. Besides just cleansing the skin, it has other benefits and functions to offer:
Since the surfactant concentration is low, there is no need to rinse it. It means you have a very easy application even when you have no access to water or you don't want to apply hard water over your facial skin.
Micellar waters usually combine at least:
Cleansing
make-up removing
tonifying
moisturizing
And this is why they are so popular in our busy/lazy lifestyle. The modern woman of today, busy moms or busy businesswomen on travel do not need to perform a multi-step cleansing to moisturizing ritual, they can perform all steps in just one single action. Isn't that great?
Which properties should a surfactant containing product contain to be considered as a "micellar water"?
1- A very low viscosity so that it could be easily applied by a cotton pad
2- Very low concentration of surfactants and other ingredients usually suitable for rinse-off products (this is specially important when your product is going to be safety assessed). Generally the dermal limits of all ingredients should be considered for a leave-on product
3- Dermal limits and limitations should be considered for product being applied around eyes and over lips. This would limit the choice of colourants, essential oils, some plant extracts and preservative
4- Solubility of the ingredients at ambient temperature as well as increased and reduced temperature. Micellar waters are generally presented as transparent liquids, if your micellar water is opaque or turbid, it might not be considered at all as a micellar water. Apart from that, you don't want any ingredients to separate from solution during storage and transport @ 4 degrees or @45 degrees.
5- A light, non-greasy and non-sticky skin feel after application. The product is a leave-on product and should act as a moisturizer. A non-pleasant skin feel would force the user to rinse her skin afterwards and that would spoil the whole concept.
Regarding the ease of manufacturing "micellar waters", it seems that, the "organic and natural" cosmetics community has been in hybernation as these products took the market by storm. The number or real organic products available on the market (I'm not counting the green-washed products obviously) is quite negligible and the products avialable on the market are loaded with PEG-based ingredients and formaldehyde-donours. It seems that there is a huge opportunity for artisan manufacturers of "micellar waters" to offer amazingly mild, effective and safe products to their customers.
Your advantages when making micellar waters include:
ease of manufacturing: everything could be blended in one phase and at room temperature
since you're working at room temperature you can load your product with those precious heat-sensitive ingredients such as hydrosols and plant extracts
since the product is a leave-on product, you can add loads of goodies such as hydrosols, vitamins, plant extracts without wasting them to the drain (this is what happens to rinse-off products)
Essential oils:
I personally do not recommend applying any essential oils or fragrances into micellar waters. I know that mainstream products contain fragrances (usually synthetic) and then solubilizers (usually PEG-containing ingredients) to incorporate the fragrance into water to make a clear and transparent solution. By applying essential oils, you 'll need a solubilizer. Even when you apply a "natural" and completely safe solubilizer such as Symbiosolv XC, you're complicating the manufacturing process and you have to be extremely careful with dermal limits since the product is being applied around eyes and over lips. It is however your choice and you're completely free to apply any suitable essential oil considering the necessary safety requirements and dermal limits.
The basics:
Obviously the most important ingredient would be the surfactant. The surfactant should be effective at low concentrationsand have low inherent scent. The most important aspect of the surfactant is its solubility at a temperature range of (at least) 4-45 oC. Among all surfactant I've tested, decyl glucoside and cocamidopropyl betaine are those who fulfilled my demands the best. Teresa from the Balm Kitchen has used Yucca extract with success and satisfaction. It has a very dominant colour and even at low concentrations (2-3%) imparts colour to the product. You shall consider it in your overall product design. If you plan something with chamomile or calendula extract then yucca extracts matches the concept but if you're going to work with rose hydrosol or lavender hydrosol for example, the yucca colour wouldl not quite match the concept.
You usually need these surfactants at 2-4% concentration.
The preservative is another important ingredient. Not only its safety, dermal limits and legal requirements are important but its solubility over a range of 4-45 oC should be considered. pH adjustment and control is extremely important to guarantee the efficacy of the preservative and the transparency of the product.
To improve the solubility of the surfactant and the stability of the product at lower temperatures, a suitable solvent is needed. Glycols are usually the most common solvents used in micellar waters. Glycols have been very notorious and detested in natural cosmetics till a few years ago. They are basically poly-valent alcohols (the anti-freeze in your car radiator is ethylene- or propylene glycol) derived from mineral oil. Since a few years however, plant based and "natural" glycols are available. These have all the good properties of glycols but are derived in a sustainable manner from corn or sugar cane. Glycols are, in addition to being excellent solvents and moisturizers (much better than glycerine) good antimicrobial and preservative-boosters. Adding a glycol to the micellar water is the alpha and omega of having a transparent micellar water over a wide temperature range. We recommend our plant based pentylene glycol for this purpose (2-3% application dosage) but you are free to use any other suitable glycol which is available to you.
The rest depends fully on your creativity and preferences. Keeping in mind the most important aspects and requirements for micellar waters, the sky is your limit. Keep in mind however, that you don't want to blend all of your available plant extracts and hydrosols haphazardly into a blend. Use every ingredient "as much as needed and as little as possible". Create a certain product concept to limit the number of hydrosols and extracts you're using in a product with an intelligent and well-designed concept.
Gather your ingredients and get ready for the next post where I'm going to share 3 simple and basic formulations with you.
I would be delighted to have your feedback and comments about micellar waters.
Looking forward to hearing from you. Send your feedback directly to me or post your comments on our Facebook page.
BeHappy and have fun
Comments
Display comments as (
Linear
| Threaded)
The author does not allow comments to this entry