Saturday, 9. July 2016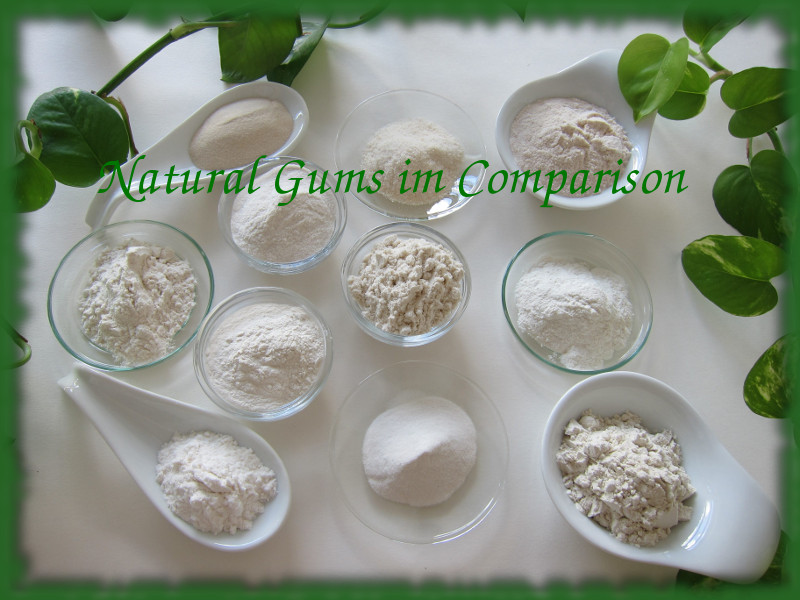 I've promised a long time ago to compare a few "natural gums" or "hydrocolloids" as the experts call them and here I am.
I am often asked "what is your favourite gum?" and my answer is always: "it depends". There is no one-single best gum for all purposes. The best choice depends on the purpose and the matrix (where you are using the gum)
Natural gums are basically polysaccharides (polymeric sugars) which swell in water or build entangled networks and hence increase the viscosity. They are widely used in food and beverages, pharmaceuticals, paint, coating and constructional industries and in cosmetics as viscosity modifiers, texture modifiers, stabilizers or taste enhancers.
Gums are present in almost every processed and packaged food and beverage: ice cream, fruit juice, pastries, processed meat and dressings are only a few examples. In food and beverages they are not only used to improve texture, they modify the taste by changing the texture (specially in low-fat products)
In cosmetics we use them to:
improve the texture
enhance the stability
adjust the viscosity
adjust the suspending properties (in scrubs for instance)
modify the skin feel and spreadability
Natural gums are either directly obtained from:
seeds (such as guar or locust bean gum)
tuber (konjak)
exudate (tragacanth, acacia)
or extracted from plant or marine sources:
Cellulose
carrageenan
alginate
pectin
Agar
or prepared by fermentation (microbiologically):
xanthan
sclerotium
gellan
For this study we've tested 9 single gums in a simple emulsion formulation. We're expanding this study with gum blends and would update this blog post after we've the results.
We have made simple emulsions and then tested these emulsions for the viscosity of the emulsion, skin feel, texture and the thermal stability (which is obviously the most important reason why we use gums at the first point)
We used these gums for the first part of the project:
| | | |
| --- | --- | --- |
| No. | Gum | INCI Name |
| 1 | Xanthan | Xanthan gum |
| 2 | Carrageenan | Carrageenan |
| 3 | LBG | Ceratonia Siliqua gum |
| 4 | Acacia/arabic gum | Acacia catechu gum |
| 5 | Konjak | Amorphophallus Konjac Root Powder |
| 6 | Tragacanth | Astragalus Gummifer Gum |
| 7 | Tara | Caesalpinia Spinosa Gum |
| 8 | Sclerotium | Sclerotium gum |
| 9 | Guar | Cyamopsis Tetragonoloba Gum |
in a very simple and basic formulation:
Phase A:
5.0% Plantasens® HE20
40.0% distilled water
Phase B:
19.5% Organic poppy seed oil
0.5% Tocopherol
0.1% Organic Rosemary CO2 extract
Phase C:
0.1% Drmofeel® PA-3
29.3% distilled water
Phase D:
0.5% gum
4.0% 99.5% Glycerine
Phase E
1.0% Euxyl® K903
Sodium hydroxide to adjust the pH between 5.0-5.5
Procedure:
The procedure was a hot-cold-cold procedure:
1- Heat phase A in a water bath at 70-75 degrees. 2- Blend the emulsifier in water completely to a gel-like blend. Stop heating
2- Add the cold oil phase and blend.
3- Add the rest of the water phase (at room temperature) and blend
4- Homogenize for a few minutes
5- Disperse the gum in glycerine and add this to the emulsion as you stir the emulsion.
6- Add the preservative and adjust the pH between 5.0-5.5
Results:
We've measured the viscosities of the emulsions two days after production. Tested the stability by centrifuge (4000 rpm for 15 minutes) and tested the thermal stability @ 4 degrees and 45 degrees. The texture and skin feel were tested subjectively.
Let's see first how are the viscosities of the emulsions made with different gums.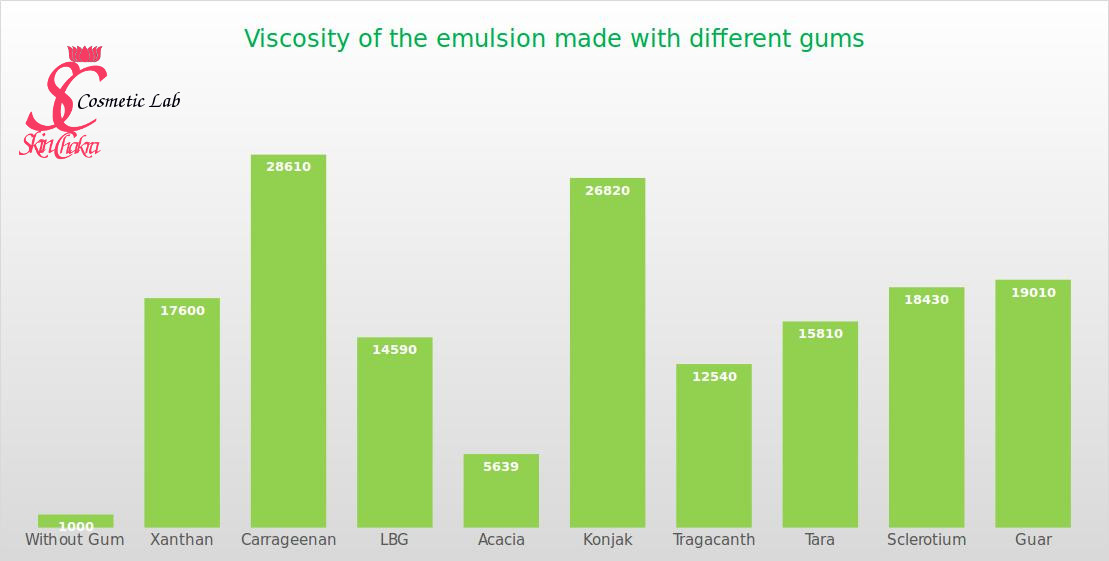 The sample without any added gum was unstable at reduced and elevated temperatures.
Obviously Acacia gum has the lowest viscosity whereas Carrageenan (iota form) causes the highest viscosity. If your main aim of adding gum to an emulsion is increasing the viscosity, then acacia gum is not the best choice.
Basically a high viscosity does not necessarily mean a better or a more stable emulsion. You may need a medium viscosity or even a low viscosity (sprayable emulsion) for certain purposes. This diagram can hopefully help you choose the right gum or blend of gums as you're looking for a certain viscosity range for a specific project.
Let us look at the texture of the emulsions made with these gums. You would be quite astonished about the difference.
1- Xanthan gum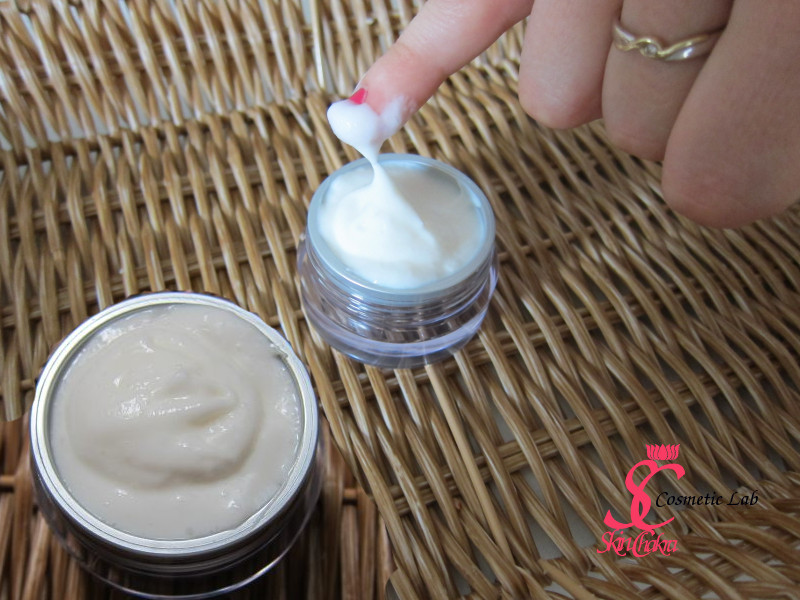 2- Carrageenan

3- LBG (Locust bean gum)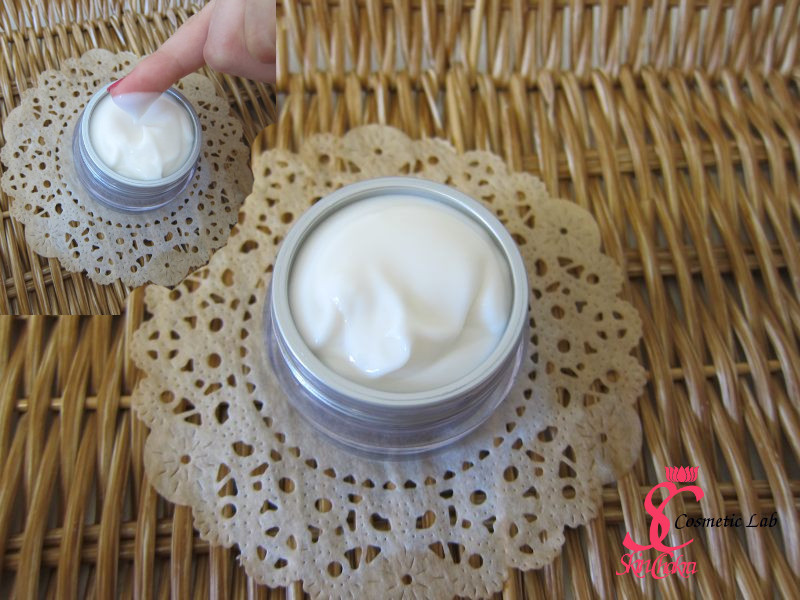 4- Acacia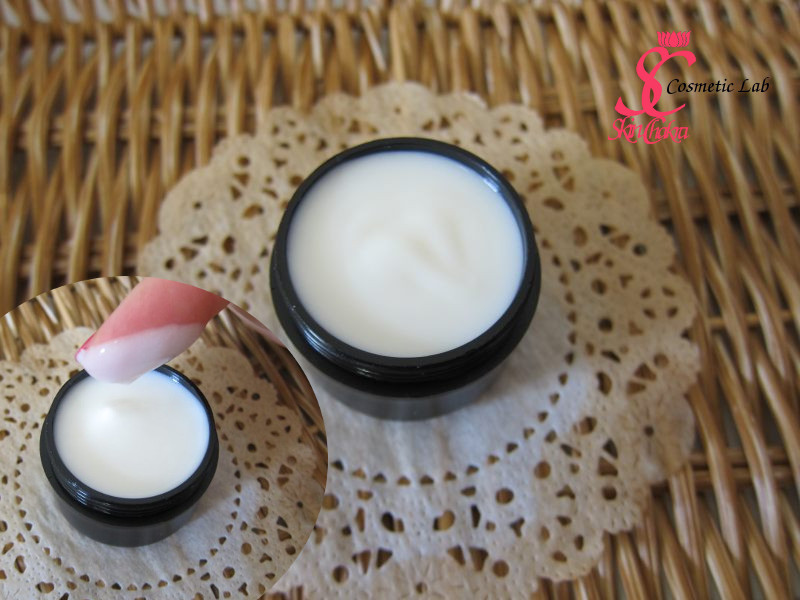 5- Konjak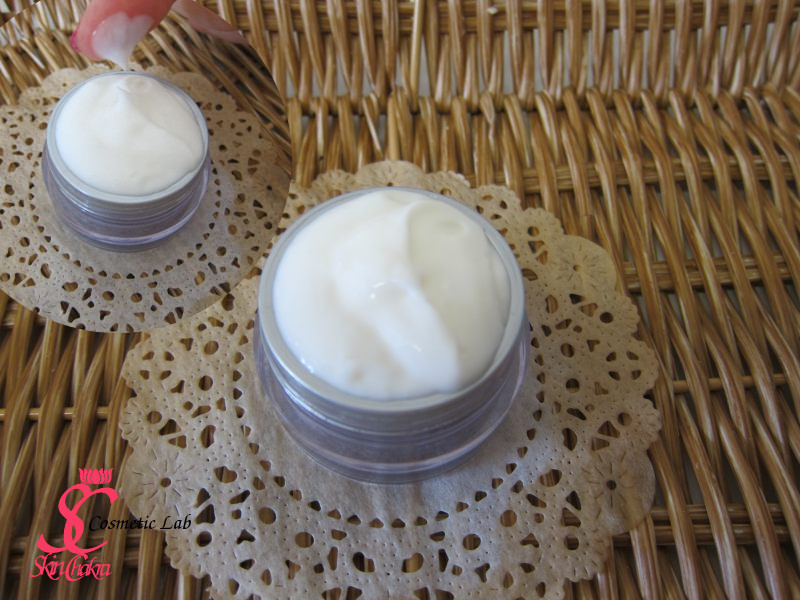 6- Tragacanth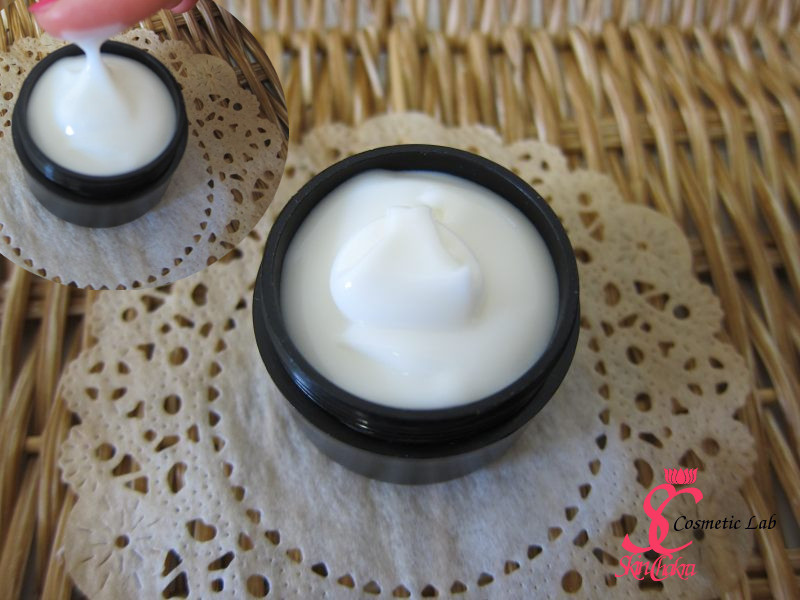 7- Tara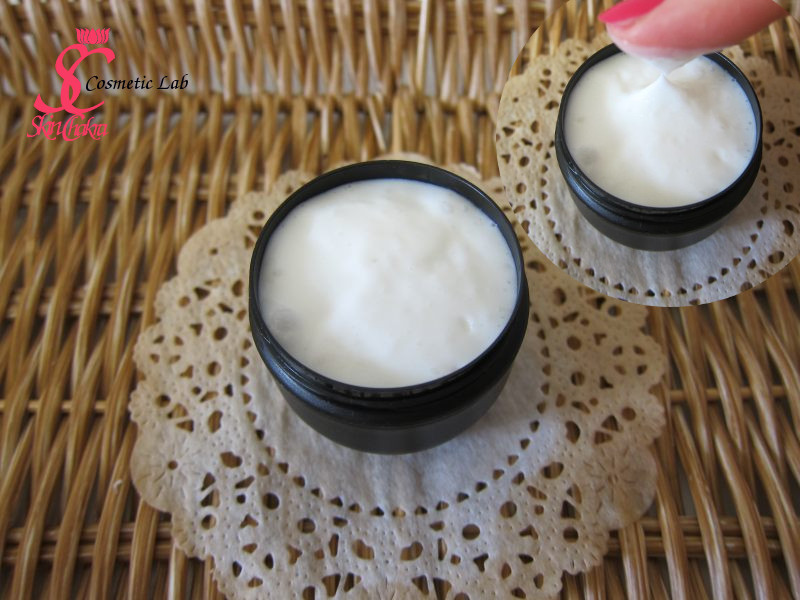 8- Sclerotium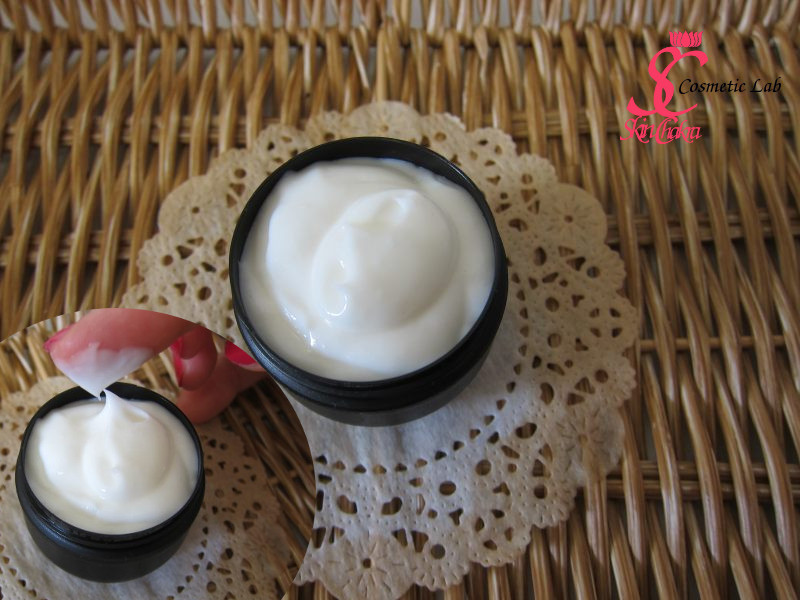 9- Guar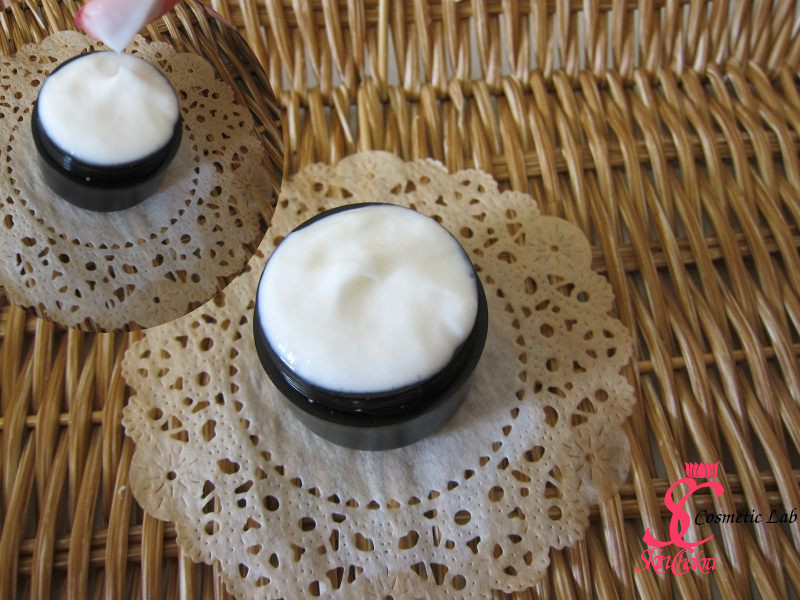 When looking (and feeling) the above emulsions, the loveliest textures belong to LBG, acacia, konjak, tragacanth and sclerotium. These are quite lovely and fine without any clumps.
It might sound weird but you probably have realized that most of my tutorials are with xanthan gum although xanthan is not my no. 1 choice when I formulate something for myself or for a customer.
I use xanthan for the tutorials because I know it is easily accessible for most of you and because I know it is a fail-proof gum. When an emulsion fails with xanthan, then there is something wrong either with formulation or with the procedure. This is why I almost always test my first trial (when working with a new ingredient or a new formulation) with xanthan gum.
Xanthan gum hydrates both in cold and hot water, has a good electrolyte and alcohol tolerance and makes excellent synergetic blends with other gums (we'll discuss gum blends in the coming posts). This is why it is so often used despite its not quite lovely texture and sometimes sticky-soapy skin feel. Blending it with other gums reduces/eliminated the drawbacks and improves the stabilisation of other gums.
Now that we saw the texture, let's check the most important property of the gums which is emulsion stabilisation.
| | | | | |
| --- | --- | --- | --- | --- |
| | Gum | Centrifuge test | 4 oC | 45 oC |
| 1 | Xan | ++ | ++ | ++ |
| 2 | Carr | ++ | ++ | ++ |
| 3 | LBG | + | ++ | + |
| 4 | Aca | - | ++ | - |
| 5 | Kon | - | ++ | - |
| 6 | Trag | + | ++ | ++ |
| 7 | Tara | - | ++ | - |
| 8 | Scl. | - | ++ | + |
| 9 | Guar | - | ++ | - |
As you can read from the table, xanthan, carrageenan and tragacanth create the most stable emulsions. Xanthan gum and carrageenan however are those gums with not quite a pretty texture. Tragacanth is the only gum with an outstanding stability as well as a nice texture. After tragacanth sclerotium creates a nice texture, but the thermal stability at 45 degrees is not quite outstanding.
It seems that, for a suitable viscosity, a nice texture and a stable emulsion, one needs to blend at least two gums to come to a desirable solution.
We'll discuss gum blending in the coming posts. Keep an eye on your mail box for our newsletter.
Feel free to send us your questions and comment either per mail or to our Facebook page.
BeHappy and have fun
Comments
Display comments as (
Linear
| Threaded)
The author does not allow comments to this entry