Freitag, 15. Juli 2016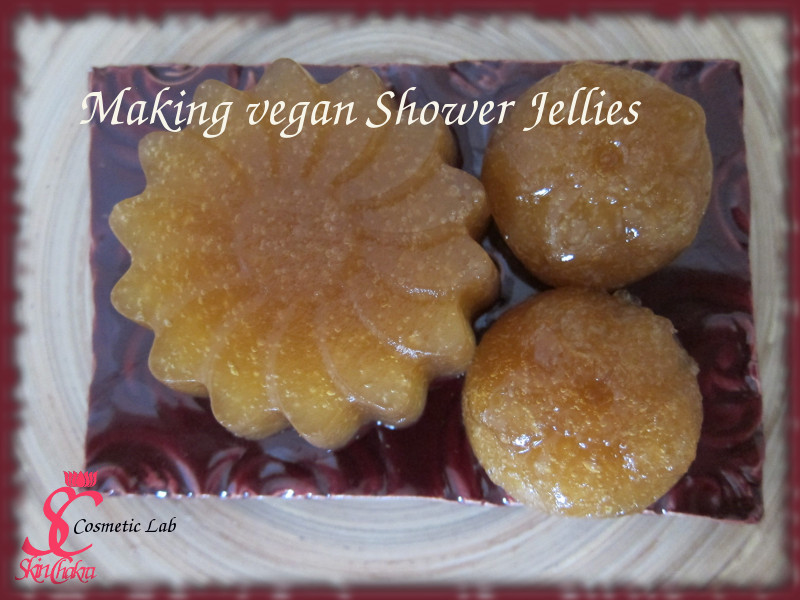 Shower and bath jellies belong to the "ice cream" category of products. It means nobody really needs them but everybody loves them. These are quite fun products and very popular at the moment.
They are not really comparable or exchangeable with a real soap or even shower gel but however are nice and fun products to make, to use and to give away. If you're not familiar with soap making and despite that want to have some beautiful and attractive pieces of your own creation in your bath room or on your counter, then these are good alternatives.
There are hundreds of shower jellies available on the market and almost 100% of them are made with gelatin of synthetic ingredients. For the bimonthly formulation challenge @Formula Botanica, we decided to ask everyone to make shower jellies just to improve their knowledge and experience of working with natural gums.
Teresa from the Balm Kitchen has written an amazing tutorial for the challenge.
Now before I share my formulation with you, there are a few points which should be considered before starting formulation.
1- Think about the consistency and texture needed to generate these stand alone and formable shower jellies. If you have a gorgeous facial gel or under eye gel that is dispensed out of a dropper or an emulsion dispenser, you can not simply increase the concentration of the gum used for that gel and expect to have a stand-alone shower jelly which easily pops out of the form
2- Increasing the gum concentration does not necessarily increase the viscosity of the jelly or improve its form and texture. From a certain concentration, increasing the gum concentration can only make it difficult to disperse and lead to clumps and an ugly texture. Usually you should be able to get to the right texture by a total gum concentration under 2.5%.
3- Blending gums helps obtaining the right texture at a lower total dosage of gum. Play with your gums and blend them to come to the right form and texture. You may want to go back and read my previous posts about gum blending here and here.
4- Start with low concentrations of surfactants and then gradually increase the surfactant after you've reached the desired consistency. Keep in mind that the mainstream bath and shower jellies are prepared in mixers which are deareated (to get rid of air bubbles). In a small scale and small cosmetic lab it is impossible to create a surfactant containing jelly without any bubbles. The more surfactant you use the more bubbles.
Now let me share our recipe and procedure with you.
As always before we start I want to recommend you to read our older posts: hygienic manufacturing practice in cosmetic lab and introduction to Basic equipment and utensils for a cosmetic lab.
Ingredients
Phase A:
10,0% natural glycerine (99,5%)
0.75% Carrageenan gum
0.75% Xanthan gum
Phase B:
to balance Peppermint infusion (to 100%)
0.1% Dermofeel® PA-3
Phase C:
2.0% hydroglyceric artichoke leaf extract
2.0% Hydroglyceric lemon peel extract
1.0% Sodium lactate
0.5% Panthenol
Phase D:
5.0% Disodium/Sodium Cocoyl Glutamate
8.0% Coco glucoside
2.0% Yucca extract
1.0% Sucrose cocoate
0.5% Coco-glucoside, glyceryl oleate
1.0% organic lime essential oil
Phase E:
0.8% Euxyl® K903
Lactic acid 80% a few drops to adjust the pH
Procedure:
1- Disperse the gums in glycerine
2- Prepare the infusion (you're free to use any other herb to infuse or just use plain freshly boiled distilled water or even a hydrosol)
3- Add Dermofeel® PA-3 to the infusion
4- Under agitation disperse the gum blend in phase A to phase B
5- Stir for a few minutes to obtain a smooth and homogeneous blend
6- Add ingredients in phase C to [A+B]. Blend gently
7- Blend the ingredients in phase D and slowly add phase D to [A+B+C]. Try to avoid excessive agitation and foam building
8- Add the preservative and adjust the pH between 5.0-5.5
9- Pour into suitable moulds and bring the moulds in the fridge.
10- Demould after 12-24 hours
Keep in mind that these jellies are made with natural ingredients. they'll lose water during storage and become quite miserable and ugly. They should be used within a few weeks.
Enjoy making these jellies and don't forget to tag SkinChakra when you upload your photos on Instagram. You're very welcome to share your photos and comments on our facebook page.
BeHappy and have fun
Comments
Display comments as (
Linear
| Threaded)
The author does not allow comments to this entry