Thursday, 1. September 2016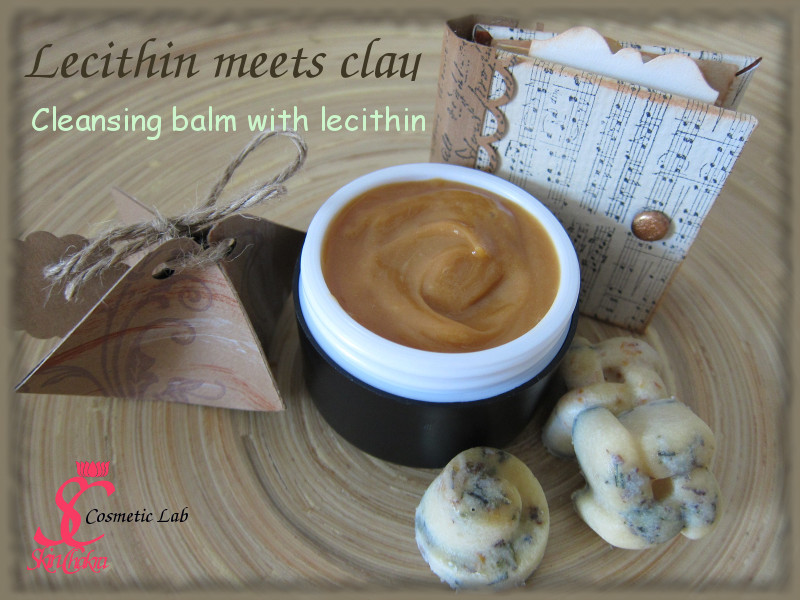 I have been often asked to submit tutorials with clay (specially after posting the tutorials for the self-emulsifying oleogel masks) and I should confess that I'm not a great fan of clays (don't scold me). I love using clays in masks but these are masks that are activated just before application and I find them a little bit boring (well at least not quite exciting to be shared with you).
As you may know, clays are notoriously difficult to preserve. This is such a pity for "natural & organic" cosmetics that we can not use them in shampoos, emulsion masks and cleansing lotions. Clay containing products either contain high concentrations of alcohol, or are preserved with not-quite-accepted-in-natural-cosmetics preservatives such as phenoxyethanol.
Anyway, after a long period of consideration and since we were playing with clays for another project, I decided to make a clay-containing product for you.
This is a cleansing balm and since it doesn't contain any water, there is no need for preserving (self-preserving product). You can even apply it as a facial or body balm (just check the dermal limits for the EO and possible hazards of phototoxicity). I assure you the skin feel is unbelievable. We've added lecithin to the balm to get benefits from those amazing phospholipids, to enhance the skin feel and to improve the skin feel after rinsing the product. You all know that if you apply water to your skin after applying a balm or an oil, the skin feel would become very disagreeable. Lecithin (you can even use lysolecithin), emulsifies with water a little bit and helps rinsing the balm. You can even avoid rinsing with water and apply a micellar water with a cotton pad over your face after massaging the balm over your face. Either way works perfect.
Anyway, keep in mind that this product is self-preserving because there is no water in it. Because of the texture and viscosity, it should be filled in a jar and you shall avoid adding any water to the balm if you want to avoid contamination. Make it clear to your customers that they are not supposed to dip their wet fingers into the balm. As soon as you add water to this balm (even if a few drops), the clay, the lecithin and other precious plant oils, butters and extracts become a yummy food for uninvited guests (read it contaminants). The product should be applied with a spatula and not with fingers (specially wet fingers).
You can adjust the viscosity / texture of the balm according to the ambient temperature and your preferences. Remember that this is a balm and the consistency and skin feel is totally dependent on the temperature. The lower the concentration of butters and waxes the softer the balm but it might become quite runny or melt by a slight increase in temperature. For this balm, we've used myrica wax (Myrica cerifera fruit wax) with a melting point of 45-55 oC. You can increase the wax concentration or use another wax with a higher melting point if you prefer a harder consistency.
I'm not going to re-invent the wheel and go into details of clays. Lisa from the Lisaliseblog has recently written an interesting blog post about clays and I refer you to read the post if you need any refreshment for your knowledge about clays.
We've used peanut oil because the end product with lecithin has a touch of peanut butter (some say caramel). If you're allergic to peanut or don't want to exclude customers allergic to peanut, feel free to replace it with another oil.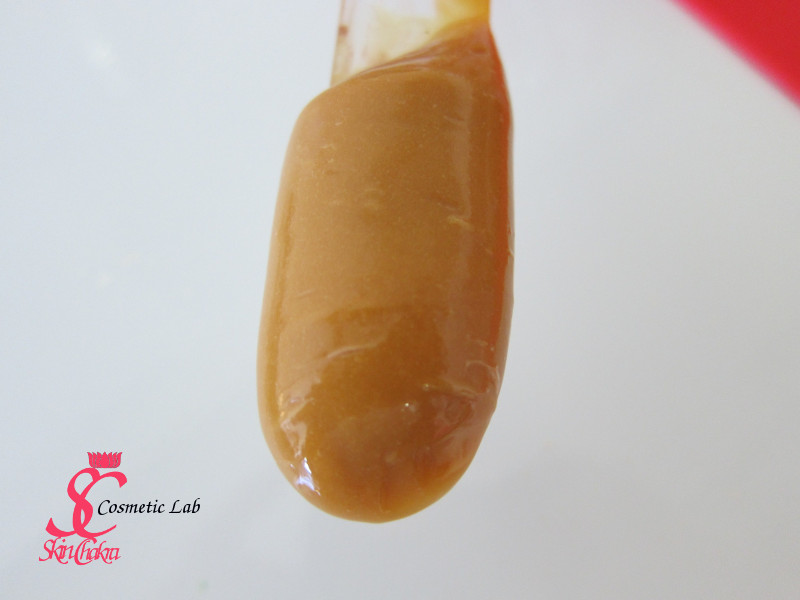 As always before we start I want to recommend you to read our older posts: hygienic manufacturing practice in cosmetic lab and introduction to Basic equipments and utensils for a cosmetic lab.

Here we go:
Formulation
| | |
| --- | --- |
| Phase A | |
| Shea butter | 25.0% |
| Raw, unrefined cupuacu butter | 6.0% |
| Organic, refined babassu oil | 9.0% |
| Myrica fruit wax | 7.0% |
| Wild crafted Muru muru butter | 3.0% |
| Sunflower lecithin, non GMO | 2.0% |
| Phase B | |
| Organic peanut oil | 15.0% |
| Chamomile infused organic jojoba oil | 18.4% |
| Carrot root extract in organic jojoba oil | 5.0% |
| Calendula extract in organic castor oil | 5.0% |
| Tocopherol | 0.5% |
| Rosemary CO2 extract | 0.1% |
| Phase C | |
| Kaolin | 2.0% |
| French pink clay | 1.0% |
| Organic bitter orange oil | 1.0% |
Procedure:
1- In a water bath @60-65 oC melt ingredients of phase A.
2- Stop heating, remove from the water bath and add ingredients of phase B and blend.
3- Put the balm into fridge and remove in every 10-15 minutes interval and stir thotoughly.
4- When the balm reaches a trace, slowly disperse the clays and after full incorporation add the essential oil.
5- Pour into jars and put into fridge for at least 12 hours.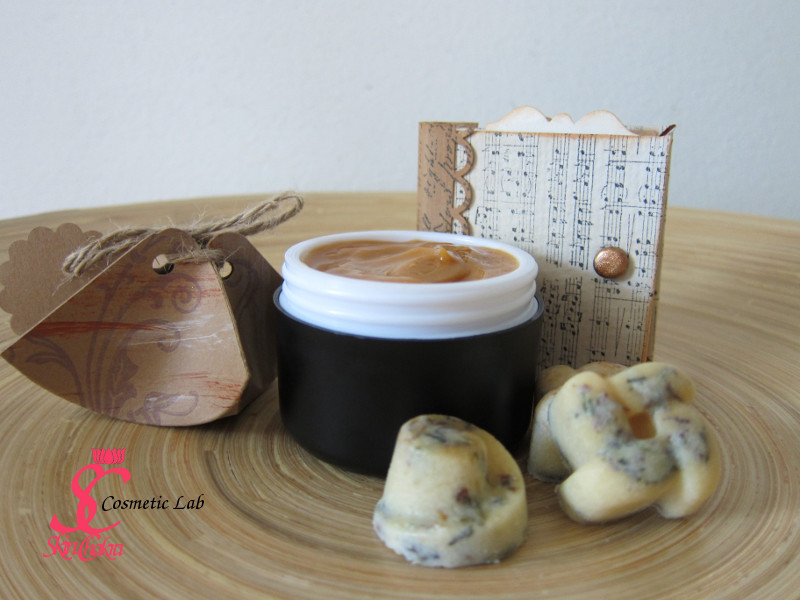 Enjoy the skin feel.
Feel free to send us your photos and comments either per mail or to our Facebook page. If you post any photos on Instagram, don't forget to tag @SkinChakra.
BeHappy and have fun
Comments
Display comments as (
Linear
| Threaded)
The author does not allow comments to this entry