Sunday, 4. September 2016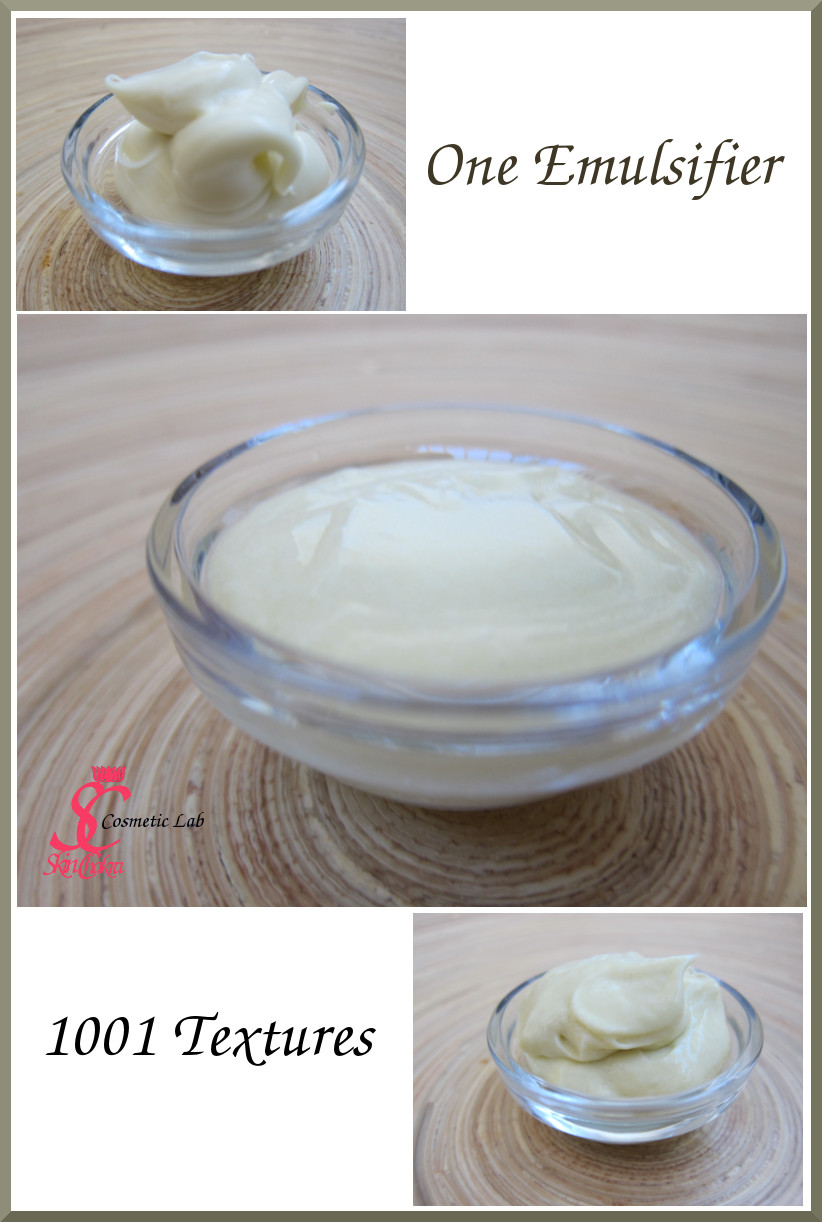 Whenever I start "playing" with a new emulsifier, I prepare different samples with varying oil phase concentration and emulsifier concentration.
This helps me understand the behaviour of the emulsifier, the optimum performance concentration and other details that are usually not supplied by the manufacturer (they usually provide you with a very general information ).
Usually, each emulsifier has an optimum oil phase concentration. Some work best with low oil concentrations, some work better with medium to high oil concentration. To truely understand the behaviour of the emulsifier, these tests are quite helpful.
We run such tests for our multi-purpose and versatile "natural" emulsifier Plantasens HE20 and want to share our results with you.
To comare the performance of the emulsifier at different oil concentrations and emulsifier concentration, we prepared very simple emulsions with varying oil and emulsifier concentration and kept all other factors constant.
The emulsion was prepared by the hot-cold-cold method. It means you only heat the emulsifier with a part of the water phase and then add the oil phase and the rest of the water phase @RT. This is perfect to protect all your sensitive ingredients from heating but obviously is only effective when you work with liquid ingredients. When you apply butters and waxes in your formulation, then you have to heat the oil phase as well.
Let's go to teh experiment:
Frame formulation
Procedure:
1- Heat phase A in a water bath @ 75-80 oC. Stir the beaker during heating.
2- After full dispersion of Plantasens HE20 stop heating and add the oil phase as you stir the Plantasens-water phase.
3- Blend all the ingredients in phase C (at RT) and add this to the previous oil/water/emulsifier blend in small aliquots and as you stir the blend
4- If you're blending manually (spatula, hand whisk etc.) continue blending for a few minutes and then every now and then for the next 15 minutes.
If you use a Blendia or another homogenizer, homogenize the blend for a few minutes (1-4 depending on the batch size and the homogenizer) .
5- Blend the gum and glycerine in a small beaker and disperse this under stirring in the emulsion
6- Continue blending untill teh gum is fully dispersed. You can use your Blendia for another 30 seconds.
7- The emulsion should have a pH around 4 at this stage. Add sodium hydroxide solution or sodium bicarbonate to increase the pH to 5-5.5. Add the preservative and readjust the pH if necessary by adding more sodium hydroxide
8- Add the essential oil
Results
By just varying the oil phase concentration and the emulsifier content, we could create different consistencies from a low viscosity milk to a pudding like consistency. Amazingly, Plantasens® HE20 has a very broad range of performance from very low oil phase (or no oil phase at all) to 35% oil phase.
Look at the results
3% emulsifier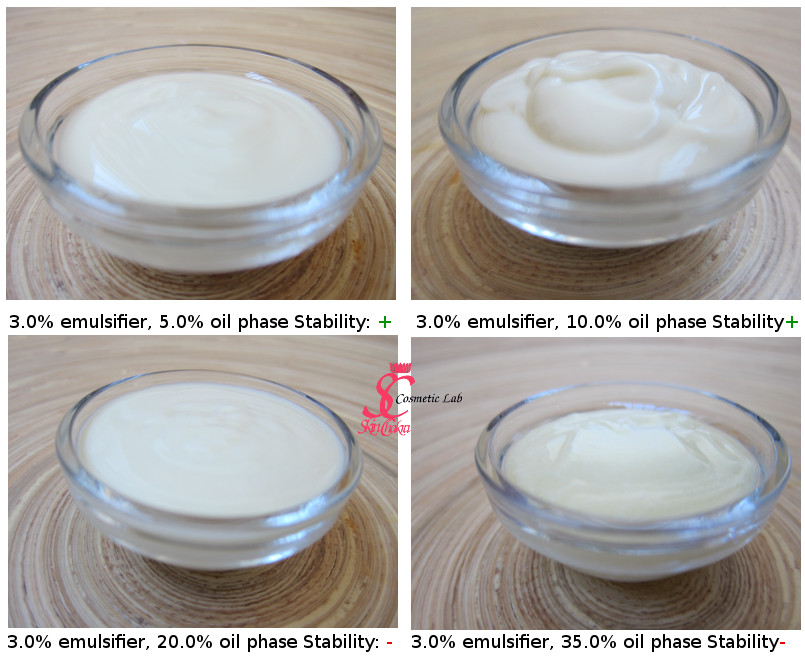 5% emulsifier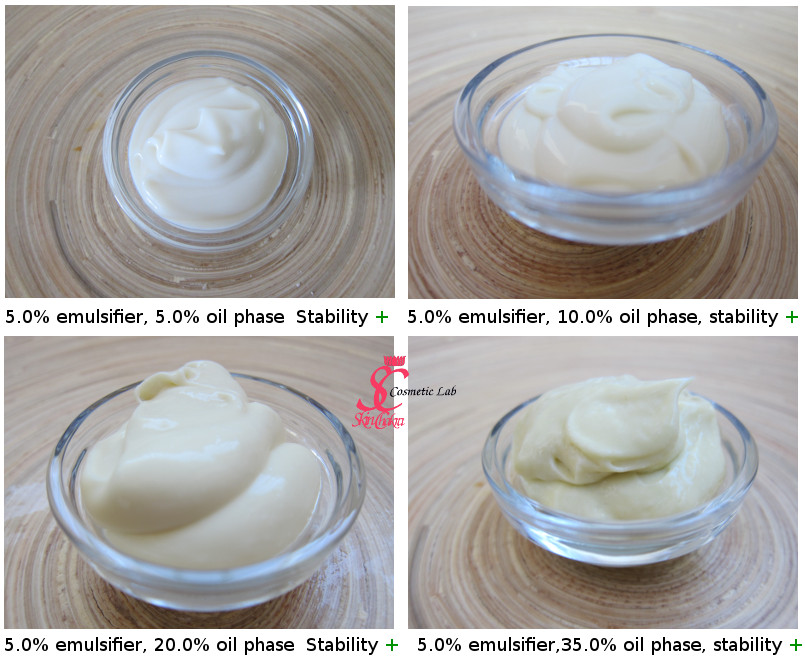 7.0% Emulsifier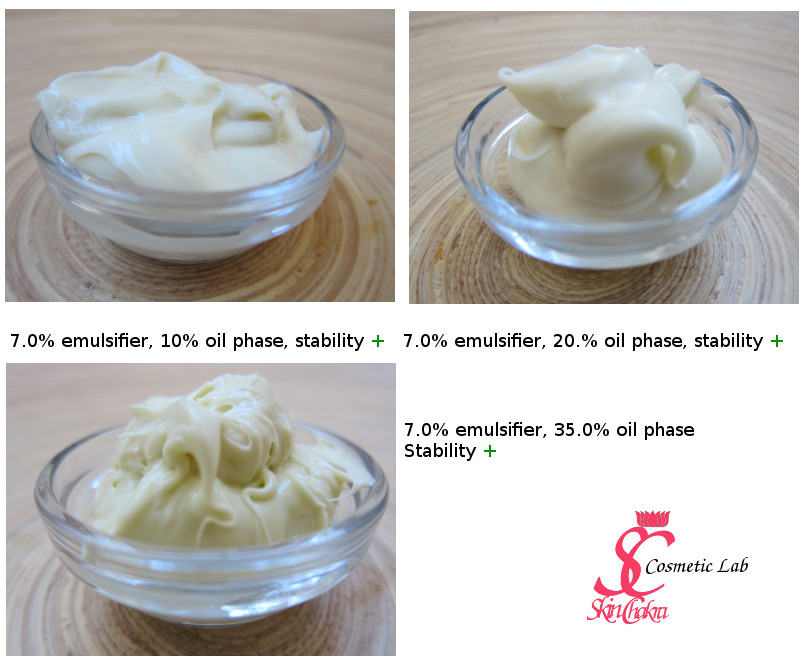 So what?
It is obvious that for a constant concentration of the oil phase, the viscosity of the emulsion increases with the increasing emulsifier concentration. The same way and for a constant emulsifier concentration, the viscosity of the emulsion increases with the increasing oil phase concentration.
There is always a minimum required concentration of emulsifier for a certain oil phase concentration. Below that cincentration, either there is no emulsion at all or the emulsion would not remain stable. This was the case with 3.0% emulsifier. It can emulsify up to 10% oil phase concentration in a low viscosity emulsion but emulsions with higher oil concentration would not remain stable for a long time (in fact @RT the emulsions are still stable after 4 months but the thermal stability tests @45 oC failed).
At the other end of the spectrum, you can apply higher concentrations of emulsifier for a richer texture and higher viscosity. (7.0% emulsifier for 5% oil phase for example). This is however, from an economical point of view and specially with more expensive emulsifiers, not a very reasonable option. On the other hand and in some cases, an overdose of the emulsifier might cause some soapiness in the skin feel of the final emulsion.
Conclusion:
When working with a new emulsifier, it is a good practice to play around with oil phase and emulsifier concentration to:
1- find out the optimum and the minimum emulsifier concentration for a certain oil phase content
2- find out the optimum oil phase concentration for the desired texture
For Plantasens HE20 we realized that:
it works excellent in low oil phase range to create nice and smooth milks (cleansing milk, cream shampoo etc.)
for medium range oil phase concentration (20% oil phase), the optimum emulsifier concentration is between 4,5-5,5. The texture and viscosity of the emulsion could be varied by using different gum blends and concentrations
Plantasens HE20 creates emulsions with a high oil phase concentration (30-35%) with an excellent texture, no soapiness or no greasiness. One of the most beautiful textures was created with 7% emulsifier and 35% oil phase.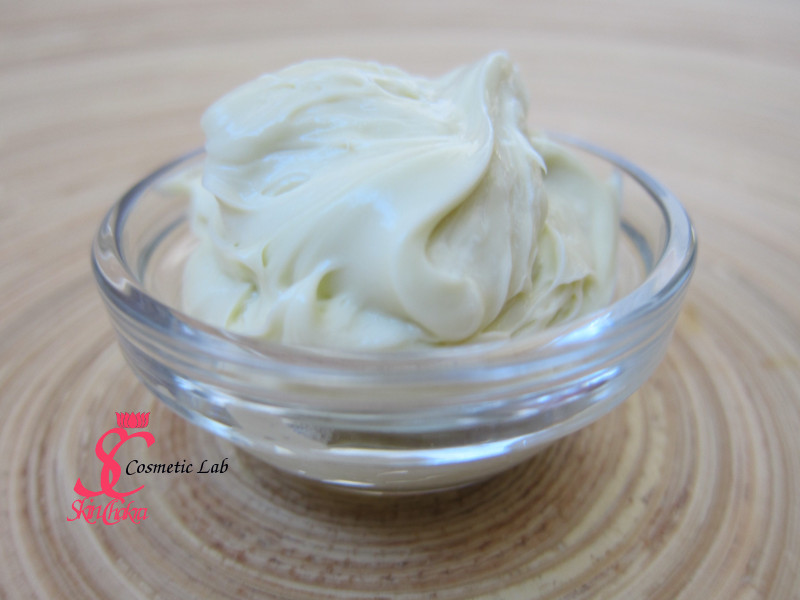 Feel free to send us your photos and comments either per mail or to our Facebook page. If you post any photos on Instagram, don't forget to tag @SkinChakra.
BeHappy and have fun
Comments
Display comments as (
Linear
| Threaded)
The author does not allow comments to this entry