Friday, 30. September 2016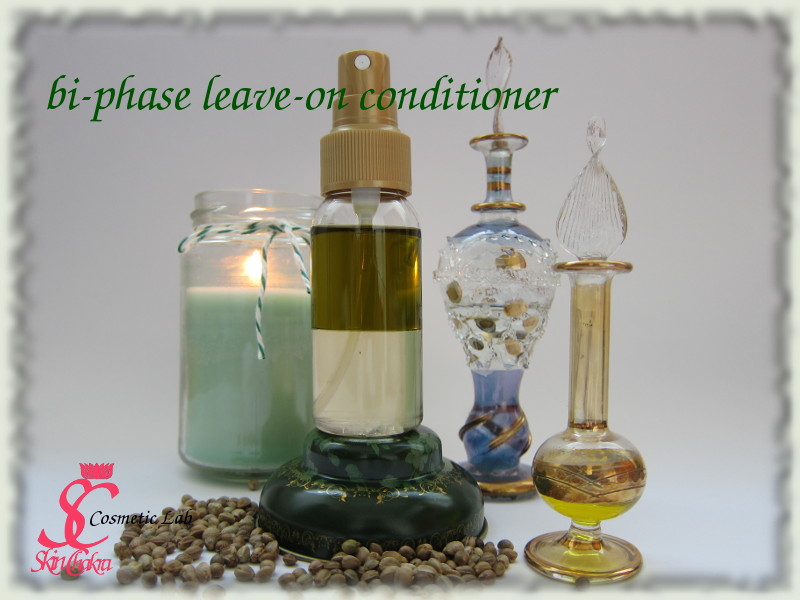 bi-phase products are amongs the easiest and the most fun products to make. There is almost nothing you may do wrong (except inefficient preservation). They were quite a sensation some 20 years ago and then were not quite popular for more than a decade. Just recently they became popular again and this time not only in bi-phasic make-up removers but in body spray, sunscreen or hair care as well.
Their great advantage is the possibility of blending oil and water soluble active ingredients in a single product without the hassle of emulsification, viscosity adjustment or complicated stability testing. There are however certain issues to be considered as you make bi-phasic products:
colour of the two phases: there is absolutely no rules but well, just for the optical appeal you may want to have contrasting colours or two completely colourless or two slightly shades of a certain colour. To find the best variation according to your packaging and product concept you need several tests. In case of bi-phasic products you'll probably need to first think of a colour concept and then build your formulation around it
*Photostability: as much as we love natural products, natural colours are less stable than synthetic colourants and are (most of them at least) pH dependant. Considering and testing the photostability of the product is a major part of stability testing of these products. Obviously, the product is filled in transparent containers otherwise the whole concept and charm is spoiled and there is always a possibility that the consumer forgets to shake the bottle before use if she doesn't clearly sees and observes the clearly distinguishable two phases of the product
*Phase separation: The whole charm of bi-phasic products lies on the two separated phases and a clear interphase between the two phases. When you're working with ingredients that are partially soluble in both phases or with high concentrations of a solubilizer or any other surfactant, you'll make a temporary emulsion by shaking the bottle. If the emulsion doesn't break again after a short while, the whole optical appeal of the product would be spoiled and the consumer will end up with an ungly blend of a partially broken and partially emulsified blend which is really not sexy.
One way of breaking the temporary emulsion is addition of an electrolyte to the product (remember the theory that O/W emulsions have generally a low electrolyte tolerance?). You can add sodium chloride, magnesium chloride, magnesium sulfate or any other electrolyte that you find suitable for your concept. The concentration is usually low, between 1-2% unless you deliberately want to have high concentrations of salt in your product.
Certain ingredients however, make an emulsion that is hard to break. This happens with some plant extracts and oils with a high content of lecithin (which acts as an emulsifier). Testing the breakage of the emulsion after you shake the bottle is a basic step in product design and stability testing. If you don't like the appearance of the product after shaking, you may have to change some of your ingredients.
phase distribution: unless real emulsions, in 2 phasic products you have an almost 50:50 distribution of two phases. Although there is no exact rule but the optical appeal of the product lies somewhere between 40:60 to 60:40 ration between the oil and water phase. A product with a 90:10 phase distribution might rather be considered as an unstable emulsion than a deliberately designed bi-phasic product.
The rest is really easy peasy. One of the most sophisticated parts however, is the preservation of the product. Your preservative should have both oil and water soluble components. The risk of a contamination is higher in the water phase and at the interphase between the two phases (this is why you'll need oil soluble components as well). Some students make the mistake of calculating the preservative only for the water phase when they make bi-phasic products which is not correct. The preservative should be calculated for the whole of the product but the minimum concentration and the efficacy should be tested, as always, by challenge testing. The golden rule is:
As little as possible, as much as needed
In this formulation and since it is a leave-on conditioner we've used two unique and rather innovative ingredients. Lexfeel natural with the INCI name: Heptyl undecylenate is a natural, plant based and ecocert certified silicone alternative for all skin and hair care products. It imparts shine, dry lubricity and emolliency without greasiness to hair & skin care products.

Dermofeel sensolv (INCI: Isoamyl laurate) is a natural and plant based ester-oil with a nice dry feel and excellent emolliency. It can substitute oils in products when a dry emolliency and light feel is wished. In hair care products it imparts shine, conditioning and anti-frizz without any build-up and unwanted greasiness.
Disclaimer: Feel free to swap oils or extracts whith your favourite ones but just test the stability of the product and specially the behaviour of the product after shaking.
As always before we start I want to recommend you to read our older posts: hygienic manufacturing practice in cosmetic lab and introduction to Basic equipments and utensils for a cosmetic lab.
Ingredients:
Procedure:
1- Blend all ingredients of phase A and phase B separately in two beakers.
2- Adjust the pH of phase A between 5.0-5.5 with lactic acid (you need only a few drops)
3- Fill both phases in a suitable bottle.
4- Shake well, take your micro kit sample and watch the behaviour and appearance of the product after shaking. It should separate to two neatly separated phases afetr a few minutes. If there is any persisting emulsion, you may need to swap add more electrolyte or swap some of your ingredients with others.
It's your turn. Feel free to send us your photos and comment either per mail or to our Facebook page. If you post any photos on Instagram, don't forget to tag @SkinChakra.
BeHappy and have fun
Comments
Display comments as (
Linear
| Threaded)
The author does not allow comments to this entry