Sunday, 30. October 2016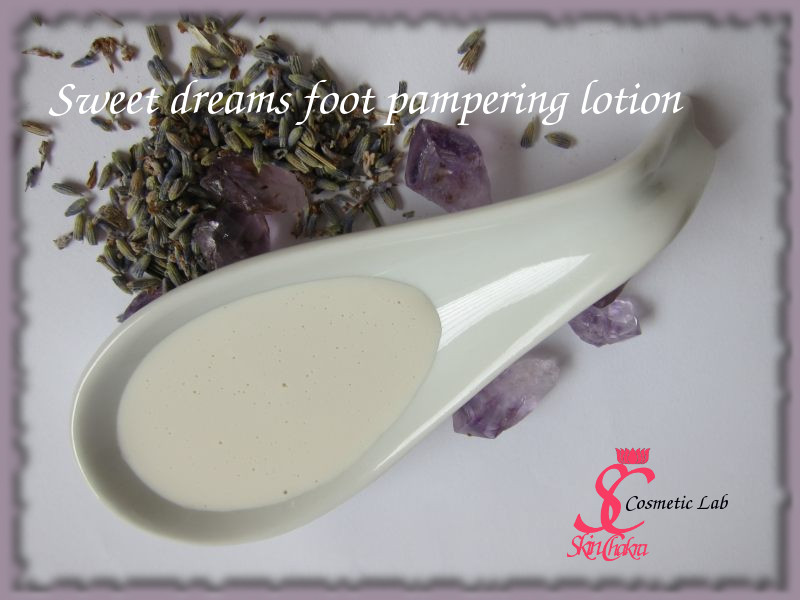 W/O emulsions are not everybody's cup of tea and I believe they are being largely undervalued. Most people associate W/O emulsions with greasy, sticky hard to apply creams with soapiness. Well this was true some 20 years ago and this is still the association I personally have with suncare. The time has changed however and there are new generations of W/O emulsions with a light and silky skin feel. The skin feel is so light you can not tell the difference between an O/W and a W/O by applying the emulsion and you need to run a test to make sure the emulsion is a true W/O.
W/O emulsions are superior as a long-tern moisture providing medium and an improved barrier protection. They are excellent for facial night care, facial winter care, hand & feet care, baby diaper rash, foundation and suncare, even body care for extremely dry and itchy skin.
Since we're moving to colder and dryer months (at least in the Northern hemisphere) I made a W/O foot care emulsion with soothing and relaxing lavender hydrosol and essential oil. Excellent to pamper the feet before going to bed.
For this formulation I'm using a natural W/O emulsifier that could be applied both in cold and hot process. It usually creates low viscosity (sprayable) to medium viscosity emulsions with an amazing light and silky skin feel.
The emulsifier is a kind of paste. In summer you can easily blend it @RT. In winter and if your storage temperature is below 20 degrees centigrade, the emulsifier hardens a little bit. You can either slightly preheat it (in a warm water bath @ ca. 30 degree centigrade) or slightly heat the whole oil phase. For this formulation, we put the oil phase in a 30 degree bath for about 15 minutes and started blending even before the whole emulsifier was melted.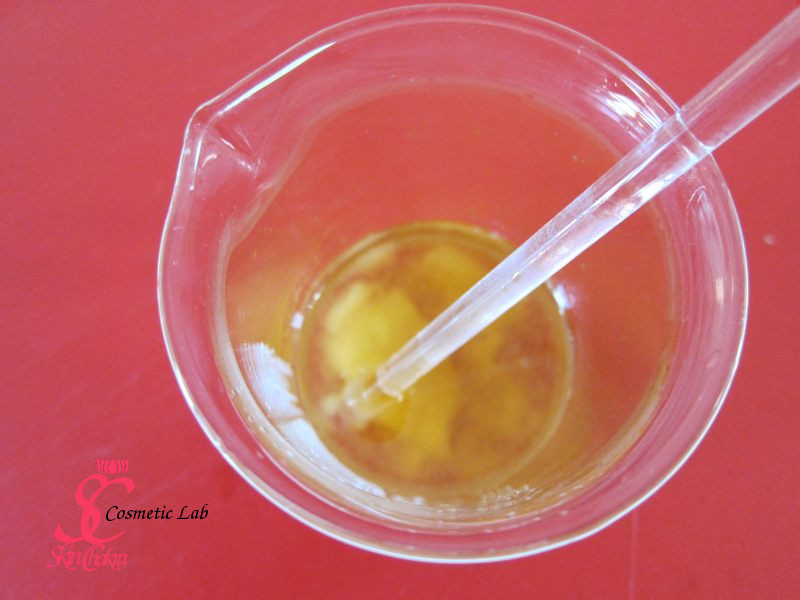 The main differences between an O/W and a W/O emulsion, besides the nature of the emulsifier are :
1- Usually O/W emulsions have a low tolerance for electrolytes and break upon adding an electrolyte whereas W/O emulsions need electrolytes as a stabilizer
2- You need to adjust the pH of the water phase before blending the two phases in a W/O emulsion
Now let's go to the formulation and procedure for this simple but effective emulsion.
Material
Procedure:
1- Blend all ingredients of phase A. Adjust the pH between 5.3-5.5. In our case , we added one drop of 25% NaOH (for 100 gr emulsion) to increase the pH to 5.5.
2- If your emulsifier is hard (low storage temperature) slightly preheat it in a water bath @ 30-35 degrees, it shouldn't melt completely (look at the above photo). Add the rest of the oil phase and blend. Here you need a good whisk or a propeller blender to completely blend the oil phase. If it is not uniform, heat the oil phase in the same water bath @ 30-35 degrees centigrade.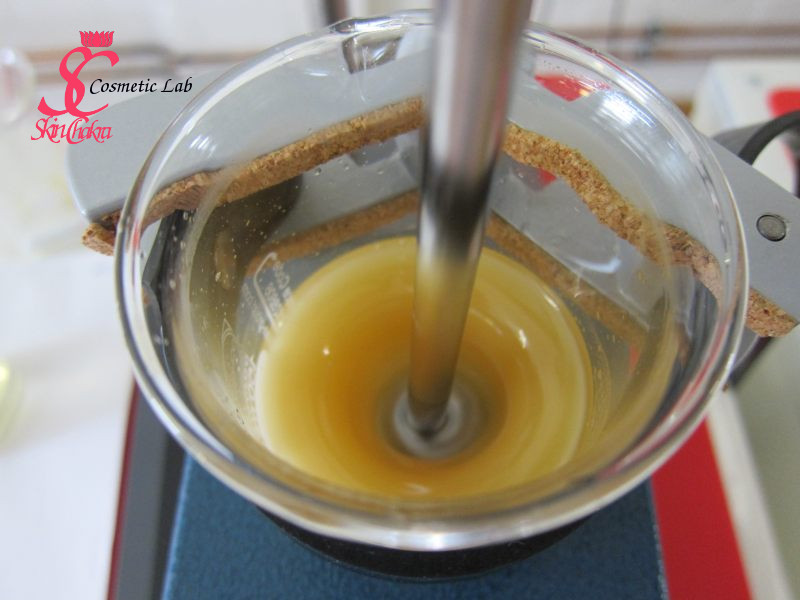 This is our oil phase @RT.
It has a honey like appearance and consistency, not the sexiest colour but don't worry it changes as we add the water phase.
5- This is the most important and time consuming part of the whole formulation.
Slowly add the water phase under stirring. A magnetic stirrer or a propeller stirrer would be excellent for this stage, otherwise, train your arm muscles by stirring manually.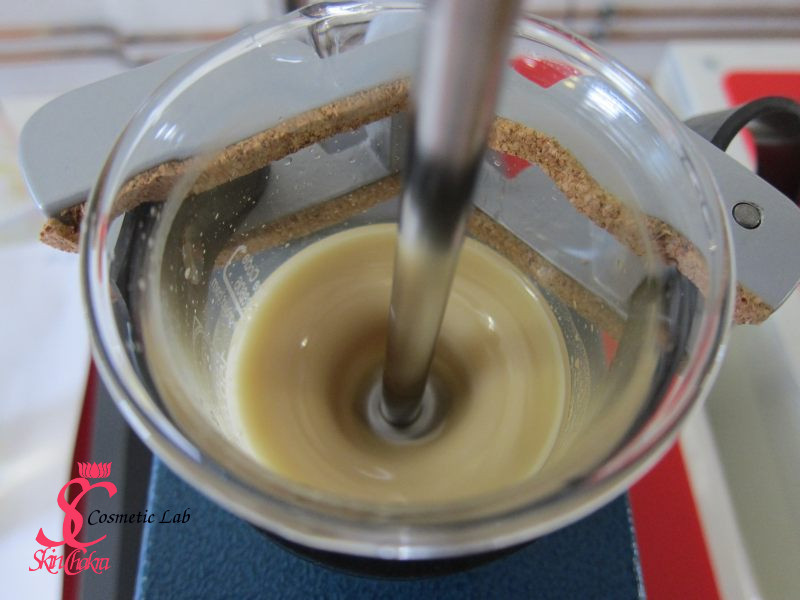 The colour and consistency changes by adding water to the oil phase. Continue adding the water phase slowly. Wait to blend thoroughly before adding the next aliquot.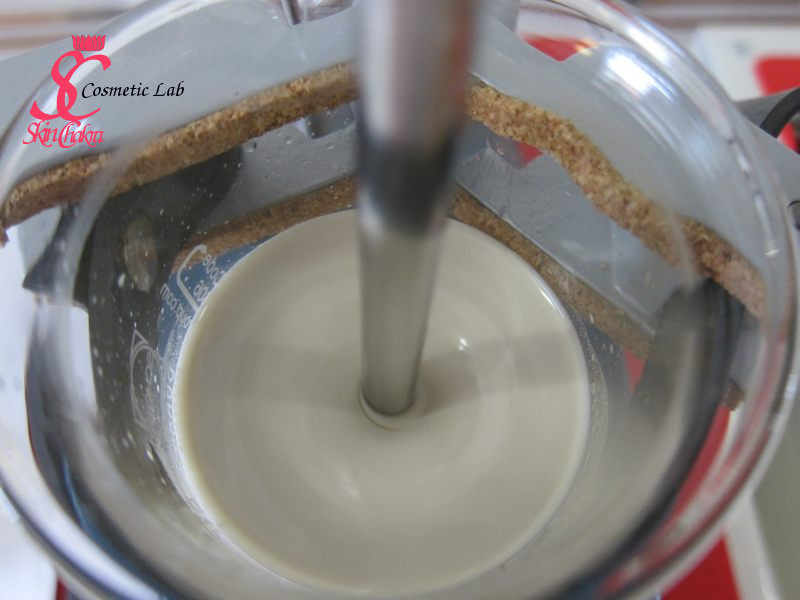 That ugly colour changes gradually to a luxurious white appearance as you add more of the water phase to the oil phase.
6- Continue adding the water phase till all of the water phase is added to the oil phase.
7- Add the preservative and blend for a few more minutes.
8- Fill in a suitable container and enjoy the soothing and pampering emulsion and scent. The viscosity is suitable for an emulsion or spray pump.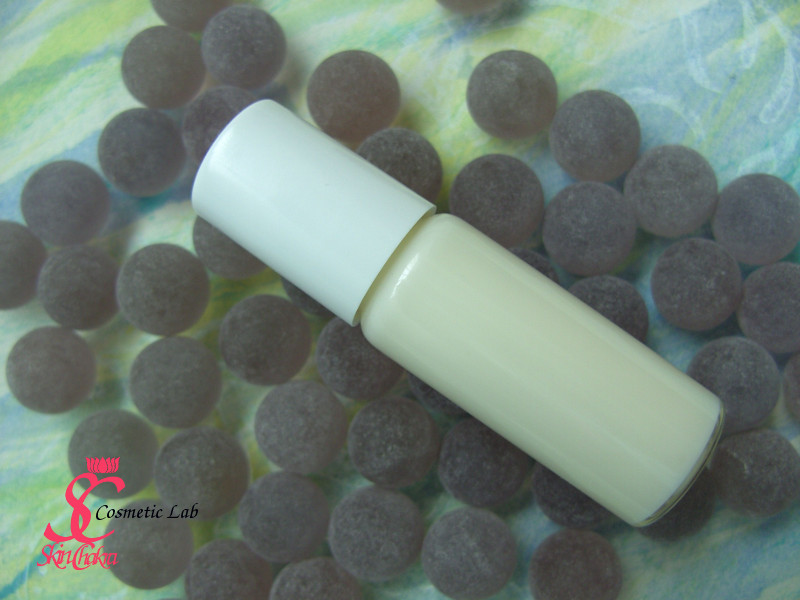 It's your turn now. Don't hesitate to send us your photos, comments and questions. You post your photos on our Facebook account or tag us (@skinchakra) on Instagram .
BeHappy and have fun
Comments
Display comments as (
Linear
| Threaded)
The author does not allow comments to this entry