Saturday, 3. December 2016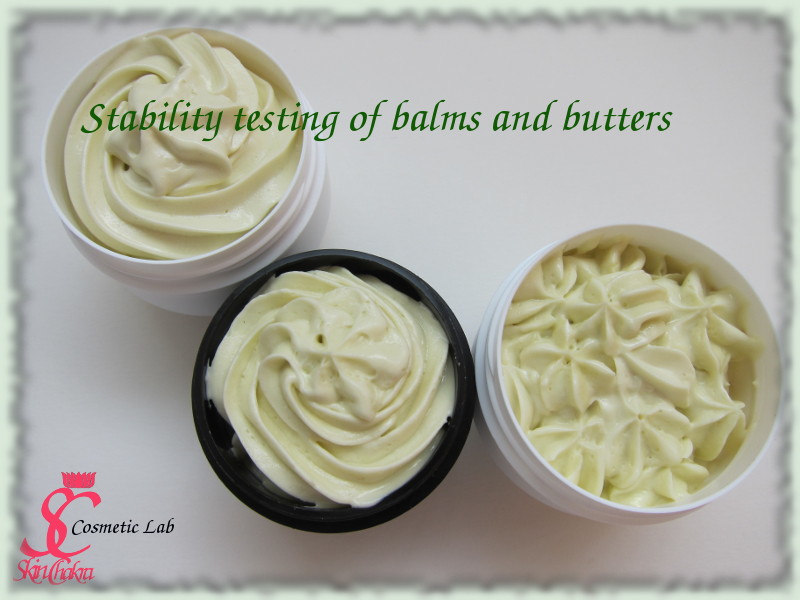 During the last two years I've taught hundreds of skincare formulation students and cosmetic manufacturers how to test their skincare products for stability and how to determine the shelf-life of their products.
It is quite obvious to almost every one that a cream or lotion needs to be stability tested (specifically the microbial integrity of the product) but when it comes to testing butters and balms, people's imagination fades out and most cosmetic creators don't know how to test the product, or are not even aware that these products as well need a stability testing.
Keep in mind that in contrast to pharmaceuticals, stability tests are not mandatory for cosmetics. It is only a matter of fact that no supplier would being a product to the market without having tested them.
In Formula Botanica's Certificate of Cosmetic Stability Testing, we cover different stability tests for different product groups but even there, our focus is on water containing products.
Why on earth shall one test a butter or balm for stability? It is quite obvious that the balm melts upon heating and then re-solidifies upon cooling, so whay the hassle of stability testing?
Well, the answer is : you want to exactly know how the product reaches your customer and how it behaves during its sehlf-life and as it is being used by the customer.
Exactly because balms and butters melt upon exposure to heat, you shall at least be aware of:
the temperature range where your product starts melting
the texture of the product in the temperature zone where your customers are located
integrity of the container at different temperature zones
Obviously, if your balm is going to be used in Canadian winter in needs another melting point and texture than when it is going to be used in Malaysian summer. What happens to the balm in case it melts in the container? Does the container leak or does it remain sealed? How does the container react to changes in humidity? What happens to the texture in case the balm undergoes temperature changes during transport and application?
It is very possible that the butter is exposed to low temperatures during transport. How does the balm react when it comes back to room temperature? It is possible that your customer takes the balm to a ski piste and uses the balm on ths ski piste (minus temperature) and then in her hotel near a cozy firepiece. How would the balm react to these temperature changes?
What happens if a customer forgets the balm during a hot summer in car and as she realizes that the balm is melted puts it in the fridge for a few hours?
Have you ever tested your balms and butters for any of these possibilities?
One of the most dreaded misfortunes with balms and butters is the graininess. How long do you keep your products in quarantine to make sure they wouldn't go grainy? Do you check your archive samples for possible graininess?
Read our previous post: So you want to avoid graininess in your butters and balms?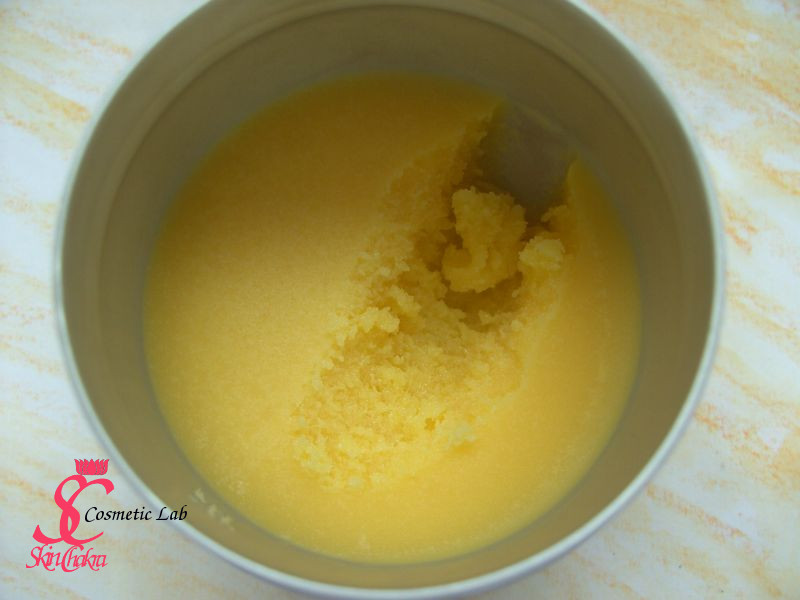 To answer some of your questions, we prepared a very simple butter formulation and tested this butter through several cycles of melt and fridge.
We stored the butter @45oC for 24 hours (the butter obviously melts) and then put it back at room temperature for 24 hours and afterwards put it in the fridge for 24 hours. We repeated this cycle 3 times and checked the texture and appearance of the butter after each cycle.
Formulation:
Phase A
Shea butter 50.0%
Mango butter 10.0%
Babassu oil 10.0%
Phase B
Organic poppy seed oil 12.9%
Organic perilla seed oil 10.0%
Calendula extract in organic jojoba oil 3.0%
Lavender extract in organic baobab oil 3.0%
Tocopherol 0.5%
Rosemary CO2 extract 0.1%
Phase C
Organic lavender EO 0.3%
Organic bitter orange oil 0.2%
Procedure:
1- Melt phase A in a water bath at about 50-55 oC.
2- Stop heating and add phase B
3- Add phase C when the mixture has a temperature no higher than 40 oC
At this point, we divided the butter into two parts. One part was brought into fridge and left there untouched for 24 hours. The second part was stirred during the cool down till coming to a thick trace and then was left in the fridge for 24 hours.
Results:
we stored both jars @RT for three weeks. As expected, jar #1 (the one that was stirred during cool down) was completely nice and smooth whereas jar #2 (the one without stirring) had graininess at the end of three weeks (actually the graininess appeared almost after 10 days) .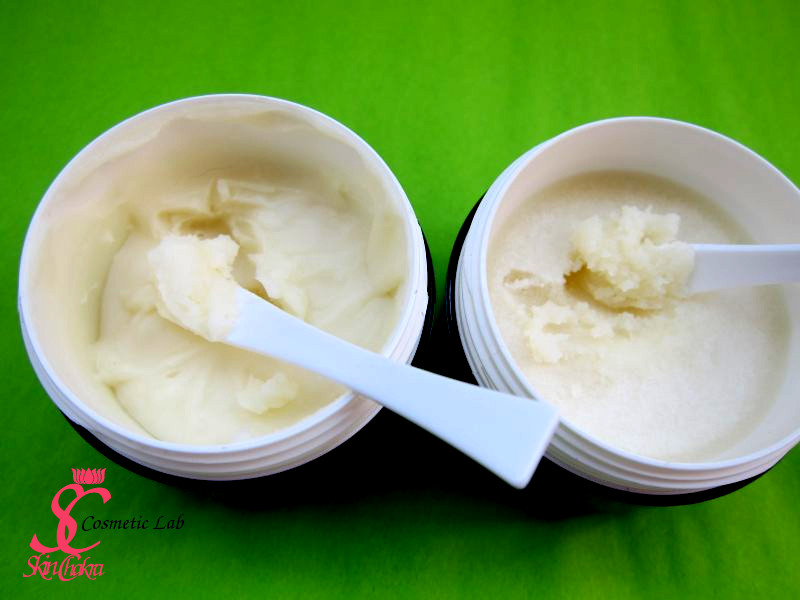 Then we put both jars under a melt-RT-fridge cycle.
as you can see in the photo at the end of this cycle, the first jar is still smooth and uniform and the second jar is grainy. The graininess is even more obvious than before the melt-cycle. It means, if your butter, is a smooth butter at the beginning and it happens accidentally that your customer forgets the jar in a hot car, it would re-solidify to a smooth butter as it cools down. (we have not yet tested this procedure for wax containing formulations or formulations containing solid particles such as ZnO, clay, allantoin or urea).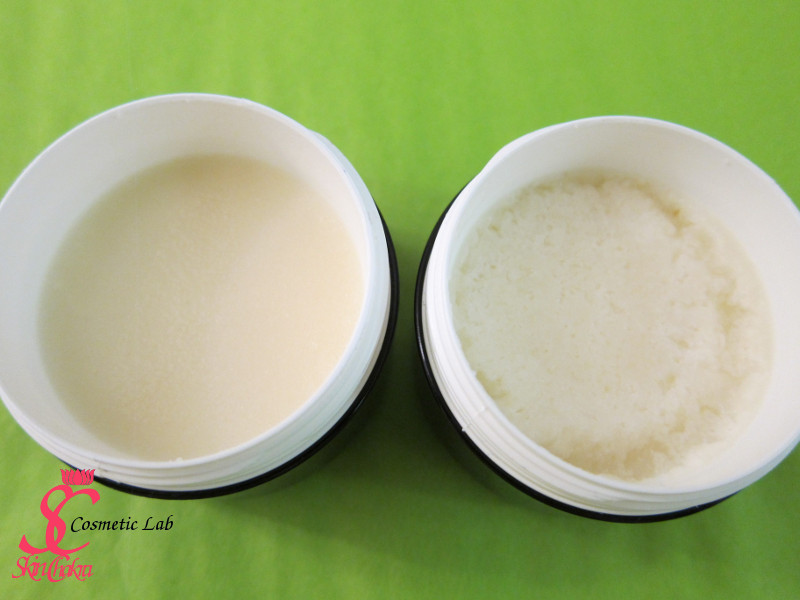 we repeated this procedure for another 2 cycles.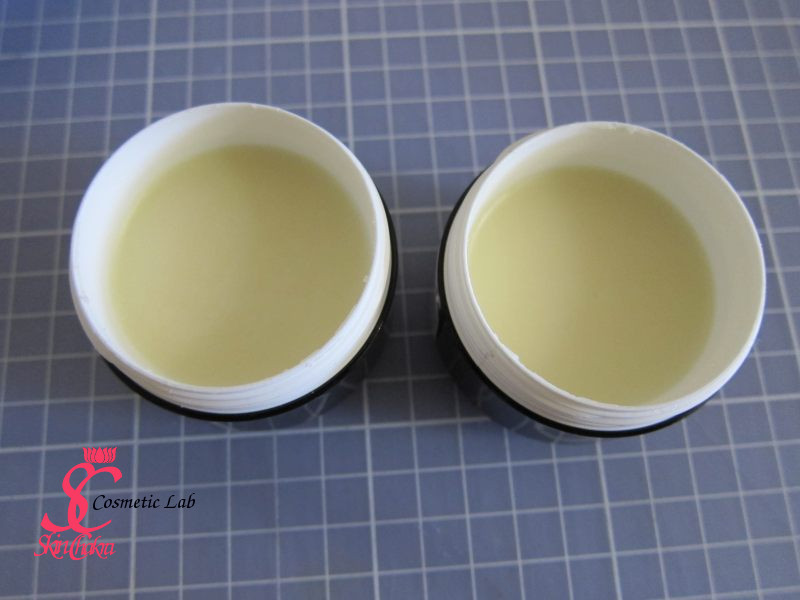 At the end of the second cycle, the butters look very similar on the surface of the jar (isn't that unbelievable how that gariny, ugly appearance turned to this smooth one?)
As you go into the depth of the butter however, the second one is still grainy whereas the first one is quite nice and smooth.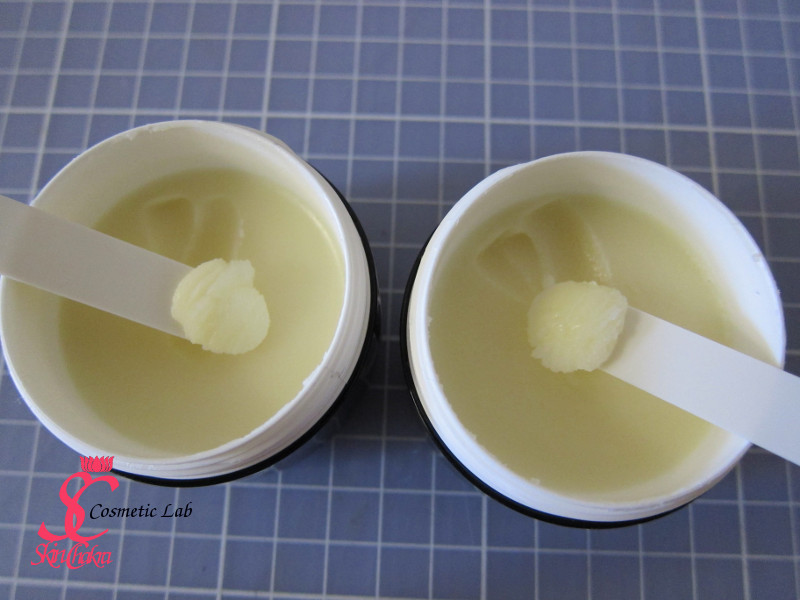 After the 3rd cycle, both butters look very similar. It is very hard to distinguish them just by observation but the second butter still feels very grainy over skin in contrast to the first butter which is still quite silky and smooth.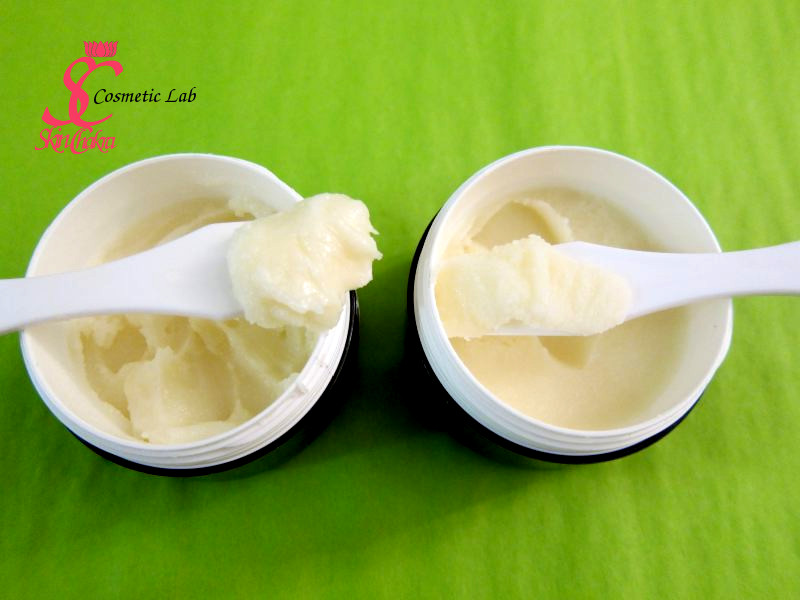 The first, smooth butter is slighty shiny whereas the second butter (the grainy one) is a little bit dull. But the visual difference is very negligible. It's the skin feel that is quite different.
Conclusion:
A controlled cool down and stirring during the cool down is a certain way to avoid graininess in balms and butters.
graininess mainly depends on the manufacturing procedure and not on the formulation
when the butter or balm is originally free of graininess, it re-solidifies to a smooth and non-grainy butter after it is being melted (accidentally during transport or application by the customer)
I would very much like to hear your feedback and know about the experiments you run for your butters and balms. Feel free to send me your comments either per mail or to our Facebook page.
BeHappy and have fun
Comments
Display comments as (
Linear
| Threaded)
The author does not allow comments to this entry