Friday, 5. May 2017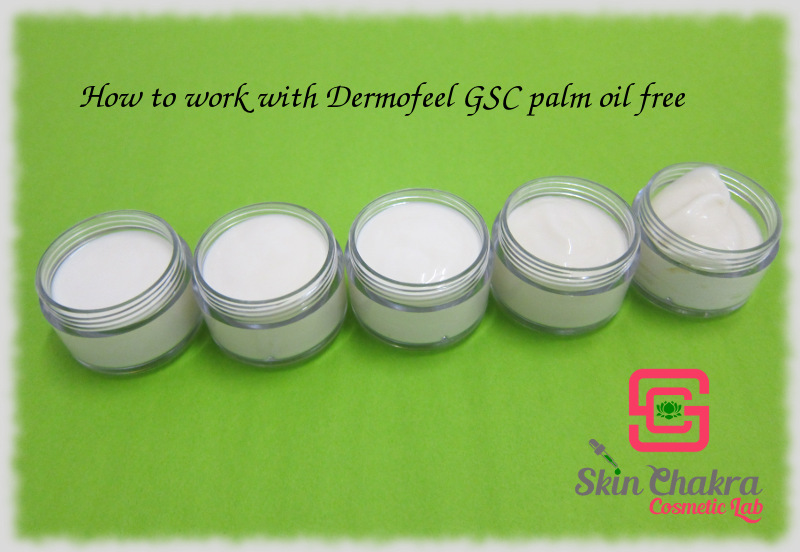 Despite the huge demand for palm-oil free ingredients, it seems that the main global suppliers have no intention to switch to a palm-free concept. The best of them use sustainable palm (or pay enough to receive an anual badge of sustainable palm).
Ironically, those few natural emulsifiers that are palm-free indeed usually work only with stearyl or cetyl alcohol as stabilizers and viscosity modifiers. Now if you really are interested to work in a palm-free concept, then using cetyl and stearyl alcohol is no great help (It is like suppliers who bring a new "natural" ingredient on the market but their recommended formulations and performance studies are full of synthetic ingredients such as carbomer, PEG-derivative and silicones).
Anyway, one of these rare natural, green and palm-oil free O/W emulsifiers is Dermofeel GSC palm-oil free from Dr. Straetmans (one of my favourite suppliers of cosmetic ingredients).
They decidedly and intentionally add the "palm oil free" to the name of the emulsifier to avoid any misunderstanding. The INCI name of this emulsifier is: Glyceryl stearate citrate and since almost 95% stearic acid in the world is either animal or palm-oil based, it is important to specify the origin of this emulsifier.
Anyway, Dermofeel GSC (I avoid palm oil free in the rest of the text) is derived from rapeseed (canola) oil but doesn't have the typical scent of unrefined rapeseed oil.
This is an anionic O/w emulsifier which can be used as a standalone emulsifier on its own or can be blended with nonionic emulsifiers to improve the texture, skin feel and emulsion stability. The emulsifier is supplied as a white fine powder and has a melting range between 58-62 degrees Celsius.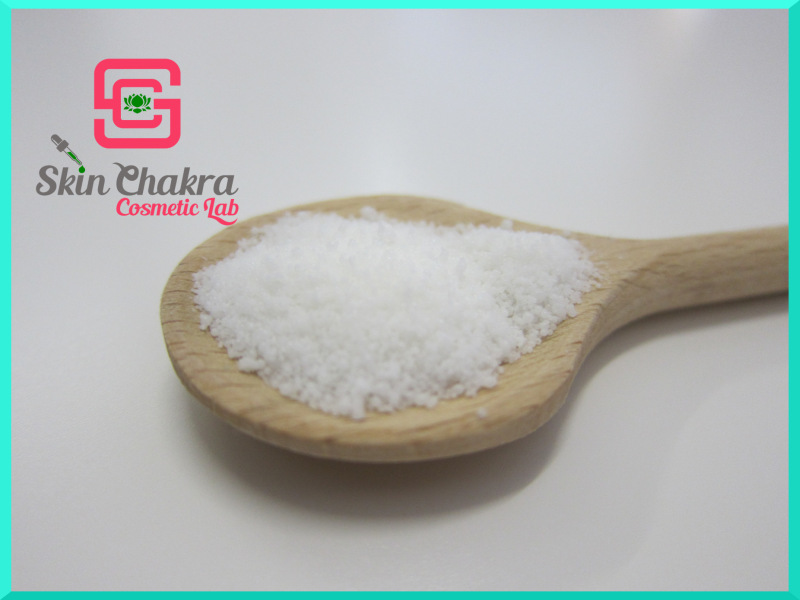 If you are looking for an easy to apply and fail proof emulsifier for light emulsions with a silky skin feel, then you shall try this emulsifier. It creates emulsion with a low to medium range viscosity. This means, the emulsions are suitable for a lotion pump or airless bottle. The viscosity is a little bit higher than sprayable emulsions (the ones we make with Sucrose stearate) and lower than the emulsions and creams made with Plantasens HE20 or Xyliance.
Working with Dermofeel GSC is very straightforward and uncomplicated. It is a hot process emulsifier and it means that you mean to heat both your oil and water phase:
Procedure:
1- Weight the emulsifier in the oil phase
2-Heat oil and water phases in a water bath @ 65-70 oC
3- After the oil phase is melted to a homogeneous blend stop heating
4- Slowly add the oil phase to the water phase while stirring the water phase
5- Homogenize for a few minutes
6- Add the gum/glycerine to the emulsion (you can as well add the gum directly to the water phase before homogenization if you have a powerful overhead mixer)
7- Continue stirring while cooling down the emulsion
8- Add essential oils, plant extracts and other sensitive ingredients at a temperature below 35 oC
9- Measure and adjust the pH if necessary (it depends on the preservative you are using)
10- Add the preservative. Remeasure and readjust the pH
11- Fill in suitable containers. Don't forget your archive, stability and micro kit samples
Although it is an emulsifier for a broad range of oil phase, it works the best for an oil phase between 25-35%. The viscosity of the emulsion increases with increaasing the oil phase concentration.
In the following diagram you can see the samples of a very KISS formulation we've prepared. We kept the emulsifier concentration constant (3,5%) and varies the oil phase concentration (organic baobab oil) between 20-40%. The small diagram at the left corner depicts the changes of the viscosity as the oil phase concentration increases.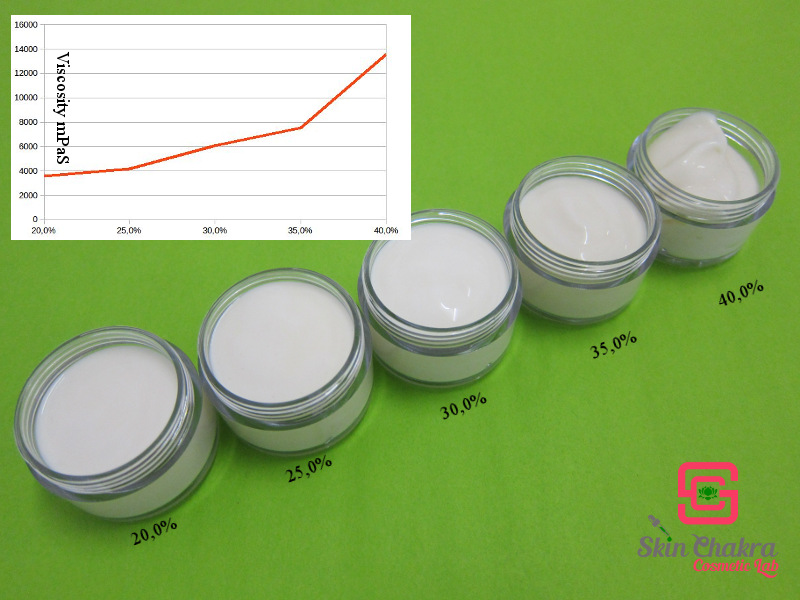 Recommended application dosages of the emulsifier are between 2,5-4,0% when used as a stand-alone emulsifier. Increasing the emulsifier dosage for a constant oil phase concentration has little impact on the viscosity and texture but affects the stability.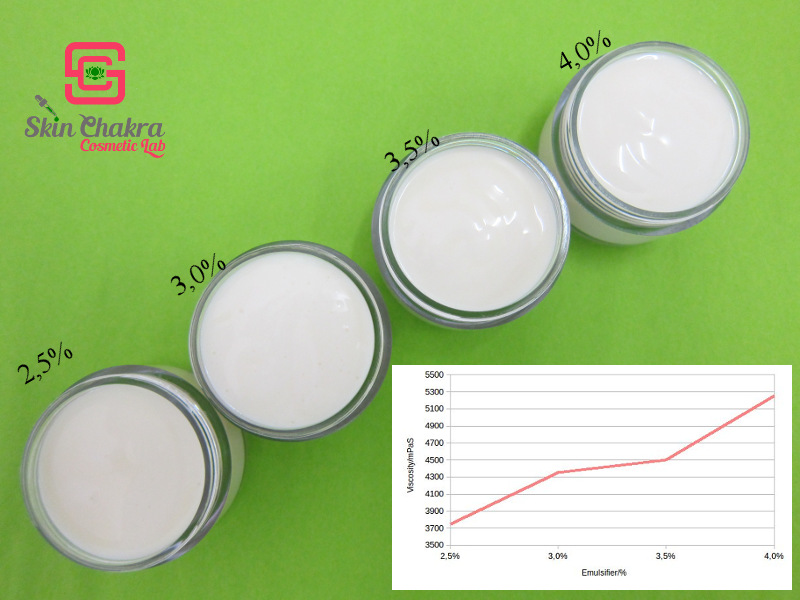 The above picture depicts the samples with the same KISS formulation. Here, we kept the oil concentration constant @25% and varied the emulsifier concentration. All samples, even the one with 2,5% emulsifier passed the stability testing.
Changing the oil nature, doesn't have a great impact on the viscosity of the emulsion. We kept the oil phase concentration constant at 25%, with a constant emulsifier concentration at 3,5% and only replaced 5% of the baobab oil with other lipophilic ingredients:
1- 25% baobab oil
2- 20% baobab oil, 5% isoamyl laurate
3- 20% baobab oil, 5% Lexfell natural
4- 20% baobab oil, 5% myrica fruit wax
5- 20% baobab oil, 5% babassu oil
6- 20% baobab oil, 5% cacao butter
7- 20% baobab oil, 5% shea butter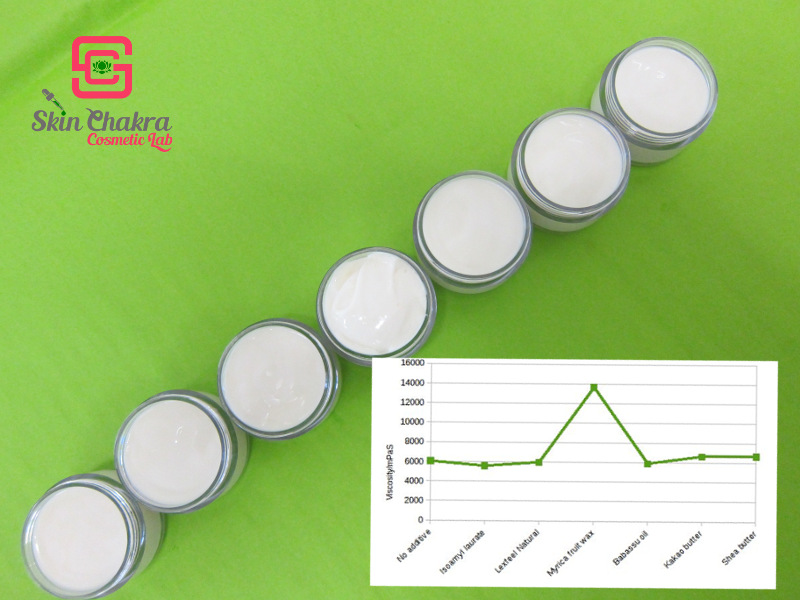 As you can see, except for the sample with myrica wax, other samples almost have the same viscosity. This means that if you want a richer/thicker emulsion with a higher viscosity (suitable for a cream jar) you can modify the viscosity and texture by adding a low concentration of a wax.
Our very KISS formulation:
Phase A
Organic baobab oil 25,0%
Dermofeel GSC palm oil free 3,5%
Dermosoft GMCY 0,3%
Phase B
Freshly boiled distilled water t0 100,0%
Panthenol 1,0%
Dermofeel PA-3 0,1%
Phase C
Organic glycerine 4,0%
Solagum AX 0,5%
Phase D
Rosemary CO2 extract 0,1%
Natural tocopherol 0,1%
Antimicrobial blend 0,1%
Phase E
Organic cedarwood essential oil 0,5%
Euxyl K903 0,5%
Dermosoft 1388 eco 3,0%
Procedure:
1- Heat phase A and B separately in a water bath @ 65-70 oC
2- As the oil phase melts to a homogeneous blend stop heating and slowly add the oil phase to the water phase while stirring the water phase
3- Homogenize for a few minutes (with a Kai blendia for example)
4- Blend the gum and glycerine in a small beaker. Add this to the emulsion and blend (you can use your Blendia for a few bursts)
5- Continue stirring as the emulsion cools down. Add phase D at a temperature below 35 oC.
6- Add the essential oil
7- Measure the pH and adjust it according to your preservative requirements. In our case the pH (you need to make a 10% dispersion of the emulsion in distilled water) was 6,49 which was all right for adding the preservative. We know that our preservative reduces the pH. After adding the preservative the pH was 5,45 which is just in the range we want.
You may need to reduce or increase the pH depending on the ingredients you are using and the requirements of the preservative. We recommend using citric or lactic acid to reduce the pH and using arginine, sodium hydroxide or sodium bicarbonate to increase the pH.
I hope you feel confident to start playing with this amazing emulsifier. We recommend that you keep your first formulations as simple as possible. Do not add all of your precious extracts, vitamins and hydrosols in your very first trials.
If you're inspired by this tutorial feel free to send us your photos and comment either per mail or to our Facebook page. If you post any photos on Instagram, don't forget to tag @SkinChakra.
BeHappy and have fun
Comments
Display comments as (
Linear
| Threaded)
The author does not allow comments to this entry