Thursday, 20. July 2017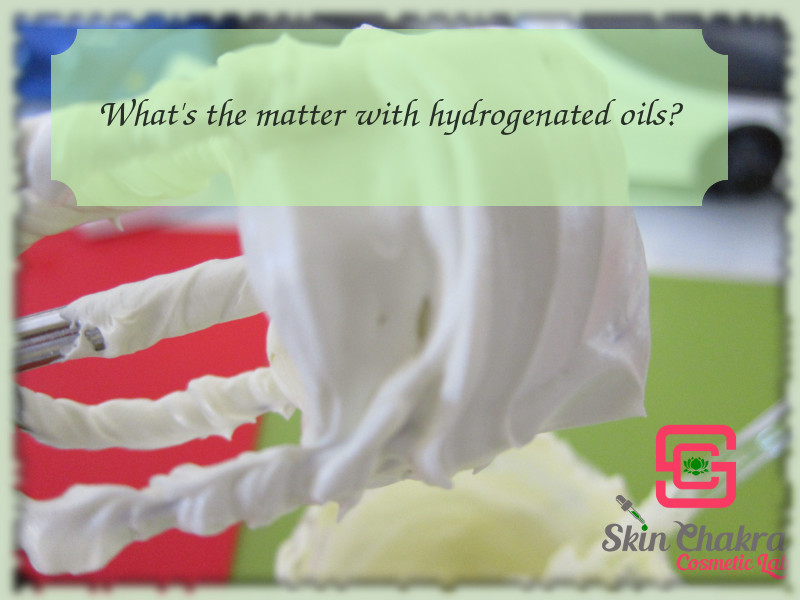 Hydrogenated plant oils are quite notorious in food and nutrition and nobody with a clear understanding really wants them (but you'll find them almost everywhere in processed food, cookies, doughnuts, paastries, pseudo-butters etc). In cosmetics, they are not as notorious as in food and they are becoming ubiquitous) because the mainstream industry uses them widely and because they are being offered in huge volumes.
What are hydrogenated/saturated oils?
Liquid natural oils contain unsaturated fatty acids. These include:
Mono unsaturated fatty acids: MUFA
Oleic acid (C18:1)
Palmitoleic acid (C16:1)
Myristoleic acid (C14:1)
etc.
Poly unsaturated fatty acids: PUFA
Linoleic acid (C18:2)
Stearidonic acid (C18:4)
Linolenic acids (C18:3)
Arachidonic acid (C20:4)
etc.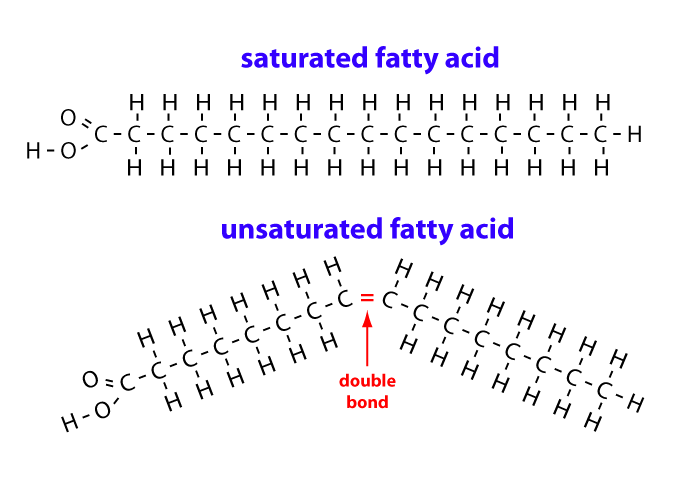 The degree of unsaturation is usually depicted by Iodine value of an oil. The higher the unsaturation, the higher the iodine value and the higher the iodine value, the more susceptible the oil to oxidation and the shorter the shelf life of the oil.
Iodine value of some plant oils, butters, waxes:
| | |
| --- | --- |
| Plant oil | Iodine value |
| Hemp seed oil | 143-166 |
| Peanut oil | 85-90 |
| Peach kernel oil | 94-110 |
| Sunflower oil | 118-145 |
| Shea butter | 52-66 |
| Sesame oil | 100-120 |
| Pequi oil | 49-51 |
| Perilla oil | 196-206 |
| Myrica wax | 1 |
| Evening primrose oil | 187-198 |
Hydrogenation:
Hydrogenation is a chemical reaction (usually carried on over Nickel or Cadmium catalysts). The goal is to increase the melting point of the oil (solidify the liquid oil) and to increase its shelf life. The oils are usually refined which means that they are stripped of their unsaponifiables (the good stuff in your oils!) before they undergo hydrogenation."
In clear words and for non-chemists:
Hydrogenation is the process of removing the unsaturation from fatty acids and oils, reducing the iodine value, increasing the oxidative and thermal stability and increasing the shelf-life. As the double bonds are being reduced, the liquid oils become solid (Margarine).
Hence oleic, linoleic, and linolenic acid are reduced (if the saturation is complete) to stearic acid. Palmitoleic acid is reduced to palmitic acid and myristoleic acid is reduced to myristic acid. So far so good.
What's the problem?
The original problem with hydrogenated (saturated) oil (and fatty acid) was raised as because of production of trans-fatty acids or trans fats which increase the risk of coronary diseases by reducing the good cholesterol (HDL) and increasing the bad cholesterol (LDL).
For non-chemists: As we add hydrogen to a double bond (in partial hydrogenation), some cis fatty acids turn to trans fatty acids. In simple words, a part of the molecule rotates around the double bond.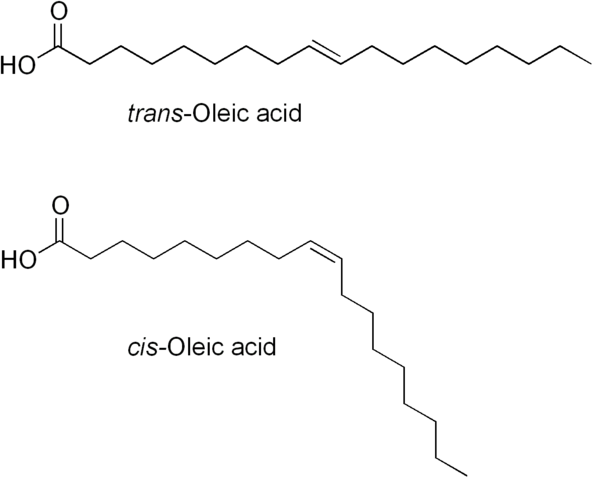 As the awareness about trans-fatty acids grew, the recommendations and legislations about saturated oils became tougher:
In 2003, the World Health Organization (WHO) recommended that trans fats shall not make up more than 1% of a person's diet.
In 2006, FDA required that food industry declares the content of trans fats on the label and in nutrition facts.
In November 2013 FDA made a preliminary determination that PHOs are not "generally recognized as safe" (GRAS) for use in food.
In the EU, except for Austria and Denmark with national limitations for TFA (trans fatty acid) content in food, it is neither mandatory to declare TFA on the label nor there are any legal limits on TFA content in food (quite weird and a shame for the EU)
Apart from the health concerns, consider having saturated avocado oil, olive oil, almond oil, etc. in your food (the industry calles these by fanciful names of avocado butter, olive butter and almond butter). Regarding the fact that the main unsaturated fatty acids in these oils are oleic and linoleic (C18:1, C18:2), upon saturation, they are transformed to stearic acid (C18:0). I don't know about you but I really feel biting into stearic acid is like biting into a candle.
What the hell does it mean for the cosmetic industry?
Quite obviously, rubbing a saturated fatty acid (as much fatty and candle-like as it might feel) over your skin and hair would not have any impact on your coronary health, blood pressure or cholesterol level but these saturated oils are not quite popular (thanks heaven) in natural cosmetics (I mean natural cosmetics that uses effective ingredients that work and not just uses fanciful names on the label).
I personally do not use saturated oils (except for Squalane and one or two exceptional butters). These are my reasons:
1- Most of these hydrogenated oils are not sold in pure form. They are stretched with hydrogenated vegetable oil (we don't even know which vegetable oil, probably the cheapest possible) and are sold under fanciful name of butter:
Avocado butter:Persea gratissima (avocado) oil (and) Hydrogenated vegetable oil and Tocopherol
Avocado butter: Persea Gratissima Oil, Hydrogenated Vegetable Oil, Butyrospermum Parkii Butter, Tocopherol.
Argan butter: Argania Spinosa Kernel oil (and) Hydrogenated vegetable oil (and) Tocopherol
If you are a chemist or have enough formulation experience you'll immediately realize that these fanciful butters are a blend of the original oil and a cheap hydrogenated vegetable oil (usually more than 50% of the ingredient consiste of hydrogenated vegetable oil, the bad old margarine). The blending creates a solid or semi-solid THING that they sell under the name of butter, has a little bit of an expensive and fanciful oil, has a much longer shelf-life and thermal stability of the original oil.
Most beginners and students of skin or hair care formulation are tempted by these names, pay huge amounts for the ingredient and the shipping just to become frustrated as they realize about the true nature of these blends.
2- Hydrogenated/saturated oils are usually made from highly refined oils. It means, all those valuable unsaponifiables such as lecithin, phytosterols, tocopherols etc. are stripped away from the oil (most often the oil is even bleached).
This means, in clear words that you're paying huge sums of money for a blend of palmitic acid, stearic acid, myristic acid and margarine. It certainly doesn't harm your health or your skin but it is as useless as paraffin (or just like paraffin has some occlusive and emollient properties)
Bottom line:
It is completely all righ if you decide to use these saturated oils and fake butters (even in natural formulations), whatever your reasons are. They have a much longer shelf-life than the virgin oils, they have a better thermal stability and since they are made from refined oils, they don't have a big impact on the colour and scent of the finished product. Just be aware of what you're purchasing, have a look at the data sheet and the analysis and don't fall for these fanciful names.
I just wanted to tell you all I know, not that you blame me later for not informing you

BeHappy and have Fun
Further reading:
https://www.fda.gov/food/ucm292278.htm
https://ec.europa.eu/food/sites/food/files/safety/docs/fs_labelling-nutrition_trans-fats-report_en.pdf
Comments
Display comments as (
Linear
| Threaded)
The author does not allow comments to this entry