Thursday, 27. July 2017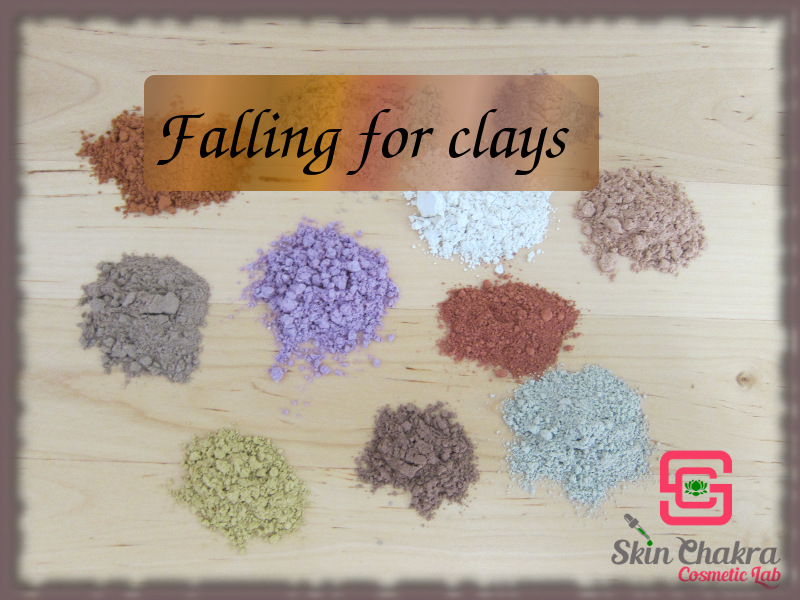 Clays are quite IN in "natural" and even conventional cosmetics at the moment. They are used in cleansing products, in deodorants, colour cosmetics, facial masks and (unfortunately) even in emulsions.
What are clays?
Clays are different groups of natural minerals with varying compositions and crystaline structures. They are basically silicate minerals (with various geometrical/crystalline orientation of SiO4 units) with varying minor content of other minerals such Manganese, Magnesium, Iron, Calcium, Chromium etc.
Because of their availability and versatile properties, they have various application fields varying from pottery and porcelain manufacturing to industrial catalysis and synthesis and environmental applications (apart from their applications in hair and skin care).
Because clays are used and studied in so many different branches of science and industry, a unique nomenclature is non-existent, depending on the application field and scientific branch, you may find different names for the very same mineral group.
These are the most common name/groups you may find in cosmetics and personal care:
Kaolin
Kaolinite
Illite
Muscovite
Montmorillonite
Bentonite
Hectorite
Moroccan lava clay
Hokkaido akan clay
Applications:
Depending on their structure and composition, clays might have various properties such as:
oil absorbing
water absorbing
volatile matter (odour) absorbing
modifying texture
modifying flow (rheological properties)
These are the main reason for their application in hair and skin care (besides their colour in case of coloured clays).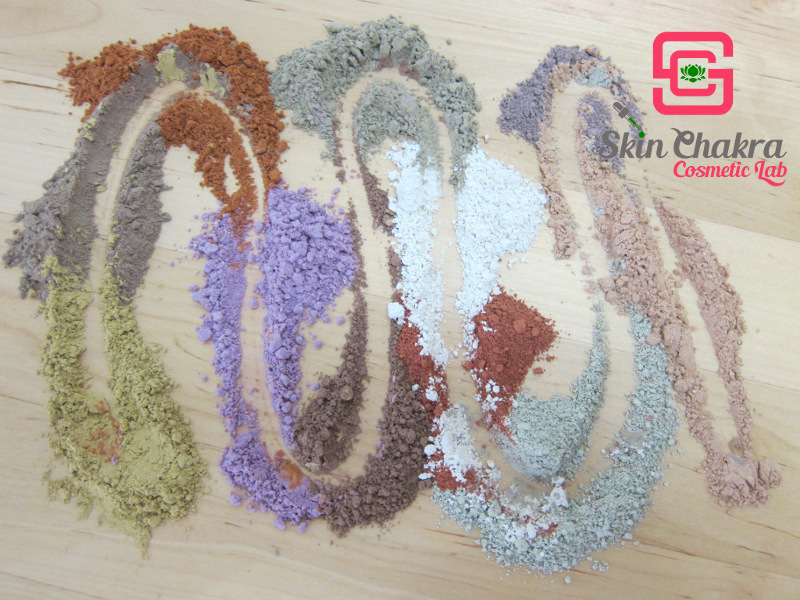 Impurities
Clays are mainly sedimentation/volcanic minerals and basically contain some heavy metals as an inherent impurity. The content of the heavy metal impurity varies depending on the geographical location, environmental situation and processing. Lead, Nickel and Arsentic are the main heavy metal impurities.
These impurities might have no significance in many industrial properties but they are certainly unwanted in hair and skin care. This is why you need to be extremely cautious about the nature and origin of the clay you're going to use in your products. Even clays offered under the same name and having the same origin might vary in heavy metal content. Make sure you're purchasing cosmetic (or food grade) clay with a content of heavy metals complying with the legal limits.
Contamination
Clays contain a heavy load of microorganisms (mainly the spores) by nature. Even for industrial processing the contamination is unwanted and clays are cleaned/decontaminated before application. This doesn't mean however that all clays are the same. A decontamination for construction industry or for porcelain industry has a completely different meaning than a decontamination in cosmetic, pharmaceutical or food infustry.
It is quite shocking how many suppliers of cosmetic clays do not have any clue about the quality of the product they are selling. Last year I contacted two suppliers in the USA, one was a wholesaler and retailer for clays and ofered me:
1- gamma radiated (sterilized) clays or
2- non-sterilized clays.
For their sterilized clays they have had a micribiological analysis but none for the non-sterilized clay. As I asked them: then your non-sterilized clay can be anything between extremely contaminated to non-contaminated
They wrote me: yes, absolutely correct
Another American supplier was somebody who imports Moroccan clay from Morocco and retails it. As I asked her for an analysis she told me there is no analysis and she trusts the Moroccan vendor.
There must be little danger/risk as long as the clay is kept dry and safe from moisture but those unwanted guests find an opportunity to celebrate a party, grow and multiply themselves as soon as they have some water and some nourishment. You certainly don't want to endanger yourself and your customers by using contaminated clays.
There are, according to my knowledge three methods of sterilization for clays:
Gamma radiation
Ozone gas
Autoclaving
Depending on your product concept and philisophy, you may prefer one of these methods to the others or may want to reject some of these methods (Ecocert for example does reject gamma radiation as an sterilization method). Ask your supplier about sterilization and the method they've used.
Preservation
Clays are exremely notorious for preservation. Not only by nature they carry a load of microorganisms, they carry nutrients for microorganisms as well (all the minerals necessary for growth and survival). because of their nature, they are absorbents and they can absorb and deactivate most of the known (and specially natural) preservatives. We do not recommend using any clays in water containing products because you can not preserve them and guarantee the microbiological stability of the product even for a short time unless you work under sterile conditions and pack your products in single dose packages (which you obviously do not).
Very often, new students of hair and skin care formulation (who spend quite a considerable amount of time on internet searching/chasing other products) come to us with a photo, a screen shot or the name of the ingredients they have found for a clay containing product and ask:
I can not find any preservative for this product
or
How can they preserve the clay in this emulsion only with preservative X?
And our response is:
They either don't declare all of the ingredients, or don't care if the product is contaminated (none of them any wonder even in the EU) and in both cases they have the legal and financial assets for the consequences.
If you want to have peace of mind and want to avoid and legal problems and disappointments, just keep your hands from water containing clay products. There are multiple other ways you can use clays in your products without risking your reputation or the safety of your consumer.
Clays that are not pure clay
With the increasing popularity of clays in cosmetics, we stumble upon products that are sold as pretty colourful clays that are not clays, or at least are no pure clays.
These are usually blends of clays with cosmetic colorants (synthetic or natural). Apart from the fact that you may not want any cosmetic colourant in your products, most of these colorants are regulated as colorant and have a limited legal dosage whereas when blended with clay (specially when you don't know they are there), you're using them in much higher concentrations than when you use a colorant. (I hope this makes sense)
These are a couple of examples of clays blended with colorants:
INCI: Kaolin, C.I.77007 (which appear in blue to purple colour shades)
INCI: Kaolin, C.I.77742 (purple)
How to avoid this?
Ask for the INCI name of the ingredient before you purchase it and hope (and pray) that your supplier is disclosing the whole INCI name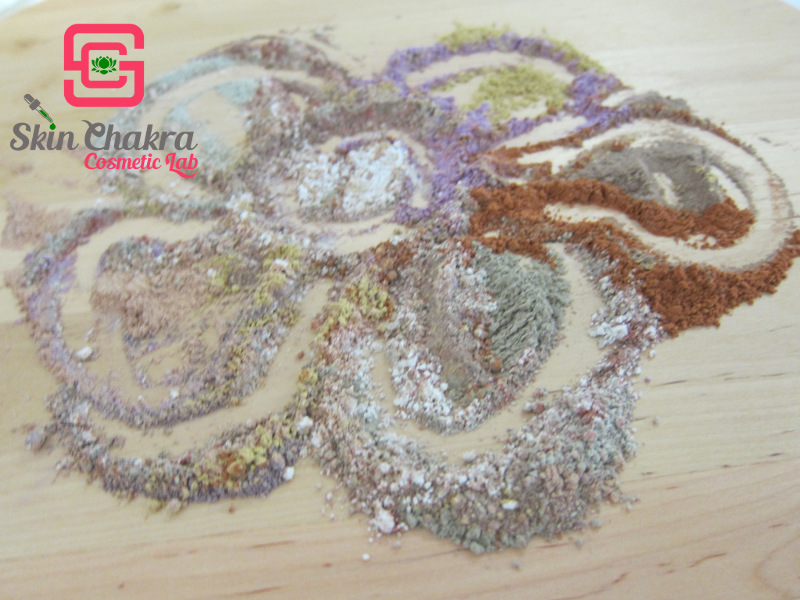 Bottom line:
If you follow some basic rules and remain alerted and not fall for fanciful names and colours you can still benefit from clays and apply them in a broad variety of products.
This is the sum-up and what you need to consider in order to guarantee the safety and high quality of your products:
1- Purchase cosmetic grade clays with as less heavy metal impurity as possible (and complying with the legal limitations)
2- Pay attention to the analysis and the microbial count of the clay you are purchasing
3- Pay attention to the method of drying/sterilization
4- Make sure you're purchasing a pure clay (or a blend of pur clays) and no unwanted additives
I just wanted to tell you all I know, not that you blame me later for not informing you

BeHappy and have Fun
Comments
Display comments as (
Linear
| Threaded)
The author does not allow comments to this entry