Thursday, 3. August 2017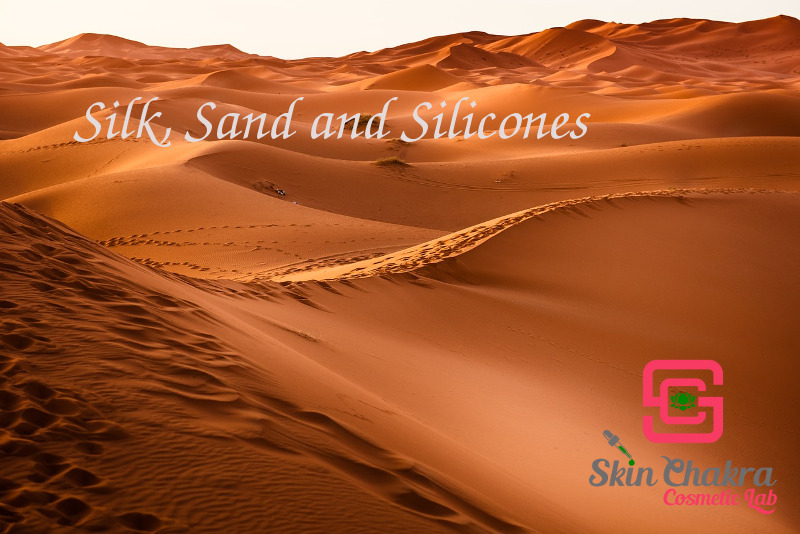 "Can we use silicones in natural personal care?"
This is one of the most frequently asked questions from skin/hair care formulation students. The information found on web is so controversial and both fronts: pro-silicones as well as anti-silicones use such exaggerations and weird claims that beginners in personal care and cosmetic formulation don't know which front is telling the truth and whom they shall believe.
Silicones and all the -cones
Silicones, as you certainly know are a huge group of ingredients with very versatile properties and applications. All of the silicones have one thing in common:
Si-O (Silicone-oxygen) atoms in the backbone of the molecule attached together in a polymeric chain (or ring in case of cyclic silicones) and with methyl groups dangling from the silicone atoms .

The Si-O repeating unit, with two molecules of methane (-CH3) attached to silicon atom is called: dimethylsiloxane and the polymers in general are called poly dimethylsiloxanes or dimethicones.
Instead of a chain, the Si-O units can attach in a closed ring with 4,5,6 members which are generally calles D4, D5, D6 cyclomethicones.

Dimethicones and other -cones
There are more than 500 dimethicone derivatives on the CosIng listing of the EU. These ingredients vary in structure, properties and functions. Some examples include:
nonionic, cationic, amphoteric and anionic surfactants
Copolymers with other functional groups
Silicone esters
Amodimethicones (with at least one amide group)
Dimethicones and co. are being applied in the personal care industry for about 60 years now. The first commerically available silicone skincare product was a handcream made by Revlon with the name of Silicare and the claim of wearing invisible gloves to protect the skin.
By attaching functional groups and changing the chain length, one can literally create endless ingredients with endless properties varying from foaming surfactants to antifoams, shine additives, emollients, emulsifiers, film formers etc.
According to a white paper released by Dow Corning, about half of personal care products released in 2015 contained at least one silicone derivative. They are so versatile and so often used that I don't think a conventional formulator can even work without them.
Silicones and co. are being applied in hair and body care (rinse-off and leave-on), baby care, decorative cosmetics and antiperspirants.They are unique in their light and dry feel, lubricity, slip and shine. Apart from that, there are volatile silicones (cyclomethicones) that are hugely used in hair styling products and in anti-perspirants.
How silicones are made
The heart and base of silicone derivatives is obviously Si (Silicon or Silicium) metal. The main source of silicon is, as you may have heard the sand (quartz). The silicon gained from quartz is then reacted to methylene chloride (CH3Cl) and is converted to methylchlorosilanes. The rest is a series of polymerization and other reactions to attach the desired functional groups to create tailor-made ingredients.
Why silicones are ubiquitous in the personal care?
Silicones are extremely stable and resistant to heat and oxidation. They are prepared in huge volumes and basically they are neutral in colour and scent. Is that not all the mainstream needs and loves?
Apart from the fact that you can almost tailor-make the right silicone for every single purpose by varying the chain length and the functional group, the long shelf-life, stability and neutrality makes them optimum and popular ingredients (not only) in personal care.
Are Silicones considered "natural"?
Some suppliers with much fantasy and humor refer to dimethicones as "naturally derived from sand". Sand is no doubt the starting material for making all these silicone derivatives and what could be more "natural" than sand?
But sand/quartz is the end of "natural" for silicone. The rest is ATTACING petrochemical based functional ingredients to the siloxane backbone to create all these -cones we can find on the label of almost every single mainstream personal care product.
(Believe it or not, there are even silicone derivatives where they ATTACH the dimethicone to a "natural" ingredient such as beeswax or plant oils).
Silicones do not grow on the tree but this is the case with most of the other ingredients we're using in "natural" formulations. Olivem 1000, Simulgreen and Sucragel don't grow on trees either but they are universally accepted in "natural" formulations and some of them are even certified by certain certifying bodies such as NaTrue or Ecocert.
So what's the problem with silicones?
One should remain fair. Silicones (except for D4 with proved toxicity) are rather inert and mild ingredients. The number of sensitizations and adverse reactions to silicones is much less than the number of adverse reactions to, let's say some essential oils. The con-silicone front and some NGOs and bloggers make exaggerated claims (without any evidence or scientific proof) about them being harmful, toxic, dangerous but it is not true as a universal rule. The toxicity or sensitization depends on the functional groups attached to the dimethicone and not related to the dimethicone itself.
The problem with silicones is their magnificent property of being extremely intert and stable. Apart from the fact that there are petrochemicals involved in manufacturing dimethicones (even if they are attached to lovely natural plant oils such as borage oil and co.) they are bioaccumulative and build-up in the environment.
Despite the fact that the pro-silicone front is stubbornly claiming silicones do not bioaccumulate and would biodegrade (after how many million years?) it is certain that at least D4 and D5 do not biodegrade (D5 mainly because of D4 residues as impurities). The first studies were conducted in Canada and the European studies are mainly based on the Canadian initial studies. Unfortunately, there are still no legal limitations to D4 and D5 application in the EU although ECHA (European Chemical Agency) is working on restricting these two (guess who is lobbying to postpone a legal decision).
Silicone alternatives and the traitors of the industry
It seems that L'Oreal with the launch of its Garnier Fructis "silicone free pure clean shampoo" was the first among the mainstream who started the avalanche of silicone-free claims. L'Oreal who is eager and ready to catch fish in muddy water, started a silicone-free campaign (while continuing their silicone containing crap at the same time). Their claims of 94% biodegradable and "non-ecotoxic" for their silicone-free shampoo was/is a thorn in the eye of the mainstream industry and pro-silicone front and the start of silicone-free claims from the industry.
To be quite honest, there is no other ingredient who can completely replace silicones in terms of dry feel, lubricity, shine and slip. There are many groups of "natural and plant based" silicone alternatives on the market (we sell even two of them on SkinChakra online shop: Isoamyl laurate and Lexfeel natural) but none of them can fully compete with dimethicones, not even the much praised broccoli seed oil. You often need to combine several ingredients to achieve the performance of dimethicones (or cyclomethicones).
However, everybody who is somebody in the cosmetic ingredients scene is working on silicone-alternatives and the furture would be promising.
Coming back to the first question: can we use silicones in "natural" formulations?
No. Silicones are not accepted in any single shade of "natural". Even though the silicone industry is trying to make it greener (the rocedure, the ingredients) silicones would not be tolerated in "natural" products, unless the pro-silicone front established its own "green certification" to bring silicones into green and natural personal care (and that would be no surprise to me).
BeHappy and have fun
Further readings:
https://pubs.acs.org/cen/coverstory/89/8918cover.html
http://ec.europa.eu/health/scientific_committees/consumer_safety/docs/sccs_o_029.pdf
http://ec.europa.eu/health/ph_risk/committees/04_sccp/docs/sccp_o_035.pdf
https://echa.europa.eu/-/committee-for-socio-economic-analysis-concludes-on-restricting-d4-and-d5
https://echa.europa.eu/-/committee-for-risk-assessment-concludes-on-restricting-d4-and-d5
http://www.cosmeticsandtoiletries.com/formulating/function/feelenhancer/premium-Ingredient-Profile-Dimethicone.html
http://www.cosmeticsdesign-europe.com/Formulation-Science/Current-state-of-silicones-new-white-paper
http://www.dowcorning.com/content/publishedlit/27-1624-the-beauty-of-silicone-in-skin-care-applications.pdf
Stevens, C. "Environmental fate and effects of dimethicone and cyclotetrasiloxane from personal care applications." International journal of cosmetic science 20.5 (1998): 296-304.
Comments
Display comments as (
Linear
| Threaded)
The author does not allow comments to this entry