Friday, 25. August 2017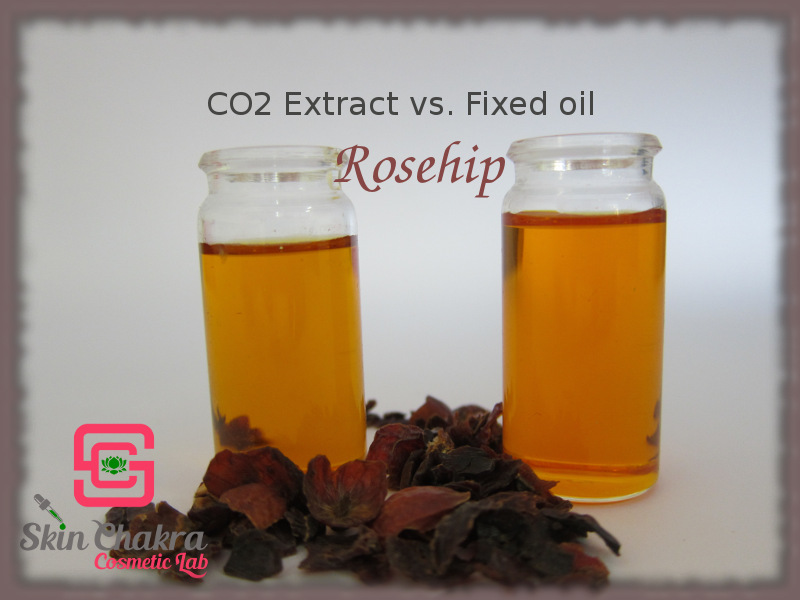 CO2 extracts are becoming extremely popular in food, pharmaceutical and cosmetic industry however they are still a big mystery to most formulators (and even to most retailers). In this post, we're going to compare CO2 extract and pressed oil of rose hip (rosa canina), one of the most popular fixed oil/active ingredients in skincare.
What are CO2 extracts?
CO2 extracts or SCF CO2 extracts are a kind of technological magic. CO2 gas (which is a natural and inert gas), under high pressure (ca. 73 bar compared to atmospheric pressure which is 1 bar) behaves like a liquid. This happens at an amazingly moderate and low temperature which is around 31 oC.
(Don't be shocked, CO2 is the very same evil that is responsible for climate change and the very same ingredient that every industry, specially transport industry tries to reduce its production. It is a bad master and a good servant, in CO2 extraction, CO2 gas is wandering in a closed cycle and under low temperature, nothing is lost to the atmosphere. Using supercritical CO2 is much more environmental friendly than any other extraction method.)
This gas, which now has the behaviour of a liquid, is used to EXTRACT ingredients from different plant parts just the way you may do in a solvent extraction or in pressing procedure only with a much higher efficacy at a much lower temperature and with much less waste and environmental impact.
CO2 is a non-polar solvent and extracts the lipophilic components of plants. By varying factors such as temperature and pressure the solvent properties of the supercritical fluid would change and one could be able to selectively extract certain components or improve the yield of certain components.
Advantages of CO2 extraction
Compared to other extraction methods (solvent extraction or maceration) CO2 is the most efficient and environmental friendly method of selective extraction of active ingredients.
One of (still used) most common solvent extraction methods is hexane extraction. Hexane is a hydrocarbon with 6 carbon atoms (C6). Because of its petrochemical origin and environmental impact, hexane extraction is (thankfully) not anymore acceptable in natural cosmetics (you might be quite surprised to know which make-up company uses this method to extract colorants from fruits and vegetables for its apparently totally natural and pure cosmetics).
Because of its availability, price, efficacy and easy handling however, hexane is still very common and popular in industrial applications and even in pharmaceutical, food and cosmetic industry (eek!). Hexane is liquid at room temperature and under atmospheric pressure. After extraction, it should be separated from the extract. Usually there should be no solvent left in the product. Hexane is a very volatile liquid and would evaporate (in case there are residues). However if the solvent has a low purity, even after the solvent (hexane) is removed there would be a risk of contamination with hexane contaminants. Apart from this, hexane is an explosive and flammable liquid and prolonged exposure to it causes neurological disorders.
In contrary to hexane however, CO2 is a low toxicity and inert gas. After the extraction is fulfilled, it is turned back to gas form by changing the pressure and leaves the product without any residues. This is a huge advantage over maceration or other solvent extraction methods with a non-volatile solvent.
Shelf-life
One of the most valuable advantages of CO2 extract (from a formulator's point of view) is the longer shelf-life compared to fixed oils and even some essential oils.
Even when working with ingredients that are highly susceptible to oxidation, the CO2 extract has a much longer shelf-life and improved oxidative stability compared to the conventional extract, essential oil or fixed oil.
Comparing the pomegranate CO2 extract with its fixed oil for example (the oil obtained by cold pressing pomegranate seeds). Whereas CO2 extract has a shelf-life of about 2 years (after extraction and under proper storage condition), the oil has a shelf-life of max. 9 months. I personally, can not remember to have opened a bottle of pomegranate oil (conventional oil) and to have used all of the content. No matter how I've stored them or how small the bottle was, as soon as the bottle was open, the content was rancid in a few weeks. This is why I started purchasing/using certain oils and am using only the CO2 extracts since a few years.
Extract, oil, essential oil?
The most confusing part about CO2 extracts is their nomenclature and the mystery about their nature. Since supercritical CO2 is a non-polar solvent, it EXTRACTS lipophilic ingredients from a substrate. This can be an essential oil, a fixed oil or only a selected portion of active ingredients.
THIS IS WHERE THE CONFUSION BEGINS
Depending on the plant, its constituents and the extraction conditions, the product might contain non-volatile ingredients (fixed oil) as well as volatile ingredients (essential oil) or both of them.
In one of our previous blog posts:
we have compared the distilled essential oil of cardamon with the CO2 extract.
No matter what the content would be, the INCI name is always: EXTRACT. This means, alone from the INCI name neither the formulator nor the end user would be able to distinguish what for an extract it is.
This means, if your extract contains triglycerides (fixed oil) or volatile ingredients (essential oil) or a blend of all of them, the INCI name would still be XY extract. This nomenclature causes a lot of confusion among new formulators (and among resellers).
Oil vs. CO2 extract
Although the outcome is very similar in most cases, there is a huge difference in the price and in shelf-life. CO2 extracts are usually 1,5-3 times more expensive than the pressed oils but have a much longer shelf-life.
To demystify some confusion about CO2 extracts, we're going to compare some oils (or essential oils) and related CO2 extracts in a series of blog posts for you.
Today, we're comparing organic rose hip oil (obtained by cold pressing the seeds) and organic rose hip CO2 extract.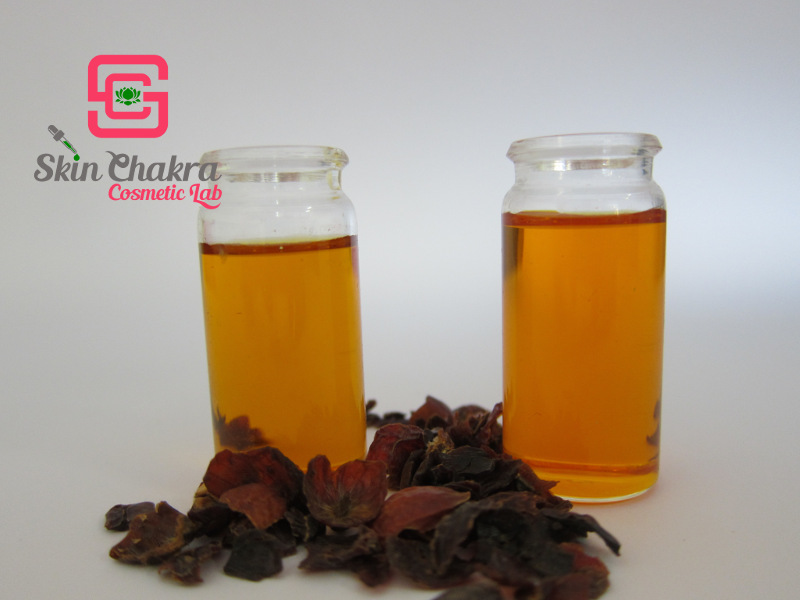 Rose hip oil is a very popular or among skincare formulators. The fruit is rich in vitamin C and unfortunately some authors even mistakenly mention a high content of vitamin C for the oil (without naming any reference or a nominal content). The oil contains however (logically) absolutely no vitamin C.
Rose hip oil is used in anti-aging products and in wound and scar healing formulations. Its therapeutic properties are (according to Krist1 ) due to low contents of trans retinoic acid (it is however not mentioned separately in any of my data sheets for the CO2 extract or the fixed oil).
The oil (left bottle) and the CO2 extract are very similar in appearance, physical and olfactory properties. It is impossible to distinguish one from the other. When compared together, the CO2 extract has a slightly darker colour (but this may vary from batch to batch).
The density, refractive index, content of unsaponifiable and the fatty acid profile are extremely similar. The main difference is, the higher price and the longer shelf-life of the CO2 extract compared to the fixed oil.
Look at the properties (These are obtained from the data sheets of individual charges. The features might slightly vary from batch to batch)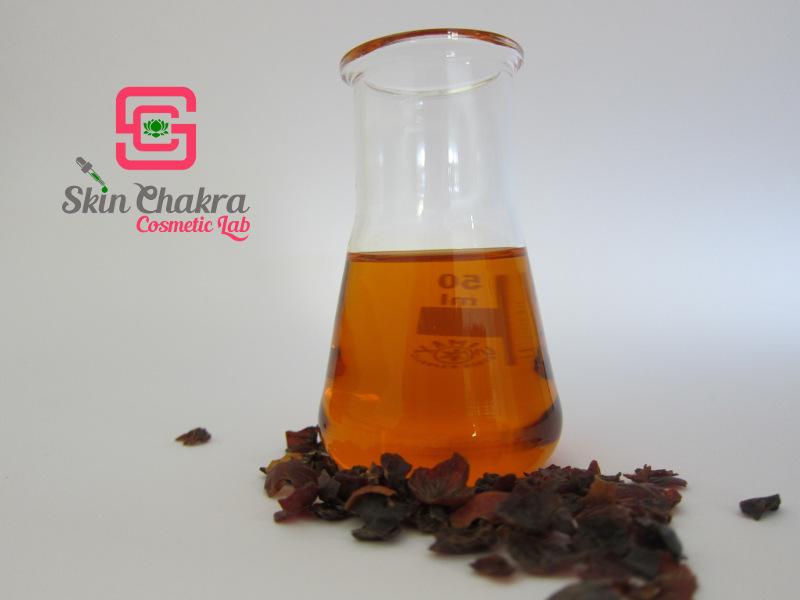 Quite strangely, the INCI name for the CO2 extract is: Rosa canina seed extract whereas the INCI name for the pressed oil is: Rosa canina fruit oil
although both are obtained from the seeds.
| | | |
| --- | --- | --- |
| | Rosa Canica CO2 extract | Rosa Canina pressed oil |
| CAS # | 84696-47-9, | 84696-47-9 |
| EINECS | 283-652-0 | 283-652-0 |
| INCI name | Rosa canina seed extract | Rosa canina fruit oil |
| Density (20°C) | 0,9240 g/cm3 | 0,923 g/cm3 |
| Refractive index (20°C) | 1,4793 | 1,4782 |
| Fatty acid composition | | |
| Palmitic acid | 4,1% | 3,8% |
| Palmitoleic acid | 0,12% | not specified |
| Stearic acid | 2,2% | 2,2% |
| Oleic acid | 15,2% | 21,3% |
| Vaccenic acid | 0,59% | not specified |
| Linoleic acid | 54,3% | 51,2% |
| alpha-linolenic acid | 22,6% | 18,0% |
| Arachidic acid | 0,82% | not specified |
| Total carotenoids | 0,02% (200 ppm) | |
| peroxide value | 2,8 meq O2/kg | <10,0 meq O2/kg |
| Acid vallue | 2,8 mg KOH/g | <4,0 mg KOH/g |
| Iodine value | not specified | 100-170 |
| Saponification value | 184 mg KOH/g | 194 |
| Unsaponifiables | 2,2% | 2,2% |
| Total sterols | 0,52% | not specified |
| Tocopherols | 0,13% | 390 ppm |
1- Krist, Sabine, Gerhard Buchbauer, and Carina Klausberger. Lexikon der pflanzlichen Fette und Öle. Springer-Verlag, 2009.
Comments
Display comments as (
Linear
| Threaded)
The author does not allow comments to this entry