Samstag, 23. Dezember 2017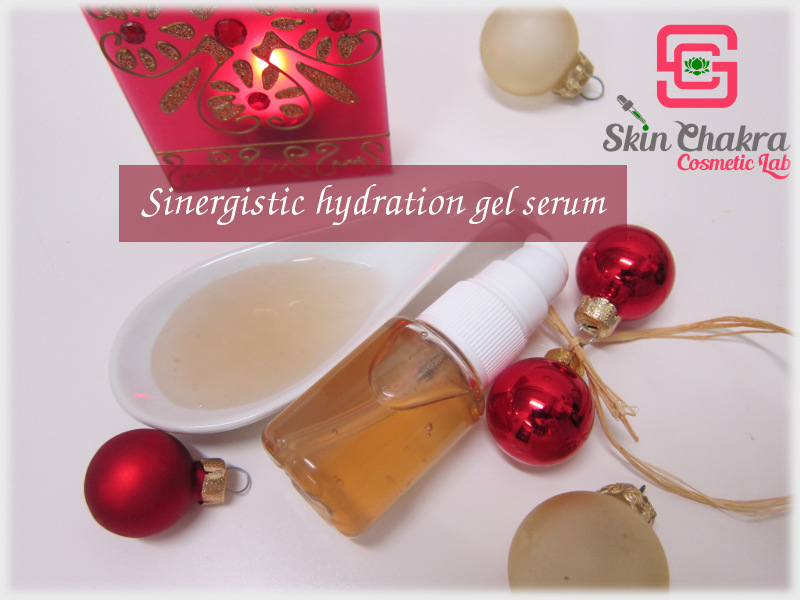 Since we've added 3 different hyaluronic acids to our online shop, many of you have asked for sample formulations and tips about working with powdedr hyaluron (pure hyaluron that is not diluted in water).
First things first:
viscosity and performance largely depend on the molecular weight. As a general rule the higher molecular weight hyaluron is a better film former and builds a higher viscosity. The high molecular weight hyaluron stays on top of the stratum corneum and absorbs humidity but it can not penetrate through the stratum corneum. On the other hand, the lower molecular weight hyaluron builds lower viscosities but can penetrate the stratum corneum.
For effective formulations and an appealing texture, it is a good practice to blend hyaluronic acids (actually it is the sodium salt and not the acid itself) with different molecular weights for the desired texture, moisturization, viscosity and penetration.
Hyaluron is highly hygroscopic (absorbs moisture) and its application in formulations is like natural gums. If you weight it into the beaker and add water to it or if you just add it to your water phase, the outer layer with absorb water and swell and that would cost you much time and effort to break the clumps and dissolve the inner core of the clumps.
The best way to dissolve hyaluron is to sprinkle it to the water phase while stirring the water phase. A propeller mixer or a magnetic stirrer are excellent for dissolving hyaluron but you can easily handle low quantities even with a spatula.
Click here for a short video about dispersing hyaluron in a vortex.
Getting back to our tutorial. It is a very basic but quite effective formulation. It has a lovely texture and skin feel and it would be even suitable as a stand-alone day care for warm and humid weather. With this lousy dry and cold we have at this moment in Germany, it isn't enough as a stand-alone care product and you need something more substantial on top of it: either an oil, a rich O/W cream or even better a W/O emulsion.
Extracts:
I've used extracts that we've made and filtered in our own lab: hydroglyceric licorice extract, hydroglyceric elder flower extract and hibiscus extract in plant based pentylene glycol. Since I didn't want quite a red serum, I used a low concentration hibiscus extract. Feel free to swap the extracts you have available. As long as they are hydrophilic and they are not contaminated, you can do nothing wrong.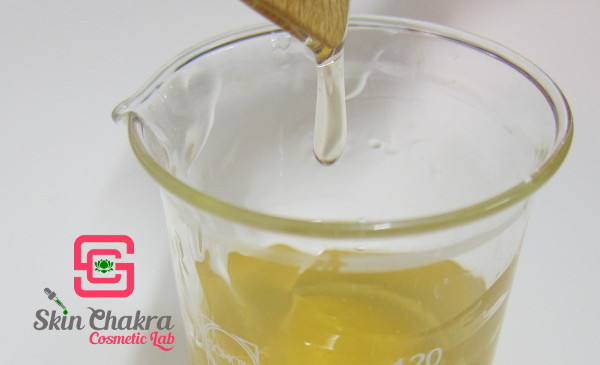 Formulation:
| | |
| --- | --- |
| Phase A | |
| Organic melissa hydrosol | to 100,0% |
| Organic cornflower hydrosol | 25,0% |
| Ronacare renoumer | 2,0% |
| Hibiscus extract in plant based pentylene glycol | 3,0% |
| Hydroglyceric licorice extract | 2,0% |
| Hydroglyceric elder flower extract | 2,0% |
| Panthenol | 1,0% |
| Phase B | |
| Organic aloe vera leaf extract powder | 1,0% |
| Caffeine powder | 0,5% |
| Low molecular weight hyaluron | 0,5% |
| High molecular weight hyaluron | 0,5% |
| Oligo hyaluron | 0,3% |
| Phase C | |
| Vegeluron | 25,0% |
| Phase D | |
| Symbiosolv clear + | 2,5% |
| Organic ylang-ylang essential oil | 0,3% |
| Phase E | |
| Dermosoft 1388 eco | 2,5% |
| Versatil BL | 0,5% |
| L-Arginine solution(14%) | to adjust pH |
Procedure:
1- Blend all ingredients of phase A in a beaker
2- Blend all ingredients in phase B in a small beaker and sprinkle this phase slowly to phase A while stirring. An overhead propeller mixer or a magnetic stirrer would be perfect but you can handle small volumes even with a spatula.
3- After all phase B is dispersed slowly and in small aliquotes add the vegeluron.
4- Blend the essential oil and solubilizer in another beaker and slowly add this to the previous phase
5- The pH would be just around 5 and it is too low for our preservative system. We've added a 14% solution of L-Arginine (1,5-2,0%) to increase the pH.
6- Now add the preservatives. Prepare a 10% dilution of the serum and measure the pH and re-adjust it of necessary. In our case it was 5,40 and that is perfectly in range.
7- Take your microbial and stability samples and fill the rest in suitable containers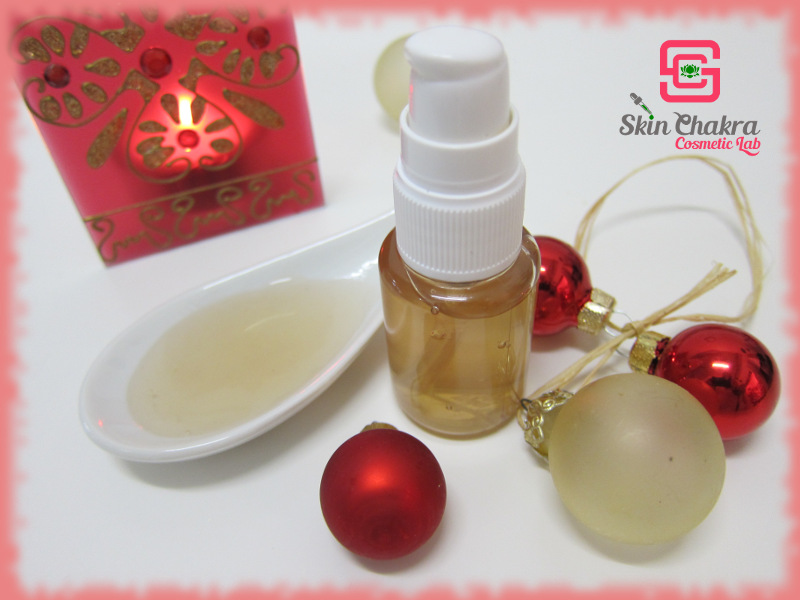 I hope this tutorial can inspire you and help you about dispersing hyaluron in water. Don't forget to make your first formulations simple and in small batches.
BeHappy and have fun
Have a very merry Christmas
in
Facial Care
um
12:24
Kommentare
Ansicht der Kommentare: (
Linear
| Verschachtelt)
Die Kommentarfunktion wurde vom Besitzer dieses Blogs in diesem Eintrag deaktiviert.