Samstag, 10. Februar 2018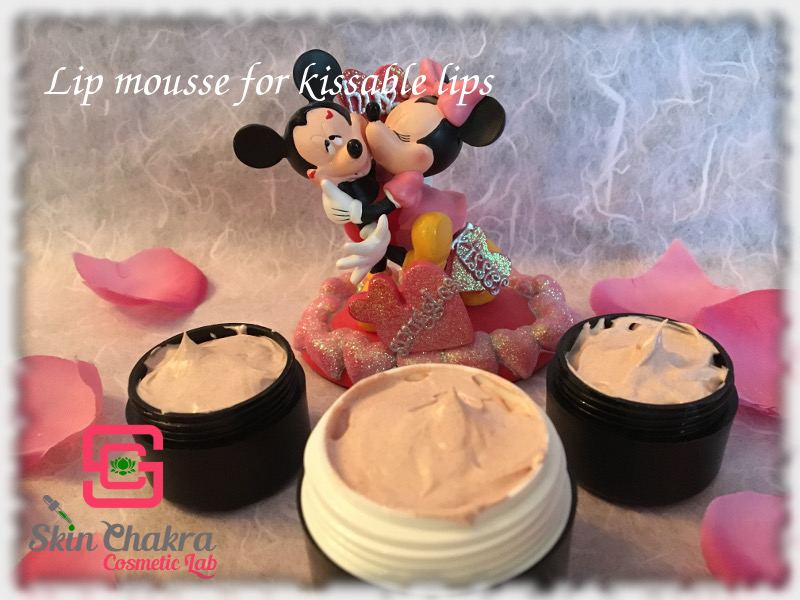 We're back again after a long break which seems like an eternity and with a Valentine's special written by our lovely Jilly.
This is a lovely lip mousse with cranberry powder. I hope you like it and enjoy making and using this lip mousse
Yep, it is that time of the year again! You simply cannot miss it: almost every shopping window is displaying hearts and romance all around. It's almost Valentine's Day!
This has become quite a popular (and commercial) day to celebrate love. But who was this Saint Valentine? There are many myths and legends about this patron saint, all of them rooting in both Christian and ancient Roman tradition. Like with many things in history, nicely covered up in mystery. My favourite legend is the one that goes back to Rome in the 3rd century. During this period, soldiers were not allowed to get married because it was believed that single men were better soldiers in battles than those who were married, because they were emotionally attached to their situation. The Christian priest Saint Valentine considered this obligation unjust. He therefor performed ceremonies in secret to unite partners in the holy matrimony with the Christian blessing. Through his actions, he emerged as the protector of those in love. Right until he got summoned, and executed by the emperor Claudius II….

Saint Valentine became the patron saint for all people in love and in friendship.
Exactly: love ànd friendship. We need to cherish the people we love, appreciate and care about each day of the year; but of course, Valentine's day is a nice opportunity to highlight this a bit extra, both in a romantic and a non-romantic way! Are you sending hand written notes? A handcrafted card? Some chocolates? Flowers? Perfume? Or maybe even a handmade skin care product, inspired by this last minute blog post? Whether it's a friend you care about and is going through a rough time, your long-life partner who you promised for better and for worse, a family member you love, someone you are secretly and madly in love with, …. Whatever you do, and whomever your gift is meant for, it always feels amazing to make people smile and brighten and lighten up their day with a heartfelt surprise .
Soooooo, for this year, I was thinking … what to make?!
Lips are so important, in any kind of relationship. Firstly, because they are a part of our communication system: without talking, no relationship whatsoever is possible. And secondly, kissing! From a first shy kiss on the cheek, a good morning kiss, just saying hello to each other, a silly smootch, up to passionate kissing, and everything in between. Okay, a lippie product it will be!
Tons of possibilities: a lip balm in a jar, a lip balm in a tub, a lip scrub, a lipstick, a lip-chick, … so why not for once a lip mousse?! Yay, I love this idea! It looks whimsically fun and cute, it feels soft and fluffy, and you can fill it with nourishing and caring ingredients! And what's even more: there is now cranberry powder available, hurray! So we can turn this product into a gorgeous shade of pink! Let's get started!
We are going to add 3 (!) powders in our anhydrous mousse; none of them are oil soluble, but if you'll follow the procedure, you're going to make a lovely and stable product:
cranberry powder, pre-dispersed in our oil phase: this will impart a stunning colour to the mousse (but won't colour your lips) and give it a yummy sweet scent
allantoin, pre-dispersed in our oil phase: for it's moisturizing and anti-inflammatory properties
ascorbyl palmitate, in the hot wax/butter phase: for it's cell regulating properties.
Lips are super-sensitive, so I rarely use EO's in my lippie products. Instead I like to blend (macerated) oils and butters that are beautifully scented on their own. If you prefer, you can use a small amount of EO, but I would recommend to keep it below 0,5% and of course keep an eye on those dermal limits.
Oh yes, you can play around with the oil/butter/wax ratio until you have found the texture you like best, ànd which stays stable in your climate.
Here's our formula:
Phase A
16% myrica fruit wax
10% cocoa butter
0,5% lecithin
0,5% ascorbyl palmitate
Phase B
10% babassu oil
5% pequi oil
Phase C
10% vanilla macerated in rapeseed oil
15% plum seed oil
22,4% cherry kernel oil
1% allantoin
0,5% tocopherol
And here is our straightforward procedure: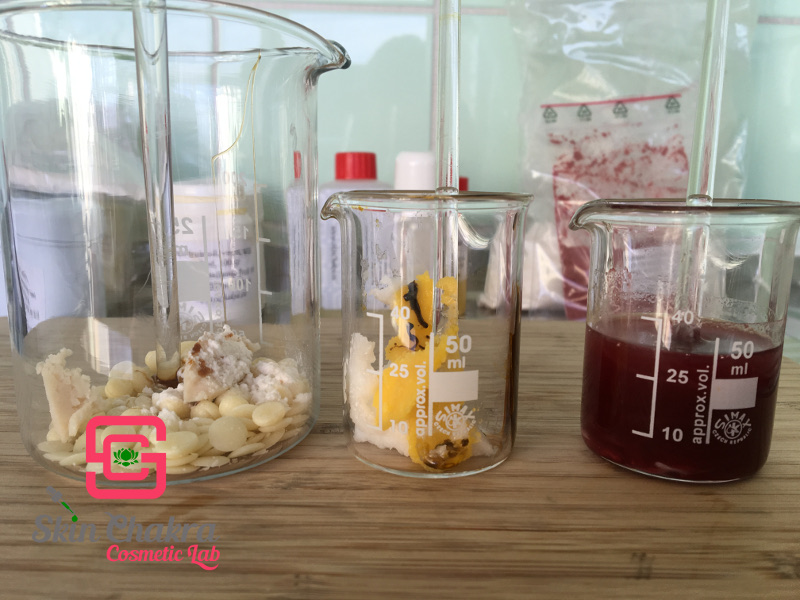 1/ Prepare all your phases in separate beakers.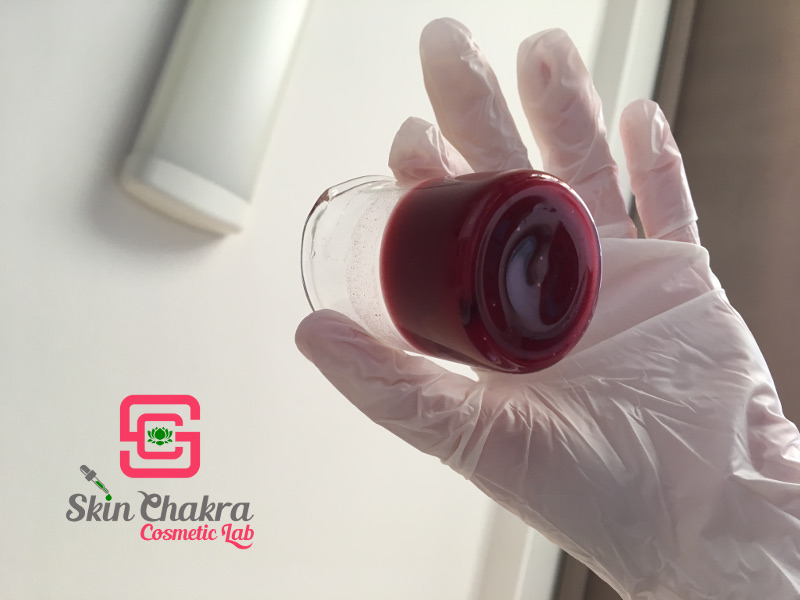 2/ As mentioned, the allantoin and cranberry in phase C are not oil soluble, but we pre-disperse them in the oil phase. Stir this blend nice and easy until you have no more clumps and bumps. Set aside .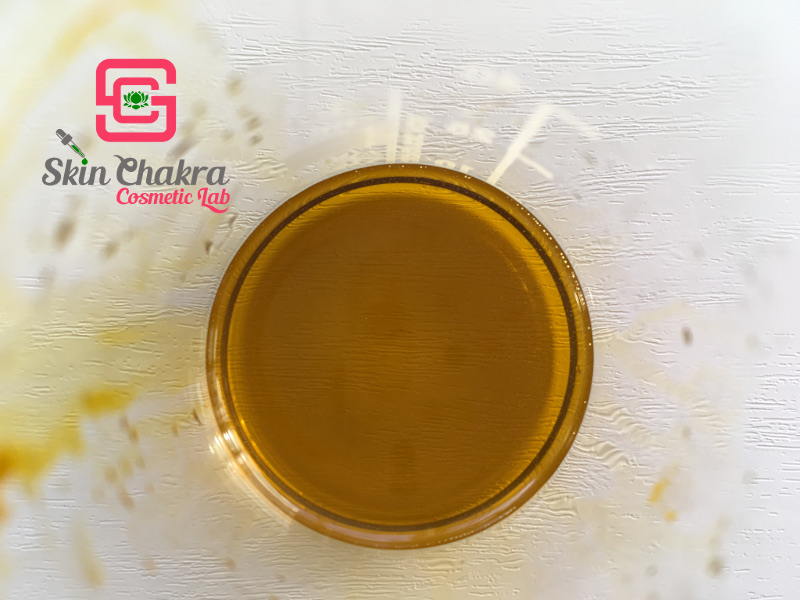 3/ Calendula CO2 is a gloopy extract, so it helps to warm this up a little bit. Most of the time I do this in a semi solid oil phase, like now with the pequi and babassu. Keep the temperature of your water bath below 40°C. When the calendula is fully dissolved, remove from the water bath and set aside.
4/ Now we heat our water bath up to around 75°C. Melt the ingredients from phase A: the butters, wax, lecithin and ascorbyl palmitate until everything has melted. The ascorbyl palmitate won't fully dissolve in the oil phase, so it won't be as clear as we are used to. When everything has melted, remove from the water bath and start stirring while cooling down. My kitchen is around 20°C and my batch isn't large, so I don't use a cold water bath nor the fridge at this stage. I know this large beaker looks a bit silly for this tiny amount, but I am going to use this beaker for the whipping part too at the end!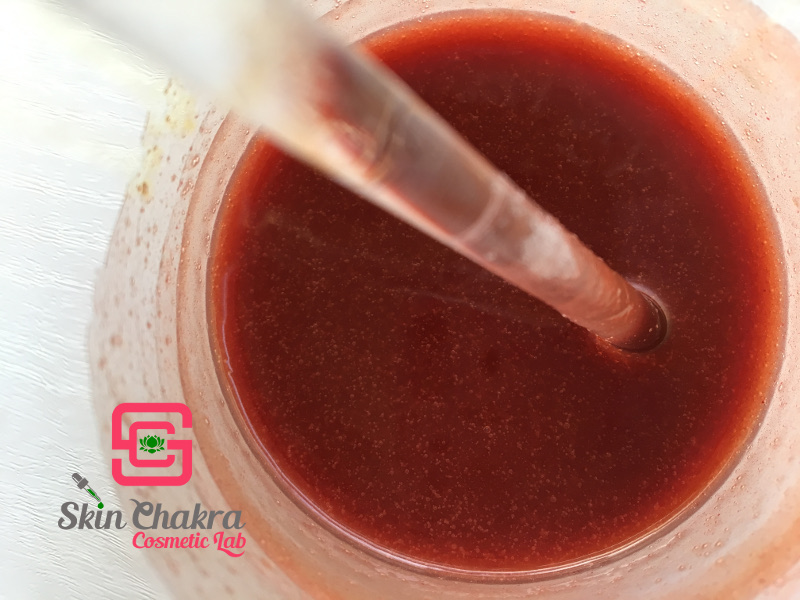 5/ Add phase B, and keep stirring while cooling down.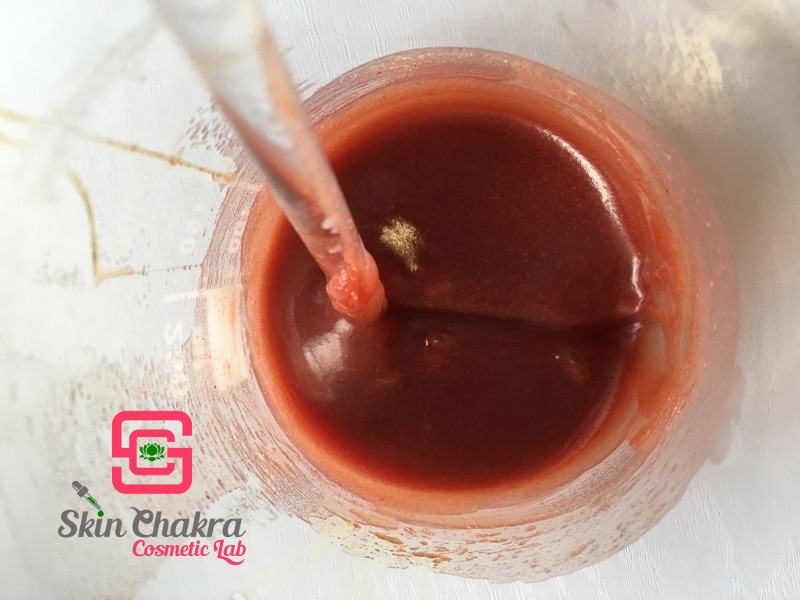 6/ When your blend comes to a very light trace, add phase C. You'll notice that the mousse becomes softer again, so you better start stirring again . At this point, I put it in the fridge, and go back to my beaker now and again to stir. Until I have a heavy trace!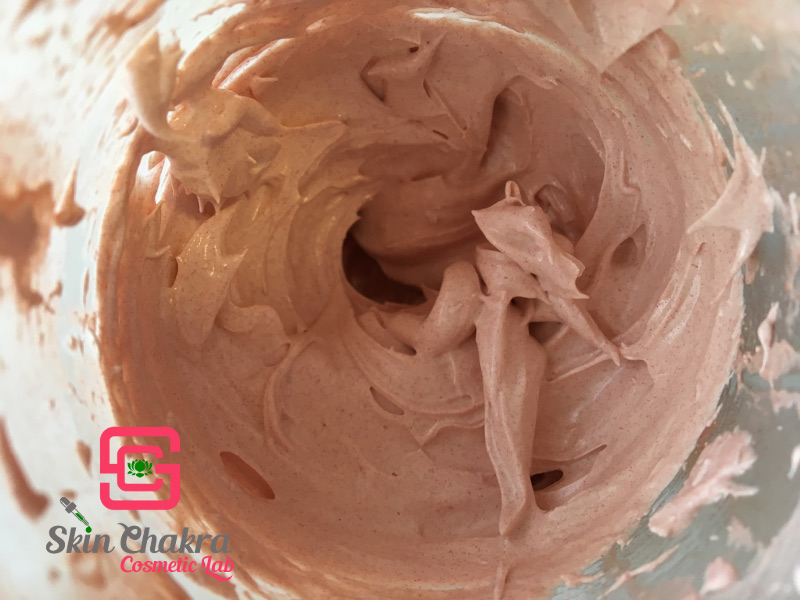 7/ Time to start whipping! Again, it will become softer again, so we are going to do this in intervals: whipping, fridge, heavy trace, whipping, fridge, heavy trace, … until you reach the desired consistence.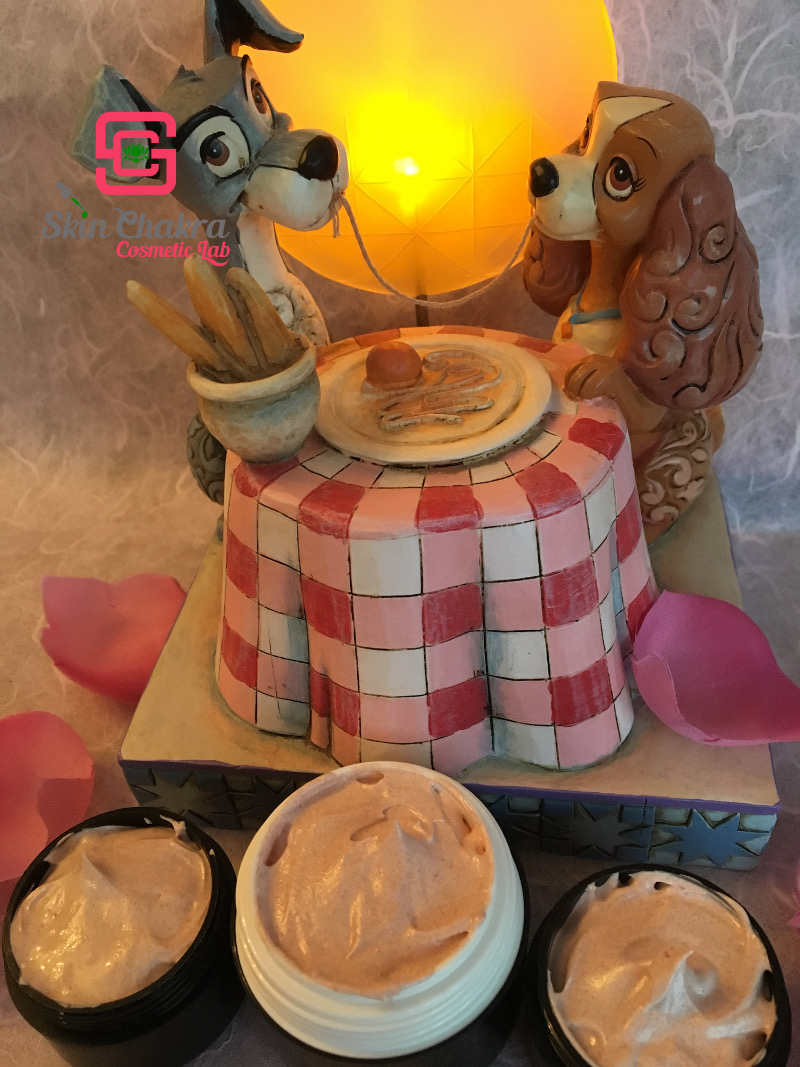 8/ Fill the mousse in jars, and keep those jars for 24 hours in the fridge. Afterwards, let them adjust to room temperature before you start using them/handing them out to your lucky ones .
The scent is oh yummy yum yum! Like sweet berry fruit in the summer. And it looks like strawberry frozen yoghurt.
Hopefully you have enjoyed this tutorial, and that it has inspired you to give some extra love and attention to your loved ones <3. We are looking forward to your reactions!
Be magical,
Your Valentine,
Jilly
Disclaimer: SkinChakra is responsible for the content of this blog post. Please send your comments and questions directly to SkinChakra and don't try to contact Jilly in private or via any other online forum/platform. Jilly or one of our team will happily come back to you.
Kommentare
Ansicht der Kommentare: (
Linear
| Verschachtelt)
Die Kommentarfunktion wurde vom Besitzer dieses Blogs in diesem Eintrag deaktiviert.