Thursday, 7. June 2018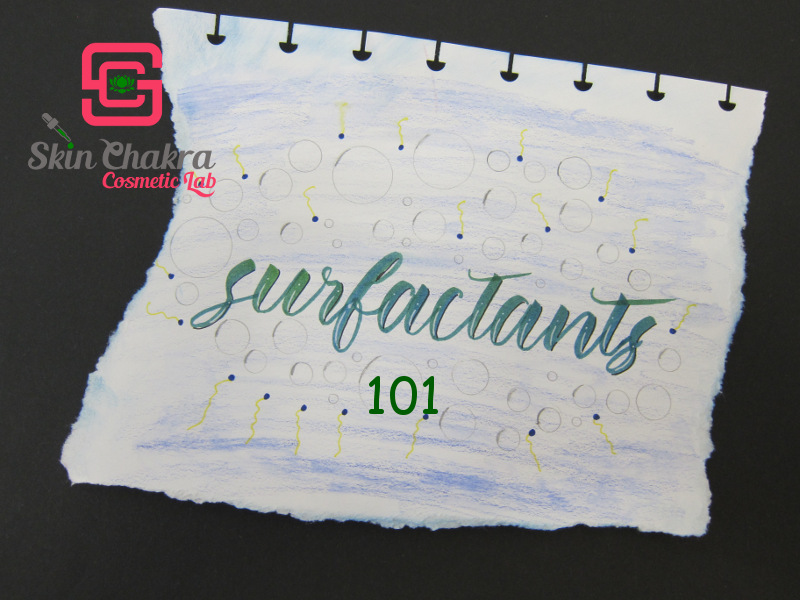 During the last couple of months, I have had many inquiries to write about surfactants. It seems they appear as huge and incomprehensible monsters to students of skin (and hair) care formulation and they somehow give up to try to understand them.
Most DIY crafters have another approach to surfactants. They assume surfactants are those ingredients you add to a shampoo or shower gel or laundry detergent for the purpose of foaming and cleaning and they decide that they don't want to do with surfactants as well.
In order to shake the frustration and dislike out of you, I've decided to write down a few short blog posts and explain about surfactants, their nature, applications, how to blend them and how to distinguish between a natural, naturally derived and synthetic surfactant.
What are surfactants?
The word "surfactant" is rather a new term from 1950s and stands for : Surface Active Agent
Despite the general belief, surfactants are not only limited to those ingredients you may add to a shampoo or laundry detergent for the purpose of cleaning and foaming. Surfactants are a huge category of molecules/ ingredients with applications in almost every industry from food and beverages (flavour solubilizers, emulsifiers, antifoams) to mining and drilling (coating, coagulants) and cosmetic, pharmaceutical and cleaning industries somewhere in between.
What does "surface active" mean?
The scientific definition is: ingredients that reduce the surface tension of a liquid or interface tension between a liquid and a gas, between two liquids or between a liquid and a solid.
Mercy on us
Don't abandon me and don't leave this page if you didn't understand anything from the above paragraph. You are not alone. Let's try it in a simple way:
A surface active ingredient is a creature that is more active on the surface than in bulk. Assume surfactants (surface active ingredients) like small ants that when you add them to, a glass of water for example (my apologies to all vegan and cruelty free readers), they prefer to gather on top (surface) of the water and on the border (interface) between the water and the glass.
Let me show this to you on a picture. In a very simple way (although this simple structure is not always correct but this definition is still generally and globally accepted), surfactant molecules consist of a long hydrophobic tail and a small hydrophilic head (an ant with a long hydrophobic body and a small hydrophilic head). This is common for all surfactants independent of their function and application.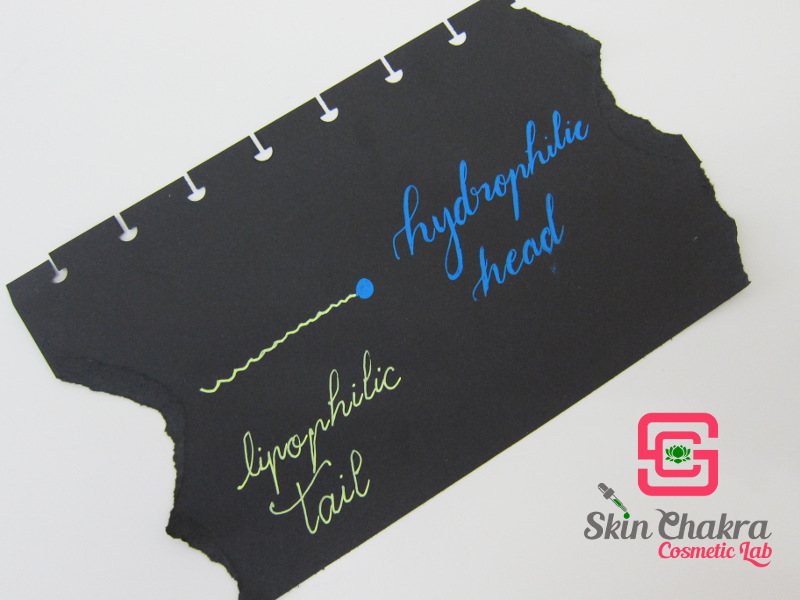 Now imagine we have a beaker of water and are adding a surfactant, little by little to the water.
The surfactant molecules prefer to stay on the surface of the water and at the interface between the water and glass. It means, if you could see individual molecules (or ants) you could see that many molecules are gathered on top of the water surface and have oriented themselves so that their hydrophilic heads are oriented towards the water whereas their hydrophobic tails is in the air and away from water. There are some molecules at the interface between the water and glass and they orient themselves in a way that their hydrophobic tails has as little contact with water as possible. And then only a few molecules are randomly dispersed in the beaker and in the bulk of the water.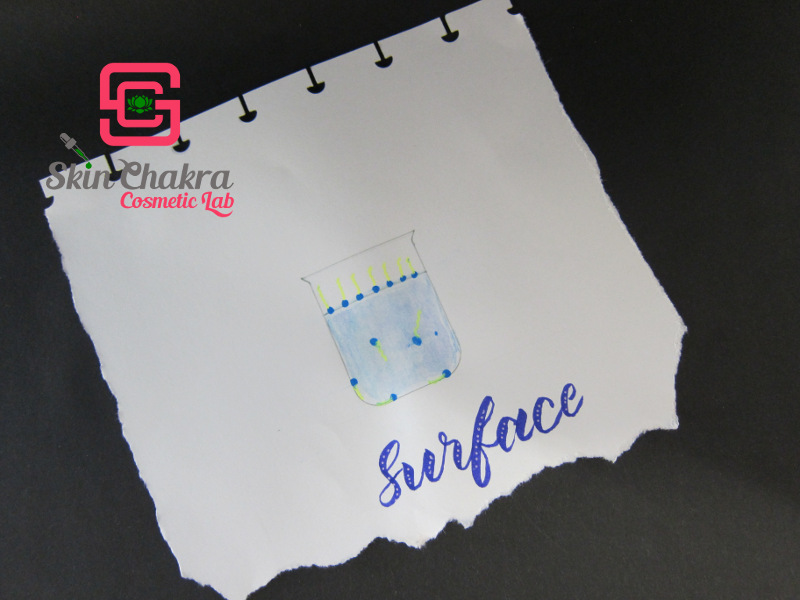 Now we add more surfactants to the water. The molecules continue to gather at the surface of the water and to the interface between the water and the glass until the surface is filled with molecules and there is no space anymore for any additional molecule to be added to the surface.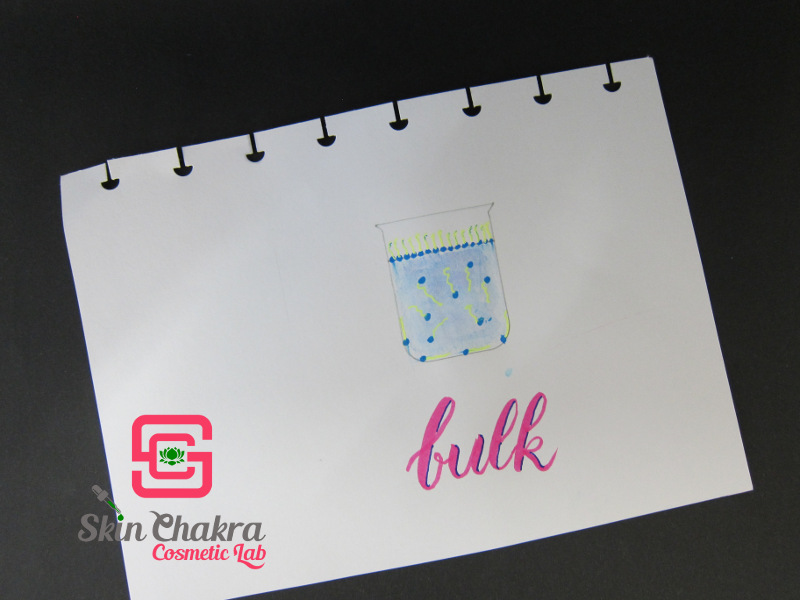 At this point, the molecules are forced to gather in the bulk of the water.
Imagine we add them molecule by molecule and they are oriented randomly in the water till their concentration reaches a certain limit. At this point, they start to assemble in a geometric pattern which is called micelle. The micelle is an assembly of surfactant molecules where they can shield their hydrophobic tails away from water (the hydrophilic head is oriented towards water and the hydrophobic tail is oriented towards the center of the sphere where the contact with water is at minimum). This certain concentration, where the micelles start to form is a physical characteristics of each surfactant and is measurable with certain instruments and is called critical micelle concentration or CMC.
(CMC is almost useless to us formulators, I just mentioned it for your general information and in case you stumble upon a book or article that mentions it. The CMC is at a very low concentration, much lower concentrations that we usually work with and you can be sure that even when you add a surfactant at 0,1% concentration to water, its concentration is above CMC and it forms micelles)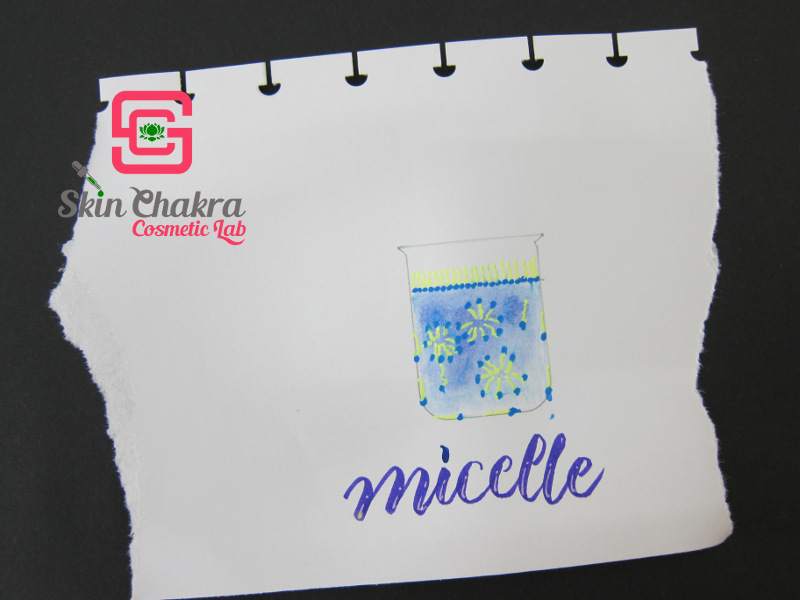 Surfactant structures and categories
There are two features that all surfactants have in common:
1- They reduce the surface tension of water
2- Consisting of a long hydrophobic chain and a tiny hydrophilic head
Now depending on the nature of the hydrophilic head surfactants are further categorized to:
anionic
cationic
nonionic
Zweitterionic or amphoteric
No matter how different the structure of a series of surfactants, those falling into the same category have almost similar properties and hence similar applications.
Anionics:
In this group of surfactant, the hydrophilic head of the surfactant carries a negative charge. Since in the real world there is no negative charge without a positive counter part and vice versa (electroneutrality principle), anionic surfactants usually are accompanied by a small cation: Sodium, Potassium, Magnesium and sometimes even aluminium. This is reflected in the INCI name of the surfactant: Sodium cocoyl isethionate for instance.
Anionics are certainly the largest and the most widely used surfactants. We'll come to their characteristics, applications and examples of surfactants that are accepted in "natural" and "organic" formulations and those that are not in part II of this post.
Cationics:
Obviously, cationics are the opposite of anionics. It means the hydrophilic part of the molecule contains a positive charge (most often ammonium derivatives) which is balanced with an anion (Chloride, Bromide).
This class of surfactants has a very limited range of applications (follow in part II).
Nonionics:
As the name reveals, this group of surfactants doesn't carry any charge at all and is totally neutral. The hydrophilic character is induced by polar functional groups (sugar based surfactants are the most prominent examples of this group). Nonionics, are among the most widely use surfactants next to anionics. We'll come to details in part II.
Zwitterionics or amphoterics:
In this group of surfactants, the hydrophilic part of the molecule carries both a negative and a positive charge. Usually the balance between the two charges is pH dependant and by varying the pH we move from anionic to cationic properties.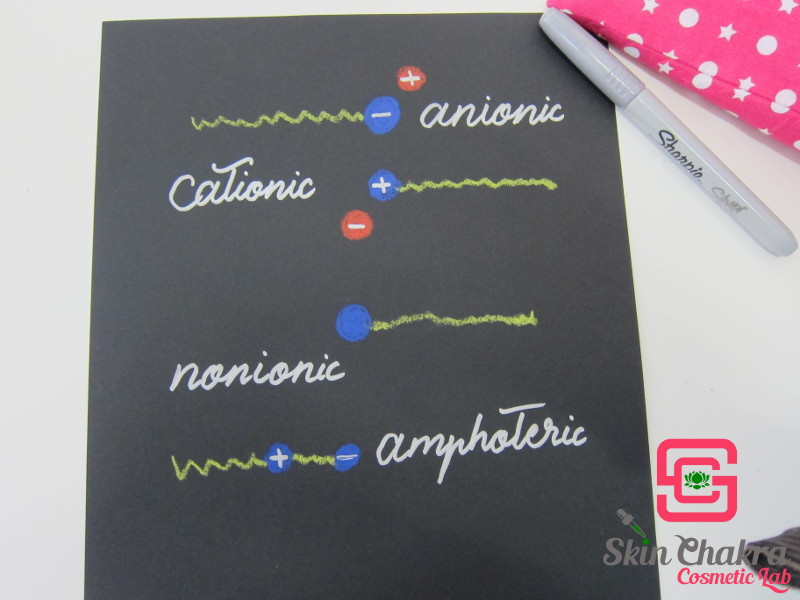 Follow this discussion in part II in which we explain about the properties and applications of each group and give you some examples of surfactants from each group.
Comments
Display comments as (
Linear
| Threaded)
The author does not allow comments to this entry