Thursday, 26. July 2018
During this long and extremely hot summer, I got obsessed with everything minty and this minty shower cream is one of my personal favourites.
What you need to know about a shower cream
1-Shower cream is a hybrid of an emulsion and a shower gel. The aim is to clean the skin but not to strip it from its own lipids. This is a product suitable for people with sensitive and extremely dry skin and for those who shower up to several times a day.
2-Keep in mind that most conventional and mainstream "shower creams" are no creams at all. Most of them are an ordinary shower gel with an "opacifier", an ingredient that creates that opaque and creamy appearance just to imply the "feeling" that the product is nourishing and refatting. A real shower cream however, has the structure of an emulsion, although the fat content is much lower compared to an ordinary emulsion.
3- Your emulsifier should be capable of handling a low fat content and a medium to high concentration of surfactants. Not all emulsifiers can do this.
4- Since electrolytes tend to destabilize O/W emulsions, you're confined to using surfactants with a low salt content.
5- Fat and foam do not associate. This means your shower cream will not foam like a shower gel.
Disclaimer: I usually do not use hydrosols in a hot process but for this shower cream I used peppermint hydrosol as my whole water phase which was heated to 70 oC. By heating, you'll loose most of therapeutic properties and volatile material from the hydrosol but I just wanted to have as much mint as possible. Feel free to swap the hydrosol with plain deionized water.
Now that you're familiar with the basics of a shower cream let's jump to the formulation and procedure.
Formulation:
| | |
| --- | --- |
| Phase A | |
| Peppermint hydrosol | to 100,0% |
| Plantasens HE20 | 7,0% |
| Phase B | |
| Babassu oil | 3,0% |
| Glyceryl capryalate | 0,3% |
| Jojoba oil | 2,0% |
| Phase C | |
| Glycerin | 4,0% |
| Solagum AX | 0,3% |
| Sclerotium | 0,1% |
| Phase D | |
| Natural tocopherols | 0,5% |
| Rosemary CO2 extract | 0,1% |
| Antimicrobial plant extract | 0,1% |
| Evening primrose CO2 extract | 1,0% |
| Fenugreek CO2 extract | 1,0% |
| Phase E | |
| Coco glucoside | 18,0% |
| Decyl glucoside | 9,0% |
| Coco glucoside, glyceeryl oleate | 2,0% |
| Natural chelator PA-3 | 0,1% |
| Sodium lactate | 2,0% |
| Aloe powder | 1,0% |
| Phase F | |
| Versatile preservative TBG | 0,8% |
| Preservative 1388 eco | 2,5% |
| Lactic acid 80,0% | to adjust the pH |
| Peppermint essential oil | 0,5% |
| Litsea cubeba essential oil | 0,5% |
Procedure:
1- Weight phases A-E in separate beakers. Here you see phases A, B, C and E. For phase E a magnetic stirrer would be very helpful but not necessary. You need to dissolve aloe powder in the surfactant phase but this happens easily and without any complication.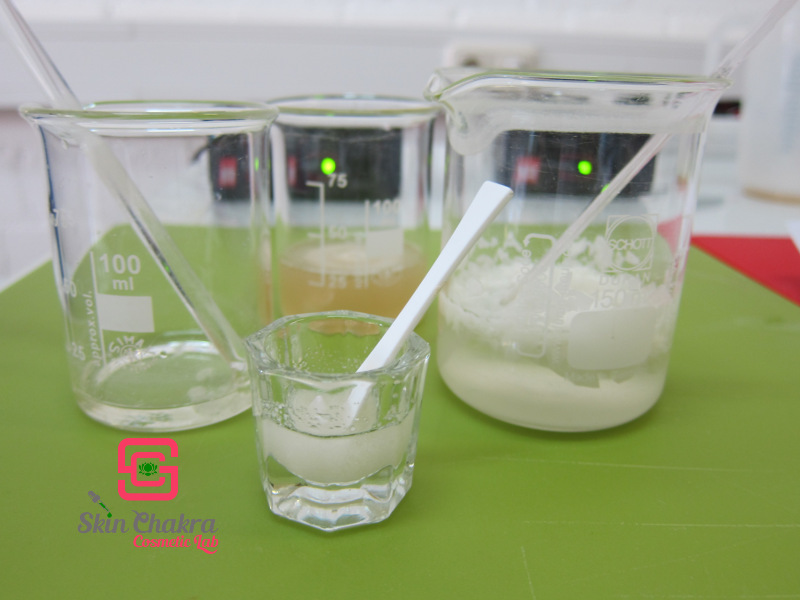 2- Heat phase A and B in a water bath at around 70 oC. The emulsifier is in the water bath. It does not dissolve but melts to a uniform milk. The oil phase does not need much heating (it might even be completely liquid in summer) but still you'll need a hot oil phase.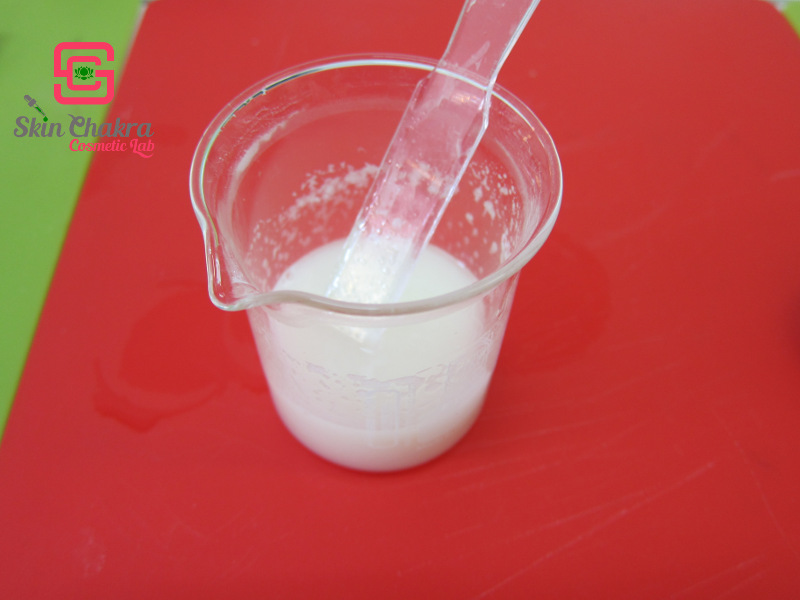 3- After the emulsifier is melted to a uniform milk stop heating and slowly add the oil phase to the water phase while blending the water phase. An emulsion forms (above photo)
4- Homogenize for a few minutes and start cooling down and stirring.
5- First add the gum-glycerine blend to the emulsion. You can do it as the emulsion is still hot.
6- As the temperature reaches around 40 add the cold oil phase (phase D) and continue stirring.
7- After the emulsion is compeltely cold (room temperature) slowly add the surfactant phase to the emulsion. An overhead stirrer at a very low setting is very helpful but not necessary. You don't need a stick blender at this stage because it creates too much foam.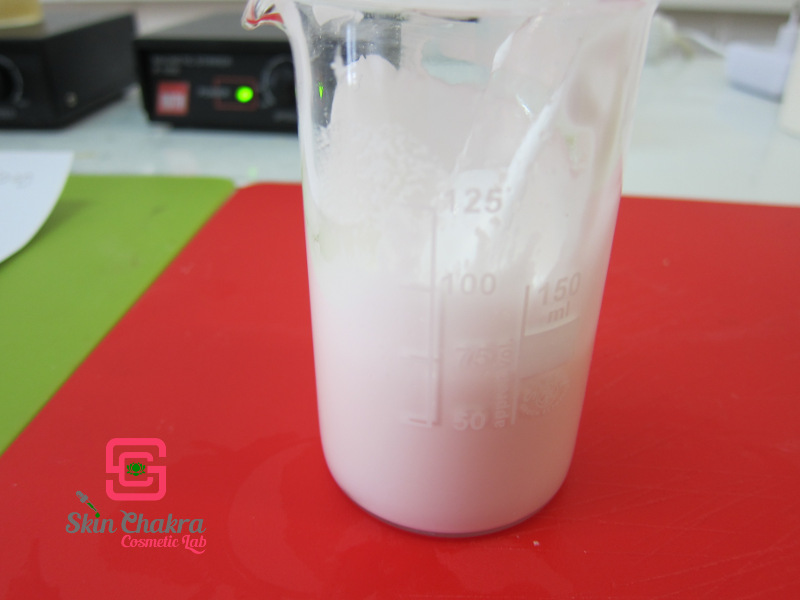 8- The pH of the shower cream must be suitable for adding the preservative (measure it for yourself if you don't belive me

). Prepare a 10% dilution in distilled water and measure the pH. In our case, it was 7,5. This means you can add the preservative (Preservative 1388 eco and versatile preservative TBG)
9- After blending the preservative remeasure the pH (make a 10% dilution again). In our case it was 6,7. We know that our preservative blend works best in a pH range between 5,2-5,5 and this is a suitable pH range for a shower cream as well. We added about 0,2% lactic acid to bring the pH to 5,3. Add the lactic acid gradually and in small aliquotes. Prepare a 10% dilution each time for pH measurement.
10- When you are happy with the pH add the essential oils and blend them completely.
11- Take your stability and micro kit samples and fill the rest in a suitable bottle.
12- Enjoy the refreshing and pampering feel of the shower cream.
BeHappy and have fun
Comments
Display comments as (
Linear
| Threaded)
The author does not allow comments to this entry