Thursday, 24. January 2019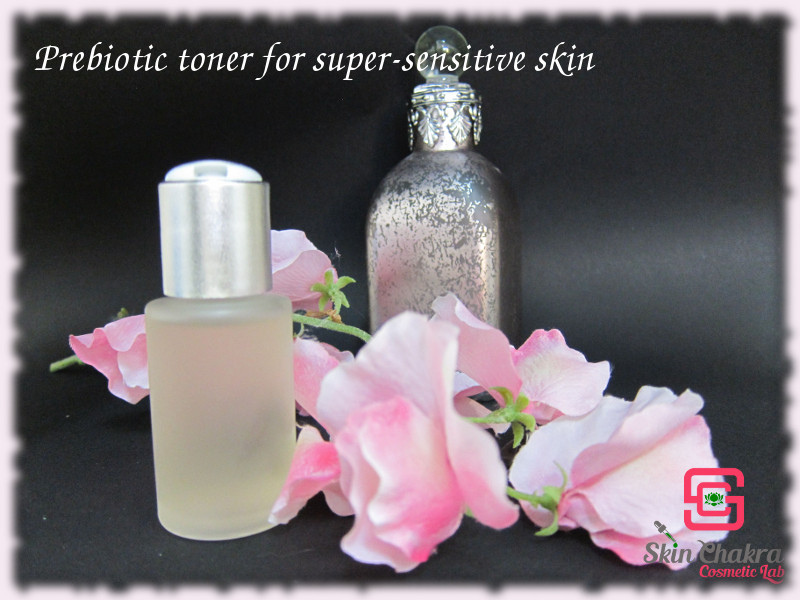 The original recipe for this blog post was submitted by Juliette, one of our lovely customers in France. Apparently she has a super sensitive facial skin and reacts to almost everything. She has made herself this skin toner and since she is very satisfied with its papmpering and soothing properties after a few months of application she asked us to share this recipe with those of you with a sensitive skin or those of you who want to formulate for a sensitive skin.
A couple of points before we start:
1- This isn't a KISS formulation. It has many ingredients and several steps of preparation. Even if this is too much of a hassle for you and you don't have the intention of purchasing all the ingredients or making such a complex formulation, the recipe and the instruction and the explanations below might be of a high pedagogic value for you. Read the instruction to see why we have used any ingredient even if you don't want to make this product.
2- This toner contains a skin prebiotic. Prebiotics (which are not to be confused with probiotics) support skin's own microbiome and help the skin regulate the population of the microorganisms as it needs them.
I have been researching about skin microbiome, prebiotics and probiotics during the last one and a half year, have attended several conferences and workshops and am going to share what I've learned with you in an upcoming post. Probiotics and prebiotics are a very hot subject in health and in skin care at the moment (unfortunately too much blurb most of the time) but if you don't want to purchase any new ingredient or don't feel confident to step into this wild and (unfortunately) not yet regulated skincare branch, leave that out. The toner is still extremely helpful and effective even without the prebiotic ingredient.
3- Juliette has used Spectrastat G2-N as her preservative system. This is a lipophilic preservative and should be incorporated with a solubilizer. This is why we've blended it with the essential oils in the solubilizer phase. Spectrastat G2-N is among a few "natural" preservatives that has a performance independent of the pH value. However, and specially for a sensitive skin, I wouldn't go to a pH lower than 5.
Apart from that, Spectrastat G2-N is incompatible with iron. This means that you have to check the compatibility of this preservative in your system when you are using various plant extracts. We know by experience for example, that it is not compatible with aloe and this is why she hasn't used any aloe in this formulation.
You may decide to leave this preservative and go ahead with water soluble preservatives soluble for water based products such as our preservative 1388 eco and versatile preservative BL. That is abolutely alright, you only need to consider the pH dependency of these preservatives when you're working with them.
4- Natural active decalact sebum is used here to regulate sebum production. This means even if you don't have a greasy skin (or a greasy T-zone), or your face is not suffering under acne your skin will love the sebum regulation properties of this ingredient. This ingredient is lipophilic as well and needs a solubilizer. Apart from that, when applying this ingredient in a water containing formulation, you may need to add sodium citrate to the system to avoid a pH drift and a destabilization.
5- Solubilizers are basically annoying ingredients, but they are necessary when you're incorporating lipophilic ingredients such as essential oils in a water based product. All solubilizers are surfactants and they foam more or less. Foam might be quite desirable in a shower gel or a hair shampoo but not in a facial toner or serum. Here we have had to use the solubilizer to incorporate the essential oil, decalact sebum and the preservative. If you have a chronic dislike of solubilizers then use only the water soluble ingredients and the water soluble preservative system and forget about the solubilizer (we have a high performance prebiotic hydrogel serum in the pipeline for you) but if you want to use any of these lipophilic ingredients (essential oils, the preservative or decalact sebum) then you'll need the annoying solubilizer (the toner smells divine because of the hydrosols, helichrysum essential oil is used for its soothing and anti-flammatory properties). Here some tips for you how to take control of the foam and do not compromise performance or sensory effects:
1- Adding a plant based glycol (we add pentylene glycol) helps reduce the solubilizer concentration and hence reduction of the foam
2- Applying the product with a cotton pad from a disc-cap or screw cap bottle is much more pleasant that applying the product from a spray pump.
Now if you're stay with me and I have not lost you between the above paragraphs please follow me for the tutorial.
Ingredients:
| | |
| --- | --- |
| Phase A | |
| Organic helichrysum water | to 100,0% |
| Organic neroli water | 25,0% |
| Organic cornflower water | 20.0% |
| Sodium PCA | 2.0% |
| Sodium lactate | 2.0% |
| Skin prebiotic | 3,0% |
| Plant based pentylene glycol | 4,0% |
| Vegeluron | 1,0% |
| Renoumer (algae extract) | 1,0% |
| Allantoin | 0,2% |
| Natural chelator PA-3 | 0,1% |
| Phase B | |
| Hyaluron low molecular weight | 0,1% |
| Hyaluron oligo | 0,1% |
| Hyaluron high molecular weight | 0,1% |
| Phase C | |
| Solubilizer clear+ | 3,5% |
| Natural active decalact sebum | 2,0% |
| Spectrastat G2-N | 0,7% |
| Organic helichrysum oil | 0,2% |
| Phase D | |
| Sodium citrate | 0,5% |
| 80% lactic acid | to adjust the pH |
Procedure:
1- Blend all of the ingredients of phase A in a beaker at room temperature. The powders easilly dissolve in the liquid.
2- Blend phase B in a small beaker. Add the hyaluron phase in small quantities to phase A and stir and blend completely before adding the next aliquote. An overhead or a magnetic stirrer would be very helpful but not quite necessary.
3- Blend phase C in a small beaker. Slowly and gradually add the solubilizer phase to A+B. Stir untill completely blended.
4- Add 0,5% sodium citrate to the solution and blend.
5- Prepare a 10% dilution of the product and measure the pH. In our case it was 5,7 and we added concentrated lactic acid to reduce the pH to 5,2.
6- Take your stability samples and fill the rest in a suitable bottle.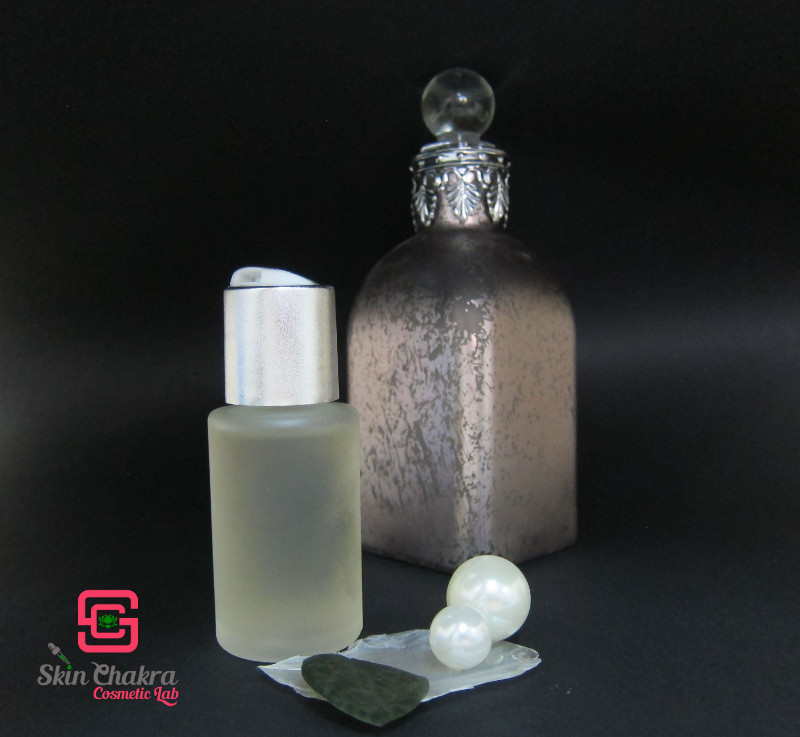 BeHappy and have fun
Comments
Display comments as (
Linear
| Threaded)
The author does not allow comments to this entry