Thursday, 20. June 2019
Fatty alcohols are the all-rounder of cosmetic formulations. They are emollients with a dry feel, they have an impact on the viscosity and they can work as co-emulsifier and emulsion stabilizer.
Some DIYers and formulation newbies even use them in butters and balms to reduce the stress of formulating a stable balm with oils and butters.
Fatty alcohols might be natural or synthetic. The natural ones have an even carbon number : C12, C14, C16 etc.
Natural fatty alcohols might have animal (tallow, whale oil) or plant origin although animal based fatty alcohols are not very common during the last decades.
Plant based fatty alcohols are derived from plant waxes (a wax is a CHEMICAL WEDDING between a fatty acid and a fatty alcohol).
Fatty alcohols are basically shown as R-OH with a hydrocarbon chain (R) attached to a hydroxyl group (OH).
Most common fatty alcohols in cosmetics include:
Palmityl alcohol (C14)
Cetyl alcohol (C16)
Stearyl alcohol (C18)
Cetearyl alcohol (which is a generic name for a variety of cetyl-stearyl alcohol)
Behenyl alcohol (C22)
Brassica alcohol (which is a blend of fatty alcohols derived from brassica (cabbage family) wax) (C16-C24)
plant based Behenyl and brassica alcohol are palm-free, the other four are generally palm-derived .
Fatty alcohols and the cosmetic industry
If you have a look at the label of mainstream products (both natural and conventional), you can hardly find an emulsion, cream cleanser or conditioner with no fatty alcohol.
Have you ever asked yourself why the industry loves fatty alcohols?
The main reasons are:
fatty alcohols are usually much more cheaper than many plant oil
at least the common ones are available in huge volumes
the batch to batch variation is almost non-existent compared to plant oils
they have a much longer shelf-life than plant oils and a better hydrolytic and oxidation stability compaed to plant oil and fatty esters
they have a dry skin feel compared to oils and butters
Creating a mainstream product in huge volumes with a long shelf-life based on only plant oils and esters is quite an unimaginable task. Adding fatty alcohols to the formulation not only improves the physical stability, it improves the oxidation stability and as a result the shelf-life of the product.
Well, in "natural" cosmetics we usually focus on our lovely plant oils and butters with pretty colours and nourishing unsaponifiables. The price is not that much important in the "natural" cosmetic community as for the mainstream conventional products. Consumers easily and eagerly pay a much higher product for a "natural" product once they are convinced that "natural" is as effective and much more healthy (or less harmful) than conventional products. And so you may ask:
why should I use fatty alcohols in my "natural" formulations?
The asnwer is (without any order of priority)
you improve the shelf-life of your product by adding fatty alcohols to your sensitive plant oils and butters
increasing the viscosity of the product (if you want the viscosity to be increased)
improving the texture of the product
improving the physical stability of the emulsion (this is extremely significant in an artisanal lab)
imparting a dry, powdery emolliency
improving the spreadability of the product
reducing the soapiness of some emulsifiers
Most "natural" emulsifiers have a kind of soapiness during application (with Olivem 1000 being the worst of them). Adding 2-3% of a fatty alcohol to the emulsion significantly reduces the soapiness of these emulsifiers.
To give you an example of the impact of fatty alcohols on the emulsion, I prepared 4 KISS formulations with Polyaquol-2W. The formulations are basically the same, I only swapped 2% of the oil with other additives.
The emulsions contain from left to right:
1- 20% Camelina oil
2- 18% camelina oil, 2% cetyl alcohol
3- 18% camelina oil, 2% brassica alcohol
4- 18% camelina oil, 2% berry wax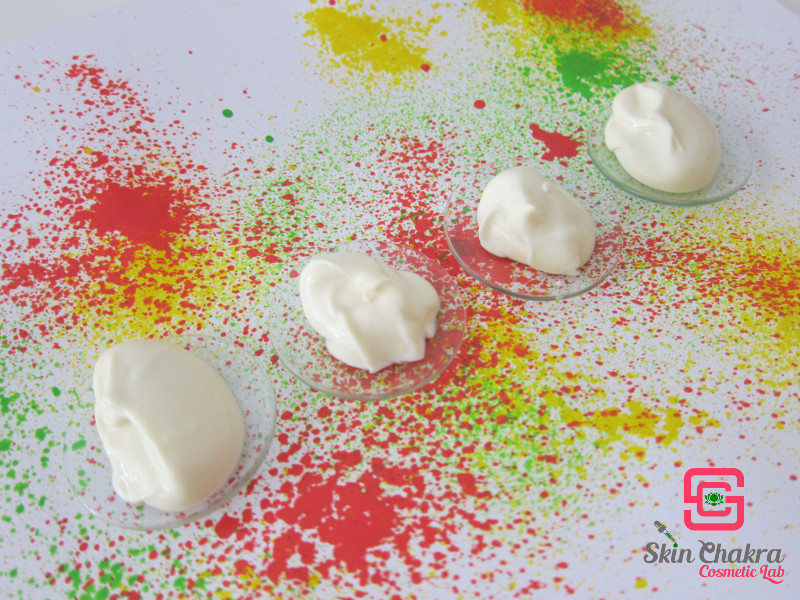 They are all quite nice and perfectly stable but:
adding fatty alcohols and berry wax increases the viscosity and improves the texture.
those with fatty alcohol are much less soapy compared to the first emulsion
spreadability is improved
those with fatty alcohol have a drier/powdery skin feel and a fluffy texture
the one with berry wax has a whipped cream texture
This might be hard to see on the photo but I encourage you to try this experiment using whatever emulsifier and fatty alcohols and waxes you have in your stash. The difference is mind-blowing, believe me.
Here is the difference in the viscosity of the four emulsions: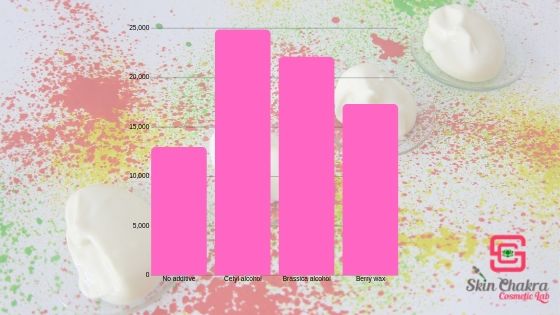 I hope I could awaken the researcher in you and have motivated you to run some experiments. If you do so, please don't forget to tag us on IG or FB when you upload your results.
One more thing:
Dr. Google and some internet-chemists and specialists generally claim: all alcohols are bad for your skin and have a drying and dehydrating effect on your skin. They ignorantly throw fatty alcohols into the same pot as ethanol (denatured alcohol) and recommend their followers to avoid any product with ANY alcohol in the ingredients' list. It is true that fatty alcohols have a dry emolliency compared to oils and butters but they don't have a "drying" effect on the skin.
BeHappy and have fun
Comments
Display comments as (
Linear
| Threaded)
The author does not allow comments to this entry