Thursday, 22. August 2019
Today's blog post is a guest post submitted by Vania Luz, one of our customers and readers. Vania is a chemist from Portugal who is working and living in Germany at the moment. Believe it or not, she worked her career as a chemist at the opposite end of the spectrum: pest control. After 9 years of working in pest control, she dropped the towel because her job was not in accordance with her ethos and her clean & sustainable lifestyle.
Vania is a skincare formulation student at the moment and prepares natural and sustainable products for herself and her family and friends. As a chemist and inspired by our blog posts, she took a very sytematic approach to study viscosity modifiers in emulsions. Her outstanding blog posts shows you how you can run similar comparative studies in an artisanal lab. You don't need any knick-knack mixers or shamelessly expensive viscometers or rheometers. Feel free to connect with Vania via her FB or IG account and enjoy reading this amazing blog post.
---
I'm Vânia, a natural skincare formulation student. I started my O/W emulsion module for about a month now. I was very happy with the results of my KISS emulsions but when I made more complex formulas, I was very disappointed with their rheology! Viscosity wasn't ok, texture wasn't ok, skin feel was more or less ok. Until now, I've never felt the bitterness of an emulsion separating but this feels pretty bitter to me, as well.
This is how I became obsessed about rheology. I don't mean going deeper on rheology studies, I mean it in an empiric way. And I found my answers on skinchakra´s blog. Skinchakra gave me a bigger picture about how to solve my rheology issues and then I started my own trials.
I bought myself Brassica alcohol, a palm free fatty alcohol (this is important for my shadow of natural and sustainable) and berry wax (inspired by skinchakra's trials). I've made a few KISS formulas varying the quantities of these rheology modifiers to see what results would they bring to me.
I've used only one oil, wheat germ oil (but it could be any oil of your choice), distilled water, Plantasens HE20 emulsifier and Xantham Gum. Then I varied Brassica Alcohol (from now on BA) and Berry Wax (from now on BW) to see the differences.
The below table summarizes my formulas:
Phase A
Phase B
Phase C
Phase D
No
Distilled water
Plantasens HE20
oil
BA
BW
Xanthan
glycerin
Preservative
1
to 100%
5,0%
25%
-
-
0,5%
5,0%
as needed
2
to 100%
5,0%
24%
1,0%
-
0,5%
5,0%
as needed
3
to 100%
5,0%
24%
-
1,0%
0,5%
5,0%
as needed
4
to 100%
5,0%
23%
2,0%
-
0,5%
5,0%
as needed
5
to 100%
5,0%
23%
-
2,0%
0,5%
5,0%
as needed
6
to 100%
5,0%
23%
1,0%
1,0%
0,5%
5,0%
as needed
Procedure for 30g batches:
Weigh phase A ingredients in a glass beaker and put it in a water bath at about 80ºC. This temperature works pretty well for me when it comes to melt the Plantasens HE20. I let it in the bath for 5 minutes without touching it.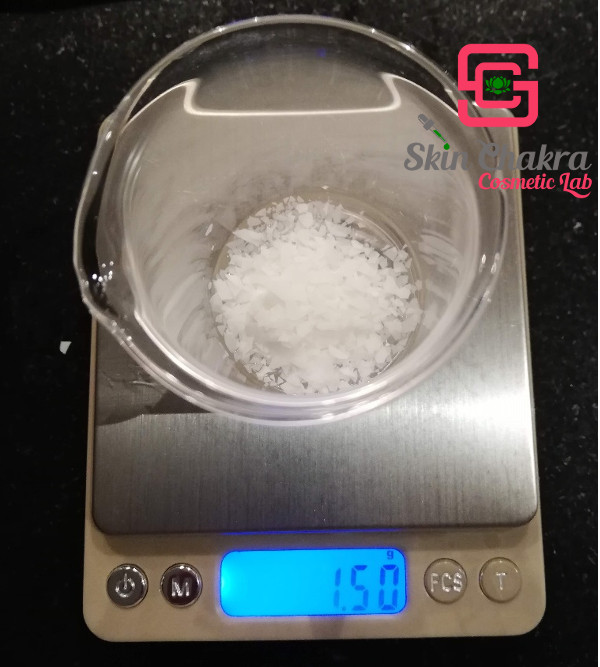 Then I blend the mixture with a handheld electric milk frother (I have other blenders and stirrers but they are too strong for small batches and everything goes out of the beaker!) for about 2 minutes, still inside the warm bath. I do this to guarantee a graininess free emulsion.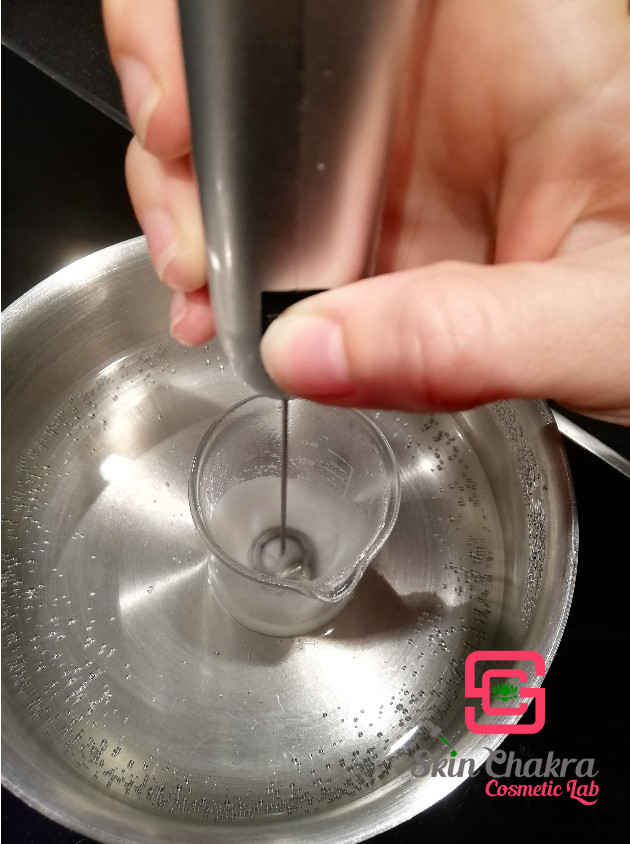 One I finished blending, the mixture looked like this, with a big foam layer. But it breaks down while stirring on the magnetic stirrer (I don't know how it goes when handstirring but I'm sure the foam will go away) while the emulsification occurs.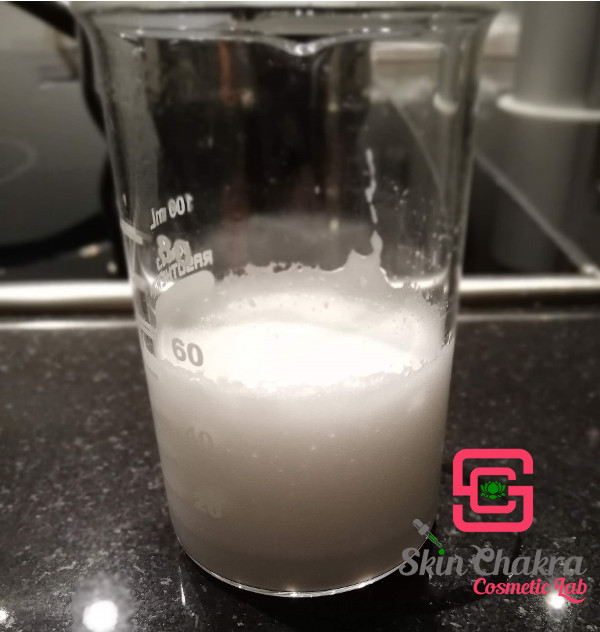 I didn't heat up phase B from formula nº 1, but of course I did heat up phase B from formulas 2 to 6 in order to melt BA or/and BW in the water bath. BW melts in about one minute, and BA melts in a little bit more. It's pretty fast.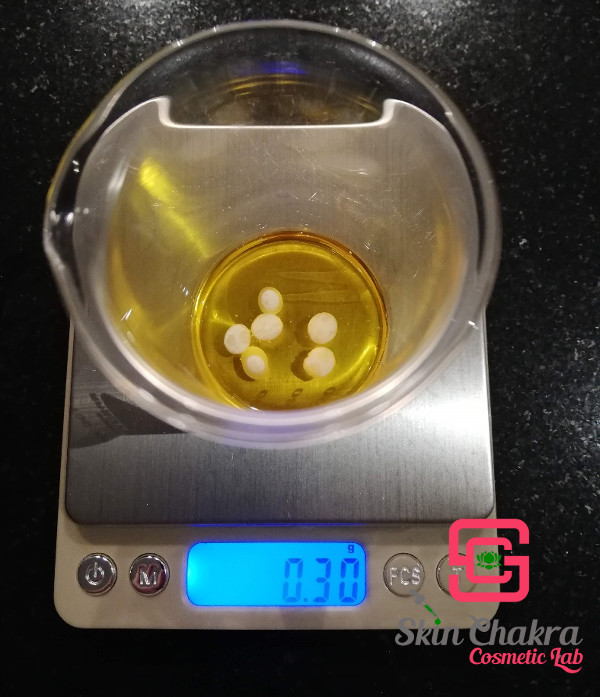 Phase C: Mix Xantham Gum and glycerine in a glass beaker and set aside to hydrate.

Phase D: When the emulsion temperature is bellow 40ºC measure pH, correct if necessary and add preservative. Mesure pH again and correct if necessary. All of these emulsions add a pH of 7. I added 3 drops of citric acid 50% dilution and came up with a pH of 5, which is good for me.
I've put phase A on the magnetic stirrer my husband offered me (I was so happy!) and, while stirring, I slowly added phase B. I let it stir at high rotations for 5 minutes, then added phase C to AB and let stir for another 3 minutes. Maybe 3 or 4 minutes and then another minute can be enough stirring. This works well for me and I like to be on the safe side.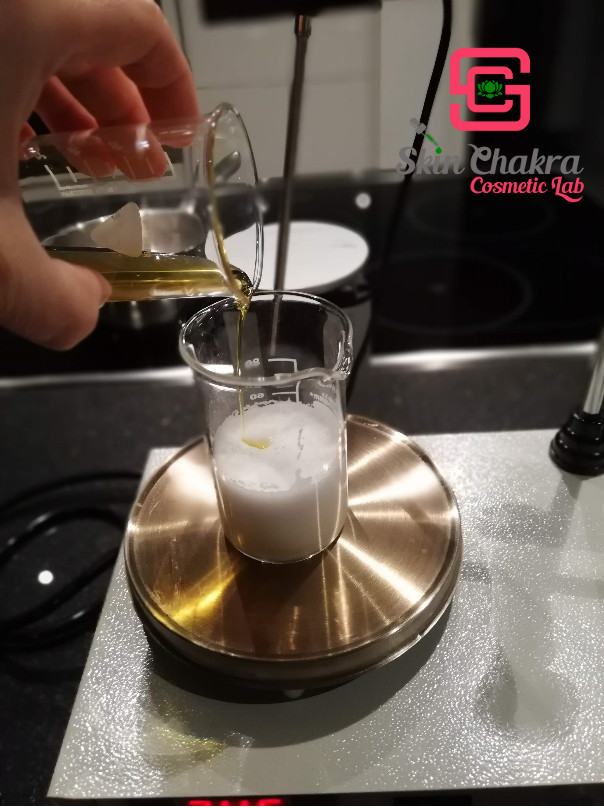 Lastly, I added phase D as described above. You can see how it went on these pictures: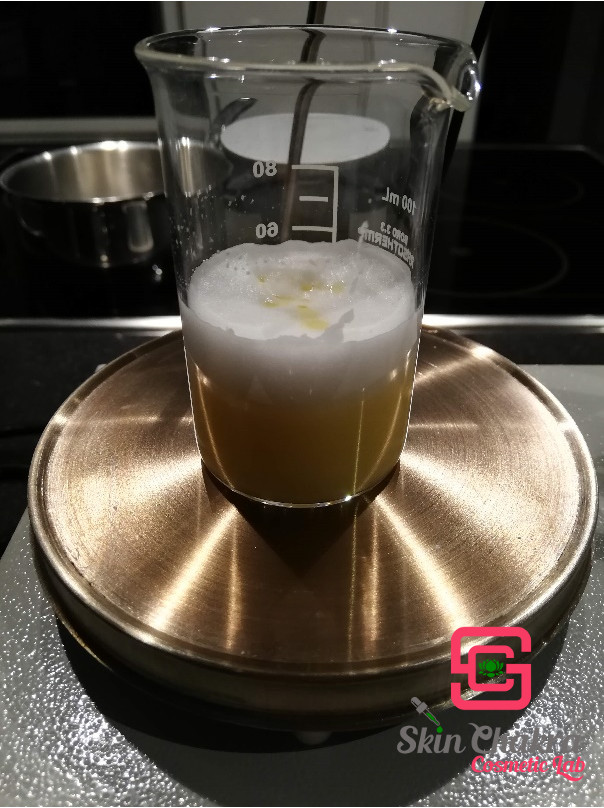 Now let's take a look at the results: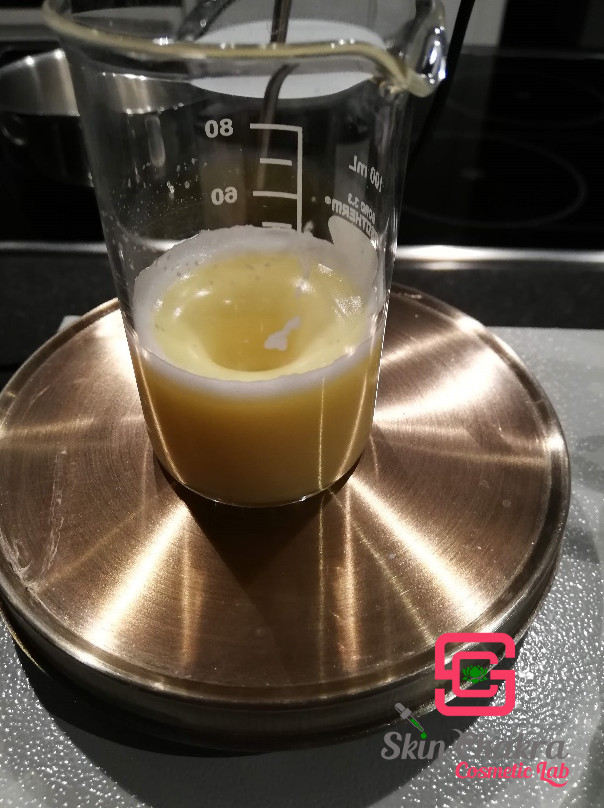 this picture is the basic formula with only xantham gum as a stabilizer.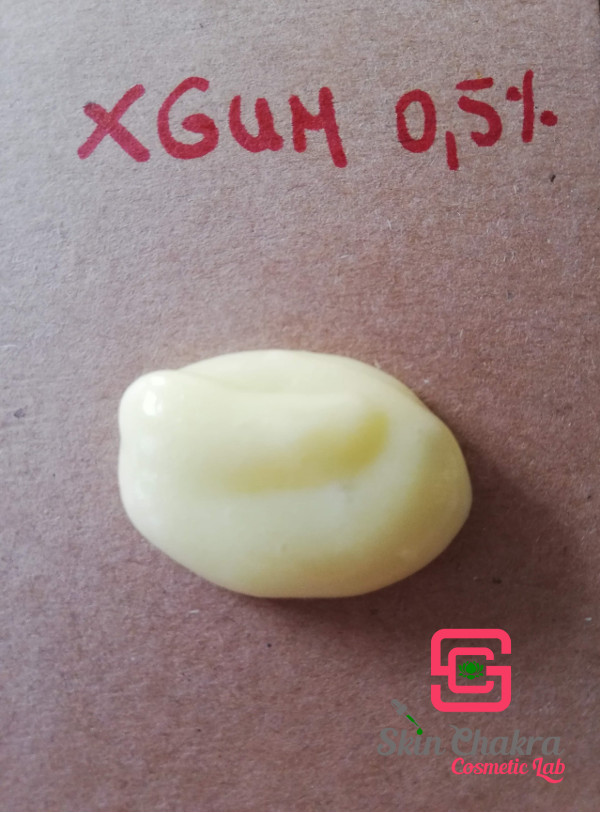 The following picture shows the differences between the basic xantham gum formula and the 2% BA formula. I don't know if it is clear on the pic but the BA formula has a more pallid yellow compared with the basic one. It is clearly (in my perception) more viscous, easier to spread, easily absorbed and prettier.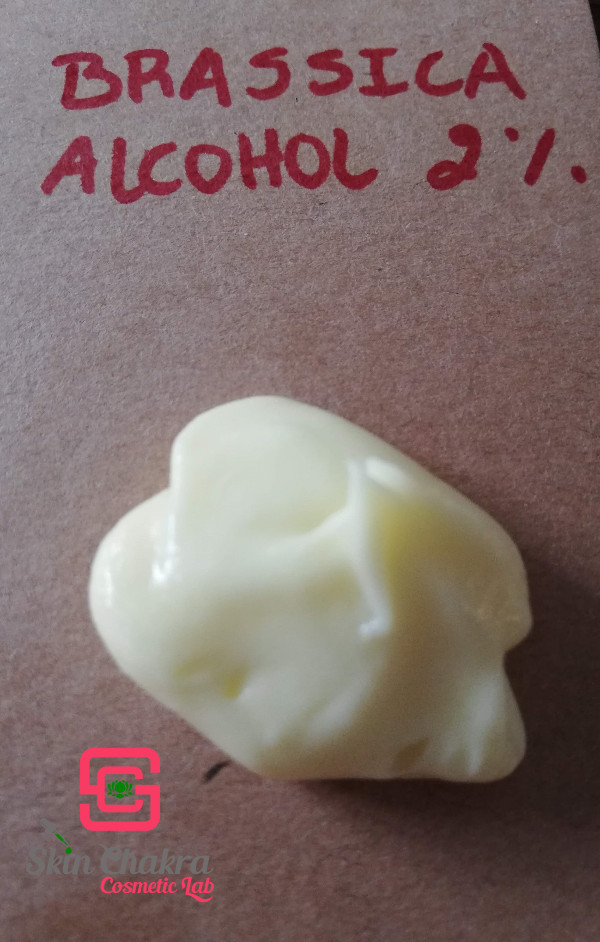 When I compare BA and BW formulas, my perception is that the BA formula has a higher viscosity then BW. On the other hand, the texture and the skin feel of the BW formula is better. The BW is absorbed more easily, has a drier skinfeel and makes less "soapiness" when rubbed on skin.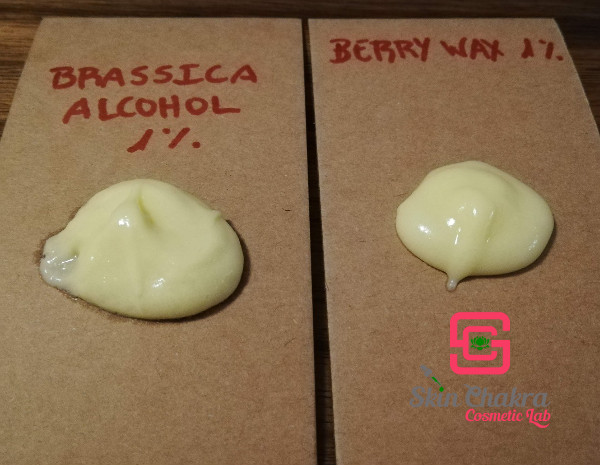 When I compare BW formulas 1 and 2%, the only empiric difference is the higher viscosity of BW 2%.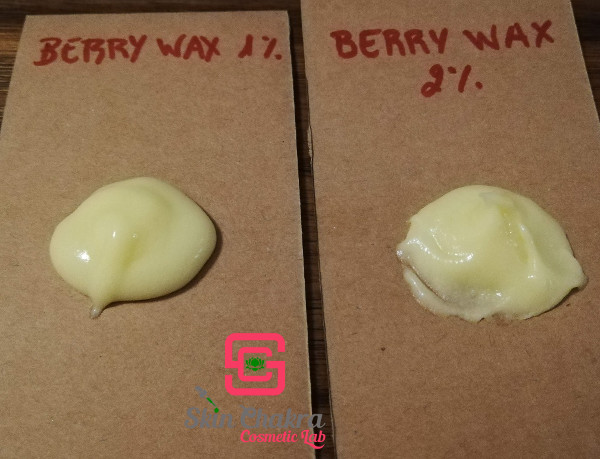 When I compare BA formulas 1 and 2%, the only empiric difference is the higher viscosity of BA 2%. It really has a "robust body".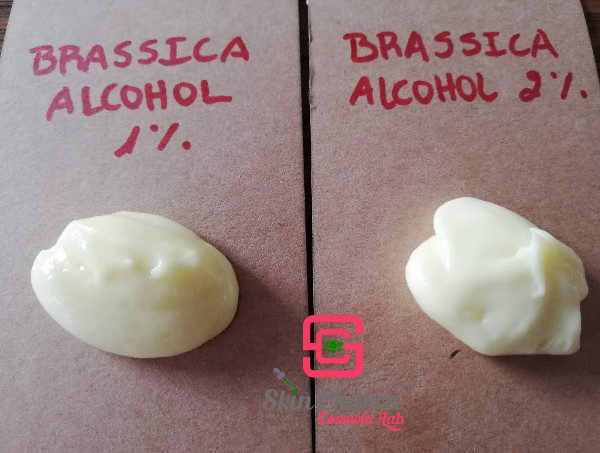 When I compare BA and BW formulas at 2%, it is quite clear that the BA has a higher viscosity. Still, the BW has a better texture, skinfeel, less soapiness and better spreadability.
I have to say that the differences in skinfeel are not that obvious! They all are great and the differences are subtle. And because I couldn't make my mind about my favourite, I decided to have the best of both BA and BW and I blended 1:1 and created the amazing emulsion that you can see in the bellow picture.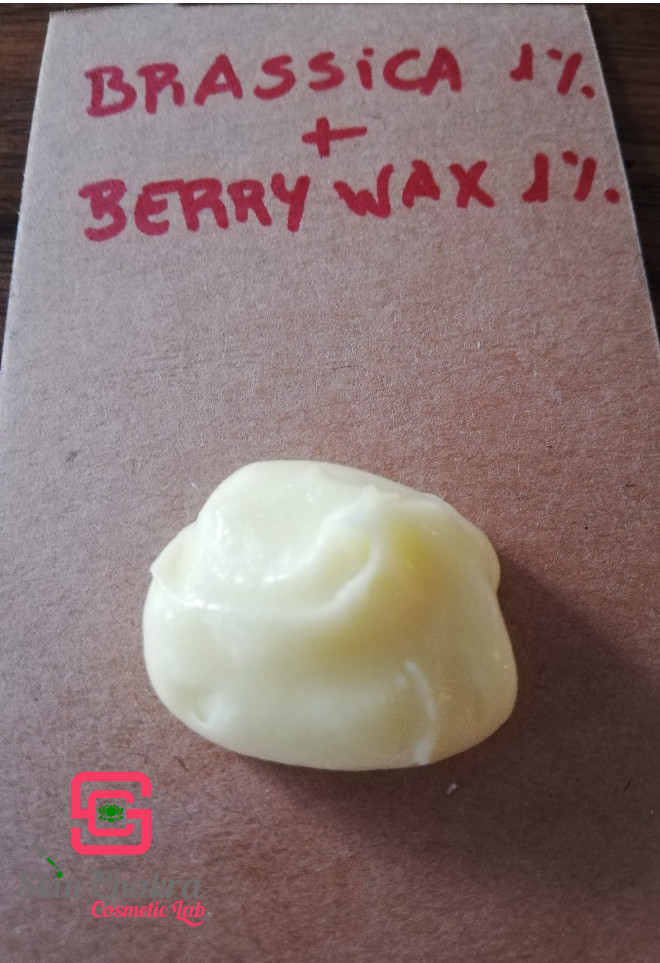 This last picture is an overview of all the samples. To me, they are all beautiful. But…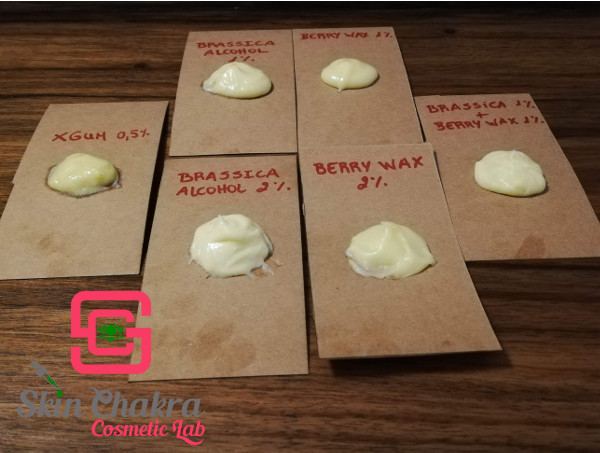 Conclusion:
If you want to increase your emulsions viscosity, Brassica Alcohol is the route to follow. For a good viscosity, I believe the BA 1% is enough but if you really aim to a robust emulsion try the 2% BA.
If it is texture, creaminess, that you are looking for, then try using Berry Wax. I love it! I think the BW 1% is good for a lotion and the 2% is good for a cream.
Or, if you can't make up your mind, like me, and you want the best of both worlds, try the 1BA:1BW. I believe it's a very good wedding going on in that blend.
Thank you for spending the time reading my experience and I hope I can bring something new to your formulation journey.
I will now try gum blends and more complex formulations with my new rheology modifiers.
Happy formulating!
Vânia
BeHappy and have fun
Comments
Display comments as (
Linear
| Threaded)
The author does not allow comments to this entry