Sunday, 22. December 2019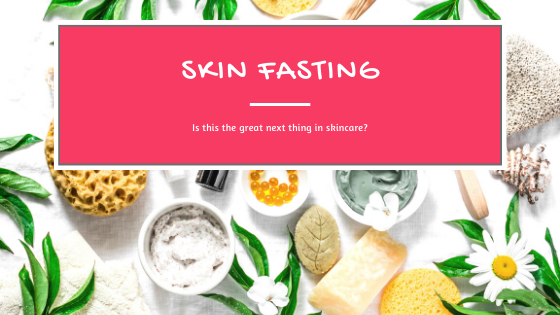 It seems that "skin fasting" is the next big thing in skin care for the coming years and several bloggers and influencers are testing this big hype and sharing their experiences on the net.
Apparently the original idea (like many other skin care trends) comes from Asia, to be exact from Japan and quite to everybody's astonishment from a skin care company (what the hell does that mean? A company who produces and sells skin care products advocates skin fasting!!!)
Anyway Mirai clinical products that is the pioneer of this idea claims that they have studied the skin's regeneration and have proof that skin fasting improves the skin's condition and detoxifies skin impurities.
There is no fix protocol or definition for skin fasting but I'm sure somebody with a brilliant business brain will soon register and market something like a program/protocol for it. At the moment, it seems that it could be as easy as: "going to bed without any moisturizer for one night per week" or as extensive as: "only applying water to your skin for 3-4 days"
I honestly can not imagine that only applying water to the skin can rescue the skin and do it any good unless the products that one is usually using are quite horrible (and knowing which crap they are selling on the mainstream market and even on the prestigeous conventional market) it is not quite far from reality.
Unfortunately and in contrast to "intermittent fasting" in the nutrition, there are no real scientific studies to prove the effect of skin fasting and its impact on "autophagy". Just to remind you that most research in the world is sponsored by the industry and I doubt that "Evonik", "L'Oreal", "BASF" or "Beiersdorf" or any other player in the comsetic industry would sponsor such research.
I find however, that our skin care routine has become extremely complicated and overwhelming during the last decades and it does good to simplify that routine, if not permanently, at least every once in a while. Just have a look at the product we are using over our face within 24 hours (you may drop some fo them and do not use all of them everyday but this is where the industry has lead us so far):
1- Skin cleanser
2- Toner
3- Serum
4- Moisturizer/day cream
5- Primer
6- Foundation
7- Rouge, lipstick, lip liner, eye liner, mascara, brow liner, concealer and co
8- Sunscreen
9- Skin cleanser
10- Toner
11- Night serum, under eye serum and night moisturizer
Did I miss anything?
Holy mother of god. That is a lot and we have not even mentioned body care or hair care products we use.
Even if you are making the most amazing and the most natural products on the plante (which you certainly are if you are using SkinChakra's ingredients and know-how) just make a rough calculation about the number of single ingredients we are exposed to every day.
Knowing that our skin does not only belong to us (millions of microorganisms have colonialized our skin) think about the stress (and horror) they experience each time they are exposed to a cocktail of ingredients.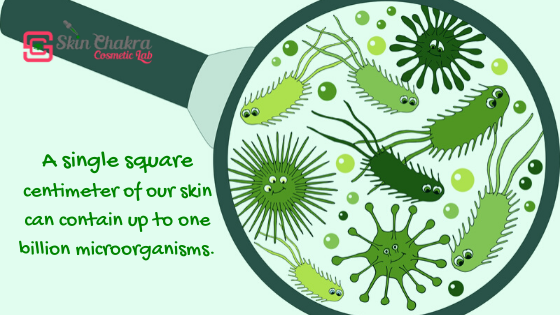 It is now certain that all skin disorders (both pathogenic and non-pathogenic) are related to a dysbiosis of skin microbiome. Does this surprise you that by applying more ingredients (even the most natural and the safest ones) we're kicking those poor creatures out of balance?
I'm not advocating flushing all of your skin care products through the loo or throwing them to the garbage bin (holy bear, that would be the end of our business) and trend or not trend, I'm not going to apply pure only water to my face and body even for one single day. BUT and there is a big BUT here:
I truely belive in a "less is more" philosophy and think if we can simplify our formulations or make Xin1 products to eliminate a few products (and a dozens of ingredients) per day, that would not only improve our busy lifestyle (and help our purses, I mean the purse of the consumer) but hugely help those creatures that are living on and in our skin and we thank them our health and the integrity of our skin.
Don't panic. I still believe there is enough for all of us there and we can continue our business as long as we stay loyal to our ethos and offer excellent quality ingredients and products.
It is very daring (and often very difficult) to bring a product to the market with only a few ingredients. How can we ask the price we think the product is worth if there are only 1,2 or three ingredients on the label?
If you have not yet heard of the minimalist approach to skin care let me give you some examples. This doesn't mean that you shall discard all of your amazing products and existing formulation. It is just to give you some ideas and inspirations for your next projects.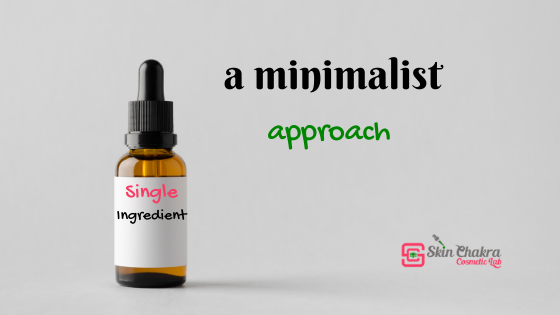 Mirai clinical products (the same company initiating the skin fasting concept) has a single-ingredient product calles "sugar oil" which consists of only and only squalane.
The Now Food company which is originally a food supplement supplier has a few single-ingredient or double-ingredient skincare prodcts: this are as simple as a clay powder, pure almond oil or a jojoba-cocoa butter.
100% pure has a single-ingredient product: organic rose hydrosol (now this one is not daring, it's crazy to sell an unpreserved hydrosol)
Trilogy: rosehip oil
Drunk elephant: marula oil (soon available by us)
Briogeo: Castor oil (this one is very daring. Castor oil has a very sticky and heavy skin feel on its own)
The ordinary: squalane
Grown alchemist: rosehip oil
Shea moisture: baobab oil
RMS Beauty: coconut cream
L'Occitane: shea butter
All these companies dare pack single ingredient in a container (not always the most pretty or fanciful container) and sell it for a fat price. I'm not telling that all of us shall run after the craze but just thinking about going back to basic and adapting a minimalist approach to our formulations.
May all your products remain safe, stable and effective
BeHappy and have fun
Comments
Display comments as (
Linear
| Threaded)
The author does not allow comments to this entry