Thursday, 9. July 2020
There is one single skincare product nobody shall ever neglect (besides cleansing products) and that is a good toner.
Toner does not have a definite and fixed formulation and the formulations, packaging and properties are quite variable. A good toner can fulfil several skin requirements such as:
readjusting the pH of the skin after skin cleansing (this is specifically necessary when using the good old alkaline soap for skin cleansing)
reducing the negative impact of surfactants (specially those horrible synthetic and pEG-based surfactants) on skin
moisturizing the skin and keeping it hydrated
reducing the pore size
reducing inflammation
revitalizing the skin
improving the mood
The list goes on and the possibilities are unlimited. A good toner can even partially replace a day cream. This is specially important for greasy skin as well as hot and humid climate. During hot summer days (as rare as they might be), nobody has the inclination to apply a heavy and rich day cream or makeup and a well formulated toner shall be able to keep the skin hydrated and vivid for at least a few hours.
Having said all that, I decided to share an easy and basic facial toner with you. I kept the formulation simple and even avoided any essential oil (both to avoid any solubilizer and to keep this formulation suitable for sensitive and hypersensitive skin).
I am using the skin prebiotic to help rebalance the skin microbiome. Apart from that I'm using 3 different molecular weight ranges of hyaluron (this is why you can call this toner pre and postbiotic) to make the best of their hydration and anti-aging properties. The rest is quite easy (except for the dispersion of hyaluron in the water phase) which could become a headache if you don't carefully do this.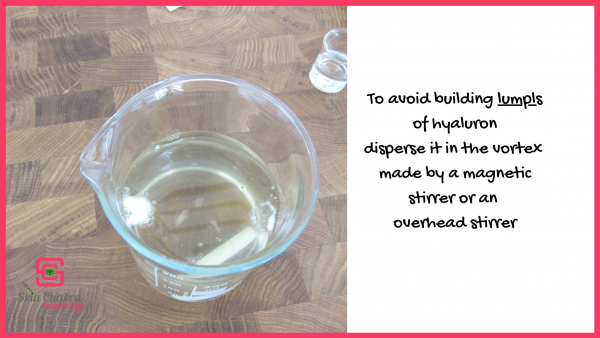 The procedure is easy and straightforward. A magnetic stirrer or an overhead stirrer makes the production much easier but you certainly can make small batches without any of them.
I'm using bamboo hydrosol here for its outstanding moisturizing properties. You can use any other hydrosol or hydrosol blend.
About pH adjustment
I know by experience that since our hydrosols are preserved with citric acid/potassium sorbate, the pH of the final blend will be lower than 5. I know that my preservative blend will slightly increase the pH but the pH of the blend will be too low for adding the preservative and I have to slightly increase it before adding the preservative, otherwise my preservative will sediment and become deactivated.
I could have added some arginine from the very beginning to the water phase but since the viscosity is low and the product is very watery, I can add arginin at the end and before adding the preservative. Either way works.
Now to the formulation and procedure
Formulation:
| | |
| --- | --- |
| Phase A | |
| Bamboo hydrosol | to 100,0% |
| Vegeluron | 3,0% |
| Ronacare renoumer | 5,0% |
| Panthenol | 1,0% |
| Natural chelator PA-3 | 0,1% |
| Phase B | |
| Aloe powder | 1,0% |
| Allantoin | 0,1% |
| Skin prebiotic | 3,0% |
| Phase C | |
| Hyaluron high MW | 0,1% |
| Hyaluron low MW | 0,1% |
| Hyaluron oligo | 0,1% |
| Phase D | |
| Arginine | ca 0,1% |
| Preservative 1388 eco | 3,0% |
| Versatil preservative BL | 0,5% |
Procedure:
1- Blend phase A,B, C in separate containers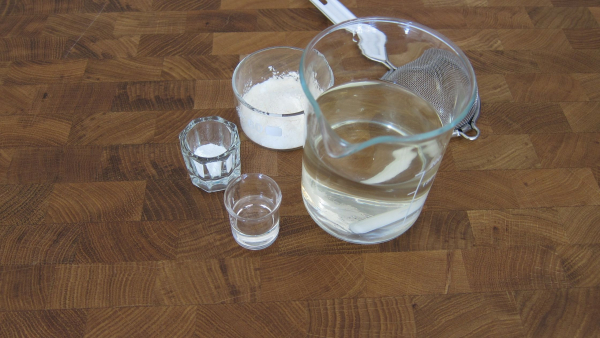 2- Gradually add phase B to phase A while stirring. Using a powder sieve helps avoid lumping the powder.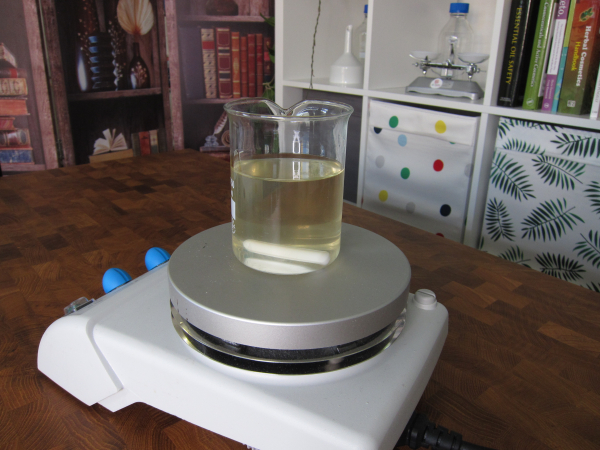 3- When all of the powder phase (B) is dissolved in the hydrosol phase add the hyaluron phase gradually using the same powder sieve.
4- When all of the hyaluron phase is dispersed uniformly prepare a 10% dilution of the product in distilled water and measure the pH.
In our case, it was 4,76 and this is too low for adding the preservative.
5- I have used 0,1% arginine and added it directly to the toner. At this concentration and by this viscosity it easily dissolves.
6- Make another dilution and remeasure the pH. In our case it was 5,00 and that was suitable for adding this preservative blend.
7- Add the preservatives. Blend and prepare another 10% dilution and neasure the pH again. In our case, it was 5,38 which is perfectly in range.
8- Take your stability and micro kit samples and fill the rest in suitable containers.
You can watch this short video tutorial for more help.
BeHappy and stay safe
Comments
Display comments as (
Linear
| Threaded)
The author does not allow comments to this entry