Thursday, 28. January 2021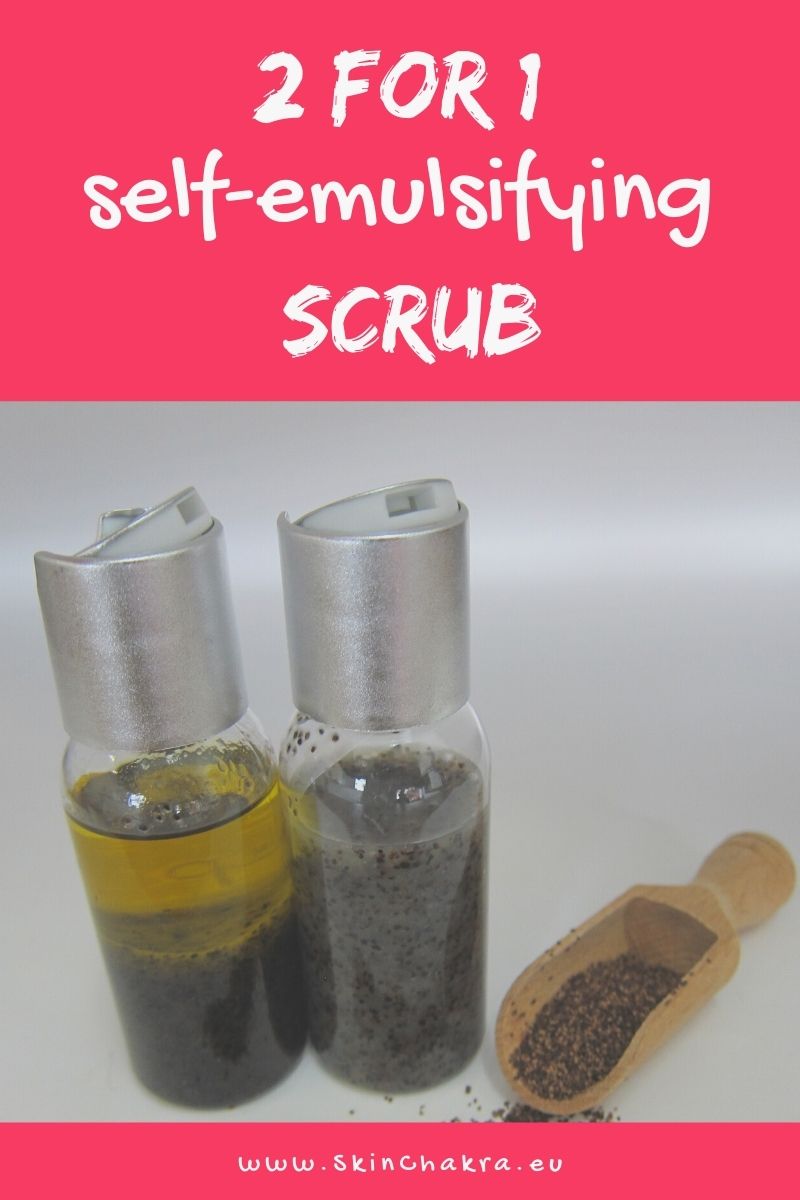 Today's post is like watching 2 movies with 1 ticket and we are going to show you make two different products with exactly the same ingredients and only a small difference in composition.
Oil-to-milk and gel-to-milk cleansers are extremely popular these last few years because:
1- The do not contain any water (this is both an advantage for the consumer and for the environment)
2- Since they do not contain any water, there is no need to measure and adjust the pH (what a relief for the formulator)
3-Since they do not contain any water, there is no need to add any preservative or to run detailed and intensive microbial challenge testing (a huge relife for the formulator, for the budget and for the consumer)
4- They are rather easy to make even in an artisanal lab
5- They are extremely skin and microbiome friendly, do not strip the skin from its lipid layer and are refatting and pampering
6-They are cold process. This is again a huge relief for the budget as well as for the environment but in addition you can use all of those amazing heat sensitive plant oils and extracts without the risk of decomposition by heat
Do you still need any more reasons to follow us through this tutorial?
The star of the product is the Sapogel Q which we have introduced to you about two years ago. It is one of our most popular ingredients and today we are going to show you how to make two scrubs with exactly the same ingredients but with different outcomes.
Just by varying the concentration of the Sapogel, you can change the viscosity. One of the products becomes an oil-to-milk scrub and the other one has a higher viscosity and become a gel-to-milk scrub. As a consequence, the exfoliants sediment in the low viscosity product, there are two separate layers, the bottom part with the exfoliant and the oily part on top of that. The bottle should be shaken before use to disperse the exfoliant uniformly in the carrier. This is optically appealing specially when the colour difference between the oil and the exfoliant is obvious.
In the second product, the viscosity is higher and the exfoliant remains dispersed and suspended in the carrier. There is no need to shake the container, just apply the product via a pump or the bottle opening or even from a jar. It is a matter of preference and marketing which one you choose but why not create both of them and let your customers decide wich one they want?
Read before you start:
1-You don't need any special instruments for making small batches but obviously when you are creating batches from 500 gr above you will need either very strong arms and a biblical patience or an overhead stirrer.
2-The key point in creating a stable and effective product is the slow and gradual addition of the oil phase to the Sapogel phase. This is the alpha and omega of creating a stable product. If you don't have the patience and want to create a product in less than 15 minutes stop right here and don't bother to continue.
3- I'm using brazil nut exfoliant here but you can use whatever exfoliant your heart desires. Just make sure it is compatible with your oil. You may need to slightly modify the viscosity depending in the density of your exfoliant. This exfoliant is suitable for face to toe applications. You may want to use an exfoliant with harder and bigger particle and make it only hand & feet or body exfoliant or vice versa use a finer exfoliant and make it a special face exfoliant. With just one basic formulation you can create countless variations.
Now that the important essential are explained let's jump to the formulations.
Formulations
| | | |
| --- | --- | --- |
| ingredient | oil-to-milk | gel-to-milk |
| Phase A | | |
| Sapogel Q | 25,0% | 21,0% |
| Glycerine | 5,0% | 5,0% |
| Phase B | | |
| Poppy seed oil | 34,6% | 38,6% |
| Camelina oil | 15,0% | 15,0% |
| Olive squalane | 5,0% | 5,0% |
| Defensil + | 2,0% | 2,0% |
| Pomegranate CO2 extract | 1,0% | 1,0% |
| Black cumin CO2 extract | 1,0% | 1,0% |
| Tocopherol | 0,3% | 0,3% |
| Rosemary CO2 extract | 0,1% | 0,1% |
| Cedarwood oil | 0,5% | 0,5% |
| Lime oil | 0,5% | 0,5% |
| Phase C | | |
| Brazil nut exfoliant | 10,0% | 10,0% |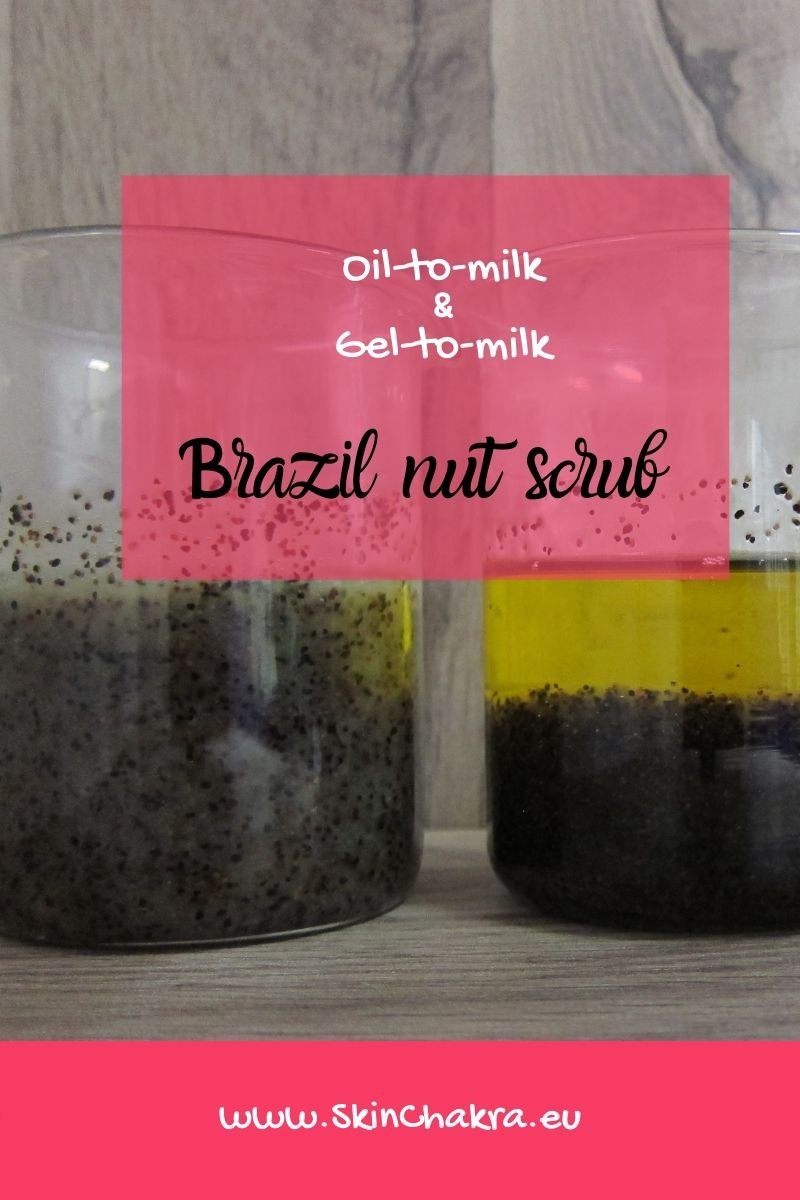 Procedure:
The procedure is exactly the same for both formulations.
1- Blend phase A and B separately
2- Slowly and gradually add phase B to A. You need to completely blend after each addition.
3- When you are finished, one product will have a low viscosity like an oil and the other one will have a high viscosity like a gel
4- When all of phase B is added to phase A, gradually add the exfoliant and blend.
In the oil-to-milk, the exfoliant will sediment. If you are making a big batch for several containers you need to either fill the containers under constant agitation (rather difficult in an artisanal lab) or first fill the oil and then add the exfoliant separately to each bottle.
5- Take your stability samples and fill in the bottles (or jars for the gel-to-milk although bottle is a safer packaging method)
Watch the video here
Stay safe and creative
Comments
Display comments as (
Linear
| Threaded)
The author does not allow comments to this entry