Thursday, 18. March 2021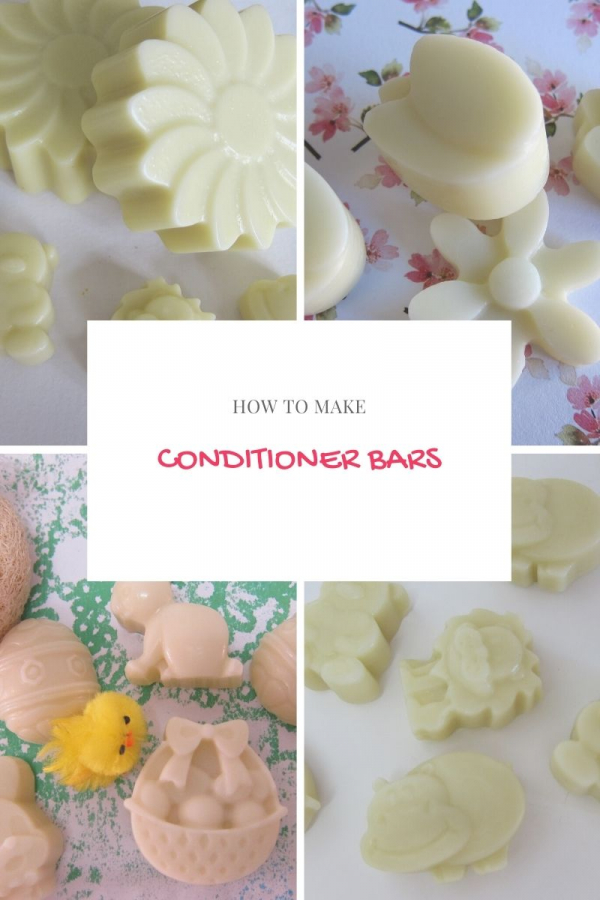 Conditioner bars or "anything bars" are quite popular during these last couple of years. This is because:
1- They do not contain any water which is not only good because we save this precious resource but is even more important when we pack and sell/ship the product. Most conventional cosmetic products contain over 60% water. This means that the consumer is paying for huge amounts of water with every single container of each ingredient. That is bad enough but it becomes worse when cosmetic and personal care products are shipped around nationally or over the boarders. Just try to estimate the CO" footprint of transporting these huge amount of water.
2- Since they do not contain any water, technically they do not need any preservative
3- They can be sold unpacked or packed in paper bags, cardboard boxes or other reusable/recyclable/renewable material. No need for plastic bottles and jars
4- They are fun to make and are cute lovely decorative articles before they are used
There is however one single drawback for conditioner bars and that is the ease of application. It is not quite convenient or effective if you try to apply these bars like a bar of soap over your hair and scalp, the longer and denser the hair the more difficult or the less effective the product.
There is an easy and environmental as well as user friendly solution to that:
Disperse the bar in hot water before use
Add hot water to a bowl and add a mini-bar to the bowl and blend to a smooth paste with a creamy texture. Wait a while for the blend to cool down. Do not apply the hot cream immediately over the hair and scalp.
Depending on the ambient temperature it will take about 10-15 minutes till the blend reaches a safe temperature to use. Apply it either as a rinse-off conditioner or as a mask that stays for 15-20 minutes over the hair and scalp. In this way, you have an environmental friendly and water/preservative-free product that you blend to a cream just when you need it.
What you need to consider:
1- Since the bars are not preserved, you need to prepare a small portion that is totally consumed in a single application. If you are making these bars for yourself or as a product to sell, make the pieces quite small so that they are used in one single application
2- Do not keep the cream for longer than a few hours. Do not keep the rest if you do not consume everything in one application (not even in the fridge)
Now if you are tempted to make and use these bars follow me through the tutorial.
About the formulation:
Obviously the main component of the formulation is a cationic surfactant. Not just any cationic surfactant but a non-quarternary, palm-free and plant based surfactant.
To this surfactant we add additives to improve the feel and glide, enhance penetration of active ingredients, enhance the shine, improve wet and dry combing and reduce fly-away.
Aminosensyl HC which is the conditioning surfactant is quite pricy and you can reduce its content (stretch the formulation) by applying fatty alcohols or waxes. The conditioner should be nourishing but you don't need huge concentrations of oils and butters or waxes that are then difficult to rinse.
About the pH
The conditioner will have a pH around 3,5 as it is and that is quite suitable. To make it a little bit more skin friendly, I add a little bit of arginin to increase the pH to around 4,5. Arginin is a water soluble ingredient and since we do not have any water here, I blend it together with natural betaine in glycerine and then add this blend to the conditioner before it is poured into molds. There is no time to dilly-dally at this stage and if the pH is not exactly what you want, you just need to reduce or increase the amount of arginin for the next batch. This is why you shall make your first batch in very small quantities
Formulation
| | |
| --- | --- |
| Phase A | |
| Aminosensyl HC | 83,5% |
| Lexfeel natural | 2,0% |
| Shea butter | 2,0% |
| Olive squalane | 3,0% |
| Brassica alcohol | 2,5% |
| Isoamyl laurate | 1,0% |
| Sunflower lecithin | 0,5% |
| Phase B | |
| Glycerine | 2,0% |
| Arginine | 0,2% |
| Natural betaine | 1,0% |
| Phase C | |
| Fenugreek CO2 extract | 1,0% |
| Tocopherol | 0,3% |
| Ylang-ylang oil | 1,0% |
Procedure:
1- Heat phase A in a water bath till completely melted
2- remove from bath and allow to cool but not make a trace
3- Blend phase B in a small beaker and add to phase A
4- When the temperature is <50 oC add phase C
5- Make a 10% dilution and measure the pH
6- Pour in mold cavities and put in the fridge for at least 2 hours
7- Remove from the mold cavities and wrap in parchment paper or store in suitable boxes or jars.
Watch the video here
Stay safe and creative
Comments
Display comments as (
Linear
| Threaded)
The author does not allow comments to this entry