Sunday, 18. December 2016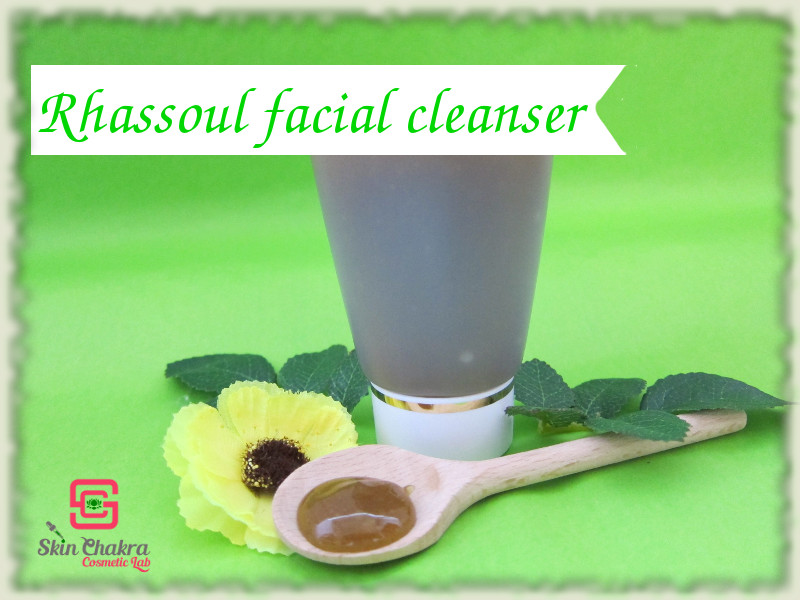 Clays are not only extremely popular in natural and organic cosmetics, even the mainstream and conventional cosmetics have realized/discovered the benefits and popularities of clays in cosmetic products. Traditionally, mainstream uses clay minerals to stabilize formulations and adjust the viscosity. Only in recent years, they are applying clays in cleansing products (mainly in masks).
Clays are notoriously difficult to preserve. Conventional cosmetic uses cocktails of different preservatives, most often a blend containing phenoxyethanol to preserve formulations containing clays. This is the main challenge in natural and organic cosmetics. Even if the formulator uses sterilized (by radiation) clays, a clay containing formulation (where water exists) would soon deactivate the preservative causing a fast contamination of th eproduct.
This has made knowledgeable formulators and manufacturers to offer clays mainly in powderd preparations when the cosnumer is supposed to add water (or a hydrosol or a second phase sold separately) to the clay formulation right before application.
Clays have been traditionally used for centuries as cleansing products (internally and externally). These sponge-like minerals have the ability to ADSORB metal ions, contaminants, fats, chemicals etc.. The very same characteristics that makes them so attractive (adsorption) makes them so challenging for preservation (because they adsorb and deactivate the preservative).
Not only in cosmetics, food, pharmaceuticals or dietary supplements, clays are used in other industries to adsorb impurities and unwanted chemicals, heavy metals and co1.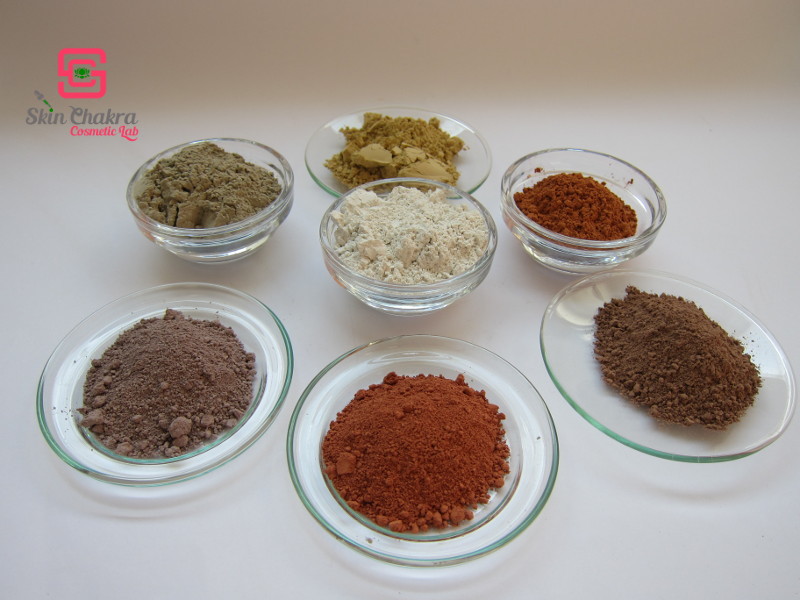 Among all clays, Rhassoul (rassoul, ghassoul, Moroccan clay) with the INCI name: Moroccan lava clay is one of the most exciting and most popular ones. This clay which is found only in one single place in the world (Atlas mountains of Morocco) has been traditionally used as a hair and body wash, body wrap, detoxifier and medicine for centuries. It mainly contains of stevensite and is a Magnesium rich mineral.
I'm not going to reinvent the wheel here. If you're interested to know more about rhassoul, you may try to read these references. (2)(3)(4)
Oleogels offer a unique way of applying clay minerals in ready to use consumer products without the risk of contamination or the necessity of applying a cocktail of preservatives.
The product is completely free from water and hence is self-preserving. The oleogel is self-emulsifying meaning by adding water (during rinsing), it turns to a milk which is easily rinsed without any greasy-sticky after feel. This is an excellent way to apply tricky ingredients (such as clays or activated charcoal) into consumer products.
If you're unfamiliar with self-emulsifying oleogels please read our previous posts and tutorials:
How to make a self-emulsifying oleogel (part I)
What you need to know self-emulsifying oleogels (part II)
How to make a refreshing shower oil
Just two important points:
1-For this tutorial, I'm using Moroccan clay to make a self-emulsifying facial cleanser. Keep in mind that the safety (self-preservation) of this product type lies on the lack of water. As soon as water is introduced into the system, the door is open for a microorganism party. The packaging of the product is very importance inorder to inhibit addition of water to the product. You can use bottles with a flip top, disc top, emulsion pump, tubes or any other suitable container that doesn't allow introduction of water to the product during application.
2- Microbiological status of the clay
Clays are natural ingredients, coming from earth. It means they "naturally" contain a load of microorganisms with themselves. It is a shame that most suppliers of clays, and specially suppliers of rhassoul, (both retail and wholesale) do not even test the clay for a vial count. The clay is either radiated and free of contaminants or is not and nobody knows what is going on there. I contacted at least three wholesalers who couldn't show me any results of microbiological tests performed on their clays. To my question that "the status of the clay could be anything between completely safe and free of contaminnats to completely contaminated", they responded with YES.
If you are going to use rhassoul or any other clays in your products (even in waterless products), make sure your supplier can provide you with a reasonable data sheet.
Now back to our formulation for a facial cleanser:
Formulation
Procedure:
1- In a beaker blend glycerine and Dermofeel ® G 5 O (this is the emulsifier which makes the oil milky when you add water to the cleanser). You can do this with a spatula for small quantities (up to 300 gr batch). For bigger batches, an overhead mixer works excellent.
2- In another beaker blend all the ingredients of phase B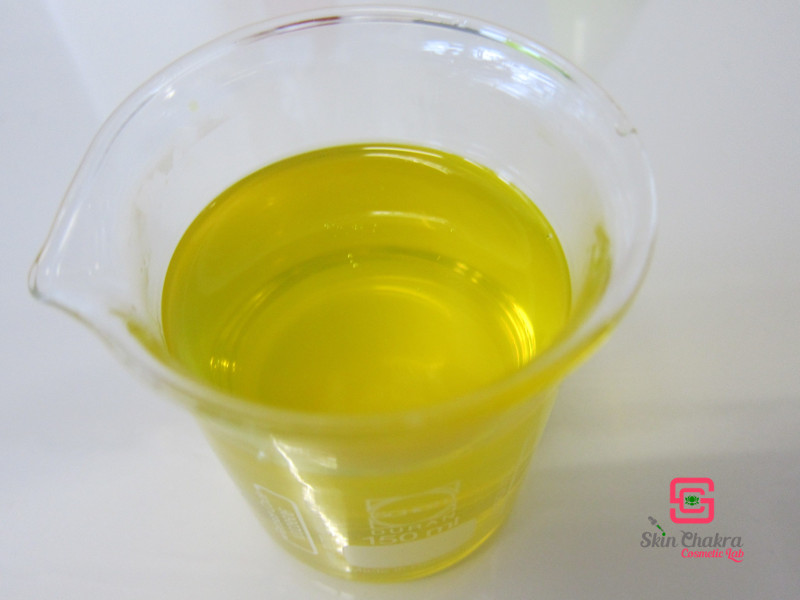 3- Very slowly add phase B to A. Blend completely after each addition. This is the most time consuming of the preparation but of you blend the phases too fast, you'll end up with a blend of oil and glycerine and no oleogel. For small quantities you can easily use a spatula for medium quantities a magnetic stirrer would work. We usually use an overhead mixer.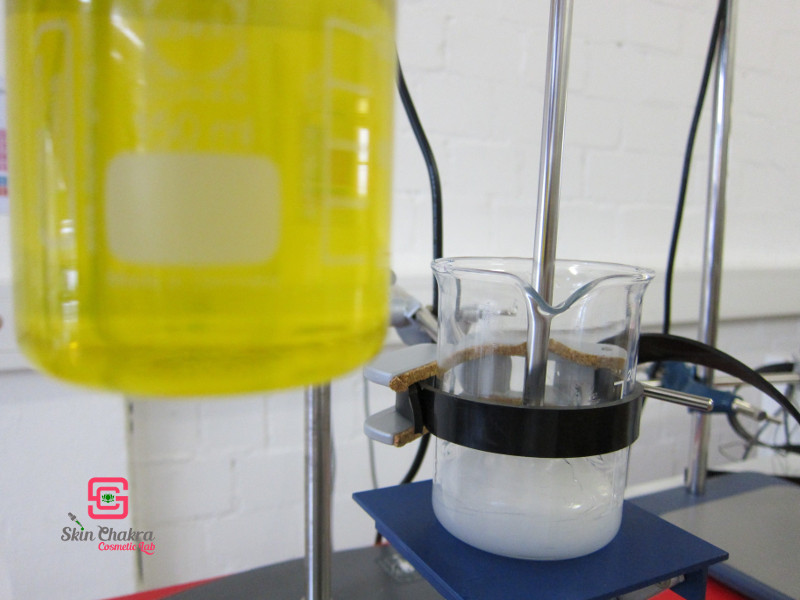 As you add the oil phase to the glycerine phase, it turns to a very beautiful phosphorescent yellow.
4- When all of the oil phase is added to the glycerine phase, slowly add the clay.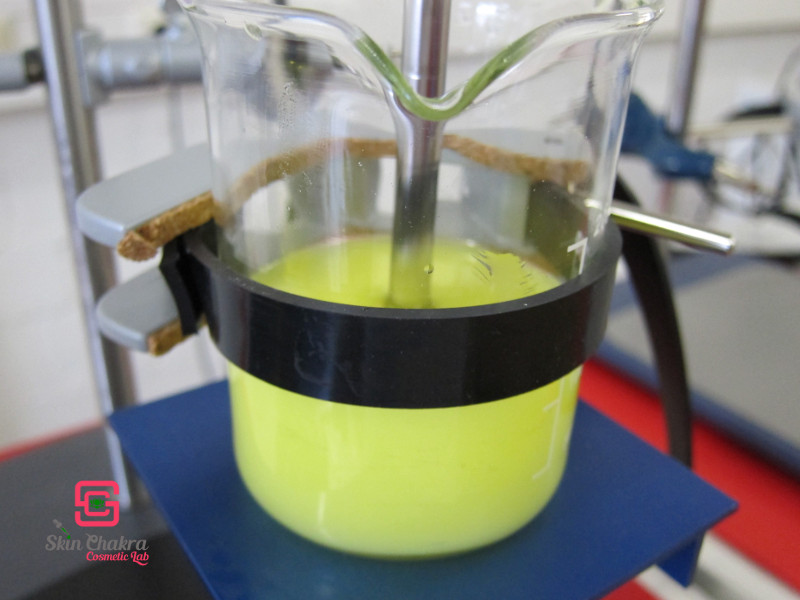 Unfortunately the bright yellow colour turns to a muddy brownish appearance by adding the clay. But hey, we're preparing a rhassoul cleanser.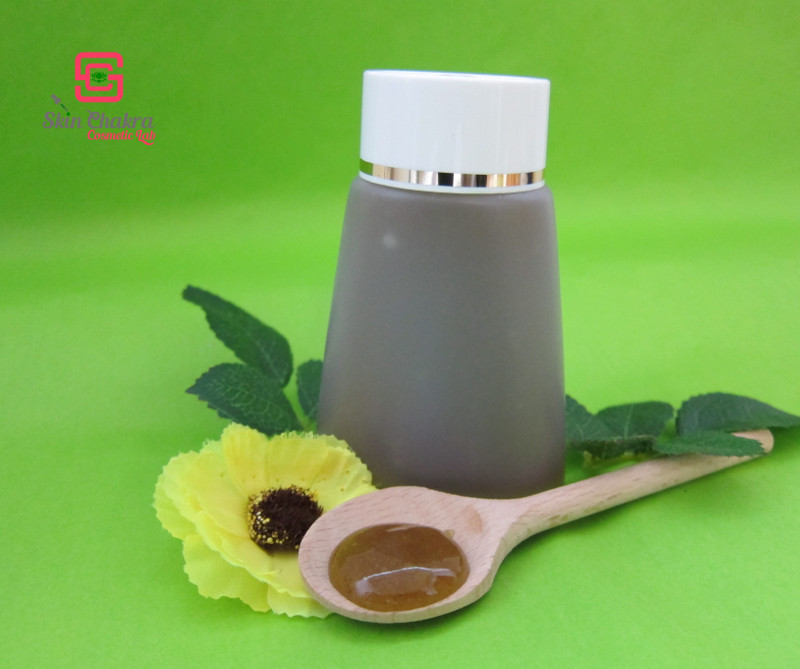 Fill in a suitable container and enjoy the lush skin feel during application and after rinsing.
If you're inspired by this tutorial feel free to send us your photos and comment either per mail or to our Facebook page. If you post any photos on Instagram, don't forget to tag @SkinChakra.
BeHappy and have fun
Comments
Display comments as (
Linear
| Threaded)
The author does not allow comments to this entry