Friday, 17. March 2017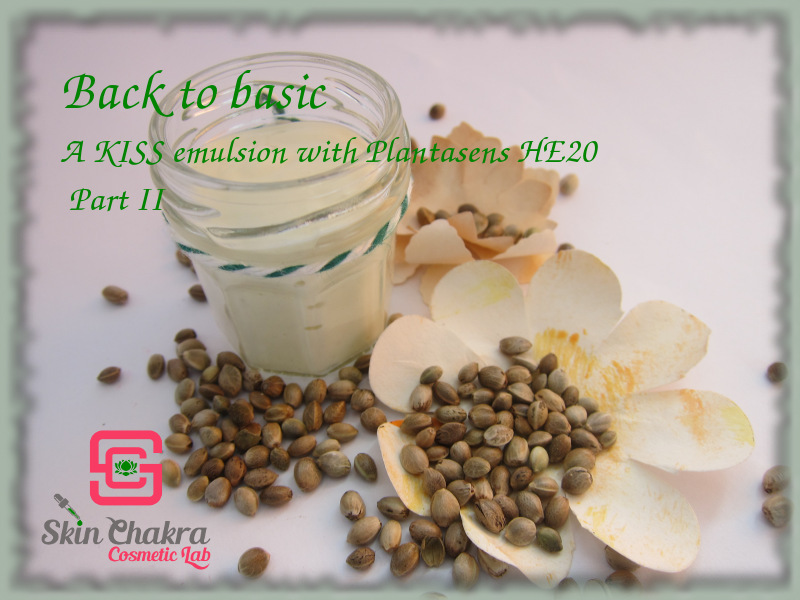 Hi everybody,
Can you remember the KISS emulsion with Plantasens HE20 we made a while ago? We created a very basic yet effective and nice emulsion for those of you who have never worked with this emulsifier or who are unfamiliar with the hot-cold-cold process.
In this process, you only need to heat a part of your water phase together with the emulsifier and the rest of the ingredients (oil phase, plant extracts, active ingredients and the rest of the water phase) are all added at room temperature. The procedure might seem a little bit complicated at the first glance but it is quite rewarding because you are protecting your sensitive ingredients against heat.
Anyway, we're now making our KISS emulsion a little bit more complicated and adding a few other ingredients to it. It is still a KISS emulsion but just a little bit more pampering. If you've not made the previous emulsion, I suggest you go back and first make that emulsion before proceeding with this tutorial.
Here we go
<u>Ingredients:</u>
| | |
| --- | --- |
| Phase A | |
| Freshly boiled distilled water | 40.0% |
| | 6.0% |
| | 2.0% |
| Phase B | |
| Organic hemp seed oil | 20.0% |
| | 0.5% |
| | 3.0% |
| | 0.1% |
| | 0.1% |
| Lavender extract in organic baobab oil | 2.0% |
| Phase C | |
| Freshly boiled and cold distilled water | to 100.0% |
| | 1.0% |
| | 0.1% |
| Hydroglyceric alfalfa-Fenugreek sprouts extract | 2.0% |
| | 2.5% |
| Phase D | |
| | 0.5% |
| Organic glycerine (99.0%) | 4.0% |
| Phase E | |
| | 0.9% |
| Organic lime EO | 0.3% |
| Organic palmarosa EO | 0.2% |
| NaOH (25% solution) | a few drops |
<u>Procedure:</u>
1- In a beaker weight phase A and heat it in a water bath @ 70-75 oC.
2- Meanwhile weight all ingredients of phase B and C in two separate beakers.
3- As all of plantasens is melted and swelled in the water phase stop heating and blend phase A. It is best done by your Blendia or an overhead mixer.
4- Slowly add the oil phase in small aliquots while stirring the water phase. The oil phase has been kept at room temperature and was not heated.
5- After the oil phase is added to the water phase, add the rest of the water phase (phase C) to the pre-emulsion and blend. Now you can go ahead with your blendia or a homogenizer and blend the emulsion for 1-4 minutes depending on the batch size and the instruments you are using.
6- Blend the gum and glycerine in a small beaker and add it to the emulsion. Give it a few bursts with your blendia to disperse the gum uniformly in the emulsion.
7- Stir the emulsion as it cools down. After the emulsion has thickened and reached a temp. of about 35 oC add the essential oils.
8- The preservative we are using decreases the pH and according to experience, we know that we have to increase the pH before adding the preservative. We increase the pH by adding a few drops of a 25% NaOH solution to about 6,5, add the preservative and remeasure and re-adjust the pH between 5-5,5. If you are using other preservatives consult the product information for the optimum performance pH of the preservative system and adjust the pH according to that.
9- Take your stability and micro kit samples and fill the rest in a suitable bottle.
Enjoy the light skin feel and the pampering properties of this emulsion till we proceed to the next tutorial where we're going to make the formulation a little bit more complex. You are welcome to replace the hemp seed oil with any other liquid oil of your choice but keep it simple to just one single oil.
If you're inspired by this tutorial feel free to send us your photos and comment either per mail or to our Facebook page. If you post any photos on Instagram, don't forget to tag @SkinChakra.
BeHappy and have fun
Comments
Display comments as (
Linear
| Threaded)
The author does not allow comments to this entry