Friday, 31. March 2017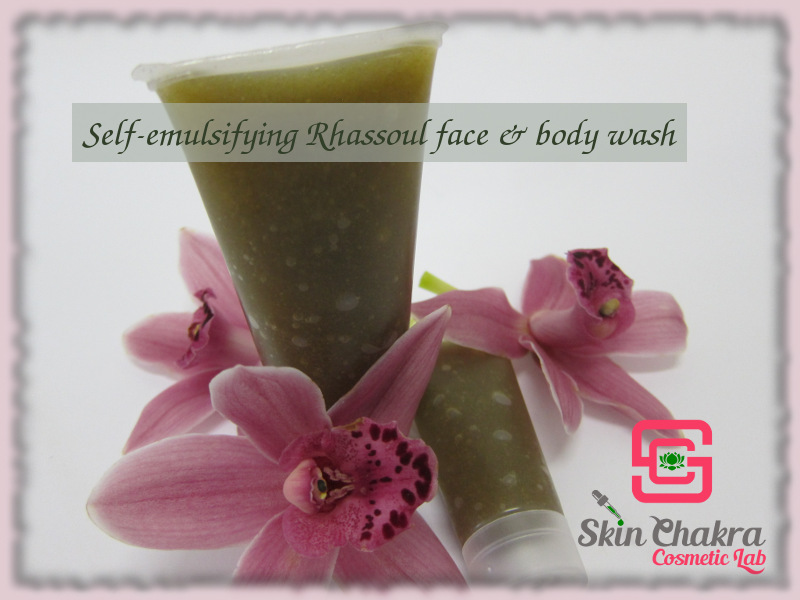 Rhassoul is quite popular in the "green beauty" scene in hair and skin cleansing. The problem with rhassoul and clays is the challenge of preserving. There is no "natural" preservative under the sky that can effectively preserve clay in a water containing product.
Commercial products use high concentrations of alcohol, phenoxyethanol (and other preservatives that are absolutely not acceptable in a natural formulation) and specific packaging material and still are not totally immune against contamination.
In "natural and organic" hair and skin care, there is no way to efficiently preserve a clay containing product. This is why most clay containing masks are dry powders which should be activated by the consumer and right before application. It is the same with rhassoul hair and body cleansing products which are usually sold in waterless packages and the product is going to be blended with water by the consumer to avoid risk of contamination.
So far, so good. The main issue with these products is that they are not as easy and ready-to-use as a bottled shampoo or a facial cleansing foam and if your customer is not quite enthusiastic about the product, it is possible that the powder remains for years un-used or partially used in the cabinet .
Oleogels provide the manufacturer with an excellent possibility to create easy and ready-to-use finished products without compromising the safety and microbial stability of the product. These products are self-preserving because there is no water in the formulation and they are easy to apply because by adding water to the gel (rinsing) the oleogel emulsifies into a milk and is easily rinsed without leaving any greasiness.
I've published a similar tutorial last year but we have had many new inquiries during the last couple of weeks that I've slightly refreshed and modified the tutorial in a more luxurious face and body wash.
Feel free to swap the oils with your favourite oils. The only ingredients you can not swap are the glycerine and the Dermofeel G5O.
Here we go:
Formulation
| | |
| --- | --- |
| Phase A | |
| Organic glycerine (99,8%) | 27,0% |
| Dermofeel G5O | 6,0% |
| Phase B | |
| Organice perilla seed oil | 25,0% |
| Organic apricot kernel oil | 15,0% |
| Wild crafted acai oil | 6,2% |
| Organic poppy seed oil | 5,0% |
| Organic amaranth CO2 extract | 1,0% |
| Lexfeel natural | 8,0% |
| Isoamyl laurate | 2,0% |
| Natural tocopherol | 0,5% |
| alpha-bisabolol | 0,2% |
| Organic Rosemary CO2 extract | 0,1% |
| Organic petit grain essential oil | 0,5% |
| Organic lime essential oil | 0,5% |
| Phase C | |
| Rhassoul | 3,0% |
Procedure:
1- Blend phase A and B separately in two beakers.
2- Add phase B to phase A in small aliquots. Blend completey before adding the next aliquot. This is the most important and time consuming part of the procedure. The easiest way is using an overhead stirrer. If not a magnetic stirrer but you can easily manage small volumes (up to 250 ml) with a spatula as well.
3- After all of phase B is added to phase A, your product shall be a transparent and homogenous gel. If you have stirred very vigorously, your gel might look turbid because of the many air bubbles trapped in the gel. Leave it overnight and check the appearance the next day.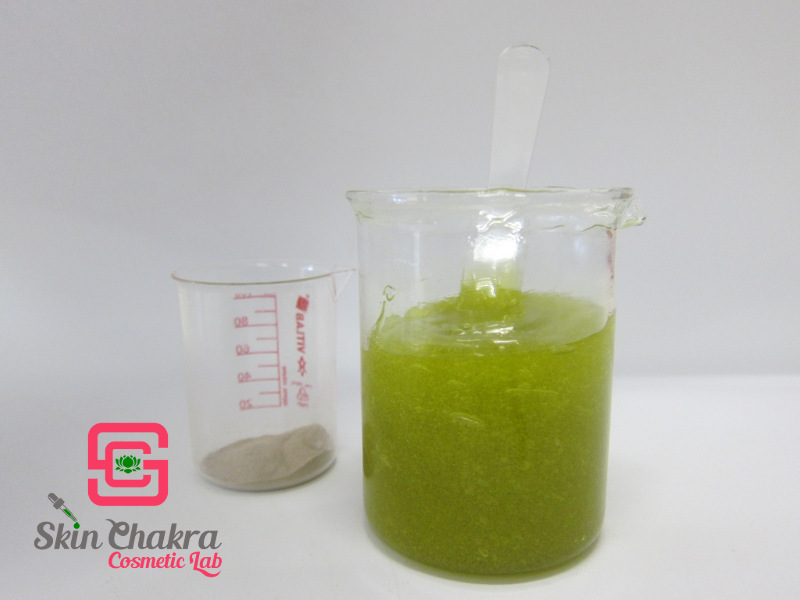 4- Now slowly incorporate the rhassoul. Unfortunately it changes this beautiful vibrant green colour to a dull and dark green.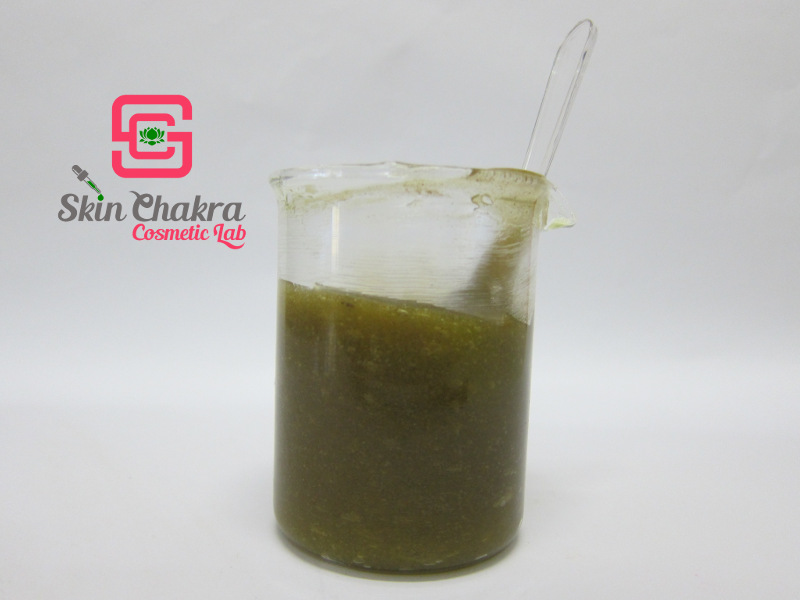 5- Here you are with your self-emulsifying and self-preserving rhassoul oleogel.
Fill the product in a bottle or tube. This product is not preserved because there is no water in the formulation. Avoid filling the product in jars otherwise some water would be added to the product during each application by the consumer. That would change the appearance of the product and compromise the physicochemical and microbial stability of the product.
If you're inspired by this tutorial feel free to send us your photos and comment either per mail or to our Facebook page. If you post any photos on Instagram, don't forget to tag @SkinChakra.
BeHappy and have fun
Comments
Display comments as (
Linear
| Threaded)
The author does not allow comments to this entry