Saturday, 19. May 2018
I hope you have enjoyed part I of this post. Now let's continue our analysis of plant extracts:
Possible (and impossible) carriers
Alcohol (Ethanol)
Ethanol extracts (tinctures and hydroalcoholic extracts) are very common and popular in herbalism but very rare in cosmetics. They are hardly available for online purchase because of the difficulties of alcohol transport.
However, dry extracts (powders or resins) are available after solvent removal. Be aware that these extracts have a limited solubility in water. If you care about the origin of the alcohol (natural, synthetic) make inquiries before you finalize your order.
Hydroglyceric extracts
These are hydrophilic extracts and contain (some) hydrophilic components of the used plant.
If you have certain ethos and considerations, you may need to inquire for example:
nature of the glycerin (plant based or not, organic or not, palm-free or not) before you finalize your purchase
Hydroglycolic extracts
Hydroglycolic extracts are prepared with a blend of water and propylene or butylene glycol. They have been very popular even in conventional cosmetics because of the low price of glycol and the higher yield of glycols compared to glycerine.
Recently hydroglycolic extracts are available with propanediol as a carrier (these are still very rare because of the high price of plant based glycols). Propanediol has exactly the same structure and properties of propylene glycol, only it is plant based instead of petroleum based. The price difference between propanediol and propylene glycol is quite remarkable and this is obviously reflected in the price of the extracts. If you happen to stumble upon hydroglycolic extracts make sure the carrier is propanediol (the plant based one) and not propylene glycol (the petroleum based one). Plant based propanediol could be used in "natural" cosmetics, petroleum based glycols could not.
Read my previous blog post for more information: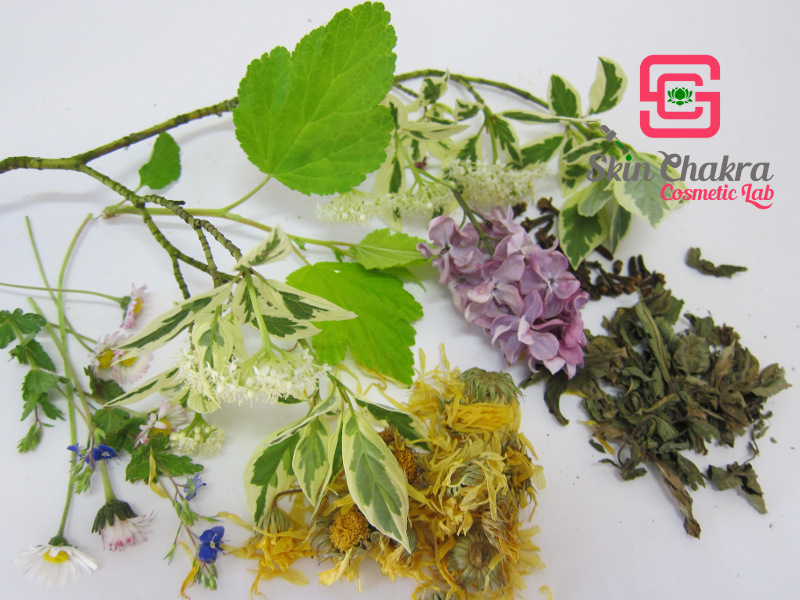 Hydroglyceric and hydroglycolic extracts are very popular in natural cosmetics. There is a huge variety of plants that are extracted with these carriers.
These hydrophilic extracts obviously carry some hydrophilic plant metabolites such as saponines, polyphenols, minerals, salicylates, tannins etc.
Hydroglyceric and hydroglycolic extracts are applied wherever you have a water phase:
shampoos, shower gels, facial cleansers (water based), emulsions, toners and micellar waters.
Single plant extracts and multiple plant extracts are commercially available. Keep in mind that when you use, let's say 2% of 5 different plant extracts in a certain formulation, you're applying almost 10% glycerine or propanediol in the formulation. Propylene glycol has a very light skin feel but glycerine at high concentrations becomes sticky and you'll sacrifice a pleasant skin feel by overdosing your plant extracts. When it comes to using plant extracts, "more is not always better".
Except for some certain extracts with a specific active ingredient, there are no legal limitations for application dosage. However, you want to prepare an effective and pleasant formulation. This means that you need to find an optimum concentration of the plant extract (or extracts) that would not adversely affect the appearance, skin feel or scent of the product. The usual dosage is between 1-5%.
Lipophilic extracts and macerations
As mentioned earlier, both macerated (infused) oil and lipophilic extracts have the same INCI names. Obviously, the mechanical extracts have a higher yield of active ingredients compared to the infusions.
Sunflower, rapeseed and soybean oil are the most common carriers for commercial lipophilic extracts, mainly because of their availability and their price.
I have seen (these are very rare) lipophilic extracts in caprylic/capric triglycerides as a carrier. Caprylic/capric triglycerides, which is often wrongly named "fractionated coconut oil" although it has nothing to do with coconut (more than 95% of the world production is palm oil based) is a lipophilic ingredient with no inherent scent, no inherent colour and with a very light skin feel. This ingredient has a much higher oxidational stability, much longer shelf-life and a much lower price compared to virgin plant oils. It is very common and popular in conventional and even in green-washed hair and skin care. It is totally accepted in "natural" cosmetics but not quite popular among natural formulators. Regard it as a kind of "plant based paraffin" and a cheap filler. It is lipophilic, has a long shelf-life, can not impact the scent or colour of the product and is cheap but it doesn't contain any of those lovely unsaponifiables available in virgin plant oils such as carotenoids, tocopherols, phytosterols and lipophilic vitamins.
Before finalizing your purchase you may want to know:
whether the carrier and the plant are organic or conventional
whether the carrier is GMO or not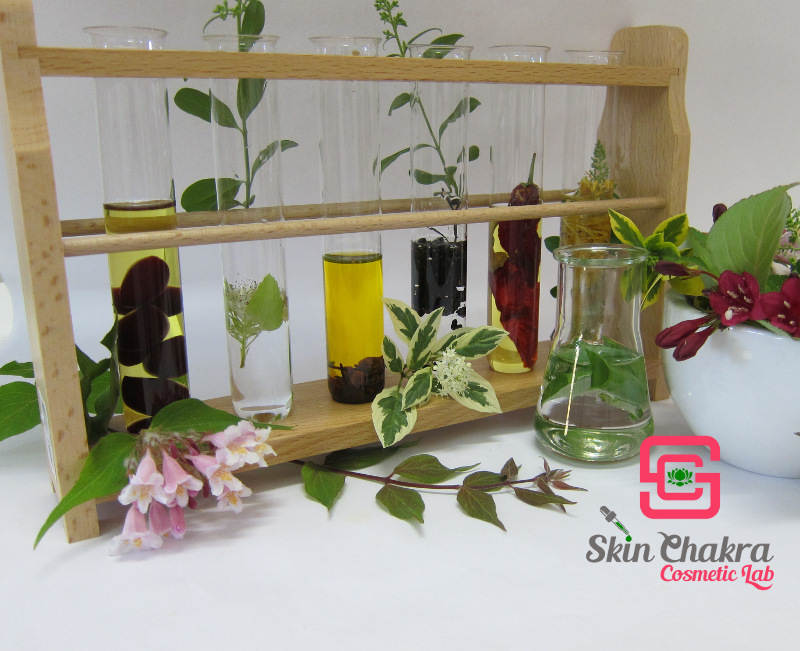 Lipophilic extracts are usually available as single plant extract. This means when you're adding several extracts to your formulation, you're adding high concentrations of a certain carrier oil to the formulation as well.
Most artisanal manufacturers, students and crafters prefer to make their own macerated oils and custom blend several plants. From a certain production volume however, making your own macerated oils becomes quite challenging if not impossible.
Lipophilic extracts and macertaed oils obviously contain some lipophilic metabolites and active material such as essential oils, terpenoids, some volatile material, carotenoids, phytosterols etc.
These extracts are applied wherever you have a lipid phase such as in :
emulsions, bi-phase products, balms and butters.
Organic (hydrocarbon) solvents
Extracts of organic solvents are quite common in pharmacy but very rare in cosmetics. They are usually available as dry residue or resinoids after solvent evaporation. Most often, hexane is used as a solvent. This solvent is quite unacceptable in natural and organic cosmetics. If you happen to stumble upon dry powder extracts, make inquiries about the original solvent to make sure you're not purchasing something that was extracted with a hydrocarbon solvent.
ROE (rosemary oleoresin extract) is one of the extracts that is prepared by using a hydrocarbon solvent and subsequent removal of it. Since the solvent is removed, it is neither mentioned on the COA nor on the safety data sheet and the suppliers of this ingredient often boast "hexane free" or "100% pure" which is true except for the fact that originally hexane or another hydrocarbon based solvent was used for the extraction.
ROE is sold and used as an antioxidant and is used at low percentage (less than 0,5%) and not like a conventional extract. However, its application in "natural" and "organic" cosmetics is not allowed because of the hexane which is originally used in extraction.
3- The additives
This is the most difficult part of information. Usually, all additives should be mentioned in the safety data sheet but unfortunately, not all suppliers (even multi-national big boys) follow the rules. Make sure you receive information about all the additives present in the extract you are purchasing. Ask the supplier to provide you with the list of additives and don't feel shy to ask whether there are any additives present which are not mentioned in product's INCI naming or on the safety data sheet.
Possible (and impossible) additives
Hydrophilic extracts are usually preserved. Depending on the supplier, the preservative might vary between "quite unacceptable" in "organic" cosmetics (such as parabens) over "legally acceptable but not really OK" (such as phenoxy ethanol) to compliant with "organic" cosmetics such as benzoic acid and its salts, sorbic acid and its salts and co.
In any case, you'll need the name of the preservatives used before you finalize your purchase. If the preservative used has some legal limitations (such as benzoic acid, sorbic acid) you'll need to know the concentration of the preservative components so that you can keep the overall concentration of that component compliant with your regional legislations.
Another additive (sometimes) added to hydrophilic extracts is chelating/sequestering agents. These can vary between citric acid (which is a food additive and accepted in organic cosmetic) to EDTA and its salts (which are not accepted in organic cosmetics).
Hydrophobic extracts obviously do not need any preservative but usually an antioxidant is used to prolong the shelf-life of the extract and protect the carrier oil it from oxidation. The antioxidants can vary between BHT (which is not allowed in natural cosmetics) to tocopherols and rosemary extract.
If you care to have a really "natural" and organic product, make inquiries about the nature of the tocopherols and the rosemary extract used as antioxidant.
Make sure your supplier informs you about all the additives present in the extract.
Dried extracts
Dried extracts are rather rare but quite popular because obviously you don't need to pay for a carrier. However not all extracts are available (or could be available) as dry extracts.
Keep in mind that dry extracts are not the same as plant powders. A plant powder contains many other ingredients including cellulosic material and fibers and usually is not completely soluble in any of alcohol, water, glycerine, glycol or a triglyceride (neither lipophilic not hydrophylic).
A dry extract has originally been extracted in a carrier and the carrier has been removed by a physical method such as freeze drying, vacuum evaporation, spray drying etc. Depending on the original carrier used, the dry extract should be either lipophilic or hydrophilic (or alcohol soluble). Make sure you are purchasing the right extract for your purposes and your supplier can inform you about the original solvent used (you can not find this neither in certificate of analysis nor in the safety data sheet) and the method of solvent removal.
A practical example
Let's come back to our example of rosemary extract.
Following EXTRACTS are listed in the European directory of cosmetic ingredients:
Rosmarinus officinalis leaf extract

Rosmarinus officinalis flower/leaf/stem extract

Rosmarinus officinalis flower extract

Rosmarinus officinalis extract

Rosmarinus officinalis callus extract
From the INCI name alone, any of these extracts could be hydrophilic or lipophilic (not to mention the tincture and hydroalcoholic extract).
Hydrophilic axtracts might be hydroglyceric or hydroglycolic (the name of the carrier should be mentioned at least in the safety data sheet). The hydrophilic extract usually contains some salicylates, tannic acid and saponins.
The hydrophobic extract might be an oil infusion, a mechanical extraction in a carrier oil, a solvent extraction in a hydrocarbon solvent or a CO2 extraction. In the latter two cases, the carrier/solvent is removed after extraction and what you receive is a resinoid material. Whereas CO2 extracts are quite acceptable in organic cosmetics, the hydrocarbon extracts (oleoresins) are not acceptable. The confusion is caused since all these extracts have the same INCI name and unless your supplier fully informs you about the method of extraction and the original solvent used, you have no chance to GUESS about the solvent.
When the solvent is removed, it is not mentioned in the safety data sheet or certificate of analysis
The lipophilic extracts usually contain terpenoids, some essential oils and volatile material, thymol, verbanol, carnosic acid and rosmarinic acid, camphor.

Bottom line:
Plant extracts are among the most exciting and attractive cosmetic ingredients. However, the choice could be quite confusing and overwhelming and the suppliers do little to help you. Before investing your money and time in purchasing and testing extracts you can not use, make sure you receive all necessary information from the supplier. The additives added to the extracts (preservatives and antioxidants) are as important as the carriers and solvents (no matter if they're still present in the extract or are removed). Do not purchase any extract as long as you have not enough information.
Many students and DIY crafters as well as start-up manufacturers prefer to make their own extracts because they can prepare their custom blends and use less carriers for a higher number of components, because it is easier and cheaper for small volumes and because they have more control over the additives they're adding to the ingredients and final product.
Although making your own extracts is quite fun and reasonable in a DIY scale, when it comes to professional manufacturing, it becomes quite limiting (if not impossible):
1- It becomes quite a pain regarding the logistic, storage, handling, filtration, GMP and specially microbial control when it comes to high volumes
2- Keeping a uniformity from batch to batch (regarding all the possible changes in plant stock) and keeping a standardized yield becomes impossible unless you have the required lab equipment to control each batch of extract you make
3- Microbial contamination could become a nightmare when you make your own extracts (both hydrophilic and lipophilic). I know several small manufacturers who have started by making their own extracts but switched to purchasing the extracts from reliable suppliers after experiencing a few contamination cases which costed them waste of money and time
Whatever method and extract you choose you need to be well informed about what you're adding to your products. Enjoy using them in your formulations and create amazing and effective products.
BeHappy and have fun
Comments
Display comments as (
Linear
| Threaded)
The author does not allow comments to this entry