Saturday, 24. June 2017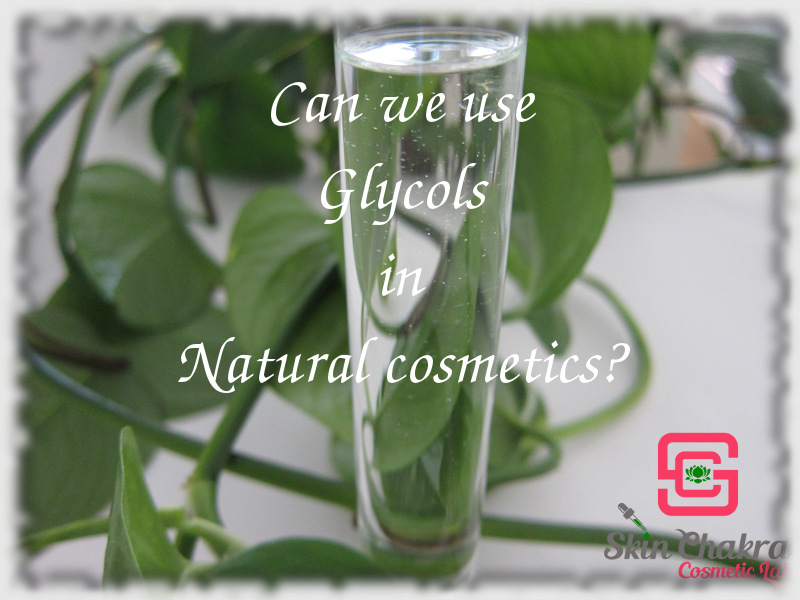 This is one of the most frequently asked questions from our customers, to-be customers and students of skincare/hair care formulation.
The easy and fast answer is : If it is natural and plant based: yes. If it is synthetic: no
(This is an answer for the "smartphone" generation who comes to you with a question/problems and want a promt and compact answer

. If you do not belong to this generation and are interested to know more details about glycols, why we use them, how can we use them and why they are so controvesial and confusing read the whole post).
What are glycols?
Glycols are a broad range of molecules almost indispensible in our everyday life. As a chemical group, they lie between alcohols and glycerol. Alcohols are organic molecules with one (-OH) group dangling from a hydrocarbon skeleton. The most familiar alcohols are: ethanol (the one found in distilled and brewed alcoholic drinks as well as the one we use for disinfecting), n-propanol and iso-propanol (these are solvents and disinfecting ingredients).
This is ethanol. The very same alcohol found in vodka, beer and most disinfectants

This is iso-propanol molecule (rubbing alcohol). The one most of you probably use as disinfectant (or it is a component of your commercial disinfectant)

And this is n-propanol. Both these molecules have a C3 hydrocarbon chain (3 carbon atoms) attached to an -OH group. In n-propanol this group is at the end of the chain whereas in iso-propanol the -OH group is attached to the middle carbon atom.

Glycerine on the other hand has a chemical structure of 3-ol. It means it consists of 3 -OH groups attached to a C3 chain:

Glycols lie in between. It means, glycols are generally diol molecules consisting of two -OH groups dangling from a hydrocarbon chain.
In contrast to most alcohols and glycerine, glycols are not found in nature. They are synthesized. Their parent molecule is EG (ethylene glycol) whith a huge annual consumption rate and a very broad spectrum application.

Ethylene glycol is synthesized from ethylene oxide, a highly toxic and carcinogenic gas. EG is the father of all PEG molecules, the infamous poly-ethylene-glycol molecules so widely applied in conventional cosmetics as solubilizers, emulsifiers, wetting agents, cleansing and foaming surfactants etc.
PEG-derivatives are usually safe and harmless on their own (although we don't like to use them because of the way they are produced). The problem with PEG-derivatives is the contamination with 1,4-dioxane (which is an inherent contaminant of all PEG-derivatives). 1,4-dioxane is no cosmetic ingredient and nobody adds it with deliberation to the product (despite what all fear-mongering and pseudoscientific blogs and organizations write in this concern). This is why it is not labelled on the ingredients' list. It is an impurity and is highly regulated in Europe and in some parts of the world. It's concentration (as an impurity) is restricted in raw material as well as in finished products.
Ethylene glycol is used in polymerization process for making several polymers (among them PET). It is colourless and odourless but has a sweet taste (like glycerine). It reduces the freezing point of water and is widely used in anti-freeze systems and cooling liquids. Since there is a danger of being drunk (at least by children) because of its sweet taste, its application in anti-freeze liquid is regulated in many countries and they have to add some bitter flavouring to anti-freeze to avoid the risk of being consumed by children. In the body, it is metabolized to oxalic acid which is poisonous.
Other glycols are synthesized from ethylene glycol. They are all molecules with two attached -OH group but with a varying carbon chain length.
Propylene glycol (PG) is the next molecule with 3 carbon atoms

This molecule is ubiquitous and you can find it almost everywhere from mouthwash and toothpaste to ice cream, food, beverages, industrial cleaners and anti-freeze (that might sound eeky to have a bit of anti-freeze in your mouthwash or in your ice cream).
It is a colourless and odourless liquid with a mild sweet taste. It reduces the freezing point of water and hence is used in anti-freeze as well as in frozen dairy and icing. It is added to food and beverages as well as in alcoholic drinks as a fragrance enhancer, solubilizer, viscosity and texture modifier. It is much more safer than ethylene glycol because it is metabolized to lactic acid in body but in internal application it is not quite considered safe in high dosages. In Europe its application dosage is highly controlled because PG can cause liver, respiratory, and kidney dysfunction, especially in children or adults with existing liver or kidney issues.
In 2014 Fireball whiskey was recalled from 3 European markets because they've accidentally shipped the whiskey designed for the American market to the Europe. The high propylene glycol content in the whiskey was quite in limit for the American market yet much higher than the European limits.
Anyway coming back to personal care, propylene glycol is very often used in conventional personal care such as toothpaste, mouthwash, tonics, sprays and specially in conventional hydrophilic plant extracts (hydroglycolic extracts).
As the chain becomes longer and longer (C4, C5, etc.) the glycols are still humectants, solvents, stabilizers. Butylene glycol and pentylene glycol are C4 and C5 glycols which are still completely water soluble.
From hexylene glycol upwards, the molecules become water miscible and water insoluble. The bigger molecules have less application in cosmetics but are still used as solvents and carriers.
Why do we use them?
Glycols are used because of their neutral (slightly sweet) scent and neutral colour. Their excellent chemical stability and their long shelf-life.
Propylene glycol is a much more superior solvent to glycerine and hence is a main component of most hydrophylic conventional plant extracts . In water based products glycols improve the stability of the product at lower temperatures and improve solubility of certain ingredients.
In micellar waters, tonics and splashes (products with a high water content) for example, pentylene glycol is added to improve the stability of the product at lower temperatures.
Read our previous posts about micellar waters:
Glycols are excellent humectants and they reduce the water activity (hence boosting the preservative). Caprylyl glycol for example (C8) which is water insoluble is very often blended into commercial conventional preservatives or added individually to formulations as a preservative booster.
Concentration of ingredients required to reduce the water activity to a self-preserving status
| | |
| --- | --- |
| Glycerol | >40% |
| Ethanol | >15% |
| Propylene glycol | >20% |
| Butylene glycol | >10% |
| Pentylene glycol | >5% |
| Hexylene glycol | >4% |
| Caprylyl glycol | >1% |
Natural vs. synthetic
As already mentioned before glycols are molecules that are not present in nature.
Although ethylene glycol was first prepare in 1856, there were no industrial manufacturers or application for it till the first wolrd war. It means glycols are commercially on the market since about hundred years. They are available to affordable prices and are manufactured in huge volumes.
Since about a decade, plant based glycols are available as well. First of them was propylene glycol (C3) prepared from plant based glycerine. There are now organic glycols available on the market which are prepared from organic glycerine.
To avoid confusion, most often the plant based products are called -diol instead of glycol:
Propanediol vs. propylene glycol
Pentane diol vs. pentylene glycol
This is however, not always the case. If you want to make sure that your ingredient is plant based and approved to be used in "natural" or "organic" formulations, make inquiries by your supplier.
Apart from being sold as a stand-alone cosmetic ingredient, they are part of other ingredients: plant extracts, preservatives, solvents etc. When you see the name of the glycol, or -diol in the INCI name of an ingredient, make inquiries by the supplier about the nature of the glycol.
Be aware however, that there is a huge difference between the price of the plant based vs. petrochemical based glycols. Calculate the price difference and the scrcity (plant based glycols are not produced in the high volumes like synthetic ones) in your project calculations.
Glycols (or diols) which are accepted to be used in "natural and organic" products (some are even Ecocert certified) belong to the category of "plant derived" ingredients. They are still chemically synthesized and not directly presses (like plant oils), distilles (like essential oils) or extracted (like plant extracts or macertions) from plants. They are prepared by reacting natural (and sometimes organic) glycerine with sodium hydroxide (the same ingredient used to make soap from plant oils).
It depends on your product concept and ethos whether to accept and use these plant based -diols in your products or not. There are often no rigid boundaries and definitions for "natural" and "synthetic".
More info:
https://www.accessdata.fda.gov/scripts/cdrh/cfdocs/cfcfr/cfrsearch.cfm?fr=184.1666
https://dowac.custhelp.com/app/answers/detail/a_id/13307/~/propylene-glycol-usp%2Fep---food-additive-status
http://www.propylene-glycol.com/what-is-propylene-glycol/mono-propylene-glycol/regulatory
Comments
Display comments as (
Linear
| Threaded)
The author does not allow comments to this entry