Thursday, 12. July 2018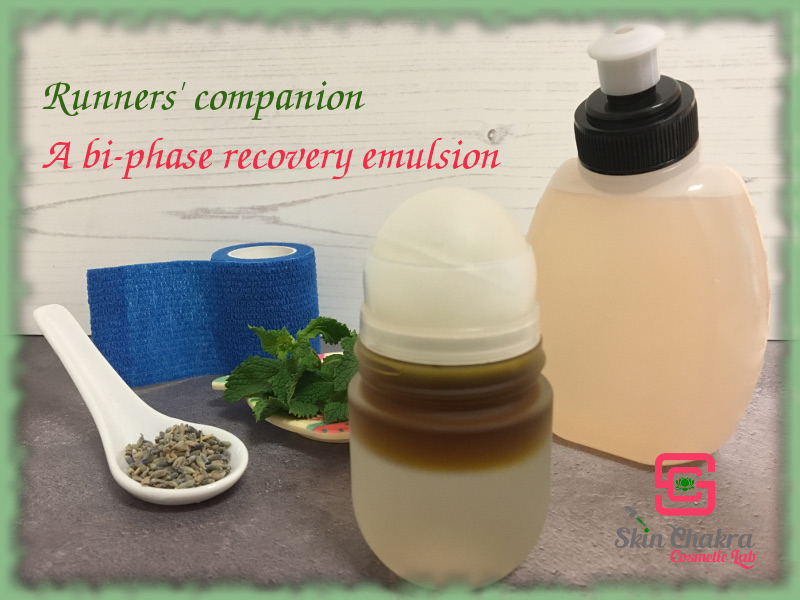 I'm sure all of you (even those of you who are no runners) have enjoyed this blog post from our amazing Jilly:
Now she has another amazing product for you. It's a recovery bi phase run-care but wait, even if you're not a runner or not an athlete at all, you'll still love this product.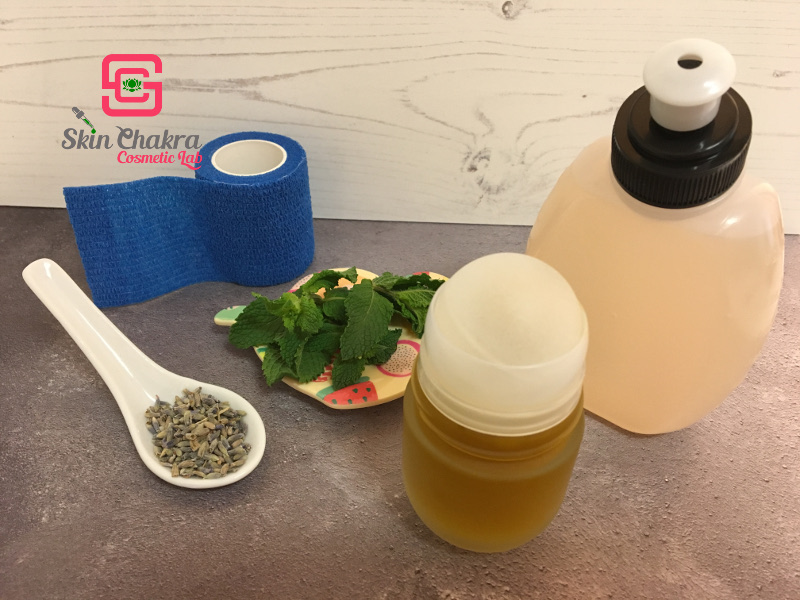 The recovery oil I made last year has been a guarding angel during my running days: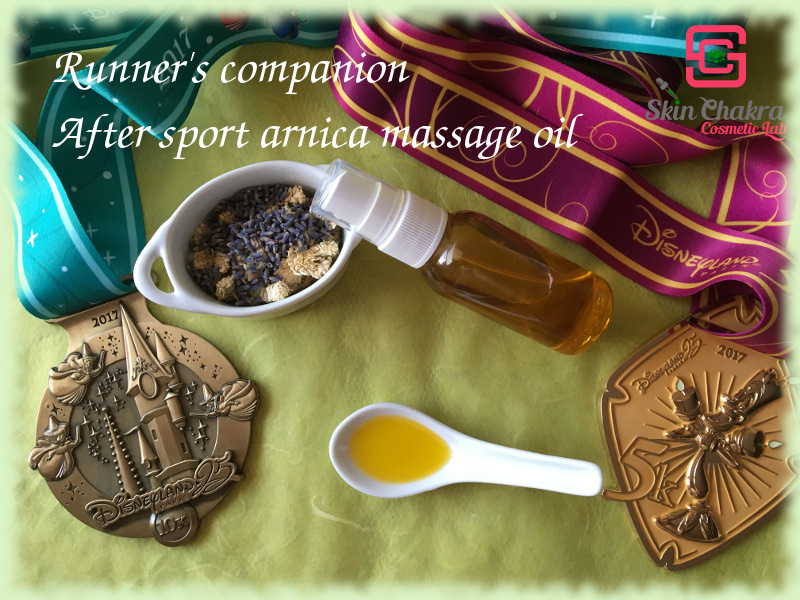 With all the upcoming athleisure and run-care products, I felt the tingle to revamp this one a bit here and there, and turn it into a bi phase product! I am not going to re-invent the water, so if you are new to making bi phase products, please have a look at this post "what you need to know …" for background:
Whether you are training for a race, upping your mileage, overcome with a minor sports injury (go see your GP!), … this recovery bottle will become your new loyal friend. It is filled to the brim with anti-inflammatory ingredients, furthermore it will ease muscle pain and cramps (and even small sprains), a touch of muscle relaxant (spasmolytic), a sprinkle of pain relief (analgesic), cell regeneration, astringent, cooling, revitalising, boosting … and a bit of proverbial fairy dust for some magic

.
You might have come across that comfrey is often referred to as "knit-bone" aka to help heal broken bones; allantoin is the component in comfrey responsible for this quality so it's no wonder I have added allantoin as a standalone ingredient in this blend.
We will be using magnesium chloride as our electrolyte to keep both phases beautifully separated. Magnesium is a well-known muscle relaxant, and is been used in many oral supplementations as well as in muscle-care products especially for this purpose. Many formulators surely have heard of "magnesium oil", about which Elham has written a spot-on explanation, which you can read over here:
Initially meant as a run-care product. But, many of these qualities mentioned above are also useful when you suffer from rheumatism, arthritis, fibromyalgia, … and you want to ease the pain a little. Or when you have overstrained and/or pulled one of your muscles. In short, whether you are a runner or not, it's always handy dandy to have this recovery bottle in your first aid kit!
Please remember that this product contains arnica so this is ONLY meant for EXTERNAL use. Do not apply this on broken skin, open wounds, nor around the area of the eyes/mouth.
Wintergreen is one of these wonderful and rare essential oils that contain a small amount of methyl salicylate. Methyl salicylate is comparable to the salicylates found in general pain relief medication like aspirin. Wintergreen is an amazing EO, especially for our pain relief recovery purpose, but please be cautious when you are sensitive to salicylates and/or when you are on blood thinning medication.
Formulation:
| | |
| --- | --- |
| Phase A | |
| Peppermint hydrosol | 25,0% |
| Witch hazel hydrosol | 20,0% |
| Magnesium Chloride | 10,0% |
| Renoumer | 2,0% |
| Allantoin | 0,2% |
| Caffeine powder | 0,2% |
| Aloe leaf powder | 1,0% |
| Sodium lactate | 1,0% |
| Sodium citrate | 0,3% |
| Lactic acid or arginine | to adjust the pH |
| Phase B | |
| Macadamia oil | 5,8% |
| German chamomile CO2 extract | 0,1% |
| Calendula CO2 extract | 0,1% |
| Phase C | |
| Arnica macertated oil | 10,0% |
| Hemp seed oil | 5,0% |
| St John's wort macerated oil | 5,0% |
| Elderberry oil | 5,0% |
| Tamanu oil | 2,5% |
| Arnica CO2 extract | 2,0% |
| Black cumin CO2 extract | 2,0% |
| Curcuma longa CO2 extract | 0,2% |
| alpha-bisabolol | 0,2% |
| Spectrastat G2-N | 0,8% |
| Tocopherol | 0,5% |
| Rosemary CO2 extract | 0,1% |
| Antimicrobial CO2 blend | 0,1% |
| Eucalyptus lemon oil | 0,25% |
| Lavender oil | 0,25% |
| Wintergreen oil | 0,25% |
| Peppermint oil | 0,15% |
Procedure:
1/ Blend all your ingredients of phase A (except pH adjuster). It helps if you have a magnetic stirrer to dissolve the powders more easily (add the powders in the vortex), but you can do this by hand too. Make a 10% dilution and measure the pH. We are working with Spectrastat G2N, which is a natural approved preservative where the efficacy and performance is not pH dependant. Perfect when you want to create deo products @ a pH around 4,5, or dog fur-care products @ pH around 6,2 (coming soon!!!!!!! So stay tuned!). But also very effective when making general skin care products with a pH between 5 and 5,5. My pH was 4,4 and I added a couple of drops of a 10% dilution of arginine until it was 5,31. (Look at that beautiful laboratory balance at the background, a review is to be published soon!)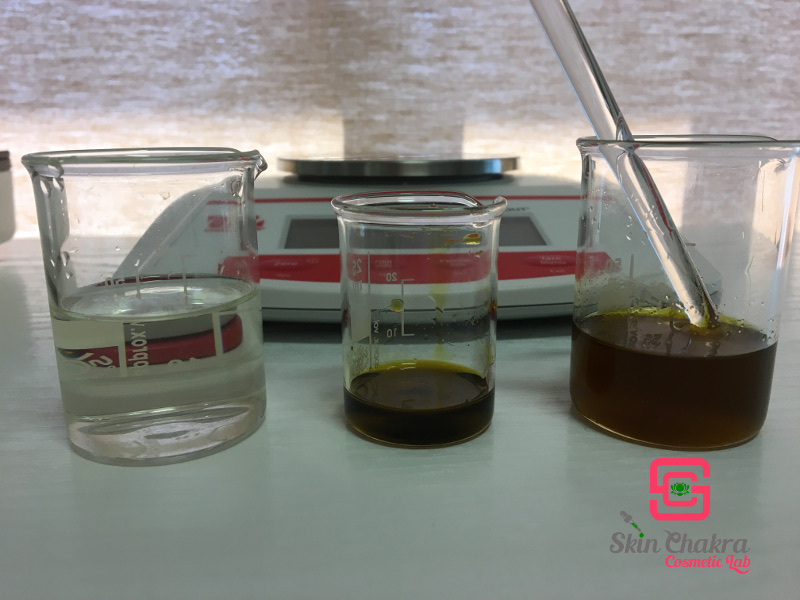 2/ Blend the ingredients of phase B and warm it up slightly in a lukewarm water bath of around 38°C to dissolve the chamomile CO2 more easily.
3/ Blend all ingredients of phase C together, and add phase B to it.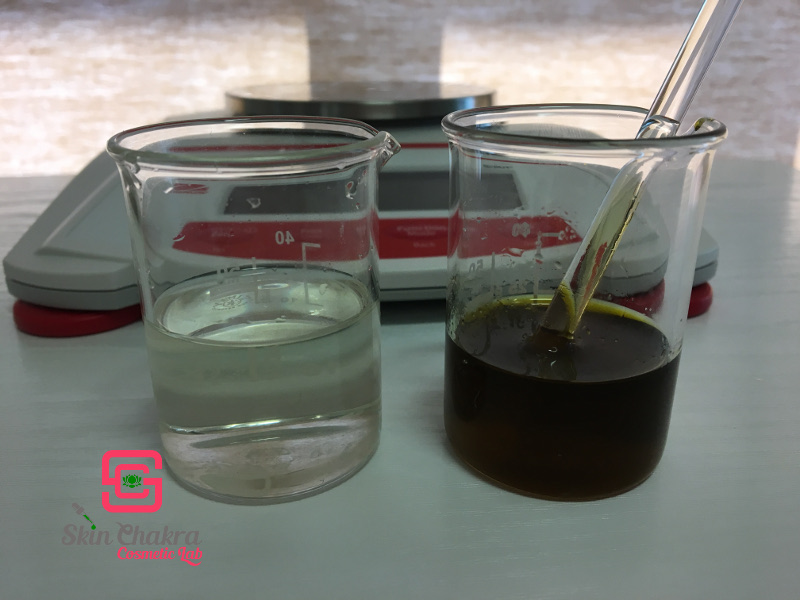 4/ When both your phases are ready you can pour them into a suitable bottle. For this type of product I prefer one of the lovely and handy roll on glass bottles, but you can use a spray bottle as well. Just make sure that the bottle of your choice (especially if it's made of plastic) that it is compatible with the EO's and CO2 extracts.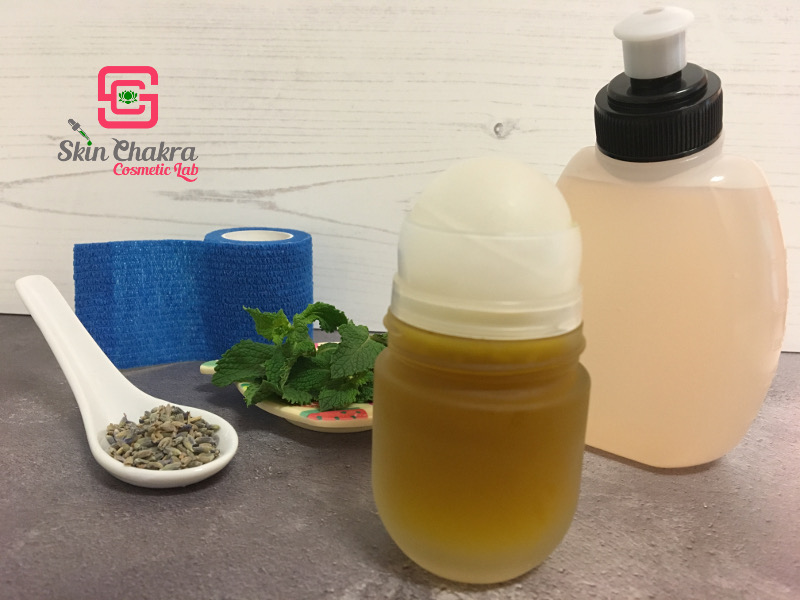 Shake the bottle before each application and enjoy the relief! The temporary emulsion will break nice and easy back into the two phases after you stop shaking.
I am really excited about this product, so I truly hope you have enjoyed this tutorial!
Happy running, and stay hydrated!
Be magical,
Jilly
Disclaimer: SkinChakra is responsible for the content of this blog post. Please send your comments and questions directly to SkinChakra and don't try to contact Jilly in private or via any other online forum/platform. Jilly or one of our team will happily come back to you.
Comments
Display comments as (
Linear
| Threaded)
The author does not allow comments to this entry