Thursday, 24. September 2020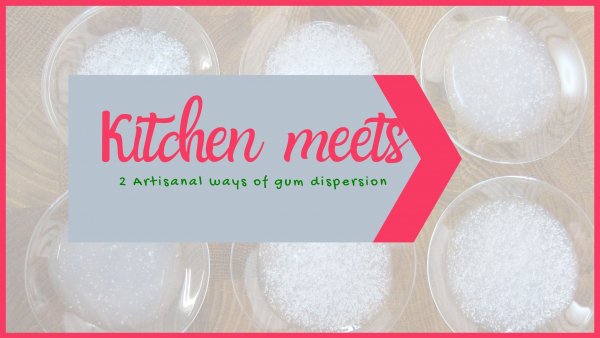 During the last years we have published several posts about using kitchen mixers in the cosmetic lab and have compared theoutcome with those of professional lab instruments:
So you're looking for a replacement for the unlucky "Kai Blendia"?
Kitchen meets cosmetic lab: Summary
Kitchen meets cosmetic lab: an introduction
Kitchen meets cosmetic lab- Part I: Gum dispersion
Kitchen meets cosmetic lab- Part 2: Emulsion with Olivem® 1000
Last year, we published this blog and video tutorial and shared 5 different wazs of gum dispersion:
How to disperse gums without clumping: 5 ways
Gum dispersion is certainly one of the most challenging and intimidating tasks in a cosmetic lab, specially in an artisanal cosmetic lab and this is why we decided to share two other methods with kitchen instruments that are familiar to you.
We made a 2% dispersion of Solagum AX in distilled water. All samples are made the same way. The only difference is the instrument.
A 2,0% dosage is something we only use in products such as shower gel, handwashing gel or a shampoo and where we have high concentrations of surfactants. In emulsions, we usually use a dosage between 0,1%-0,5%.
The instruments we used:
IKA Eurostar overhead mixer
IKA homogenizer
Kai Blendia
Dynamix
Vitamix
Thermomix
You have already seen us working with the first 4 in our videos and blog posts. The last two instruments are high-end kitchen instruments and most of you have at lest one of them in your kitchen. This is why we decidd to use them in gum dispersion and compare the results with the other 4 familiar instruments.
The viscosity
Obviously the main reason for applying a gum in an emulsion or a solution is to increase the viscosity (stabilization of the product is a side-effect of the increasing viscosity).
In this experiment the viscosities of all 6 dispersions are very similar which is a very good sign for those of you who want to use artisanal instruments instead of professional lab instrument.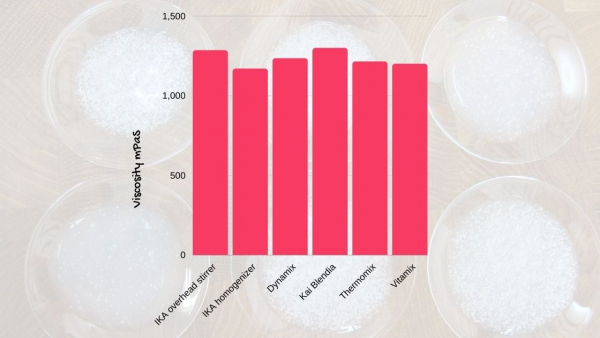 The bubbles
Almost all of these instruments, except the IKA overhead stirrer create bubbles in the gel. Depending on the product you make, you may like or dislike bubbles in the finished product. In a cleansing gel, some bubbles might be appealing but in an emulsion bubbles are unwanted. Keep in mind that the higher the viscosity, the more persisting the bubbles and the harder to get rid of them. In these 2% dispersions the bubbles are quite persistent. In 0,5% dispersions that we made (which is the dosage you usually apply for emulsion making), the bubbles disappeared within 24 hours.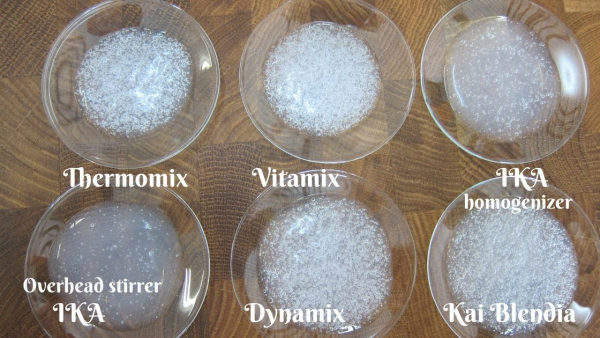 The ease of working and the time
Quite obviously the IKA instruments are the easiest to work with and the fastest for gum dispersion. You can easily work alone and disperse the gum in your carrier without any need for a buddy to help you.
With Kai Blendia and Dynamix it is better when you have a buddy who can disperse the gum as you keep the mixer in one hand and the beaker in the other hand. You can work with your own two hands but having a buddy will accelerate the process and reduce the mess.
Thermomix and vitamix are bith something between the professional IKA instruments and the dynamix/blendia. We could prepare a 500 gr batch easily within a few minutes (about 3 minutes from start to finish). They both give you a much better control over speed compared to any of Blendia or Dynamix.
Only the Thermomix has the advantage of heating as well as stirring. This means if you want to disperse the gum in warm or hot water, you can easily do this in a one-pot procedure. With all other instruments you need to heat the water separately.
The batch size
Here comes the big difference
With IKA and depending on the model, you can process batches as small as 50 gr up to several kgs. The instruments we used work in the range of 100-1000 gr. We can easily work in small batches (which is what we usually do in a development lab)
With Blendia, we can process samples between 50-500 gr and with Dynamix it is batches between 100-1000 gr. THis means both of these kitchen mixers allow you to prepare small samples.
With the Vitamix or Thermomix however, the smallest batch you can prepare is 500 gr. This could be a drawback when you are just starting with a new formulation and want to make small samples just to test a formulation or a new raw material.
Kitchen instruments in the lab and GMP
All of that said, you might be tempted to use that Vitamix or Thermomix sitting on your kitchen counter. Keep in mind, no matter if you are making just a small sample for your own use or are making xmas gifts for family or friends or are going to sell the product, never, ever use the same instrument both in the kitchen (food prep) and in the lab. Even if your lab is literally your kitchen, the instruments you use for food prep MUST be separated from those used in cosmetic preparation.
You have my permission and consent to (JUST THIS ONE TIME) disperse a gum in water just to see how your instrument works (and then immediately use the gum in a preserved formulation or discard the gum dispersion). After this one test and if you like the results, go and purchase a new (or a second hand) instrument and dedicate one instrument to the kitchen affairs and one to the cosmetic production affairs (even if you prepare cosmetics from edible ingredients).
Having said all I had to say, I invite you to watch this video. I would love to hear your opinion. If you have any of these instruments in your kitchen (which one you vote for?) or if you have used similar instruments for purposes like this?
Staysafe and BeHappy
Comments
Display comments as (
Linear
| Threaded)
The author does not allow comments to this entry