Thursday, 17. October 2019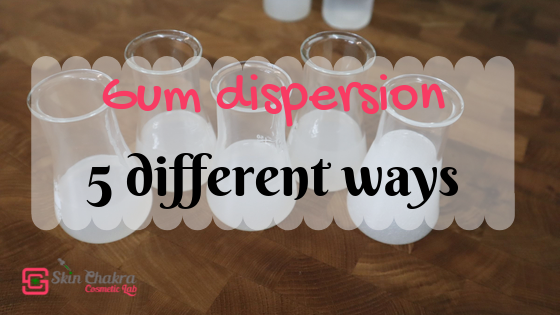 A couple of years ago (to be exact in 2016) I published these two blog posts about natural gums that have become the guideline to hundreds of formulators and formulation students:
I'm now working on a new blog series to update and expand those posts (good news?) but meanwhile I have received inquiries and questions about gum dispersion and I made a short video to show you 5 ways for gum dispersion.
Before you jump to the video let me explain the principles and the methods.
Natural gums
Natural gums are mostly polysaccharides with different origins (exudates, extracts, seeds etc). When hydrated, they build entangled networks that increases the viscosity of water.
In cosmetics (and specially in natural cosmetics) gums are used to:
enhance the stability of emulsions
increase the viscosity
add texture
help suspend particles (such as exfoliants)
To incorporate the gum in water you need to follow a 2-step procedure:
1- dispersion
2- hydration
only after hydration step, the gum builds that network that increases the viscosity.
Now if you don't manage the dspersion step efficiently, the gum swells as soon as coming into contact with water and builds clumps that you can hardly get rid of.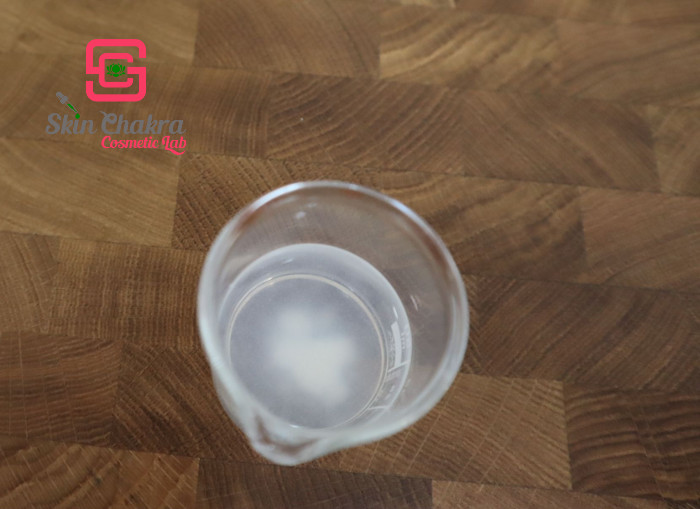 The impact of temperature:
Temperature increases the speed of the hydration phase but is not necessary for most gums (there are a few exceptions such as agar or gellan that do need heat to build the network). On the other hand all natural gums can tolerate heating.
What does this mean for you as a formulator?
When you're working in a small scale (making a 50 gr sample), heating and cooling might not be a big issue but when you scale up , each heating and cooling step costs:
Can you imagine how long it takes to bring 5 tons of water to 80 degrees and then cool it down?
Each heating/cooling step should be avoided if not necessary. This means, if you are making a hot process emulsion, you can disperse the gum before heating the water phase but if you are making a cold process emulsion or a cold process serum, you shall disperse and hydrate your gum efficiently at room temperature and avoid an unnecessary heating/cooling step.
If you're still with me and have not lost me let's jump to my 5 different ways of gum dispersion.
For this experiment I'm using our Solagum AX which is a versatile gum and we use it in emulsions as well as in water based serums, shampoos and shower gels. The principle is the same with all other gums (as long as they don't need heat for hydration). I'm using a 2% dosage which is much higher than you usually use in emulsions. This high concentration is used in hydrogels, serum, shampoo or shower gel.
The worst thing you can do
is to put your gum in a container and add water to it or to topple your gum into water and then hope and pray for the gum to hydrate without building any clumps. I have seen a company discarding a 500 kg batch because they just (I honestly don't know how it happened because when somebody is working in such scales he should have enough knowledge and experience under his belt) poured the gum into water, closed the mixer, went home for the weekend and came back on Monday to see that there were big chunks in the mixer who couldn't be broken with the mixer (in fact they couldn't even turn the mixer on because the chunks were hard like cement)
Keep this in mind and follow me through the 5 practical ways to disperse the gum in your product.
1- The very artisanal method
If you are working in a very artisanal lab, have no equipment at all and are working in small scale (obviously this method is not quite practical to make 500 kg gel), all you need is beakers, a spatula and a solvent to disperse the gum without hydrating it.
This means you first blend the gum with the solvent (glycerine with >90% assay or glycol work perfectly). The solvent wets the gum and increases the distance between grains but does not cause any hydration or swelling. Now slowly and gradually add the blend to the water phase and completely blend before adding the next portion. Do not store the glycerine/gum blend for a long time (unless you have an air-tight container). Glycerine is very hygroscopic, absorbs water and the blend becomes as hard as cement before you can add it to the water. For this procedure you need a glycerine with a high assay. Glycerine-water blends or glycerine with a high water content does not work.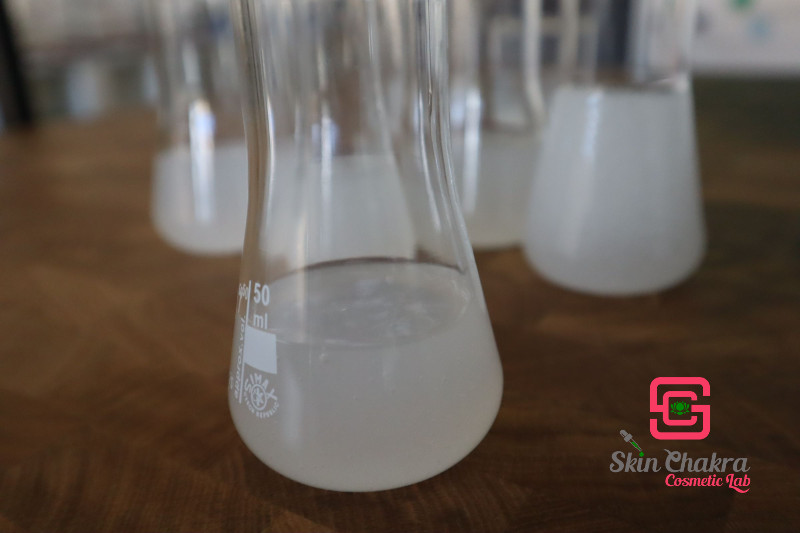 2- The semi-artisanal method (magnetic stirrer)
This method works for small batches. Instead of using a spatula and muscle power, you use a magnetic stirrer as you drizzle/add the gum-glycerine blend slowly to the water.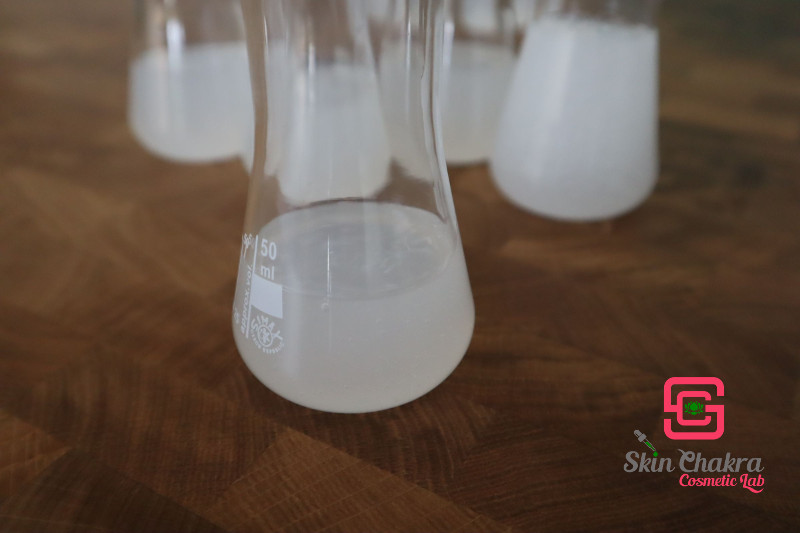 3- The Juliette method (magnetic stirrer)
This method was shared by one of our customers in France. Juliette uses this method to disperse gums and hyaluronic acid in water (hyaluron is used in much lower concentrations but it can easily build clumps if it is not efficiently dispersed)
You use a tea sieve (which obviously is only used in your cosmetic lab) to slowly sprinkle the gum into water which the water is being stirred on a magnetic stirrer. In this case, you use the gum directly to the water and there is no need to first disperse the gum in glycerine of a glycol. I couldn't believe this method would work to be honest untill I tried it myself and it worked like a charm.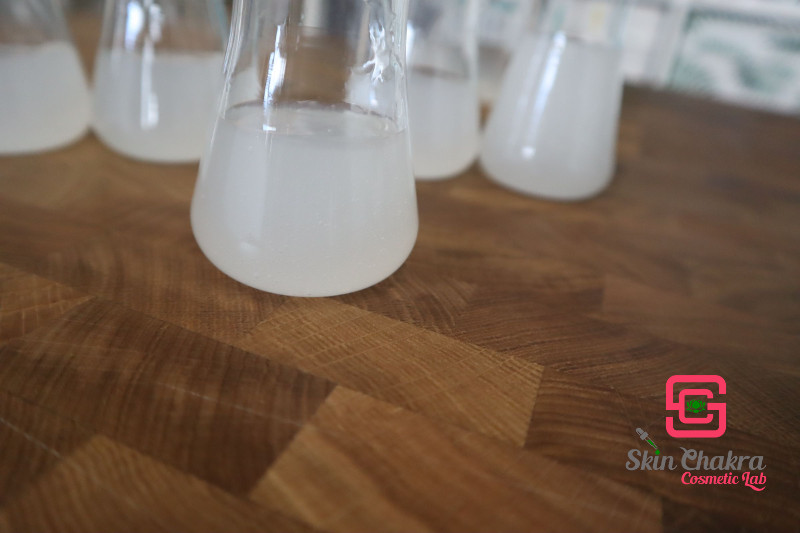 This is the photo of the small tea sieve I used for this blog post and video. If you wonder about the connection between the Jane Austen mug and the gum, well there is no connection except I was freshly recovered from a cold and had to stop my whooping coughs by drinking a hot tea and honey.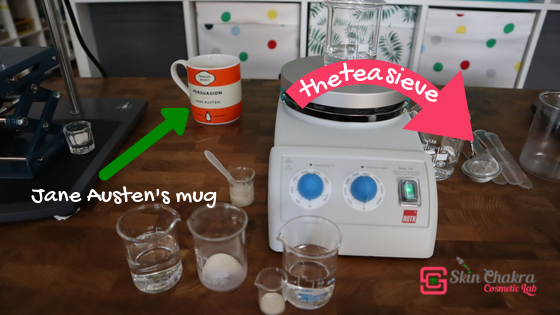 4- The cosmetic lab method (using an overhead stirrer)
You can use an overhead stirrer to disperse the gum in water (either the pure gum or the gum-glycerine blend). This method works fast and efficiently and you can easily scale up. In our lab we use this method for dispersing the gum in water all the time (emulsions, serum, shampoo, shower gel, hydrogels)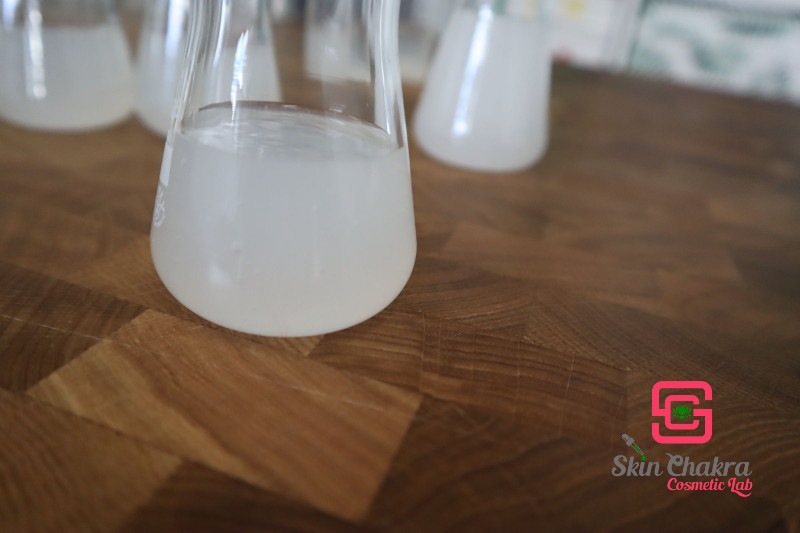 5- The cosmetic lab method (using a rotor stator)
With this method, you can disperse the pure gum as well as the gum-glycerine blend in water. It is fast and efficient and you can scale up.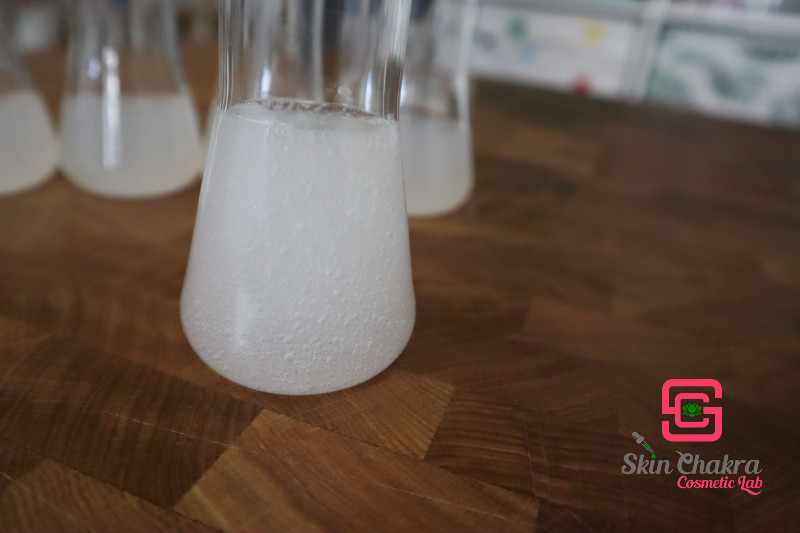 And here all samples together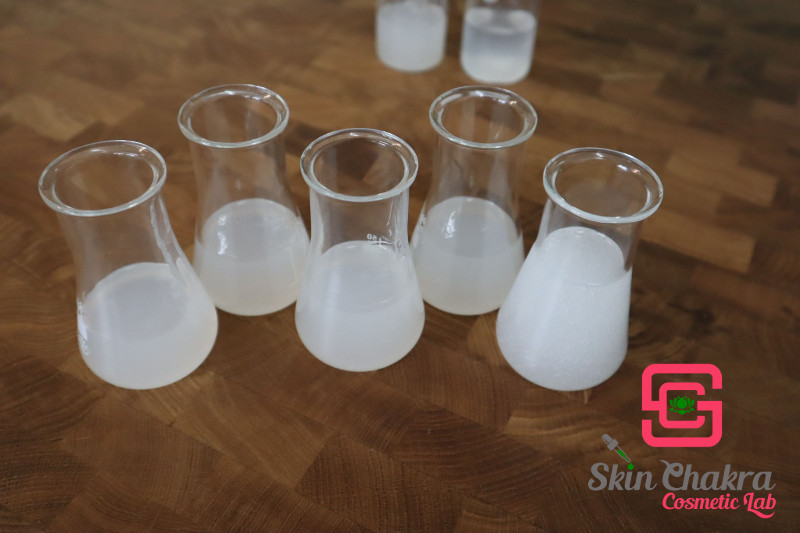 They are all nice and smooth.
Choose a method that will work for you the best depending on your batch size, product and the instruments you have.
The video to this blog post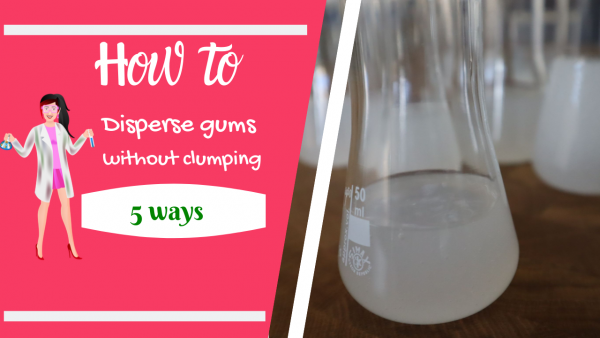 BeHappy and have fun
Comments
Display comments as (
Linear
| Threaded)
The author does not allow comments to this entry